5:45pm Storage room hayden and Lane Talking about what would brendon do if he wins hoh. Lane is betting he'll put up brit and kristen and they can keep Kristen. Hayden thinks it might be Kathy and Britney. Lane isn't sure about that kathy is pretty useless. Hayden says that would be great if thats who he puts up (Kristen and Brit), Lane "yeah we'll lose a jury vote in Brit but thats alright"
lane we can use matt and Enzo for 2 more weeks into the jury. Hayden isn't sure about Matt anymore he says they spend almost all their time together. Lane thinks that when Brendon leaves ragan will have no one beside MAtt and he can see matt telling him about the Brigade.
6:00pm kathy and Enzo backyard couch yo… you know.. Enzo asks her if she's going to be a movie star after BB is over. Kathy laughs says she has no acting experience. Enzo thinks they might propose a movie roll for her, it could be like a sheriff in a movie. kathy says she doesn't even get called into the DR to often. Enzo says it could be worth some money fuck it i'll do it to. They continue to chit chat about things..
6:15pm Kitchen Houseguests preparing food or just generally fucking around the kitchen and backyard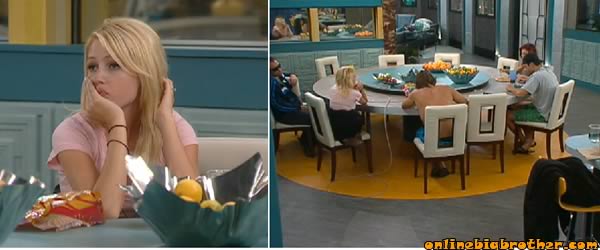 7:00pm Kitchen Houseguests are either playing pool chatting or in the kitchen eating dinner engaged in conversation. Brendon is telling them about his friends that have kids that buy them all this shit they don't need because it is a way to compensate for not spending time with them. He doesn't think they have much of a choice because they have to work so much to provide a good life for their family's.

Onlinebigbrother.com is around because of your donation every year the site costs us to host the images and run the servers needed to handle the traffic. If you like the site then please consider donating to keep the madness going. Thanks!