See what they can't show you on TV!! 3 Day FREE Trial


8pm Up in the HOH room Rachel and Brendon are talking about Matt's offer to go up as a pawn. Rachel says that she doesn't trust Matt as far as she can throw him, and that she thinks he has arterial motives. Brendon says that he trusts Andrew more than he trust Matt. Andrew come up to the into HOH to talk to Brendon and Rachel. Andrew says that when he walked into the bedroom Hayden, Lane and Matt were talking and they all stopped talking. Andrew tells them that he thinks something is going down but doesn't know what. Brendon and Rachel start to tell him whats going on … and Andrew says that they don't need to tell him anything but that he wants them to know that he doesn't like Matt. Rachel asks if Andrew trusts her. Andrew says that he trusts Brendon and if Brendon trusts Rachel, he trusts her. Andrew doesn't trust Matt. Andrew says that if he gets put up, he will get knocked out of the house. Andrew says that he won't hold it against her, but he's pretty sure he'll get knocked out. Brendon thinks that he should still put Matt up. Rachel says that Matt will go after them if she puts him up, regardless of his volunteering. Rachel still wants to put Andrew up since she thinks he'll understand. Rachel tells Andrew that they want Monet to go home this week. Rachel then tells Andrew that she need to talk to Brendon and asks him to go outside of the HOH for a minute. Andrew leaves. Brendon tells Rachel that Andrew is more valuable to them than those other fuckers. Brendon says that his biggest fear is losing Andrew. Rachel tells him that won't happen. Rachel tells Brendon that she thinks Matt's motivation for going up as a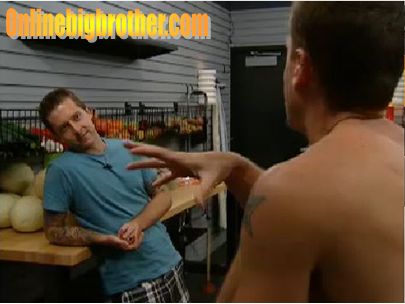 pawn is to make them think he can trust them. Brendon agrees and he is sorry he didn't see that as a possibility before. Brendon is getting annoyed because he they have changed their minds 10 times in the last three hours about who should go up on the block in Britney's place.

Sign-up NOW and get the first 3 Days FREE

8:20pm Matt and Ragan are talking in the storage room. Matt says he cant vote out Monet over Andrew because it will expose him to one side of the house or the other. Matt says it's best for him to go up as a pawn so he doesn't have to vote. Matt tells Ragan that he thinks if he has a vote this week then there will be a target on his back by one side of the house or the other depending on if he votes for Andrew or Monet. Matt says that he doesn't want his game play to be exposed if he has a vote this week. Ragan saying he gets it but that going up as a pawn this early in the game is too dangerous. Matt saying that his offering up himself is looking ahead in the long run. Andrew has said my name but Monet hasn't done anything to me. If I put myself up, then I don't have to vote. Matt says he doesn't want to be in an alliance with Brendon and Rachel because they are a big target in this house. Ragan says that he gets where Matt is coming from. Matt asks Ragan to help him if he does goes up as a pawn. Matt says that anyone who makes an alliance with the showmance couple will always be a low priority compared to them. Brendon and Rachel will always put themselves first. Ragan says that he will help Matt if he needs it and that he won't say anything about their conversation. Matt says that he is between a rock and a hard place right now and that he feels this is his best option to stay neutral. Matt tells Ragan that he will act surprised when he is put up.

Watch it happens as it happens!! Superpass 3 Day FREE Trial

Up in the HOH Brendon and Rachel are talking. Brendon says that he doesn't want to put up Andrew because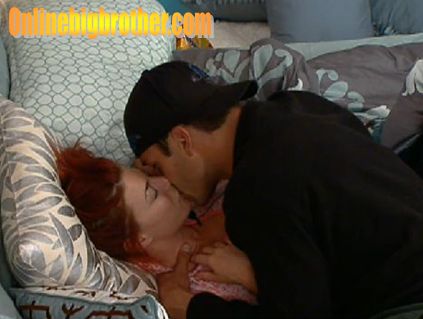 he thinks he can help them in the future. Rachel tells Brendon that she doesn't want to put up Matt because she thinks he might have a different motive. Rachel says that Matt is playing the game like Dan & Ronnie. Rachel say that her game plan was to play like Janelle. Rachel says that she thinks Matt will play a pity party to everyone and then go in the diary to laugh about how stupid she was for trusting him. Rachel says especially since Matt volunteered.

9pm Brendon and Rachel are up in the HOH talking. Andrew comes into HoH and says he is fine if he goes up. Andrew says there is still a chance he might go home. He says that if it but if it works, it will be great, since it the house will think he is not in an alliance with them. Brendon says that he will go up as the pawn. Rachel yells at Brendon to shut up. Andrew says that he is okay if he goes up. Rachel says she hasn't made up her mind and probably won't put him up. Brendon is really surprised that Rachel would tell him to shut up. Andrew then leaves the room because Rachel and Brendon are getting in a fight. Rachel tells Brendon to not to talk to her right now. Rachel says what have we been talking about these past 30 minutes. Brendon says I guess I don't know. Brendon gets his stuff and leaves. Rachel starts crying in bed.
Share it YO!!
Tweet