Try the Live Feeds on Superpass 3 Day FREE Trial

9am Big Brother cuts the feeds to wake up the houseguests. When they come back Brendon and Ragan are in the bathroom getting ready. Ragan is singing the Snoop Dog sippin' on gin and juice song. Brendon says Snoop Doggs's 'Doggie-Style' was one of the first albums he bought. Ragan then goes to get into the shower and starts moaning about how good it feels because its the first one he's been able to have since the Have/Have Nots competition. In the bedroom Britney, Rachel, Kathy and Monet are talking about last night. Kathy tells Rachel the she will let Annie will explain to her what she was saying. Britney says that Annie is nuts. Rachel says that she didn't come here to go home. Britney says that four days is a long time and that anything can happen. Britney asks are we on a lockdown? Monet says Yeah, they're doing something in the backyard.



In the Kathy tells Rachel that she has her vote, and that she should just be yourself. Rachel says I wish nobody had to go home. Kathy says I know but that's not how it works.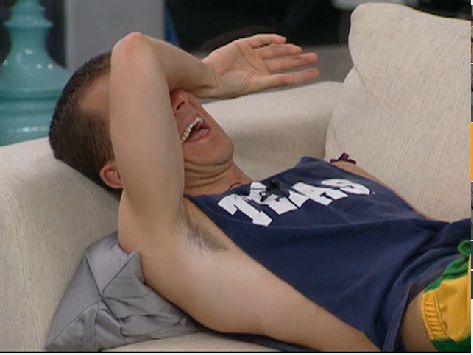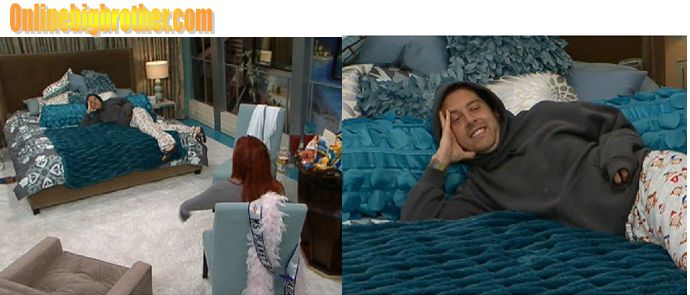 9:30am Lane, Matt, Annie and Rachel are sitting on the living room couches. They're talking about waking up to snoop dog. Rachel says that she got her gangsta roots back in a hot minute. Annie starts telling a story about how she was at a concert and Snoop Dogs uncle tried to get in her pants. (lol) Annie then asks Lane if he's having sexual thoughts. He says no. Annie says I wish you were naked so that I could paint you right now. Enzo talks about how he wants to patent the words "That's KaKA" and "Gar-nade" Enzo says your like a fixed dog, you've got no balls. Then he says "I'm a part time real estate agent ..I got cards" Annie tells Lane to stop shaking his titties because its turning her on. Then she burps. They all laugh. Enzo says he want to break these chain like a junk yard dog. Annie says she want to choke him with them. Ragan starts asking about the Saboteur. They wonder how its going to work the week he leaves. If its going to be a double eviction week or something.

SEE what they CAN'T show you on TV! 3 Day FREE Trial
9:40am Hayden and Brendon are in the backyard talking about Annie. Brendon says that Annie is trying to put the blame him (Brendon). Hayden says she will definitely try to get the votes. They both agree there's a chance she might be the saboteur. Brendon says Annie made him feel bad yesterday.

10:10am – 10:20am Matt is laying in the hammock on the backyard talking to Enzo.  Big Brother tells Annie to put on her mic.  Then Matt says Uh OH GAME TALKER!  Enzo says yeah gotta hand it to her shes trying ….but she's going home! Enzo says Annie is pretty mad but that she's going home because she made three different alliances.
Share it YO!!
Tweet