12:45pm In the backyard Enzo and Kathy are talking on the couch. Kathy tells Enzo all about the confrontation with Andrew earlier this morning. Enzo says it's fucking crazy. Kathy says it was just too early in the morning for that. Enzo says yeah, he came out here talking with me a little bit saying yeah, I just saying sorry to everyone and apologizes. Maybe I will hold a meeting to apologize to everyone. Enzo says that he said, you do what you gotta do bro, I will be entertained by it. Kathy says oh so he really did say that? You weren't just joking about him calling a house meeting? Enzo says yeah, right here. He said just so he can say he is sorry to everyone and that he is stressed out and losing it. Kathy says he is doing it to chase the votes. Kathy says that Andrew said he had no friends here. Kathy says that Brendon flat out told her that he is not going to vote for me because he can't control me. Enzo says oh yeah? What the fuck does that mean? He can't control you? Kathy tells Enzo not to repeat that, it didn't come out that way but in other words I voted against what he wanted last week, and that's where its coming from Enzo says eah, who are you to tell people what to do? If you are HOH then you put two people on the block and then we vote on how we feel we should. Kathy says that it's all what you want to do. If you can't see what they are doing, if you keep them it's going to be drama, drama… Enzo says that she should say that if he has this meeting. Kathy says that Andrew is pulling the tears out too, he is trying to cry. He is pulling the…. Enzo says that is some people's strategy in here because no one cry's until they are on the block and then they start to cry? Kathy says that she is not two years old and she is not going to argue with Andrew. Enzo says that Andrew is in desperation mode and he will try anything to gain sympathy and support. Enzo says Andrew is losing it because he hasn't eaten a decent meal in ten days.


1pm Britney is laying out near the pool with Lane and Hayden. Britney complains that Andrew was motioning for her to come talk to him and she said she just ignored him because she doesnt want any part of the drama. Lane some how convinces Britney to rub sun block on his back.. As she is rubbing it in she says that its really thick and not sinking in… Lane asks her what she means and Britney says well you have a butt crack in the middle of his back and its all stuck there. Lane tells her to get in there…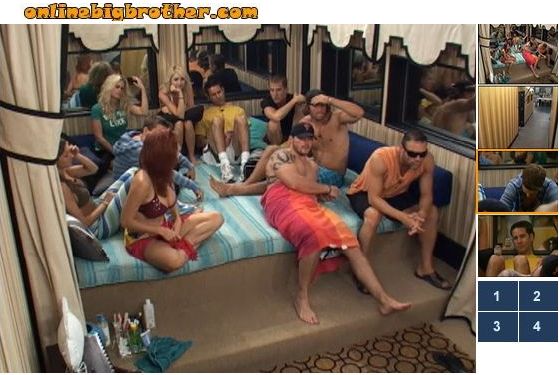 1:15pm – 1:40pm Matt brings down te HOH camera and starts taking pictures.  They get everyone into the lounge room and after they have taken a bunch of photo, Britney is looking through them and notices that there is one of Andrew pretending to shoot himself in the head with his fingers..   They laugh about it.  Andrew has left the HOH picture fun and gone back to the have not room to lay in the cot by himself.  All the other houseguests go outside where Hayden uses the cattle rope to rope all the houseguests …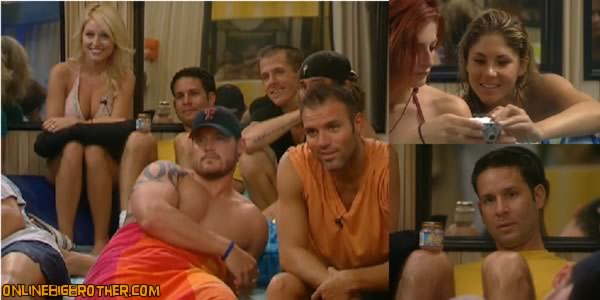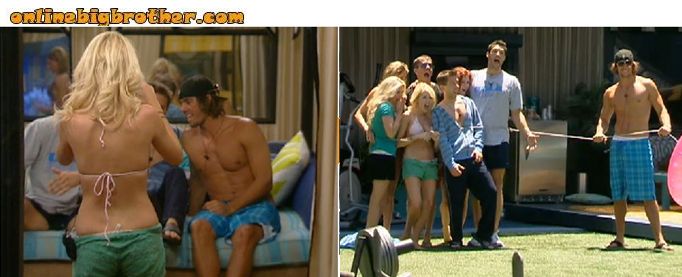 1:45pm – 1:50pm In the Have Not room Brendon is giving Andrew a pep talk and telling him to fight..  Brendon tells him to stop hiding out in the have not room and fight.  Andrew is crying ….and saying that he doesn't fit in with everyone like how Brendon is apart of the social scene.  Brendon tells Andrew to be strong for his daughter and to let her be his strength.  Brendon tells him that he has the most respect for him and that he needs to try.  Andrew says that he will try… Brendon coaches Andrew on what to say to people and to let people come to him. Brendon tells him that he doesn't want him to go and that he will try his best to get him votes. Brendon says the he knows Andrew said things in the heat of the moment and that he understands … and tells Andrew to take his time and when he is ready he should start talking to people. Brendon tells him to hang in there…. Andrew says thank you… Brendon tells Andrew to suck it up and then slams the pillow down on his chest.. Brendon leaves and Andrew talks to himself saying that this game is tough …you guys really know how to get to me…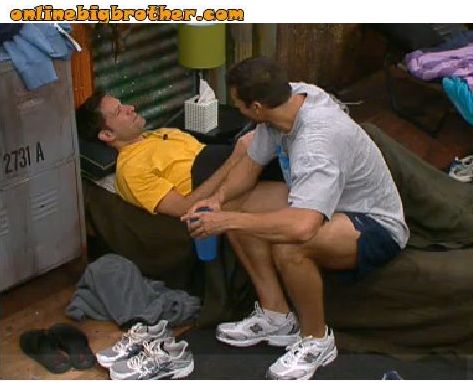 Onlinebigbrother.com is around because of your donations. Every year the site costs us to host the images and run the 3 servers needed to handle the traffic. If you like the site then please consider donating to keep the madness going. Thanks!
Share it YO!!
Tweet