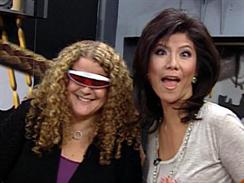 The executive producer of Big Brother, Allison Grodner, talks about the 12th season of Big Brother which is set to air July 8th, 2010!

The main highlights from her audio interview are that the number of house guests will likely remain the same as previous years (12 to 14), the house guests will be pushed to their limits with more difficult challenges than before, this season the game will be more interesting for the fans and more challenging for the house guests by having different challenges than previous years.

The theme of Big Brother 12 will be that of summer camp a "Beach Theme". Allison addressed the rumor that next season could be the last season. Allison said that considering the success that the show experienced last season, this season is expected to have the same again and as such there is no intention of canceling Big Brother. Allison states that she embraces the Big Brother fans, so much so that she regularly surfs the different Big Brother web sites to verify information and to stay connected with fan opinions.

"Expect the Unexpected" is Big Brothers motto and Allison warns Big Brother fans that this seasons houseguests will have different backgrounds and personalities than we have ever seen before.

Source: tvgrapevine

On another note: CBS Just Announced Jeff Is New Host Of ATWFF Show!

Jeff will be traveling the world for 100 days in the web show Around The World For Free.This is its second season with Jeff as the new host/traveler.He will be helped by people online to travel the world and do all kinds of things to get by.