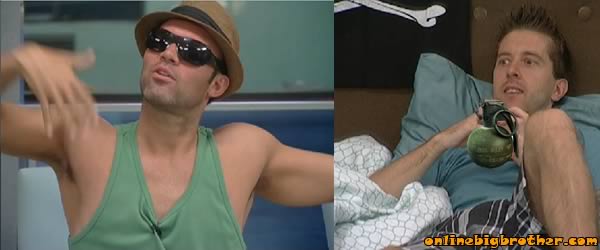 4:37pm HOH The Amazing Enzo and the Gremlin Matt is telling him about Ragan's vote this week. Says he told Ragan that if he wasn't prepared to put B/R up this week then he better throw the comp or have the house against him. He confirms that Ragan is not after any member of the brigade for the next 2 weeks. Enzo brings up Andrew asking him for votes and hows he's getting really weird about it, Apparenlty andrew came up to enzo and told him he has B/R's vote as well as Brit and Ragan. Enzo laughs. Matt says Ragan is going to tell andrew he's not voteing for him tonight, Enzo "holy shit it's going to blow". Matt laughs yeah every tuesday somethign wild happens. Enzo wonders why people don't just lie in the house, "I don't understand it yo". Matt understands why people don't want to lie if the person they are lying to is going to the jury house but these fools are going home. Enzo:"fuck i don't care just lie". They talk about why Andrew is so weird they think he's just socailly awkward. Matt explains that every time he talks to Andrew he finds that Andrew does almost no actual talking it's almost like he doesn't know how to socially interact with people.
They briefly talk about Rachel and how it's total bullshit when she says she's is a scientist. Enzo "well maybe she's a drunken scientist yo… she very compettitve i'll tell you that." Matt agrees adds that they are both
very competitve they know how to fight for their lives. Matt feels that there is a very good chance the brigade will all be in the jury house at the very least. Enzo and Matt both like kristen they think shes a cool honest girl. Matt says he would totally hang out with a girl like that outside the house. Enzo says After b/r are gone he wants to take Kathy out, his reasoning is she doesn't deserve to be here she knows it….Enzo "I just want to make it to the justy house to get the stipend", Matt asks "who the fuck says that". Enzo starts to talk about his fans and how he has noteriaty "If I fuck up I look like Donkey YO" matt asks him what will be the first thing he eats when he's off slop he says seomthing quick like a burger.
kathy comes in to use the wash room.. talk moves to HOH they all think it'll be a simple compeittion nothing as elborate as last week. They ask Kathy why she doesn't hang outside to much she explains that becuase of the medication she one she cannot be exposed to too much sun.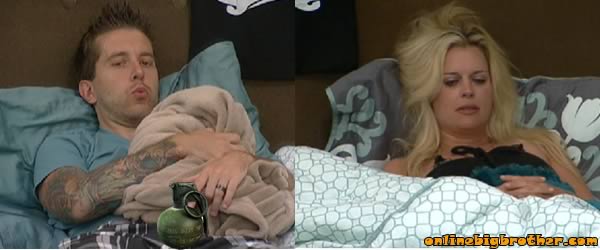 5:05pm Kathy and Matt HOH you know Kahty tells MAtt that once the poc ceremony was over that her and andrew agreed to not throw each other under the bus and to just campaign civil people. She goes on to say that Andrew has started throwing her under the bus telling people that she is after them when she really isn't. Kathy mentions that Brit was told by him that if she kept kathy that kathy would be comign after her. Matt knows thats a load of shit, kathy shouldn't be worried nobody believes the captain kosher anymore. Matt brings up Rachel and Brendon, he's given it a lot of thought and he's pretty sure if they can get Brendon out before sequester they can get Rachel to quit the game. Matt tells kathy that when brendon leaves they need to all keep reminding Rachel about all the women and men taht will be all over him. They have to make it out that Brendon will be knee deep in the ladies and that every day he's out there by himself is a day he might hook up, "point out how she'll be away form him all summer." Matt also thinks if they can get her to quit they will cancel the double eviction which is something that worries him… They both agree that at this point Andrew has no clue what is going on.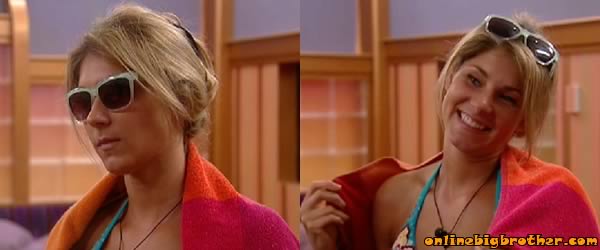 5:25pm Taj room Hayden and Krsiten Kristen asks him how the day went and if tehre was much game talk. Hayden replies taht today was very quiet almost no game talks. She is thinking about giving Andrew a sympathy vote but only if they are 100% sure kathy is staying. hayden is as sure as you can be in the BB house that Kathy is staying. He's not sure if a sympathy vote is the best idea but it's all up to her. He says he likes looking at her eyes, doesn't want her to ear sunglasses all the time. Kristen tells him she one of those people that likes to observe others but she doesn't like people to know so that is why she wears sunglasses a lot… She adds that she'll not wear them at night cause "thats a jersey thing". Hayden shows her the burn on his toe says if happened so quickly he didn't have time to react. They start to talk about HOH she's getting nervous because they both have to win, Hayden tells her not to worry she'll win. She tells him if B/R win HOH there done for.. Hayden goes and gives her a kiss on the cheek.. she says "Is that all i get". (sweet awkward flirting.. i doubt these 2 are sister and brother.. lol.. I think this is the showmance CBS should be pimping out on their show instead of the barfmance they have been showing)

Onlinebigbrother.com is around because of your donation every year the site costs us to host the images and run the 3 servers needed to handle the traffic. If you like the site then please consider donating to keep the madness going. Thanks!
Share it YO!!
Tweet