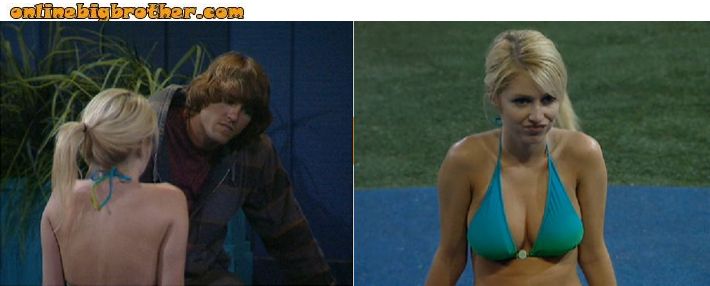 11pm All of the houseguests are in the backyard except for Kathy who is in the bathroom. Hayden joins Britney by the hot tub and talk about California weather. Hayden starts talking about his dump he took when he was in have not solitary. They talk about Food Comp and will be "playing as a house" Matt comes over and joins them…as Brit says they haven't got booze for awhile..as they talk about the "good beer" they got last night and Hayden was unable to join them..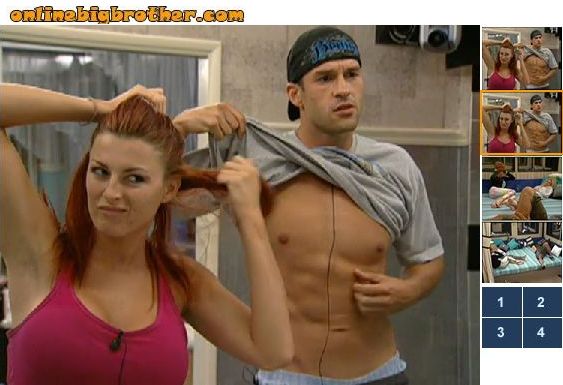 Brendon tells Rachel, that Hayden tried to talk to him about the possibility of Britney using the POV, to take him down and asking him what Rachel would do in that case. Brendon tells Rachel that he was caught off guard and didn't know how to answer. Rachel tells him that if Britney does uses the POV, then one of her friends is going up not Kathy. Rachel says she wants either Kristen or Hayden gone and the only way to make sure that happens is to make sure that who ever is left on the block is up against some one popular in the house. Brendon, doesn't seem to believe Hayden's story, but is repeating it to Rachel, just so she isn't blindsided in case it is true. Brendon brings up the possibility that Britney and Lane are working together, as they have been talking a lot of game together. Rachel agrees. Brendon wants to play pool with Enzo. Hayden and Brendon are playing pool. Brendon isn't playing very well. Hayden says leave it to Beaver. Brendon laughs.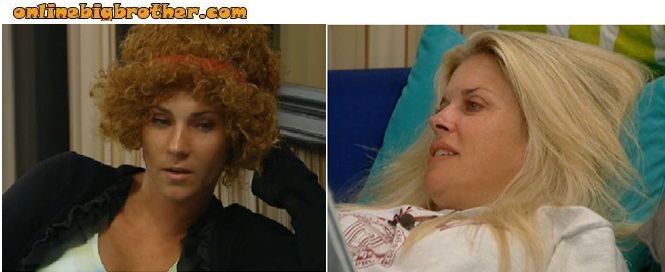 Kristen and Kathy are in the lounge room. Kathy is telling Kristen about her conversation with Hayden. Kathy tells her that she told Hayden he needs to fix it when she is gone. She thinks she is going home if Hayden comes down. They don't realize that Rachel won't put up Kathy. Kathy seems to think that Hayden gets to choose who gets put up when he comes down, if Britney uses the POV, and takes him down. Kristen has finally figured out that Rachel wants her out so bad, she won't put up Kathy. Kathy thinks that Matt has made a deal with them, and that others have made deals with them.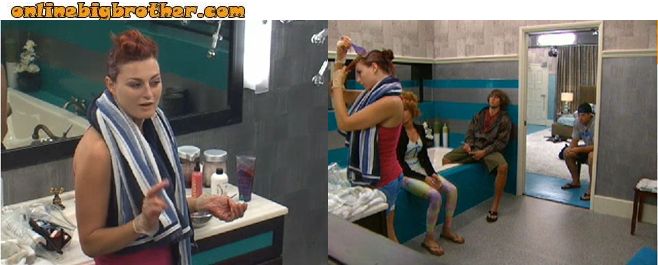 12am – 12:45am Hayden and Kristen go up to the HOH room to talk to Rachel and Brendon. They tell Rachel that they told Britney would be safe if she used it on them. Rachel demands to know the exact deal they offered Britney. Rachel says that they would have to offer a 5 personal alliance between Hayden, Kristen, Rachel, Brendon and Britney and which would make them have to put up their friends Lane, Enzo next week. Kristen says friendships should be set aside and they should play the game. Rachel says that what they want done means forming a final 4 alliance. Rachel says they said that before and then back stabbed them. Kristen denies backstabbing her. Rachel says we have talked about this. Kristen says she never had any intention of putting Rachel and Brendon up. Rachel asks why Kristen wanted her to lose the HOH so much. Kristen says it was because of their reactions to the Andrew speech. Rachel doesn't understand and Kristen is trying to explain…says she didn't know what they had with Andrew and was nervous. Kristen says she wouldn't have put Rachel and Brendon up if she had one HOH without coming to talk to you about the Andrew thing. Hayden says all they need is for them to put up a replacement. Rachel says you need me to put up Kathy. Hayden is pushing to put up Kathy which would keep their hands clean. Brendon says at this point, they don't need to keep their hands clean because they are already a target. Rachel says she would really like to hear more reasons to trust you, because I don't think I can. Brendon says it's hard for us to trust that you won't put us up on the block.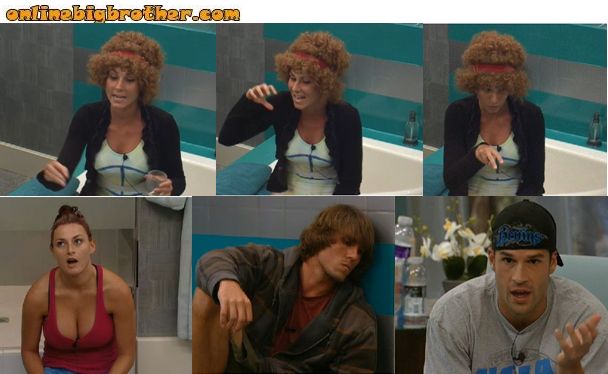 Kristen blames the situation on Andrew and says he caused the rift between the four of them. Rachel wants it ensured that Hayden won't make more deals to go after Rachel and Brendon. They talk about what the vote numbers would be. Rachel wants to know who Lane and Enzo are talking game to. Kristen says you talk about floaters; those are your floaters right there! Rachel says that she doesn't know what they would do…she knows Ragan and Matt are together. Hayden says he really likes Lane and wouldn't put him up next week. Rachel says if they do this, they would need to communicate and that this isn't a one week deal; it's a set in stone alliance. Hayden and Rachel agree that this could be the biggest move in the game. Rachel says they have to trust each other. Brendon says they need to know that Rachel and Brendon have always been truthful and kept their word. Kristen says she has been honest. Both pairs agree they scare each other in the game. Rachel wants to know what deal they would make with Britney. Hayden asks if he should bring her up and make the deal in front of everyone. Rachel thinks that's a not a good idea because Britney won't want to be in a five person alliance. Rachel says she needs to know what deals are made and she will talk to Britney and if she trusts them, she will put Kathy up. They all agree that this conversation cannot leave the room. Rachel says she would be willing, if Brendon is willing, to make a deal with Hayden and Kristen. Brendon questions what the house will think about putting Kathy up. He says people think Rachel wants Kristen gone. Rachel says Kathy is the only option, she wouldn't put up Lane, Enzo, Ragan, and can't put up Matt. Rachel says that they would be willing to do it if Hayden can convince Britney to go along with it. Rachel wants Hayden to make a singular deal with Britney and not mention the alliance between the two couples. Rachel insists the deal cannot involve Kristen because she thinks Britney won't go for it. Rachel says they shouldn't wait for tomorrow, but talk to Brit tonight. The both of the couples shake on the deal if Britney can be convinced to use the POV.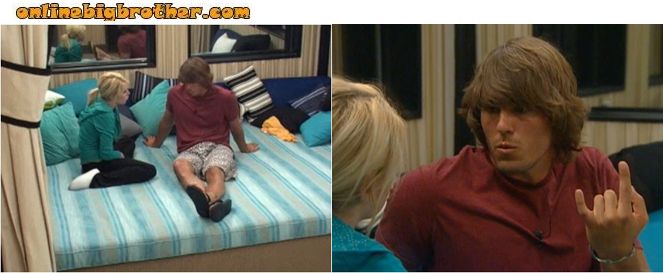 Hayden finds Britney and fills her in on the entire HOH conversation. Hayden says that Britney should only say he made a two week deal with her and that no one can know she knows about the rest. Britney is agreeing. Hayden says that they will still go after Rachel and Brendon. Hayden says that he and Kristen promised Brendon and Rachel safety for the next couple weeks, but if Britney gets HOH or if he gets HOH, they have to put Brendon and Rachel up next week. Hayden says that it sucks to break a promise, but it's a game. Hayden and Britney agree its crazy, but crazy good.

Britney goes up to the HOH room to talk to Rachel about the POV situation. Britney asks what is going on? Rachel says that she thinks they are trying to save themselves, did Hayden ask you to use the POV? Britney says yeah, he made me an offer and it's a good offer for me. Rachel asks what it is. Britney says it's for 2 weeks and it's for just him, not Kristen. Britney is tells Rachel the exact deal that Rachel told Hayden to tell her. Rachel is playing dumb like she doesn't know and Britney is playing dumb like she doesn't know. Rachel says she worries how it will affect Britney and there's a lot to think about. Rachel says but who do I put up that won't piss anyone off? Rachel asks you think Kathy? Britney says yeah. Rachel asks if she thinks Kristen will come after her if Kathy goes home. Britney says that it is an opportunity to make a deal. Rachel asks if she can trust Kristen. Britney saying she's not sure, but thinks Hayden is trustworthy. Britney says the deal is good for her, but doesn't want to go behind Rachel's back. Rachel says she's only worried about how much she can trust Kristen. Rachel says she wouldn't want to put up Lane or Enzo because she doesn't think they are coming after her. Britney says she wouldn't want her to put them up either. Rachel says that people might keep Kristen and she doesn't trust Kristen. Britney says the deal is good for her. Rachel says she won't ask her to not take it. Britney encourages Rachel to make a similar deal with Hayden.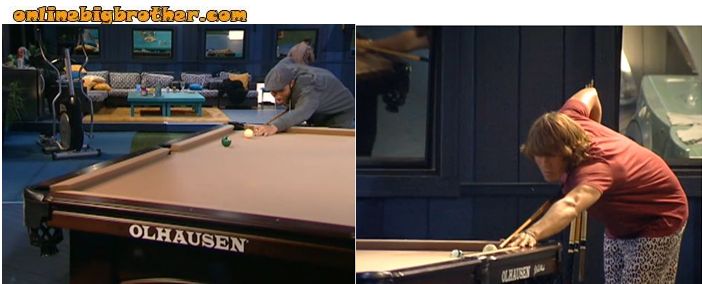 1:30am Hayden and Enzo are playing pool and talking. Hayden tells Enzo that it may be best if Kathy goes up and is voted out. Enzo says as long as Kristen puts up Brendon and Rachel, he doesn't care. Hayden and Enzo are happy that the Brigade has at least made it to the jury house. Hayden goes inside. Enzo and Lane wonder why Hayden is fighting so Hard for Kristen. Lane says what the fuck you're not going to marry her. Enzo think he lost it for Kristen and wonders if they should go talk to Britney and try and stop her from using the PoV. Enzo hopes Hayden would put up Brendon and Rachel. Lane says he would. He says he thinks Kristen may too. Lane says there is more girls outside of here. He says he wonder if he will tell them about the Brigade. Enzo wants to get rid of Kristen, and says that this seems too fishy. Britney joins them outside. Enzo asks are people filling your head full of shit? Britney says yeah a little. He asks if she is being forced to use the PoV. Britney says Ummm… Enzo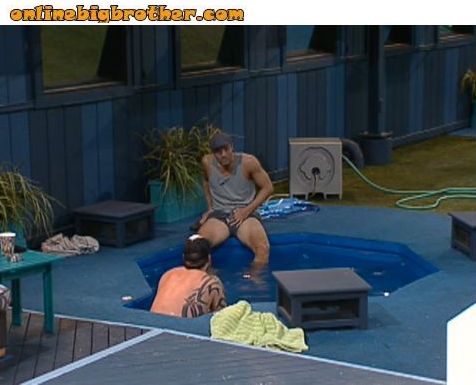 asks are they giving you options. Britney says yes, but don't worry I would never put you two in danger. Britney says that Rachel told her she would never put up Lane or Enzo. Britney says they may want to back door Kathy. Enzo dosnt get it, Kathy is a no one, just send her to the jury who cares. Lane and Enzo find it odd that Kristen and Rachel were at each others throats now are all friendly. Britney says that Rachel and Brendon now want Kathy out because all she talks about is the jury house. Britney says she thinks Kristen would still go home and that she bets Hayden and Kristen made a deal with Brendon and Rachel. Enzo calls it a super couple alliance. Britney asks what they would do. Enzo says he wouldn't use the veto. Lane says that if doesn't really answer, just think about the votes.

1:40am Hayden and Rachel talk in the bedroom about Britney using PoV. Rachel tells Hayden her conversation with Britney about her 2 week deal with Hayden. Rachel thinks that Britney is safe regardless, that nobody will go after her. Hayden asks what do you think? Rachel says this is huge, not only is this a game changer, this is the game changer. Rachel says you will have to go against all of your friends, if not this week, then next week. Hayden says it was going to happen at some point. I didn't play this to make jury. Hayden says that nobody else can know and they need to think we hate you. Rachel says but they'll know you have a deal with Britney. Hayden says that's fine. I can say I made a deal to ensure getting into jury. This is what fans love and live feeders are going crazy. Rachel says that this is so big that they might not even show this on live feed to save it for the show. Also, America must be voting for something, and it will probably be one of us that will win. Hayden says that Lane or Enzo might win. Rachel says that Brendon might win it as an underdog. Rachel says that Hayden has to be really careful about his speech and make it clear that the POV is all about him and not him and Kristen together, so that Kristen doesn't get voted out. Rachel agrees to the deal and says she'll tell Britney to use the PoV. Hayden and Rachel shake hands again on their deal.





2:10am Kristen and Kathy are talking in the lounge room. Kathy asks Kristen if Rachel had apologized to Kristen. Kristen says not since right after HOH. Kristen says she told Rachel that she wouldn't put up Rachel and Brendon if she won HOH next week. Kathy then asks her if Rachel believed her and Kristen said she didn't know but felt she had to lie to Rachel to try to save herself. Kathy tells Kristen she thinks Matt has a deal with Brendon and Rachel. Kristen thinks so too.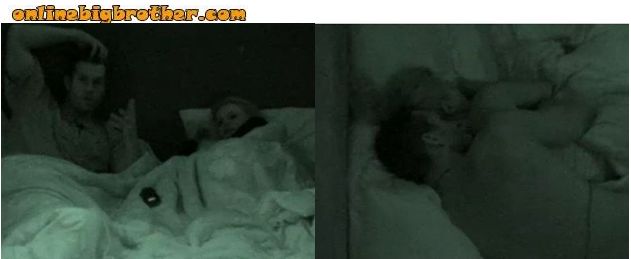 Rachel and Brendon are talking. Rachel tells Brendon the deal Britney told her Hayden made her. Rachel says Britney told her straight up. Rachel says that Britney told her to make a deal with Hayden. Rachel says she asked Britney if she could make a deal with Hayden and still send Kristen home, Britney didn't think so. Rachel wonders if this could be a big mistake. Brendon says she still holds the power to stop Britney from using it. Brendon asks if she trusts Hayden and Kristen, she says she trusts Hayden but not Kristen. They agree that the votes are anonymous and that Kristen and Britney could stab them in the back and lie about it. Brendon tells her to trust her gut, and then asks if her gut say to get out Kristen? Rachel says that she wants to talk it out first. She says this week you need four votes, then next week three to tie, but the week after all you need is three to evict. Rachel says what if Hayden and Kristen are still here that week then they throw the PoV when Rachel and Brendon are on the block then Brendon and Rachel go home and they are still fine. Brendon says he agrees and says that they won't try as hard and let Brendon and Rachel work there ass off and take the hits. He says that's why he doesn't trust this. Rachel says she isn't sure either. Rachel says they are also desperate and more likely to lie just to get past this week. Rachel says Britney knows this game more than anyone else. Rachel says Brit then Ragan then her know the game the best. They say the fact that Britney includes Brendon and Rachel in her thought process shows she is loyal. Brendon wants to get Matt out and then pull Ragan in to their alliance. Rachel says that she thinks it's too dangerous to give Kristen any opportunity to stay in the game. They don't know how to approach Britney to tell her they don't want her to take Hayden's deal and for her to not use the POV. Rachel says that they have to come up with a deal to get Matt out with no blood on their hands. They think Enzo would put Matt on the block if he won HOH. Rachel thinks Enzo would put up Matt next to Kathy or even Ragan. Rachel says that if Ragan went up it would be the worst case scenario. Rachel says that Britney liked the deal with Hayden because it took another target off her back. Rachel says Britney feels like she is alone in the house. Brendon asks if Britney trust us? Rachel says she thinks so. They say they will tell Britney what they talked about tonight that the evidence in the POV shows that Hayden and Kristen cant be trusted in a deal. Brendon says that when they make an alliance with someone they have to make sure that it's not someone who just stands by and watches them win all the competition because if that's the case they should just stay in an alliance with themselves.

Free Live Feeds! Superpass 3 Day FREE Trial
3:35am All the houseguests are a sleep..