10:08pm Backyard 3 Deep There talking about how awesome they are because the Brigade is still a secret after 4 weeks in the house. They mention their rap group which they want to call MC beastly Beats.. they joke around about going on tour etc etc. Next week all four want to have a DR session toether. Enzo "I'll go up to HOH right now says hey matty lets go Brigade in the DR yo" Lane and Enzo talk about their group DR session about Hayden being a beast. Lane says they should stay in HOH until Brendon drops out.Lane "Brendon's cannot win it he's gotta drop out".."we know Kristen and Brit would put B/R up". Lane: "We all need to compete with 4 in the double eviction the following week" Enzo wonders why they're talking about Kristen being around he's pretty sure she's going yo. Enzo: "I talked to brit yo I think she's not going to use the POV" Hayden: "I to don't think she's going to use it" Enzo says he wants Brit to win HOH Lane isn't sure she's going to, she told him she'll drop once Brendon drops becuase she to wants to play in double eviction. Brendon walks out.. they start talking about Matt last night dressed in the hippie garb. Brendon leaves and invites them up stairs any time. After Brendon leaves Lane says "fuck that i'm not going up there" Hayden says him and Kristen need to talk to B/R tonight.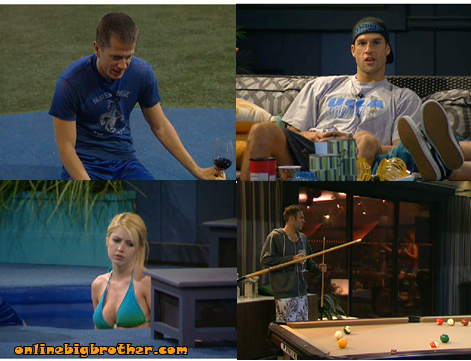 10:24pm Matt joins the other 3 brigade members they start to joke around.. then Kristen walks out.. followed by pretty much the rest of the house.
10:45pm bathroom Hayden and Kathy He tells her he is campaigning and he doesn't know who the replacement nomination is but it most likely will be her. Hayden doesn't want to see her or Kristen to go home but he doesn't want to go home either. He tells her he loves her and he doesn't want her to be upset about what we have to do. Kathy says she understands she doens't get treated nice from the others and hayden and kristen are very nice to her. She knows there is a large age difference and that has made it tough on her to fit in. She adds that they all think she's stupid but she's not she knows whats going on if hayden goes off the block she will go up and she will go home. Hayden says he's trying to win this thing, he's not a materialistic person he's not going to go out and buy a bunch of shit he's going to use this money. Kathy says she would to "Not like other people who would spend it on bigger boobs and botox" ..