SEE what they CAN'T show you on TV! 3 Days FREE No Commitments

10:30pm Cabana Room, Brigade yo Matt is swearing on his wife that he's not the sab. The brigade believes him. They agree that the member of the brigade that wins the 500K will take them all out for a brigade vacation. They're feeling pretty good about the POV competition however each one is looking pretty nervous, Enzo is pacing around. They go over the plan to have Enzo and HAyden team up with B/R. Both enzo and Hayden say they are making great headway with befriending b/r, enzo thinks they are starting to trust him more and more especially Brendon. They point out how much time they are spending together talking, Enzo is confident that the seeds he plants in Brendon will take root. Enzo mentions that Brendon will join him and hayden in an alliance all they need to do is ask him, The deal was unofficially offered to Enzo last night. They go over all the remaining houseguests to make sure that if any one of them wins HOH that they won't put up 2 brigade members. So far the only question mark they have is Kathy. Enzo reports that he's been planting in Brendon's head that LAne is teamed up with brit, Therefore if Brendon wins HOH next week he won't put up Matt and LAne like he was planning. Brendon already knows that ragan and MAtt are together but they're going to try and play the Thursday vote as a tie and have Matt keep Brendon then use that to get him 1 week protection. There confident that the brigade will stay whole regardless of who goes up for HOH next week (4 deep). There plan is to use Kathy as a unoffical allaince member and to keep her around to the final 5, she the perfect pawn. Talk moves to pandora's box where matt goes on and on about how he feels screwed over because everyone thinks he's the sab, He had gone into the DR and yelled at production saying that they are sabotaging his game. Lane tries to reassure him that it's not the case, the brigade believes he's not the sab and that all he needs. They start to speculate about who is el Salvatore, Matt is asking the 2 brigade spys (HAyden and Enzo) what feeling do they get from b/r. Hayden had a long talk with them last night this is his analysis. " I got a legitimate feeling that they are not the saboteur She's (rachel) not a good actor my instincts tell me its not her " Matt: "then who is it.. it's not Ragan I'm close to him I would know, Lane says it's not Brit, i don't see it either but it has to be kathy". LAne: "I bet it is kathy her DR sessions are probably OFF THE WALL CRAZY she's shooting guns running her mouth off" They all laugh. Matt points out that any brigade member has to be a idiot to take the saboteur position because they are in a very good position to go to final 4, the rest agree. hayden and Enzo leave to go work on Brendon.. they are going to continue to get closer to him, Make him feel like he's the target this week then offer him an alliance once Rachel goes home (assuming she won't win POV.. which she probably will) Ragan walks in.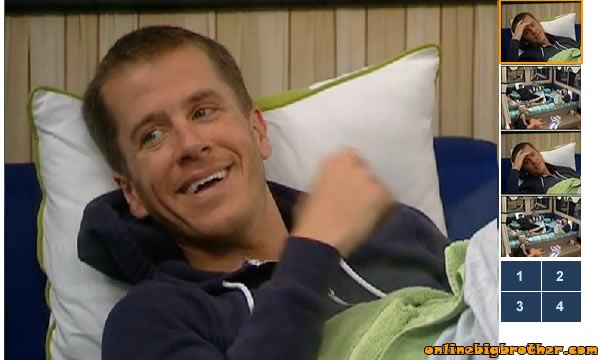 They start talking about the POV comp and who is the best at practicing last night. ragan says he's very good at it, He feels like this is one competition that he can do well in. Matt asks if he's still nervous, ragan says more then ever cause he really wants to get her out. Ragan says that he would do much better if they gave him a drink before the comp. Matt asks how Brendon is doing with the bowling last night. Lane say he's not the best nor is he the worse.. LAne: "There's no way that Brendon has played any sports in his live because he has such poor sportsmanship" Ragan mentions that he cries like a baby. They joke around about what excuses Brendon will use if he wins POV, "the Ball is not heavy enough for bigger people.. the ground is too slippery for tall people… my centre of gravity is too high for this..he has to bend too far to throw the ball which throws the nerves in his legs out so he now needs a hip replacement." Ragan doesn't like Brendon's personalty he's a nice guy and he's good looking but he's such a douche. Lane calls him the groomed ogre. Kahty walks in Ragan thinks that the POV will be btween noon and 2. kahty complains she's too tired to play the POV, she's certain she'll end up in solitary confinement wearing a unitard. Ragan starts to joke about how B/R were practicing last night "you got this babe.. yes yes use your toe babe.." Everyone laughing Ragan says if they start doing that during the comp he's going to say the same thing to Lane, "You got this babe"(using ragans girl voice).. Everyone howling.
Kathy brings up that she saw Rachel roll the ball between her leg. Matt: "I hope they sanitize that ball… You all better watch out she might shoot the ball out of her strippers know how to do that". They start to talk about the POV ans what exactly will be required for them to do. They know it's bowling but last night they were only given 3 pins. There all pretty much all agreeing that the POV will be long (not sure why) , Ragan:"it's going to be long and hard". Matt heads up to the HOH.

11:27pm HOH Brit and MAtt Brit brigns up how shitty Kathy is at bowling, she throws at her side adn every time she hits the side boards which means she'll get nothing but gutter balls. Matt saw her last night, he doens't know why Kahty has such poor confidence for being a cop and all. Brit thinks the 2 best are Enzo and Ragan both were nailing the pins last night. She doesn't think Lane was very good but he was much better then Kathy. Matt tells Brit that HAyden it convinced that R/B are not the Sab. Brit agrees with rachel not being it but she's thinking it might be Brendon because lately he's been acting off. Brit mentions that B/R are trying to make everyone think MAtt is the sab and he needs to go next week. MAtt laughs, he's not the sab why would he pick that roll for a measly 20grand. Brit : "how great will it be if Brendon and Rachel go out in the beginning and we're left and can just to trick shots" matt laughs he wants to throw some backhanders. Brit says that they've had bowling like this in previous years, She explains "10 pins regular bowling and whoever gets the lowest number of pins gets eliminated". MAtt: "it's going to take a long time to complete this comp" Brit agrees she thinks endurance might play a factor because it's going to be cooking out side today (lucky them it's raining here). Matt: "oh god i picked Kathy my hand is sabotaged". Talk moves tot he sab and both Brit and M on the sab messages during week one when they said "ha ha you didn't get me on the block this week". It was Annie and Annie was on the block so now they don't know if its a lie or truth…
11:50pm Taj Hayden, rachel and Brendon Hayden telling them they pulled the best picks for POV. the only way they could of pulled better is if they got Hayden to play cause he might be able to help b/r. They talk about how good Ragan is at it, Brendon is sure he'll beat Ragan. Brendon thinks Ragan will get flustered adn choke during the comp plus Brendon thinks ragan is scared of him so Brendon is going to try and freak him out during it. Rachel says she's wearing her lucky extensions today. Brendon mentions how pissed he is at Ragan for being mean to rachel, "you know he was her best friend week 1 and 2 and now he treats her like this.. Ragan was all heart broken when Kristen was on the block why isn't he that rachel is".. Hayden tells them he needs to get some sleep before they start the comp.
Noon Taj Rachel puts on her lucky extensions

12:41pm Trivia POV comp underway

1:36pm TRIVIA
2:06pm TRIVIA
2:26pm TRIVIA
2:46pm TRIVIA