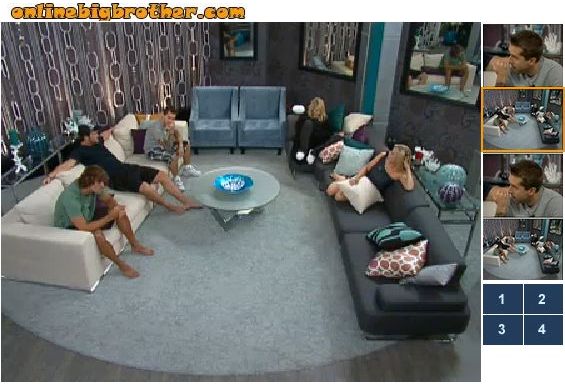 9:48am The feeds come back and Ragan says that how can you have no class and not pick any players for the POV.  Matt says he didn't know that Ragan had no choice but to play in this weeks veto competition.  Kathy, Britney, Enzo, Rachel, Brendon and Ragan are all playing for the power of veto.  Ragan used his POV ticket and will be playing. Kathy said she wanted them two to play. Matt says well we have 5 others. Lane and Hayden aren't playing. Ragan is automatically. Britney and Matt says that Rachel had wanted bag open for her.  Ragan and Brit say they heard Bren say they might as well just hang the veto necklace around his neck cuz he is going to win.  Hayden says that Enzo gets to play in every POV!  Kathy asks Lane why didn't he want to be the host.  Lane says cuz he didn't want to.  Ragan is mocking Brendon saying that they might as well hang the veto around his neck.   In the kitchen Lane and Enzo are talking, Enzo says that he (Brendon) picked his fate when he picked him (Ezno) to compete.  Enzo says its going to be a whole different game out there its not going to be the same.  Enzo says you'll see there will be a whole lot of trash talking going on out there.

SEE what they CAN'T show you on TV! 3 Day FREE Trial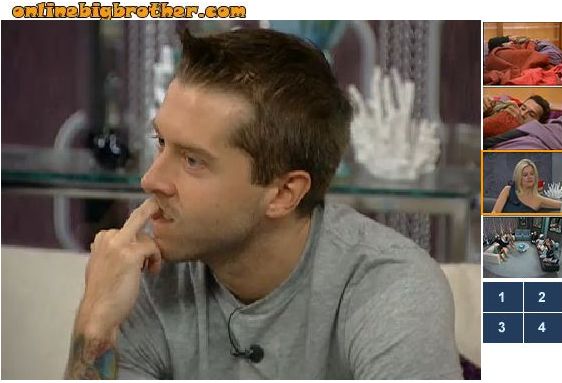 10am Ragan, Hayden, Kathy and Britney are up in the HOH room talking about how tired they are of Brendon and Rachel.  Ragan says that they are showing extremely bad sportsman ship.  Kathy and Britney say that Rachel is headed for a melt down and that once they get out Brendon she is going to snap.  They question if they should get rid of Rachel because she is good at quizzes and that's what they think the next HOH competition will be like.  Britney says that she doesn't fucking care that Rachel can win HOH and sit up here all week by herself.  Both Kathy and Britney say that they will not come up to see her HOH if she wins it.  They are pissed off that Brendon and Rachel act like its their game.  Meanwhile, Matt and Lane are in the kitchen ….Matt tells Lane that Enzo and Hayden should go to Brendon and tell them they should name their alliance the Brigade so that they can then yell out Brigade and no one will know.  They then decide that's not a good idea because they don't want to tarnish the name.  Lane says that he hates Brendon with a passion, that he is a fucking ogre.

10:10am Back in the HOH Hayden is saying that he wishes he was playing.  Ragan says that he wishes Hayden was playing too.  They says that this competition is going to take forever because they have to each go up and reset the pins each time.  Britney says that they are so immature.  Hayden says that Rachel is acting just like a little kid that has had her toy taken away.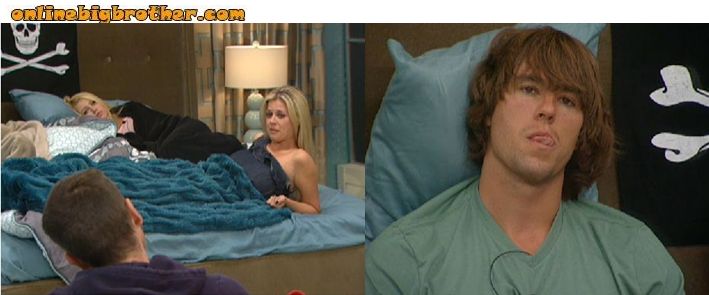 Try the Live Feeds For FREE! Superpass 3 Day FREE Trial!

10:30am In the cabana room, Lane and Enzo going through game scenarios. Enzo says their final 6 needs to be the brigade plus Britney and Kathy, … Enzo laughs and says because Kathy can't win shit. Enzo says that Britney would put up Kathy and out she'd go, and Britney couldn't play for the next HOH. The feeds cut out… when they come back Enzo is saying you're going home bitch! Enzo talks about winning the POV and telling Rachel and Brendon that Enzo can't use it because people will think it's a saboteur move. Lane hates that he is never picked for a skill competition. Hayden joins them. Enzo tells him to go talk to Brendon and Rachel. Enzo says that it's perfect that Ragan is fighting with them. And that if Bren wins HOH he would put up Matt and Ragan and Ragan goes home, then Brendon goes the week after, then Britney and then Kathy goes . Enzo says that during the finale he will call out whoever the saboteur and say it was a punk move accepting it. They talk about Matt swearing on his wife he wasn't the saboteur. Enzo says that he thinks he might be trapped by what the Box did to Matt. Like he had no choice but to become the saboteur or he would have lost his nominations this week or something else. They all agree with Matt swearing on his wife that they will believe him. They all say they wouldn't care if Matt won like $20,000. Lane says that he wants to go on vacation with the Brigade members and their families. Hayden suggest whichever one of the Brigade wins the 500k that they promise to take the three others out for like a week. They all agree to.