1:20pm Backyard couch Rachel and Brendon There talking about how commited they are to each other and how they will be side by side until the end. They start planning the next couple HOH's they think that if kathy can win HOH next week they'll be in good shape. Rachel says who will Andrew put up? Brendon says Andrew will take out Matt. rachel says she thinks that they could be in trouble if they lose a couple HOH's. Brendon agrees "we need to keep the numbers on our side so regardless of what they try we have the control" rachel "people in this house are not stupid there going to put people up strategically" Brendon Oh I know.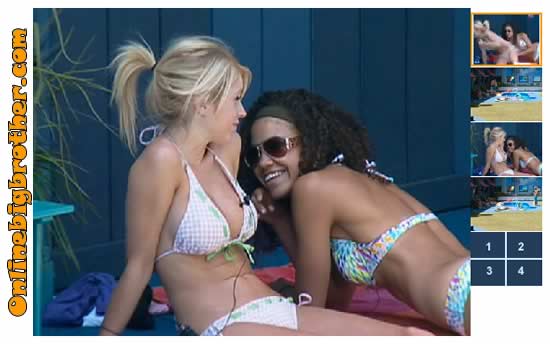 1:28 Pool side Monet and Brit bashing more and more..
talking about how nasty Kristen is with her fake boobs.. Monet wonders why Hayden is with her why is he so desperate. Monet points out all the weight that Kristen has been gaining.. "I hope she turns into Jordan and Balloons up" They move right to Rachel saying the same thing nasty, dirty, how that keeps showing off her vagina because she too nasty too wear underwear. Brit tells Monet even if she does go home at least she won that money I brit goes home next week she gets nothing only her stipend, "My stipend will just cover the deposit i lost for cancelling my vacation " Monet "what the hell are they scared of? why put me up… It's personal thats it" Brit says Monet needs to talk to hayden he's more logical he'll figure out what to do. Monet counts through the votes she needs to get one person's vote and then other people will vote for her to stay. "If i can get that one vote i will laugh in rachel's face" Monet i wonder if I have a chance with kathy. Brit no kathy is out of the picture the only one we have with a chance to flip is hayden. Monet can't understand why Hayden is so "in love" with Kristen she so fucking nasty. Monet jokes that she's going to punch Rachel in the face brit says she's going to punch her in the gummy bears.
1:48pm Cabana Room Brit breaks down

1:54pm Monet joins her.. both are crying Monet "this blows".. brit "I hate everyone in this house" Brit asks Monet to not show her face because seeing her sad like that make brit cry even harder.

Onlinebigbrother.com is around because of your donation every year the site costs us to host the images and run the 3 servers needed to handle the traffic. If you like the site then please consider donating to keep the madness going. Thanks!
Share it YO!!
Tweet