11:55pm Brendon and Andrew are talking in the Have Not room.  Andrew says that he thinks he can get the votes.  Andrew says that he wants to put on a show to make them think that he hates them (Rachel and Brendon).  Brendon says that he has Enzo for him. Andrew asks Brendon if he thinks Ragan will vote for Kathy.  Brendon thinks Ragan will vote for Andrew because he is the stronger competitor. Brendon tells Andrew that Rachel and he had that conversation with Ragan about getting rid of the people that throw competitions and aren't strong competitors. Brendon says that he and Rachel want people that are competitors here in the game and that's why they will vote to keep him here.  Andrew says that he is not worried them.  Andrew tells Brendon not to go and talk to Hayden and Kristen for votes.  Brendon tells Andrew that Kristen likes him.  Brendon tells Andrew that he trusts him (Andrew), Rachel, Kathy and Ragan. Andrew tells Brendon to not talk to anyone about him because he doesn't want the others to think that they are together.  Andrew tells Brendon that he or Rachel have to win the POV tomorrow and that he is putting his trust in them.  Both Brendon and Andrew then go to bed.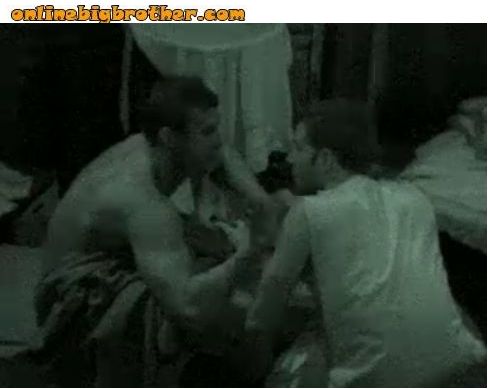 12am Matt and Ragan are talking. Ragan asks Matt why he feels weird and asks if it's because he should have put them (Brendon & Rachel) up outright. Ragan says if they win POV and then HOH ….you will not go up. Matt says he knows. Ragan says that he thinks it will be the fold challenge. Matt says it will be an easy one to toss and then says that he will probably suck at it anyway. Ragan says Brendon would go after Kristen and Hayden too. Ragan tells Matt he's livid that they dropped so soon. Ragan says Kristen didn't want Monet in the house and that's why Brendon switched his vote. Ragan says that Brendon and Rachel told him that they have been thrown under the bus by the people in Rachel's HOH meeting, whether its legitimate but that's what Brendon has in his head. Matt is confused and says they don't get it why people think they're a threat when they are always together and says they make no sense. Ragan says that they are digging their own graves but at the same time they are going after people under the radar which could be a good thing. Ragan asks if people have approached him about his nominations. Matt says Kathy is pissed. Ragan says Britney says that it makes sense and talks about the odds of both of them getting picked. Ragan says that its not a bad thing for both of them to stay in the house. Matt says what a great season we have to have one of the best.


12:20am Kristin and Kathy are talking in the bedroom. Kristen tells Kathy to fight like hell. They talk about Kathy's vote. Kristin assures her that she will be okay either way. Kristin thinks it will be great for her to stay but Andrew doesn't deserve to go either. Kristin says that she will be fine. They are trying to figure out how Matt knew her vote was the one against him besides Britney. They say that next time it is better to be safe than sorry. Kristen leaves and Lane asks if Kathy is alright and says she was taking her makeup off. Kathy tells Lane that she don't want to go home. Lane says that he is going to bed. Kathy says he's right behind him. Lane and Kathy get ready for bed.





Lane, Enzo, Matt, Ragan and Britney are sitting around the hot tub talking about random stuff. They talk about how they are surprised Andrew stayed up as long as he did during the HOH competition. Ragan asks them if they have seen the YouTube version of To Catch a Predator. They all talk about the TV show. Everyone says how much they like the show. Britney starts talking about a show on E. They talk about different tv shows and about Sarah Silverman. Ragan says he finds he has to defend her and her jokes in her book. Ragan says that when she made a joke about Paris Hilton she had no idea that Paris Hilton was in the audience. Britney says I wish they would wake us one morning with Britney Spears. Ragan and Britney are talk about different Britney songs and albums. They all start talking about all the morning wake up songs that they have heard so far in the house. Kathy comes out to have a smoke and starts telling everyone about the jokes they play on the new cops. She says that they put fresh road kill in the back of someone's car. Kathy tells a story about some of the cops finding a dead hog, and that they had posed the hog with a beer can on a sign post. Kathy then heads to bed. Kristen and Hayden are now sitting on the couch talking. Hayden tells her that he really doesn't want Kathy or Andrew to go home. Kristen says that she doesn't either. Hayden says that he thinks one of them is going though.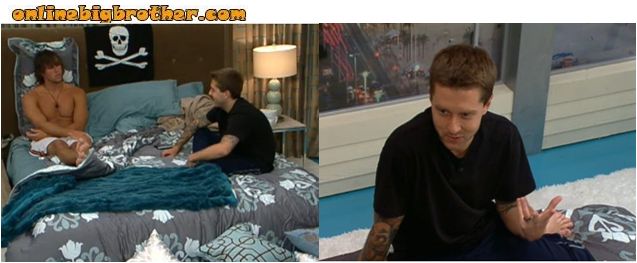 Try the Live Feed for FREE! 3 Day FREE Trial
1:25am Hayden is taking shower and Matt tells him to come up to HOH to talk when he is done. When Hayden comes up Matt tells him about Ragan told him that Brendon is targeting Kristen and Hayden. Matt says that Ragan is his side alliance, and that he is useful to have around because he just talks and talks about everything. Matt says that Ragan said they didn't specifically say Hayden and Kristin's names but that Brendon was saying that there were two people that have an obvious close friendship that dropped too early in the HOH competition. Matt tells Hayden that Brendon and Rachel said they are going after the people that throw competitions. Both Hayden and Matt agree that Brendon has to go this week. Hayden asks Matt if it is between Kathy and Andrew, which does he want to go home? Matt says it's a tough one, Andrew is obviously stronger in competitions, but Kathy is a definite vote for Rachel/Brendon so it is probably better to get her out. They talk about scenarios for next week. Hayden says that Kristin is good to have around, but she is completely expendable. They say the brigade is the number one alliance, they say that the brigade is running the house. Matt says that he is worried about the POV competition tomorrow and about the brigade's safety next week. Matt tells Hayden that Ragan is a great resource because he is such a talker. Matt says again that Brendon didn't name names, but he thinks that he was talking about getting rid of Kristin and Hayden. Hayden repeats that they have to get Brendon out this week. Matt asks Hayden not to tell Kristen. Matt says that he doesn't want to be the bearer of bad news, but they have to keep an open line of communication about these things. Hayden leaves.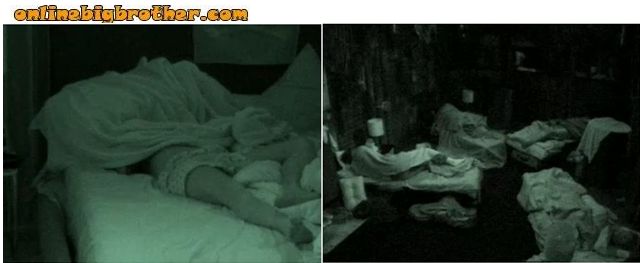 2am Kristen and Hayden are making out in the bed. All the other houseguests are asleep.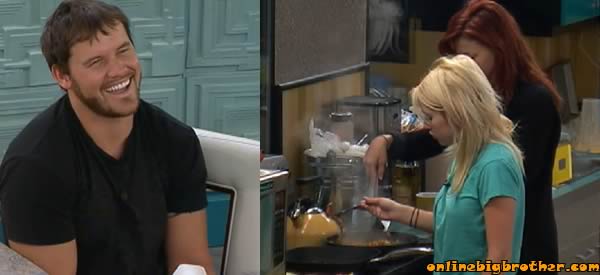 8:43am
Houseguests waking up for the day getting food etc..
Share it YO!!
Tweet