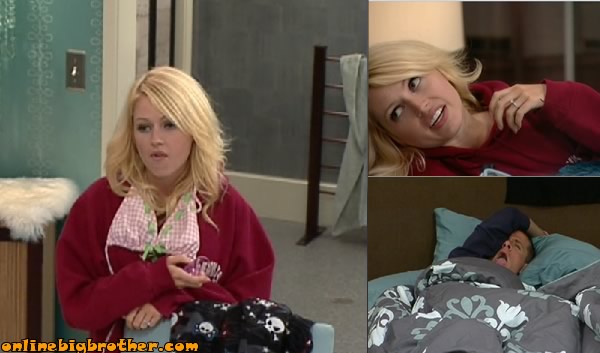 9:50pm HOH Brit and ragan Ragan predicts that no matter what happens this week that a strong power player is going home. He see it being a player that deserves to be in the jury house. Brit asks him if he's going to play hard in the HOH comp tomorrow. Ragan says it's not in his nature to throw a comp he will never throw a competition ever. Brit doesn't plan on losing she's going to give it all she's got, She's thought about it hard and winning HOH this week is a good thing for her game. Ragan brings up that even if you play hard doesn't mean you'll win theres a 1 in 9 chance that you'll win. They both agree that it'll be a weird eviction night because everyone is thinking about the next week, unlike previous evictions. Ragan is worried that if B/R win they might fuck with matt.. maybe put him up as a pawn. Brit says no way if B/R you or me win HOH we're all safe including Matt. Brit is jealous of Matt right now he's set himself pretty good. Brit believes that her and ragan are in the same position the rest of the house will be taken out if B/R win HOH but her and Ragan are fine. Ragan agrees with but thinks they shouldn't say anymore about it now. Rachel joins them and they start talking about the HOH competitions from previous seasons.
10:10pm Brigade working out Lane is in the DR Matt tells them that he's pretty sure a lot of people are hanging out in HOH tonight so if they want to come join them they are welcome. Hayden heads to take a shower, Lane comes back from the DR. they start talking about the brigade and how awesome it'll be if they get another brigade member up in HOH. Enzo is running laps on a pass he tells them this coming week we win HOH and we celebrate because it'll mean we're heading to the jury house. On his next pass enzo says "Going to the jury house and getting blasted every other night yo". Lane says he was talking to brit about previous seasons alliances she told me they always go to the finals and they are always popular with the fans. Matt wonders if Andrew's secret alliance he talks about is bigger than theres. Lane "who else would be in a bigger alliance" Matt thinks Andrew's talking about them or he's lost it. Matt tells them they are set they all have side alliances no body is going to put us up. they talk about how awesome yo it'll be if their was another secret alliance it would be battle of the secret alliances.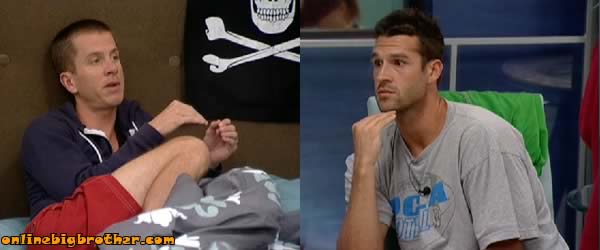 10:36pm HOH Ragan, Brendon, Brit and Rachel brendon and rachel are trying to convince ragan to keep Andrew.. its the same insanity we've heard from Brendon for the last 4 days… Ragan tries to explain to him why it's so weird that Brendon is campaigning for Andrew after Andrew told him he's coming after him. It looks suspicious.
Share it YO!!
Tweet