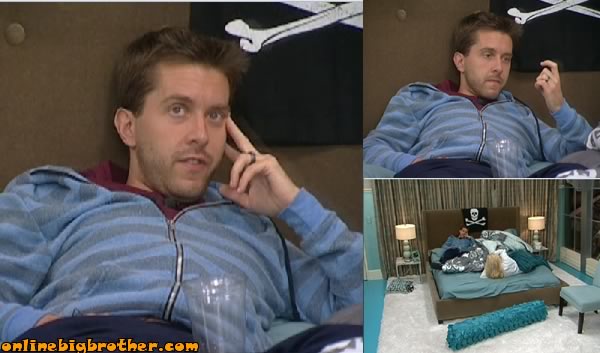 8:30pm Matt and Kathy HOh .. YOU KNOW.. they briefly talk about Andrew's house meeting speech. Matt thinks it was a good move for him, Kathy agrees. She asks him hows it going, Matt pretty sure Andrew is gone he's too much of a loose cannon. Matt is sympathetic about Andrew saying since day one he was hit with the stigma that he was the saboteur and that isolated him early in the game. Matt adds that it doesn't excuse him for his behavior these last couple days. Kathy rehashes the morning freak out with Andrew. Andrew tells her he heard it all he knows what happened in was in the kitchen making slop. Kathy says the one thing Andrew shouldn't of done was say those things to kristen becuase she really defended him. Matt agrees he brings up the time when kristen came up here and defended him. Matt isn't sure that Andrew's craziness has ended, he could still pull something looney Toon out tomorrow. He points out that this morning was totally unprovoked just came out of the blue. Matt thinks Andrew was taken advantage of from brendon and rachel.. "i don't know what they did to him but they talked him into doing these things and now look at him". Kahty brings up last week's HOH meeting and when everyone in HOH was talking about who to put up either
Andrew or Matt. They were going to put Andrew up because they were suspicious about you volunteering to go up. Kristen wanted to talk to Andrew before they decided but Brendon wouldn't let her. brendion insisted that everyone in the HOH would not talk to andrew. That put up a read flag for Kathy. Matt thinks that was weird and scary that someone can have a secret alliance like that under people noses..
SEE what they CAN'T show you on TV! 3 Day FREE Trial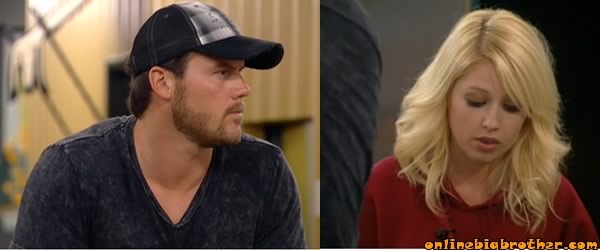 9:00pm Kitchen Brit and Lane Brit is telling him she is not going to put B/R up if she wins HOH. She explains that B/R isn't coming after her but Kristen is. Britney says that Kristen controls Hayden. She asks him if you know Andrew was coming after you would you put up B/R instead. Lane says the whole house will be pissed at you. Brit lists off the brigade and adds Ragan tells him thats the house right now will you guys come after me? Lane tells her they will all be pissed off. Lane thinks b/r would put her up, Brit doesn't. She asks him why nobody is pissed off at Matt because he never put up b/r. Lane explains Matts "plan" to Backdoor Brendon. Brit says theres 2 people coming after me Lane says if B/R don't go up there could be 4 people coming after you. Brit asks him who he thinks B/R will put up, Lane thinks it's him. Brit says no you won't if you go up you'll be the pawn… Hayden walks in the talk changes to past season Alliance names.
SEE what they CAN'T show you on TV! 3 Day FREE Trial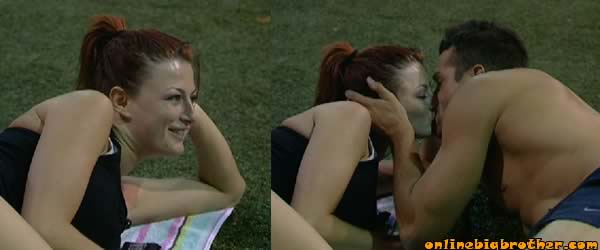 9:30pm Rachel and Brendon working out They talk about how cool it is if they get to go on allstar. Rachel says that will only happen if America love them. Brendon doesn't care this is what he says "I know I love you and I know this is real and I know I want something when this is over and I don't care what people think" Rachel Ahhh Brendon your so sweet and they kiss….

Onlinebigbrother.com is around because of your donation every year the site costs us to host the images and run the servers needed to handle the traffic. If you like the site then please consider donating to keep the madness going. Thanks!
Share it YO!!
Tweet