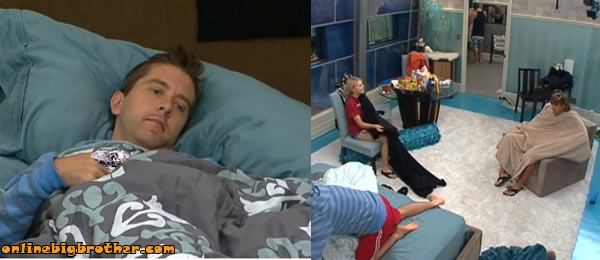 SEE what they CAN'T show you on TV! 3 Days FREE No Commitments
2:45pm HOH Everyone but B/R and Kathy They are studying for the HOH comp. Ragan and Matt really know their stuff. Enzo keeps asking questions trying to learn as much as he can. They are all convinced that Rachel is the sab after Brendon's POV speech earlier today. Ragan points out that rachel was pretending to cry during the ceremony, Enzo saw her she was trying to make it look lilke tears but her makeup wasn't running after. Brit tells them theat Brendon's speech was a lot like the sab speech. MAtt agrees but wants to make sure everyone is still on board to boot her the BLANK out. Everyone agree's Rachel is much more dangerous then Brendon is. They go over the plan to make Rachel think she is staying this week so to reduce the drama then come Thursday she'll go with a house vote against her.
Hayden wonders if he gets into a bar fight if anyone in the season would help him out, Brit: "I would slip the opponent a 100". Brit asks Enxo if' he knows someone that can rough up Brendon when the show is over, Enzo: "Yeah yeah I can take care of that no problem I got a cousin a San Diego" Hayden thinks they won't need to get someone to do it it'll just happen. They go back to studying questions, enzo seems to really want to practice (maybe because he needs to the most) Brit, Ragan and Matt have it all figured out.
They start talkign about last night and how skanky Rachel was getting. BRit brings up Rachel telling them she never has to pay to see musical performances she has guys that pay for the tickets. Brit: "it doesn't matter if you pay for a ticket or a vagina does. you still paying for it". Ragan: "I'm sure her MAdame pays for her tickets". Ragan impersonating rachel: "I BLANK for tickets… but my vagina is in shape.. look at my pussy it BLANK all the time" Enzo and matt laughing, Enzo: "just go down there and say that but after ask them to not take it personally it's just a game … your pussy can take it personally "… They start laughing at how personally Rachel has played the game and was constantly telling them it was for strategic reasons. Hayden brings up how pissed off Rachel got at all of them when they were saying visiting fort worth was going to be more fun then Vegas. They think it's funny how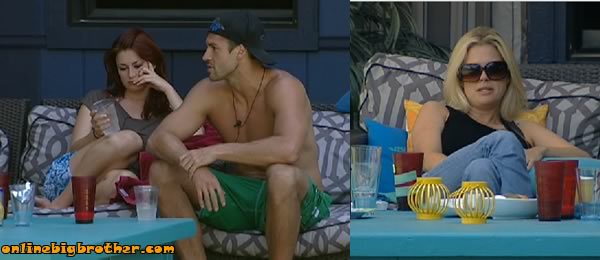 3:05pm Backyard couch Kathy, Brendon and Rachel Brendon telling her he's sick of the house being against them and telling them one thing but doing another. Brendon brings up how mean Ragan was to Rachel by not talking to her anymore (Kathy just "ya ya ya uh uh ya ya ya") Brendon says he doesn't understand what is going on in the house all him and Rachel want to do is compete. Kathy tells him to speak his mind in the house and know that the people talking the most BLANK and making enemies are not going to get votes in the finale. Kahty "I have never changed since i've been here" Brendon agrees that she hasn't, he points out that 20 minute after Matt wins HOH Brit is all around him scheming. Rachel comes out and tells them that everyone is up in HOH, how rude is that for them to all hide up there and not invite us (if you've been following things you'll find this comedy gold) . Rachel: "I love being the outsider" she tells Kahty she should go up there because she not a outsider. Kathy doesn't want to she's happy siting outside smoking. Rachel doesn't even think there talking about anything important just trying to decide who they hate more Brendon or Rachel (I listened in it's rachel)
Rachel: "I just don't get why people think i'm a BLANK I'm a really nice person, I do charity work I help people I try to teach them things… I let people live in my house for free.. I give all my friends jobs in Vegas". Brendon: "These people always say OH OH don't take this game personally but Rachel and I are the only ones playing the game the others are taking it personally" (comedy gold again biam). Neither of them can figure out why they are the villains. Brendon gets up to go inside. Rachel starts trying to work Kathy telling her that she doesn't want Brendon to go out looking like the bad guy becuase he's not. Rachel thinks that calling Brit spoiled brat isn't really that bad .. Rachel asks Kahty "so what are you thinking about.. wheres your head at".. Kathy: "I'm hungry" rachel: "Ohh yeah i guess your on slop huh"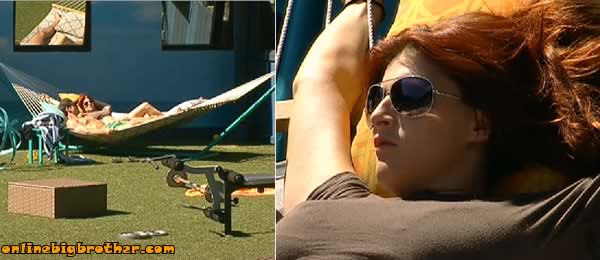 4:00pm Hammock Brendon and Rachel talking quiz questions