HOH Part 1: Jackson Vs Holly Vs Nicole
Part 1 Winner: JACKSON
HOH Part 2: Holly Vs Nicole
Part 2 Winner: HOLLY
HOH Part 3: Jackson Vs Holly
Part 3 Winner: ?
Check out the rankings from this year —-> Big Brother 21 Ranking GRID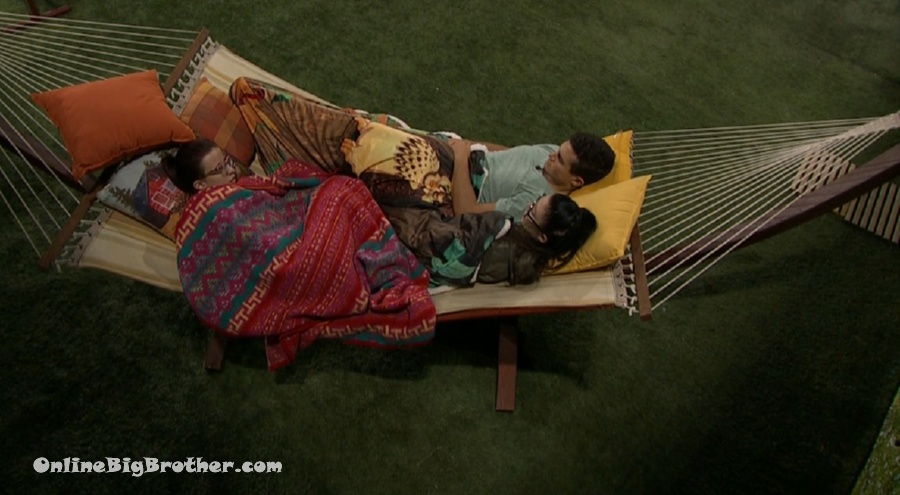 4:10 am Hammock time with the final 3.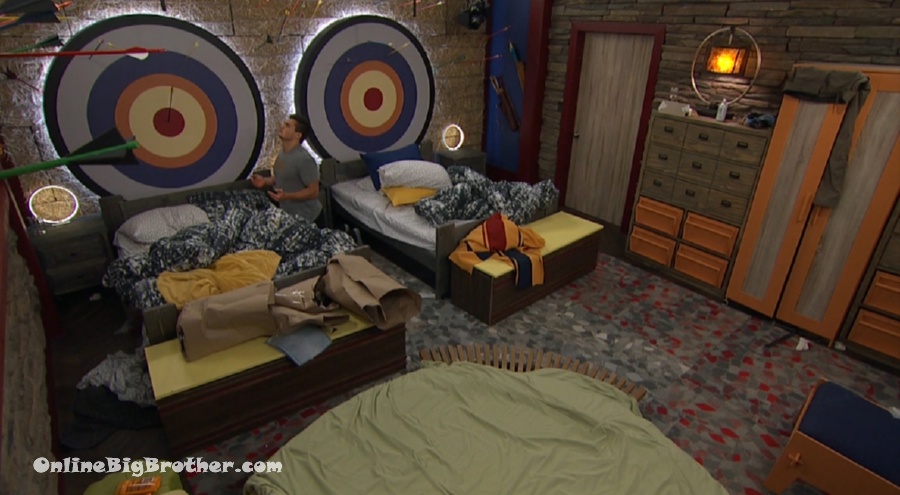 4:45 am Jackson turns to god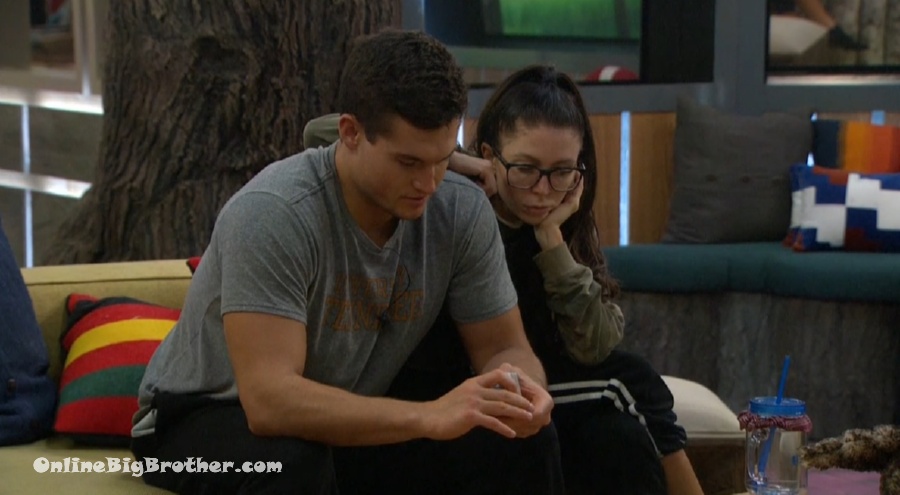 4:50 am Holly and Jackson
Jackson going on about being ready to have a conversation and find out what he's f*ed up.
Holly trying to get him to talk about what is bothering him but he says he'll just keep it in his head.
Holly reminds him none of them know what they are walking out to. He's not the only one terrified.
Jackson snarks that he is worried about his outside image and there's nothing he can do about it doesn't matter if other people are or aren't worried.
J – there's a lot more to it than you don't know and you will not know until we are out of here
H – all of that reflects onto me as well
J – YEAH I KNOW THAT! you think that is not going through my head? I don't want to f*ing bring you down with me the same way I did in this house. Trust me I'm already thinking about it. I know what it does to you, My family, Friends Everyone.
H – I need to brace myself
J – I am not telling you these things not in this house. NO WAY
H – All I know is what is in this house. I don't know what walking out to based on my actions and I don't know what I'm walking out to based on what you fear. So I am tryign to brace myself for all of the above.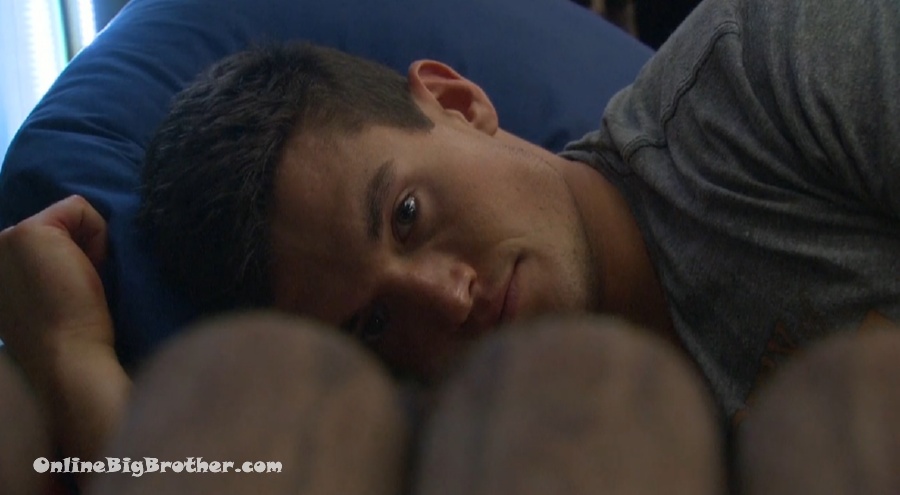 5:10 am Jackson and Holly (Hard to hear everything. Holly esspecially)
J – on a personal level if you get out of here and want nothing to do with me I wouldn't blame you. Please don't take it out on a game level.
J – I'm not perfect I'm far from it
H – I don't care about perfection
J – Who I am and who I have been are two different things
J – I've done a lot of dumb sh1t. Can I take back the things I've done?
J – I've been through a lot. A lot of scary situations
J – I may be getting burned at the stake outside of here. I may have been for months. I know who I am I know who I am not. I know the mistakes I've made
J – There's a lot of things I want to talk to you outside this house. What you do with it from there is up to you. I am who I am
J – there are reasons behind everything I have done. There is nothing I wouldn't do for the people I love and care about
J – I really hope you keep that pinky promise we had
J – I don't want to make this a thing and have someone go back. I don't want to make this conversation a thing.. someone will go back
H – I know
Jackson says Nicole is going to try hard to get to final 2. She'll tell Holly she can't beat Jackson in final 2.
Jackson brings up the videos they got to see from their family "My parents did not look like they wanted to make that video. looks like they wanted nothing to do with this"
J – Didn't look like they were excited. Looked like they were disappointed. It just replays in my head. If breaks my heart.
Jackson says Nicole's family was proud of her.
Holly says she's in the "the same boat just not… my doing"
J – Thanks.. you're sleeping here tonight.
H – Don't do it
J – F* it.
H – HUH ?
J – I shouldn't have said anything.
Jackson leaves.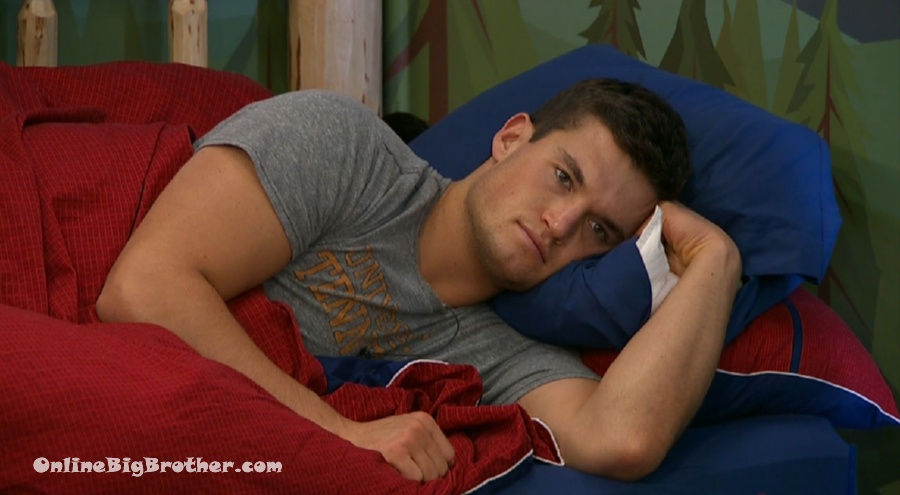 5 minutes later Jackson comes back
J – You sure know how to comfort somebody when they are freaking the f* out. Goodnight.
Holly mentions something about it's him bringing himself down
J – thanks, You don't need to remind me that it is me bringing myself down inside these walls and outside. I already know I f*ed things up enough
H – Jackson, we're all in the same boat Okay
J – it's not by your doing … get it
Jackson – I appreciate the reassurance
H – Seriously. I don't know. I'm in the same position and I'm scared
J – Sounds good
10:20 am Fish aka wakeup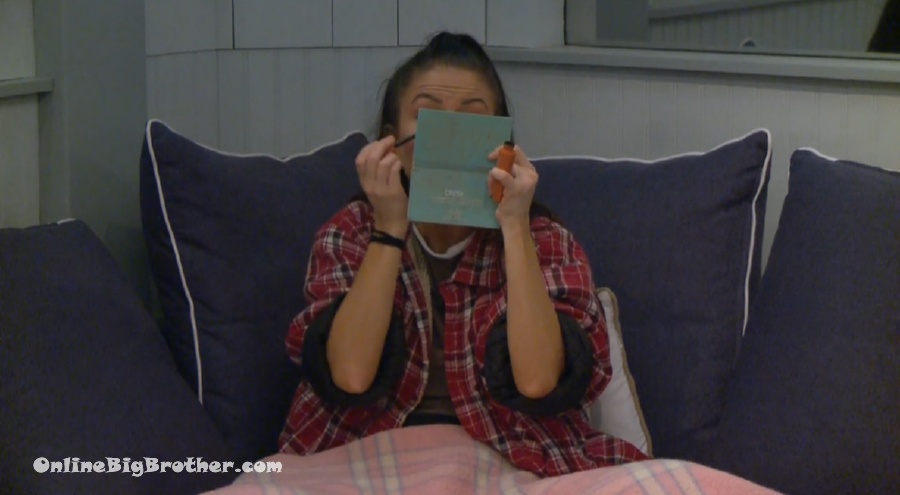 11:20 am
Of course Holly is doing this..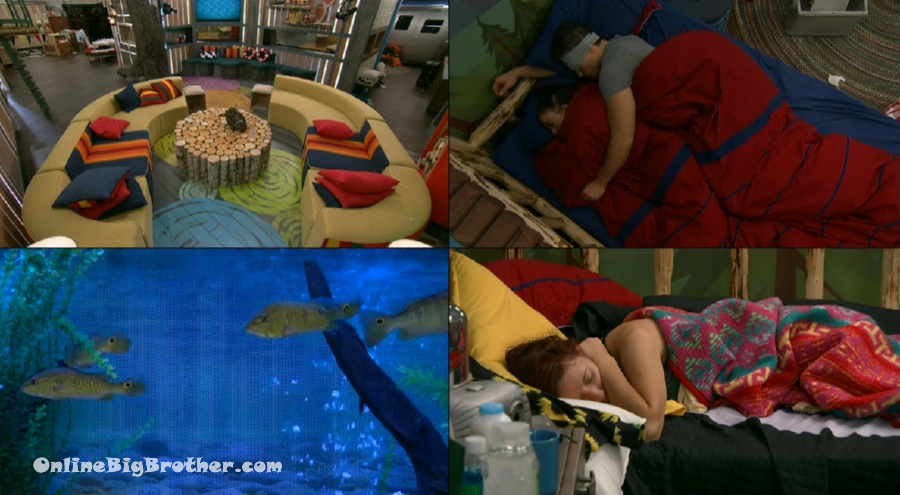 3:18 pm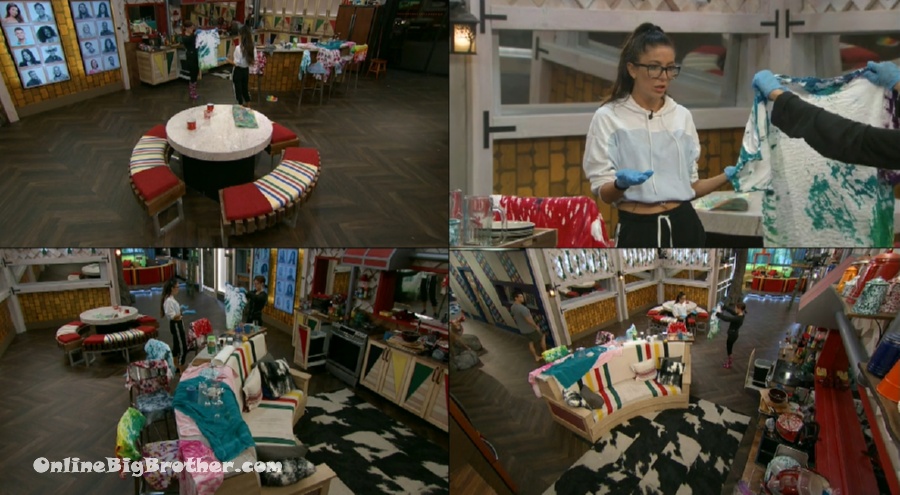 7:00 pm Tie dye
8:33pm Bathroom. Holly and Jackson.
Jackson – in 48 hours we will know who won. Will it be me? Will it be you? Will it be Nicole? Only time will tell. Holly – what are you thinking? Jackson – how close we are. Holly – is that all? Jackson – how far we've come. Thinking about jury. Thinking about their questions. Thinking about which one of us is going to win this HOH. Jackson – if Christie asks if you won the double who would you put up and why? What are you saying? Holly – I don't know. Jackson – if Cliff asks if you had won the double who would you have put up and why? What are you saying? Holly – I don't have an answer. Jackson – if Sis asks why you picked Christie over her, what are you saying? Holly – better deal. And Sis was after you. Jackson – if Sis asks me or them .. what are you saying? And Why? Holly – you or them? Jackson – these are questions you need to have responses for. I don't know why I am willing to help you because this is the first time we are going against each other but I care about you a lot. Holly – I really don't know. Jackson – you need to think about anything and everything you've done to every individual person. What their question about it will be and what your reason for it will be and the game explanation as to why it benefited your game .. and how it got you here. Holly – I know. Jackson – you need to have every base covered. Every angle. Every spin. Everything .. and how it benefited your game and pushed you forward to the final two. Holly – I know. Jackson – and it needs to be smooth and a delivery that hits home with each individual jury member. Holly – I know. Jackson – because the way you answer Sis is not the way you answer Christie. The way you answer Christie is not going to be the way you answer Jess. The way you answer Cliff is not the way you answer Jack. You need to know what each one of them wants to hear. Holly – yeah but everyone is hearing what everyone's answer is. Jackson – yeah but its the way you answer the question. Holly – I know. Jackson – you're selling yourself. Be something they want to buy. Put yourself in their shoes. What do you want to hear? This is more important than the last HOH. This is what makes or breaks half a million.
9:30pm – 10:35pmNicole, Holly and Jackson lay down to sleep. Holly gets up to get something to eat.

10:40pm – 11:50pm More lazing around the house. Then cards in the bathroom again on the $ex stool.. of all places..
12:10am – 12:23am Jackson and Nicole.
Nicole – I want to know if its worth it to campaign or if I am fighting a losing battle like a fool. Jackson – I don't think you'll ever be a fool in this game. Cliff was up on the block against Holly and he was campaigning. I mean ultimately what did him in was the voting thing. I don't think you should ever just throw in the towel. Nicole – I never would, I just. Jackson – if you want to talk tomorrow we can. Nicole – yeah. I think its tough because I see things from my perspective and I am obviously biased towards myself. Its hard to advocate for something when its in your favor because you're biased. When you're on the block against someone, I don't want to talk about them but I'll talk about myself. I see things from my perspective and how I think things would unfold with a jury. You know what I mean? Jackson – yeah. How do you think the jury will go? Nicole – truthfully, you against each other .. it could go either way. The jury could view it as one a unit a duo. They will either go the competition route .. you're a duo .. Michie won this, this, this and this. Or they're going to say they're a duo and no offense .. Holly pissed us off less. I can't answer that because I don't know. Jackson – it could come down to who played harder? Who played big brother. Nicole – it could. Jackson – that's where it comes down to how good are those two people in the chairs with their words. Nicole – yup. Jackson – look at Paul.. both years.. his actions won him the game .. and his words lost him the game. Nicole – no, its true. Its very true. Holly joins them. Nicole – I don't know what the jury is thinking. Jackson and Holly head to the bedroom. Nicole continues to play solitaire. In the bedroom, Holly questions Jackson on what he and Nicole were talking about. Jackson – talking about jury and how it could go either way.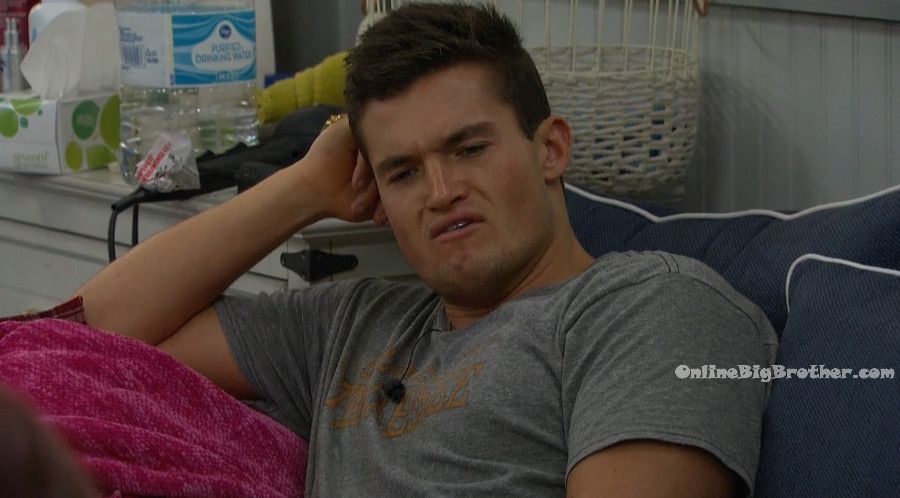 12:40am The final 3 are now sleeping..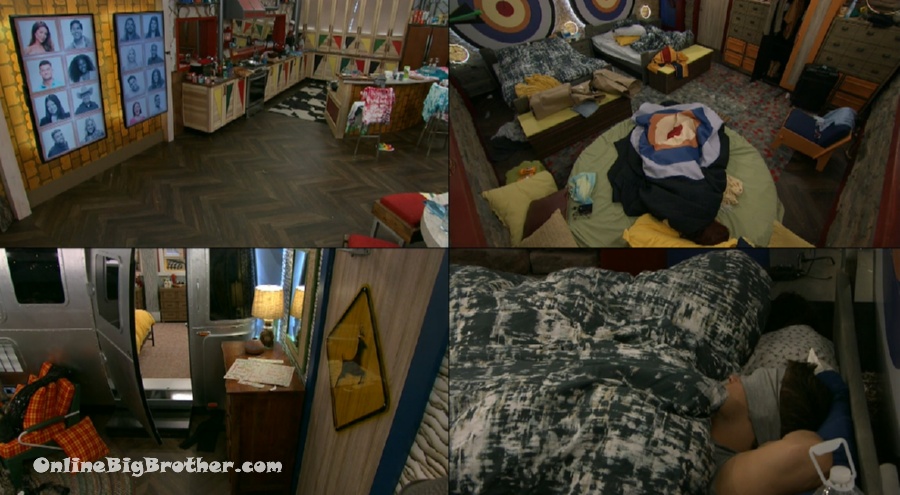 10:40 am They're up .. sorta.
I'm not really expecting much until tomorrow night.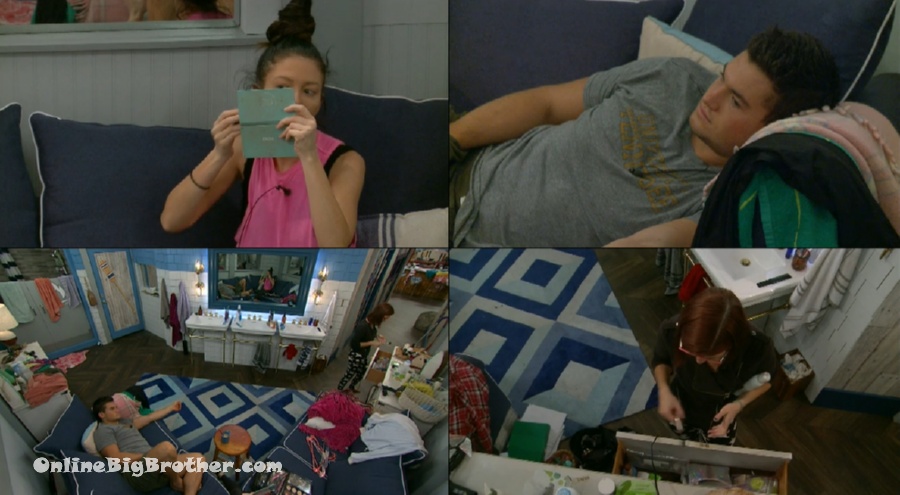 2:30 pm update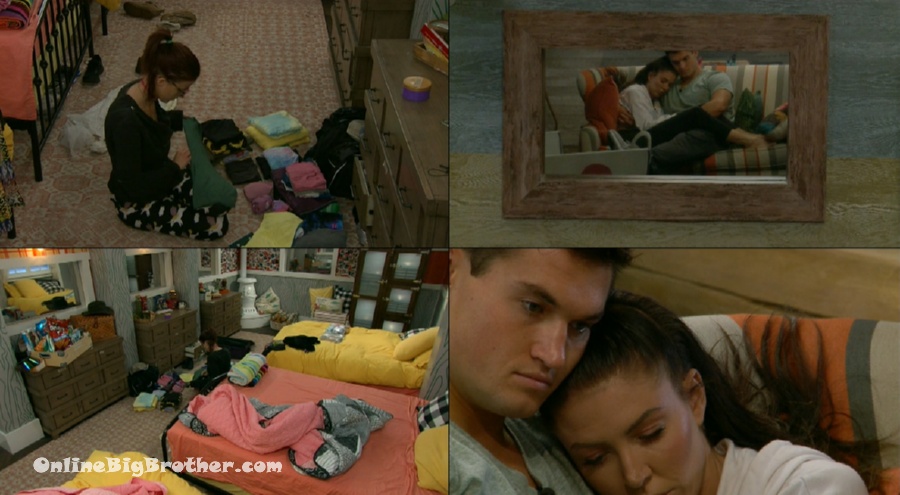 6:15 pm Holly and Jackson plan on telling Nicole if they win they're taking each other.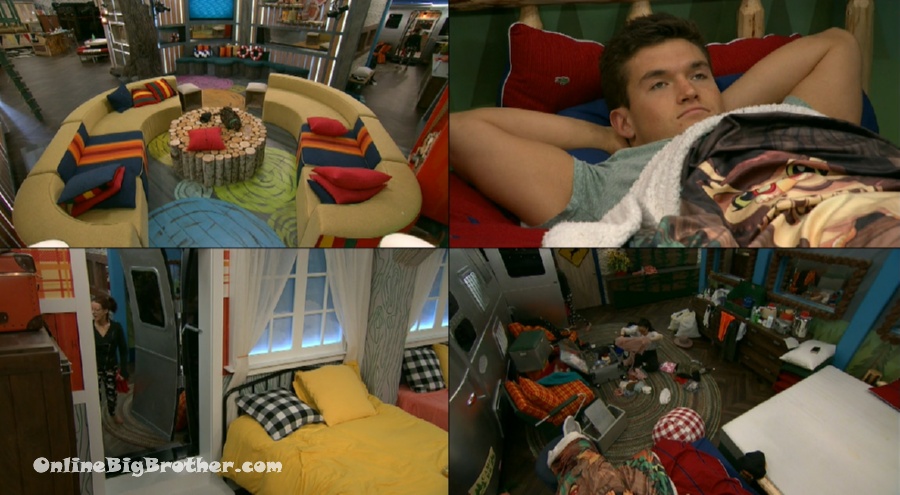 7:33 pm
8pm- 9pm Jackson cooking in the kitchen. At 8:55pm the final 3 sit down to their final dinner in the big brother house. They all say why they're grateful.. each other, this experience .. blaa blaa, blaa…
After dinner they move into the bathroom for more $ex stool card games..
10:20pm – 11:15pm Nicole campaigns to Holly in the bedroom. Holly – this is going to be a launch pad. Nicole – I really hope so. I just really want to be someone. My whole thing about this experience is the title. I just want to win. Little old Nicole, I just am what I am. I live with my family in a house and I work at a pre-school that is five minutes away. And that's it. This show is my life .. and I have no problem.. I am being honest .. maybe this is a self depreciating thing but I honestly think I would lose to either of you. I really do. ..But just to sit in that chair! I respect your decisions either way .. and obviously you two have been working together this whole game. You are together.. together which is not in my favor. I just hope there is a consideration. If you view me as you .. there's Holly .. would you take a chance on 24 year old Holly? This just means so much to me. I want it so bad. And its my own fault because I didn't win what I needed to. I honestly think if we were sitting next to each other you would win. Holly – I very much understand the value of a dollar. I've literally worked since I was 5. Nicole – if you were going to win who would you want to lose against. If you were going to lose who would you want to lose against. Who do you want to speak next to? You're a smart woman and I trust you.
Jackson joins and Holly leaves. Nicole campaigns the same campaign to Jackson. I respect your game, who do you want to sit next to.. I would lose to either of you..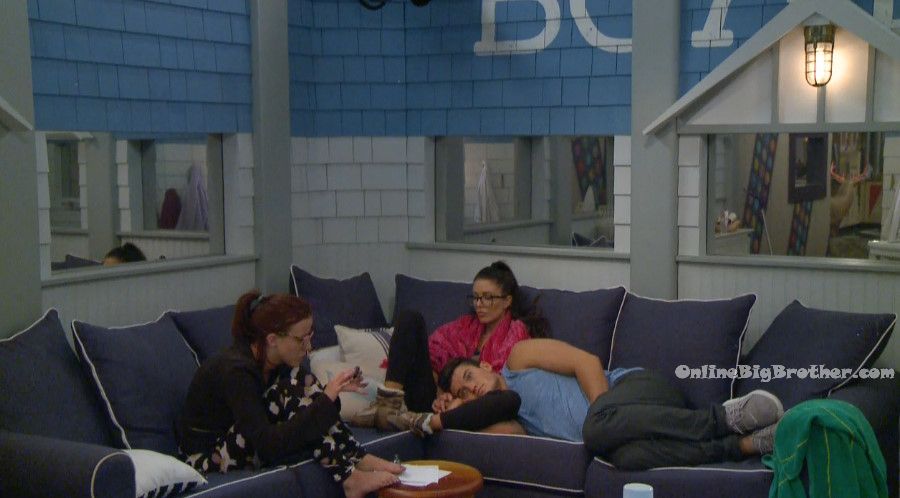 2am The final 3 say good night and go to sleep.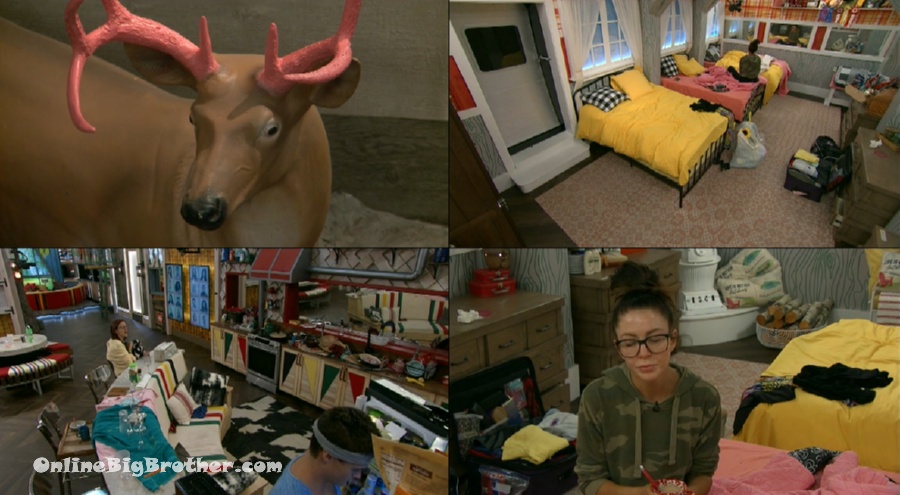 10:00 am Las shot of the feeds. That's a wrap, folks. I'll be back. I'll be back with the finale episode.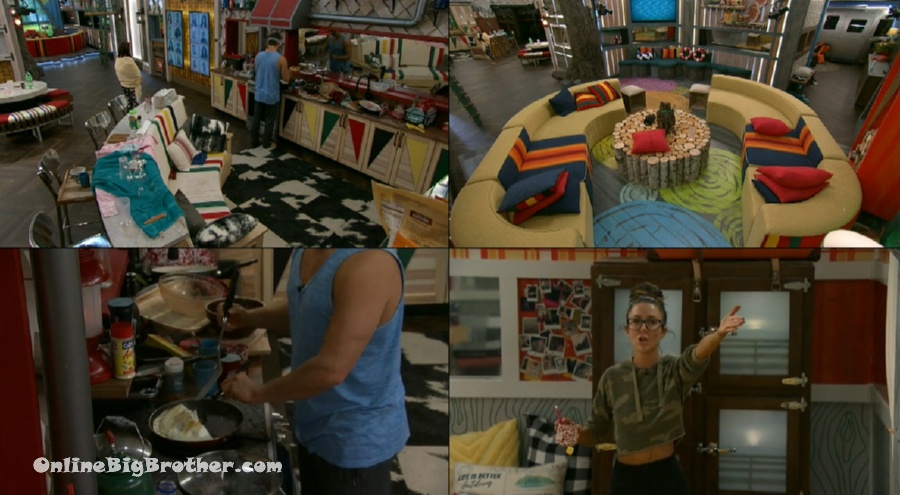 No Group goodbye this year.