POV Holder:
HEATHER
Next POV
?
POV Used
Yes
POV Ceremony
?
HOH Winner:
Jon
Next HOH:
May 1st
Original Nominations:
Heather and Sabrina
Current Nominations:
Sabrina and Adel
Have Nots
None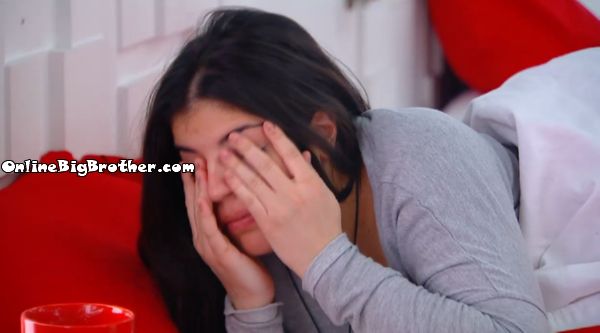 10:10pm Bedroom Sabrina and Adel
Sabrina tells him tomorrow when he goes to bed she will not be in the house anymore.
Sabrina starts to cry.
Adel – "Sabrina stop that.. this is the best experience of all opur lives you are not allowed to cry"
Sabrian – "Why do you have to look at my cry"
Adel asks her what the coolest thing she did in the game.
Sabrina – You guys really think it's a big move taking IKA out"
Sabrina doesn't think so not for her.
Sabrian – 'Once Andrew left I was in trouble because Andrew kept Kenny and Sarah from going crazy"
Sabrina says she saved Andrew and Kenny week one
Adel – "You never saved Andrew he won veto"
Sabrina says she stopped Ika from taking out Kenny and Andrew
Adel – Ika was a Diva she would have done whatever she wanted"
Sabrina – "She was 100% putting them up"
Sabrina says her biggest regret was getting rid of Arlie.
Adel – I should have left a couple times in this game.. my alliance was a good alliance.. f** we kicked a$$"
Sabrina – "at the end"
Adel – "Thats when it matter"
Sabrina says her Alliance was strong in the beginning and their alliance was good in the second.
Heather joins them. They talk about the Jury is probably really bitter right now.
Adel says if he goes next he doesn't care he'll be happy he'll be bitter if he leaves this week.
They wonder where Neda and Jon are. Heather says in the HOH.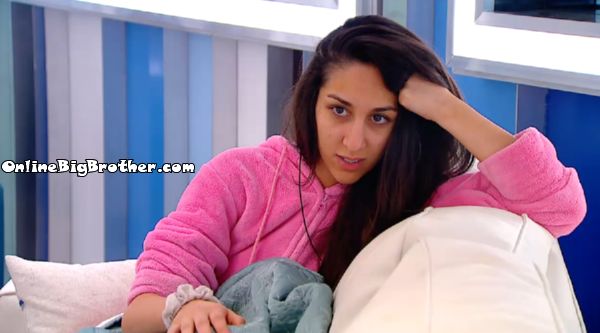 10:11pm HOH Neda and Jon power studying at 10:30 sabrina comes in asks them if they are coming to the bedroom to hang out. Sabrina says everyone else is in the bedroom talking. Neda quickly asks if Sabrina was "Kicked out"
Neda – "Were they talking talking"
Sabrina says no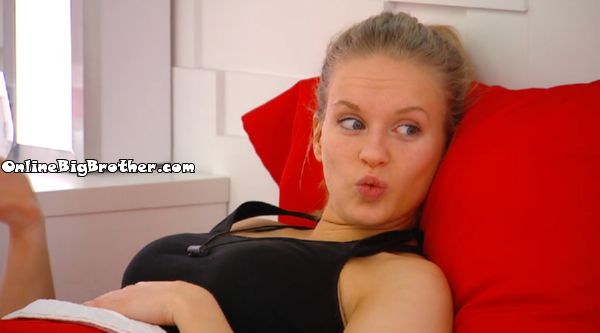 10:30pm Bedroom Sabrina, Adel and Heather

Adel telling them about who out of the guys he thought was attractive.
Adel doesn't think Jon is attractive, Kenny was good looking and Kyle was average.
Adel thinks William must be attractive as f**. Heather says he is.
Adel says Andrew was a bit above average, "He was a 6 i'm a 5"
Adel says his friend Moe is beautiful but his personality sucks.
Sabrina doesn't think Adel is a 5 says Adel is just short. Sabrina like Jon but she likes tall guys and muscles.
Adel says Face wise he liked Heather and Rachelle, tells Sabrina "You are very pretty too I'm not going to lie"
Heather – "says she never found Andrew very attractive"
Jon and Neda roll in. Adel calls Jon a ugly bastard. Jon calls him a ugly bastard they both laugh.
Adel asks Jon to tell them a romantic story
Neda brings the story where Jon broke he broke his girlfriends vajayjay and had to take her to the hospital.
Jon – "Neda shut up"
Adel – "I told you I wouldn't let you smash me if I had a vajayjay"
Neda – "On valentine's day he broke his girlfriend"
Adel – "He beat ha girls with a wenis"
Jon – "it was valentines day and we went into the hospital"
Sarba – "WHAT like in the hole.. you broke it in her"
Sabrina – "you were thrusting too hard"
Adel – "look at him he's got 268lbs of thrust behind him"
Sabrina – "her bone broke what happened"
Jon – "it was a very romantic evening actually"
Neda – "until you broke her vajayjay"
Jon – "that was at the end of the night.. I was sh1t faced in the hospital to"
Adel brings up have s$x the first time and hearing "the noise".
Jon says Neda's bum is too boney you can't hear the noise.
Heather – "Jonathon that's horrible"
Jon makes the noise sound.
Heather – "I still giggle when there is a noise"
Adel asks the girls if there is a ugly "D" or if they all look the same to the girls (D = pen1s)
Heather – "There's uglies"
Adel – "Anteaters are the ugliest d's"
Heather – "what are anteaters"
Jon – "Unc!rcumc!sed pen1s"
Heather doesn't agree with that.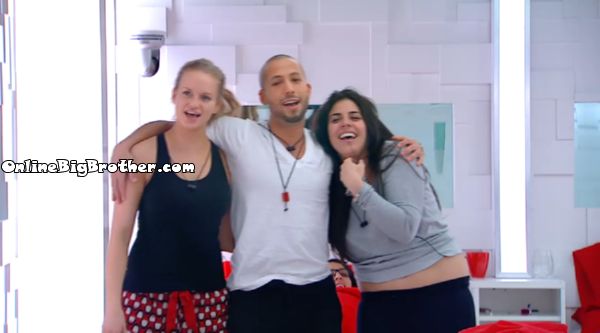 10:53pm bedroom everyone
the anthem starts to play Heather, Sabrina and Heather get up and start to sing.
Neda and Jon stay on their beds.
Neda – "I'm so sick of this song"
Jon – "If I'm walking down the street and someone plays the national anthem I won't start singing the anthem"
Jon says being patriotic too much dilutes it's meaning.
Neda – "You were touching yourself during the anthem.. I think it's rude to be touching your gunk"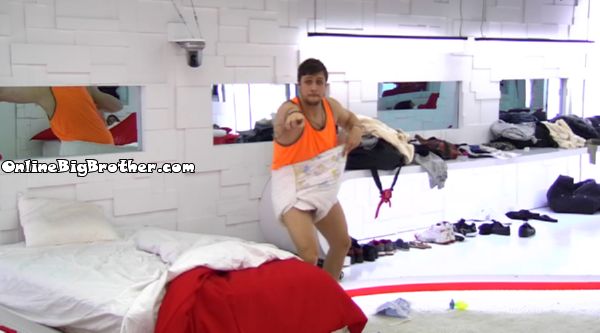 11:20pm Jon runs off to use the washroom. When he comes back more chit chat ensues. We find out that Jon's girlfriend has a ovarian cyst that is why she had to go to the hospital on Valentine's day.
12:00AM Finally they are allowed to go to bed
The video contains them playing trivia. THere is a bit of game talk on the last 5 minutes. Basically Neda and Jon were filling Adel in on how the final 4 works with competitions etc. They do this while Sabrina is in the Diary room.
(Video is long)
[polldaddy poll=8001357]