POV Holder:
HEATHER
Next POV
April 26th
POV Used
Yes
POV Ceremony
April 28th
HOH Winner:
Jon
Next HOH:
May 1st
Original Nominations:
Heather and Sabrina
Current Nominations:
Sabrina and Adel
Have Nots
None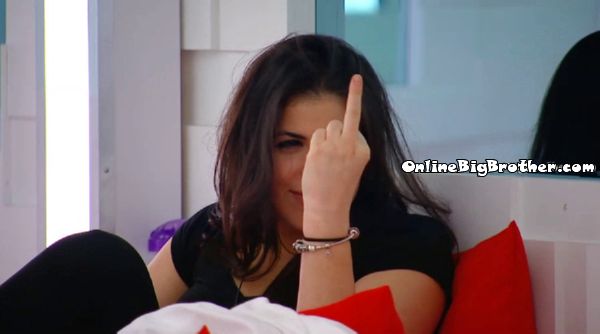 6:28pm Bedroom Jon, Neda and Heather
Jon Tells them he's 100% onboard with getting Adel out this week.
Heather says she doesn't feel guilty about it now after she heard he was trying to screw her over.
Jon – "F*** him now he's getting screwed"
Heather – "You know what I love about this is no one would have thought we would have all the power in the house"
Heather doesn't know if she will be friends with Rachelle when they head back to Edmonton, she thinks she secretly still dislikes her.
Neda – "you will hate her more after you see the season"
Jon – " she hated you" he mentions how Rachelle would always laugh at heather's dancing.
Heather – "Like her dancing is any better"
Sabrina rolls in to change the batteries.
Jon says they are the final 4.
Sabrina and Jon banter back and forth about Jon not liking Rachelle. They agree to watch the episodes "together" while watching the episodes. They think they should use face time.
Jon – "I'll do it"
Sabrina – "Of course I'm down for that"
Neda and Heather agree.
Adel joins them says he's been gaining weight.
Jon laughs calls him a "Chubby little boy"
Heather says she gained 20 lbs in her a$$, Boobs and thighs
JOn – "You noticed it"
Heather – Ya of course"
Jon and Adel says she looks great.
heather- "I wanted to lose weight while I was here"
Adel – "Me to"
Heather says she has lost 4 lbs in the past two days.
everyone congratulates her says she's only gained 16lbs.
Jon says the way Heather looks now is very sexy.
heather Thank you" She thinks she was better looking when she came into the game.
Jon – "it doesn't make sense to me the fact you gain 20 lbs and still look like a rocket.. I would take you out for dinner"
JOn jokes that maybe Heather should join him and Janelle on a couple retreat at in the caribbean
They Tell Adel they can go to bed at 10:30, Jon Explains to him that they went to bed that time all year. Apparently they lights sometimes stay on but Big brother doesn't try to wake them after 10:30.
Adel always thought it was much later.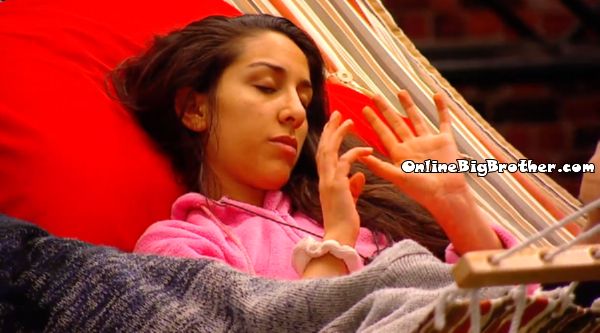 7:10pm LIving room Everyone but the gremlin Adel is making Mac and Cheese.
Heather, Jon and NEda are studying while Adel makes mac/cheese
Adel – "Gonads you like yours really cheesy
Neda – "YA" (Kinda grunts it out"
Jon – "MEH Me Gonads Me Gonada MEH"
Adel starts to really build up how difficult the HOH competition will be tomorrow. He thinks because the last few have been so easy they are due for a tough one. He also is certain the contest will be dates. Everyone else in the room seems to agree with Adel.
Neda and Heather head to the hammock Neda says she cannot study with all the noise
Jon follows them they go over some more dates, JOn tells them he'll be back in a bit and quiz them some more.
Sabrina joins them says she wants to lay on the hammock so bad, "Are you talking"
Neda – "Ya sorry"
Sabrina Asks them if everything is OK because Neda was quiet in the bedroom. Neda says she's fine.
Sabrina leaves.
They agree they are being Extra nice to Sabrina telling her she's safe this week. Heather points out how Sabrian was a jerk to them for the first 6 weeks of the game.
7:24pm Adel and Jon
Jon tells Adel Neda's on board he's safe. Adel heads into the storage room but you still can hear his audio. "F** i'm a liar.. it's horrible"
Jon comes back, "Only a few more hours in this dumb costume"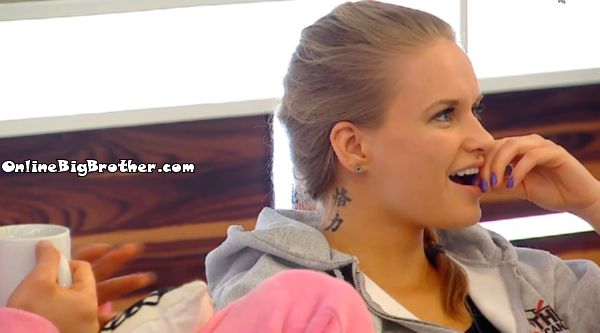 7:55pm Heather and Neda
Sounds like Neda is trying to pin the plan to get Heather out last week on Adel.
Heather says she feels backstabbed, "I hate the fact that he tried for it.. pisses me off"
Heather says before she heard this from JOn and Neda she actually felt bad for Adel.
Neda says Adel was really pushing to get Heather out.
Neda – "Oh my god he tried so hard.. you know there is no way you were going to leave"
Heather says she's still shocked that Jon actually nominated her.
Neda – "When you went up that was not the plan at all"
Neda explains that after Heather did so well at the Rope HOH Competition he was trying to use that to highlight how much of a threat Heather is.
Heather says when NEda or her do well at the game either through competition win or other it benefits both of them in getting to the end.
Neda – "Oh my god I would never vote you out of this house Are you f*** kidding me I would have never f*** done that"
Heather says she's sick and tired of cleaning up after Adel all the time.
Neda says when Adel tried to pitch getting Heather out she thought that maybe Adel was up to something shady.
Heather – "He sees me as a threat"
Neda brings up how Adel was pushing to get Neda up Sunday night.
Jon rolls through tells them he's proud of them for studying so hard, tells them they have to win HOH tomorrow. Jon leaves. Neda tells Heather that Jon will not take Sabrina to the end becuase. Neda says her sister told her not to be cocky, Neda is certain she was meaning stay away from Adel because he's been getting so cocky lately. THey seem convinced that Sabrain will win Canada's vote if there is one.
Heather – 'I wish Will would have given me some input on the game"
Neda and Heather both agree that JOn and them are not cocky.
They start studying.
[polldaddy poll=8001357]
Share it YO!!
Tweet