Quick Big Brother Spoilers
Head of Household:  Reilly
Nominees: Corey, Felicia, Kirsten, Jared
POV Players: Cirie is host, Reilly, Bowie, Kirsten, Felicia, Hisam
POV Winner: Hisam
Veto Ceremony: ?
Havenots: Luke, Jared, Corey, Hisam, Blue
Lock your ranks in before midnight
The situation
Alliances:
The handful = Reilly, Cameron, Jag, Blue, Matt
Family Style = Reilly, Cameron, Jag, Blue, Matt, Corey, Jared
The Bye Bye Bitches = Felicia, Cirie, Izzy, Mecole, Bowie (Red+Jared+Hisam)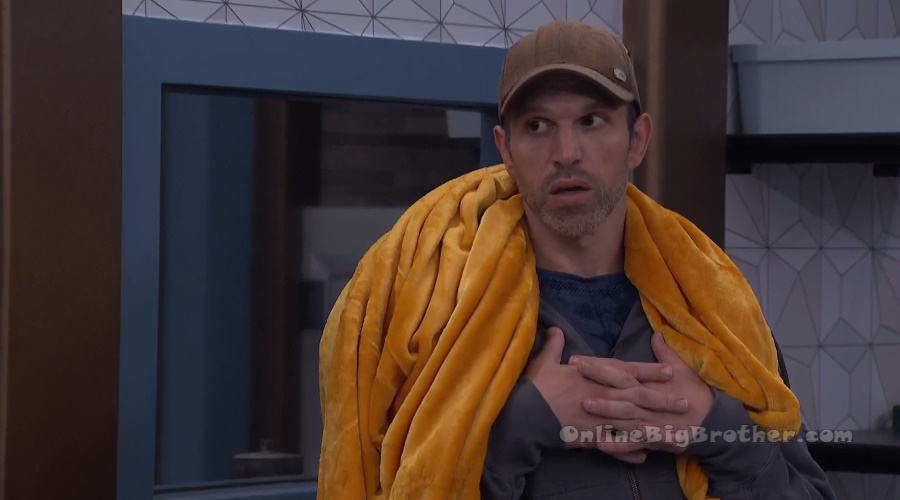 6:20pm Bathroom – Jag and Hisam.
Jag – I think we're on the same page. I think we see eye to eye. I feel really good about us. I feel good about this week. Hisam – I am just hoping there is no backdoor plan .. or not backdoor but getting rid of the pawn plan. Because that is one of the things that really worries me I would hate for the oldest person to go out .. like that is really important to me. Like I work with older adults and I am constantly advocating for older adults to be in spaces that they're not in.. and I would feel terrible. Jag – from what I can say .. from the soft conversations I've had I am pretty sure its going to be unanimous and just from my observing and from what I know about the game. Hisam – I would just hate for the oldest person to go out on the first week. Like that would be terrible to me. Jag – when I chatted with Reilly .. she wanted to keep everything the same and that Felicia is good. And that is the conversation that she's had with everyone. She also wants to have honesty and integrity. Week one, I don't know why there would be any reason to backdoor or go back against your word. Hisam – yeah you just never know and I've seen crazy things happen. I just want to be mindful because this is really, really important to me. One of the things I do in my job is encourage older people to explore life beyond their rooms. It is really important to me that they don't get sent home immediately and that they get a fair shot.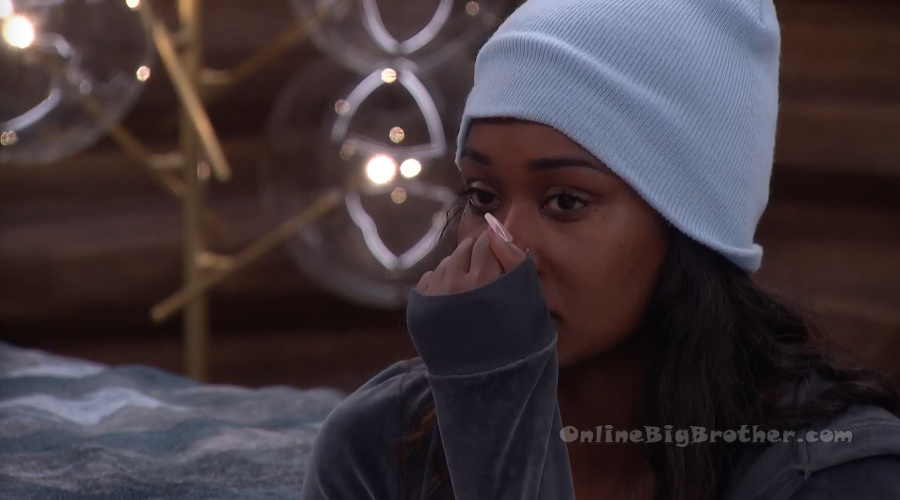 6:20pm – 7pm HOH room – Kirsten and Reilly.
Kirsten – I know that when the sh*t starts to get tough .. I know that I want to be the person that made it easier for people in here. Because I have delt with that. I've been on my own since I was 17.. I've done everything on my own. Like last year, it was just me in my car. So I know how it feels to not feel f**king safe and I look at this and what it gets to be later. So if I could be around so that someone doesn't have to f**king feel that, like I am happy with that. Reilly gives her a hug. Reilly – its very easy to lose yourself in this environment. I honestly feel like I am being used! And that people are telling me sh*t just to see maybe come find someone or whatever… just so that they can confirm ok.. get her out or whatever. Like I don't want to be seen as the person that doesn't f**king hold water. Like that was a moment that I had and I feel like I am being judged so hard on a moment someone put something in my head.. And I am like what is America thinking .. what are my parents thinking.. am just sad that I am just now figuring this out. Reilly – whatever happened in the past.. Kirsten – I just want to leave you know what I mean?! Reilly – you shouldn't let this be that reason why you lay down and die. Nothing is guaranteed in this game. My advice to you is to go have those conversations and speak your heart. You know who you are as a person. It doesn't matter what America thinks of you.. not America in here.. but America .. because they don't know you and they only see what you're portrayed as on a reality tv show. They don't know who you are. They don't know Kirsten for Kirsten so don't worry about that stuff right now. That's not the problem right now .. like what twitter says. Kirsten – I think my biggest f**k up .. aside from the misjudge ..is that I am thinking we're all a team and yeah. Reilly – I understand that.. and we were in the house for five minutes and everyone perceives everything differently. I don't want to see you give up.. If I were in your position I would be fighting no matter what. There are people in the house that are totally in limbo and just trying to figure it out and they don't even know what they want. And that is why .. I have to listen to the house right now. I mean what I say when I tell you I am there with you and this is hard.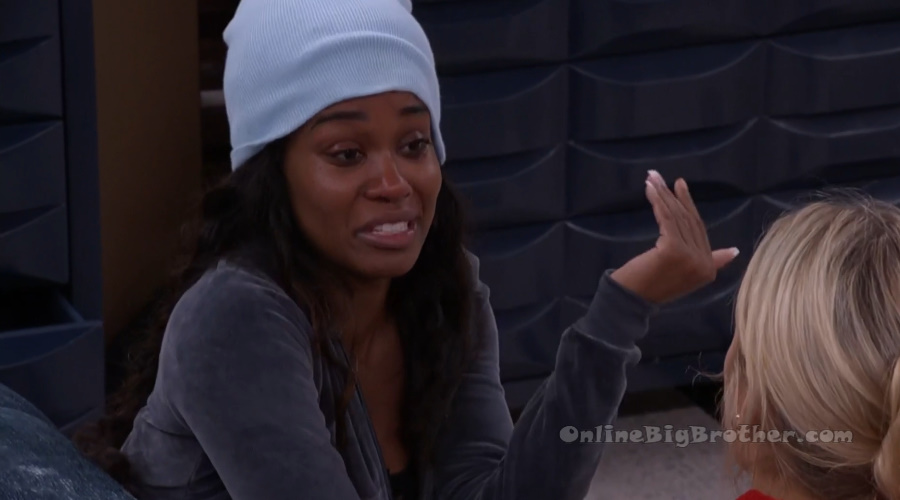 7:10pm – 7:35pm HOH room – Reilly and Cirie.
Reilly – I am really glad that Hisam won. I just had a heart to heart with Kirsten. Reilly tells Cirie about the conversation she had with Kristen. She wishes she could go back and pick a different comp. She is fully aware of how she put herself in this position. Cirie – but Miss Felicia is safe though right?! Reilly – oh yeah Felicia is safe. Hisam, I already talked to him. Cirie – did you not want to win yourself? Reilly – did I not want to win.. oh no, I wanted to win. I wanted to win because I wanted to secure it. I didn't want Kirsten to win and then I have to pick a replacement. Everyone unanimously wants her out and wants Miss Felicia in the house. That has not changed. Cirie – there is no way she could campaign Miss Felicia out? Reilly – oh no, Miss Felicia is absolutely not going anywhere. She is staying. Cirie – she told me she wanted to campaign against Felicia. Reilly – you can't campaign against Miss Felicia. Felicia is up there because she secures a unanimous vote. Hisam is still good to go. I talked to him and asked if he is going to use it and he said no. Felicia joins them. Reilly fills Felicia in on the conversation with Kirsten. Felicia reminds Reilly that they need to be mindful of taking out more girls ..at the end of the day, they're bros.. and if you want to make it to the end with all guys its going to be more difficult. I actually they're going to have a bring back. Reilly and Cirie agree. Felicia – I am trusting you. I am looking you in dead in the face and I am trusting you and your word. Cirie – same. Reilly – Everyone I have spoken to has said Miss Felicia is not leaving this game this week. And nobody in there right brain is sending you out this week and you know that right!? You have to have confidence in yourself and read the room and you know that. You're a smart woman and I know you know that.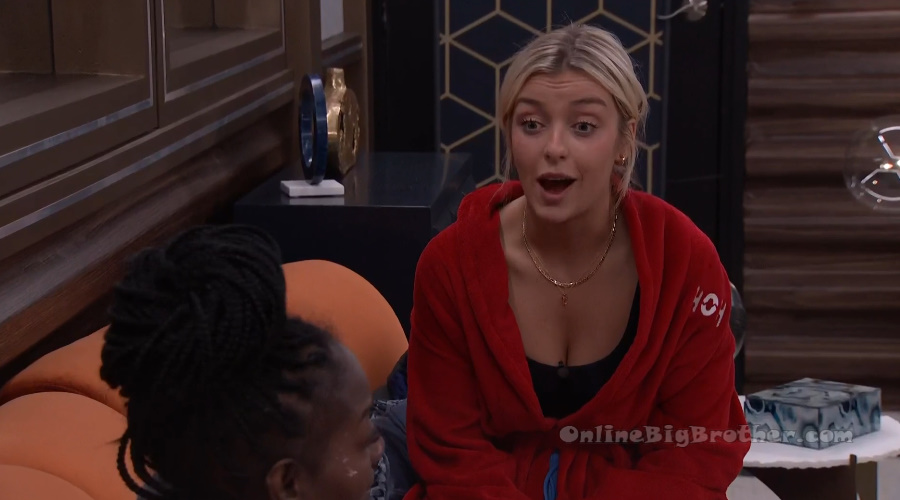 7:45pm Bathroom – Izzy and Jared.
Izzy – do you really think Cory wants to be with them? Because Cory came to me.. Jared – today I started working on Cory. I'm going to bring you over and let that side go down. Izzy – I just did so much work and I am getting it done. First of all because he is the only person that I was worried knows who you are…. he doesn't. But he knows your Mom and he was like this .. I am just fan boying and I don't know how to talk to her but she just wants to be a person and I want to work with her and I don't know what to do. Jared – if we can get Cory! Izzy – we can get Cory! He even said that he had a good conversation with Red. He feels good with Red. I am f**king doing it for us! We're f**king getting it done! We are f**king taking Cory away from them! Jared – if you get Cory .. we don't have to win HOH. Izzy – I know BABY! I mean we want to .. but yes. He was like do you know Survivor. I said I mean I've seen seasons .. like I know who Cirie is.. B***H I know who is son is!
Izzy "I am f**king doing it for us! We're f**king getting it done! We are f**king taking Cory away from them!" #BB25 @bigbspoilers https://t.co/sLQeY1KjzC pic.twitter.com/Rn9YfU2FDs

— Dawg (@DawgsBigBrother) August 6, 2023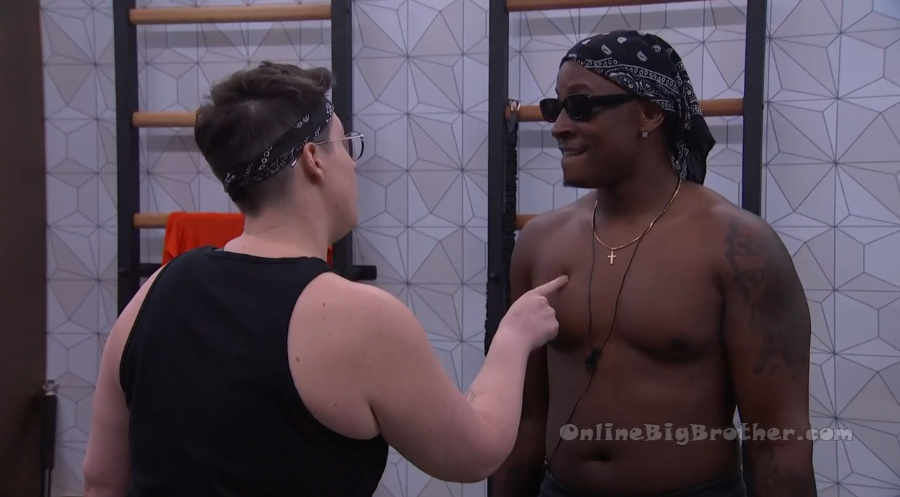 8:30pm Bathroom – Reilly and Jared.
Jared – Here is the thing.. who the f**k do we put up next week!? Like assuming we win HOH.. I know its premature you know what I mean but we got to really start thinking about this stuff. Reilly – I've already thought about it. Jared starts laughing. Reilly – Oh I am already onto 3 weeks from now. Jared – I am glad that its not just me that thinks about this.. Reilly – Do you understand what goes on inside this jail cell.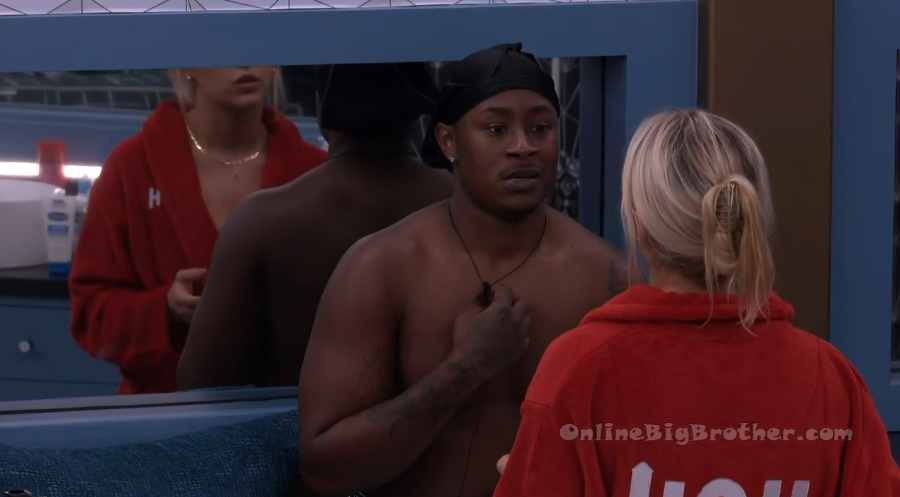 8:50pm HOH room – Reilly and Cameron.
Reilly – The only person I am worried about is if Hisam or Izzy win HOH next week. I think that it would be me and Matt or me and Cory up on the block. Cameron – I don't think they would put you up. Reilly – but why would they have any reason to put anyone else up .. riddle me that?! Cameron – who in your mind would register as a big move right now? Reilly – Me. Cameron – Ok, and? Right now you feel like you have a big target on your back. Reilly – 100% I do. Cameron – a big game move would be Hisam or Izzy putting you up, right? And I am here to tell you that week 2 with a group of people that everyone likes is not the time to make a big game move. If they make that move .. they are dead. They are dead. They have shown their cards, they are out of the game. You only make a game move like that when you have the numbers.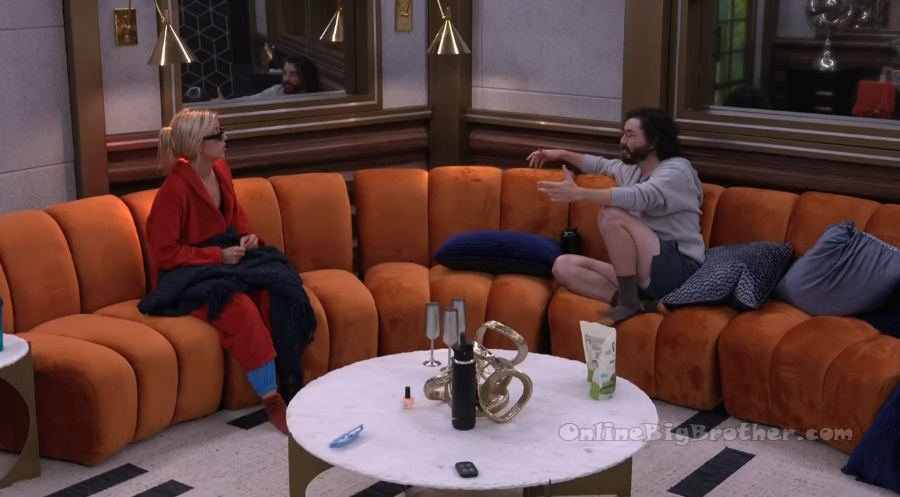 9:16pm Storage room – Jared and Kirsten.
Jared – I don't know how to tell you how to play your game but for me personally, I would sit everyone down because that is the only thing you got in this game is your intuition. The best I can do is try my hardest to make ya'll feel like I am here with you. Kirsten – right but how can I make 16 people feel like that when I am telling everyone that. Jared – because there is still someone else up on the block. I am not going to be telling you how to campaign against my girl Felicia because she's my baby but I am also not going to campaign against you. I would be telling her the same sh*t. At the end of the day I feel for you.
9:50pm HOH room – Random chit chat.
10:35pm HOH room – Reilly and Jared.
Reilly – I am back to where I originally was, I think I was just so sketched out about last night. Jared – I know, but the more you scramble.. The more you're going to worry people. You got to chill because we got what we need so just go with it. Trust me, its going to get crazy. I told Mama Felica and Mama Cirie, I really think we should go up there and have a conversation with Reilly and reel you guys in. She really looks at ya'll like mothers. And they are on board. Reilly – you did that after you got out of the bathroom? Jared – yeah. Reilly high fives him – thank you!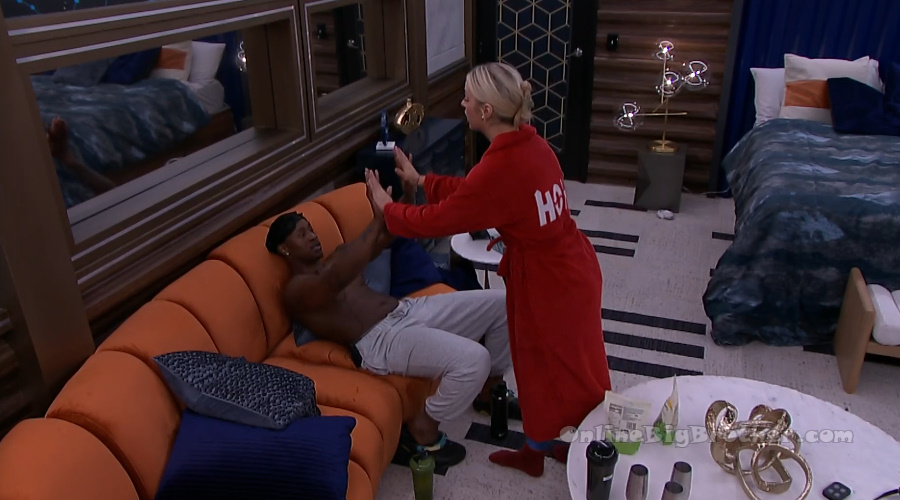 10:50pm HOH room – Jag, Blue, Reilly and America
Reilly tells them the conversation she had with Kristen earlier this evening. At the end of the conversation she said I could tell you some stuff right now but I don't want to throw names out. And I am like I don't think there is a certain thing that I don't know about right now. When she said I am not going to say any names .. it felt like she was trying to bait me. I said honestly I am not going to make you say anything that will affect your game. Focus on the people that are going to be in the DR on Thursday. Focus on the people that can vote because I can't do anything about this. And then Luke came in and I gave him sh*t.. Nice of you to show up buddy! I tried to keep it as vague as possible with him.. he has no clue what is going on. And if you're not on the bus I am just not .. its a little too late. The Bus has left the station.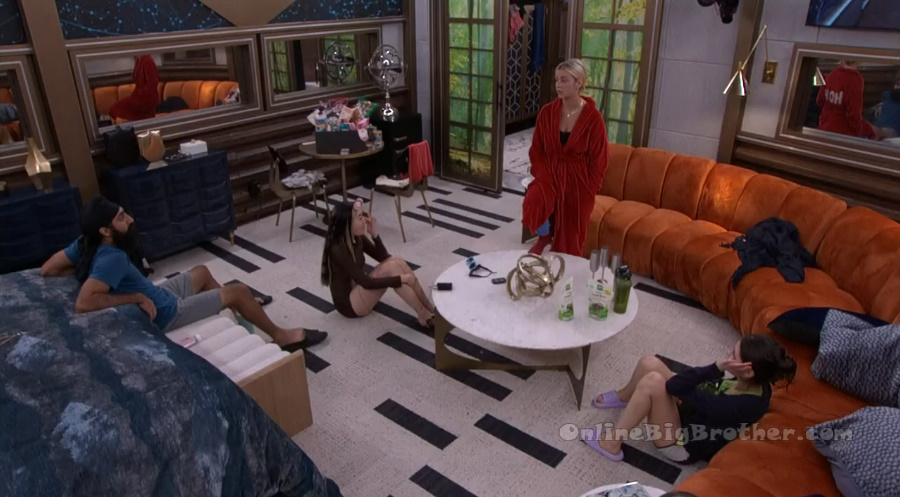 11:13pm – 12am Big Brother opens up the backyard. Felicia falls into the hot tub when the feeds were still blocked (She was not watching where she is going but is fine)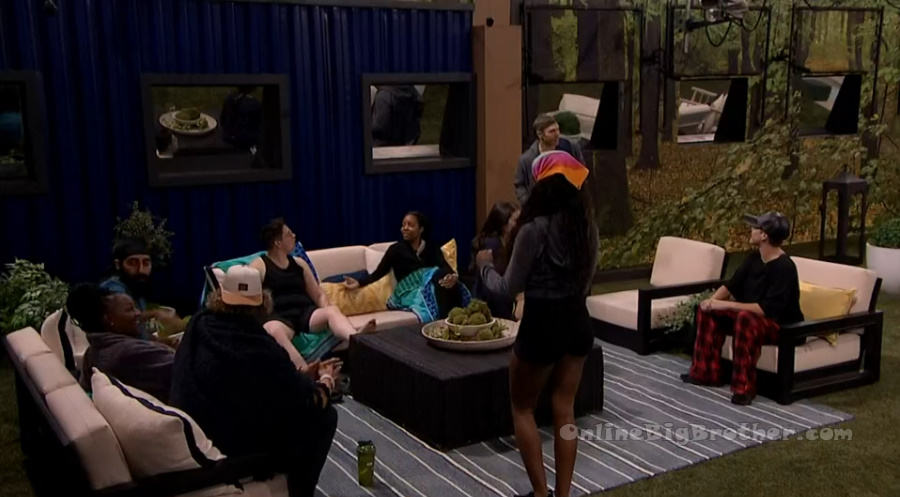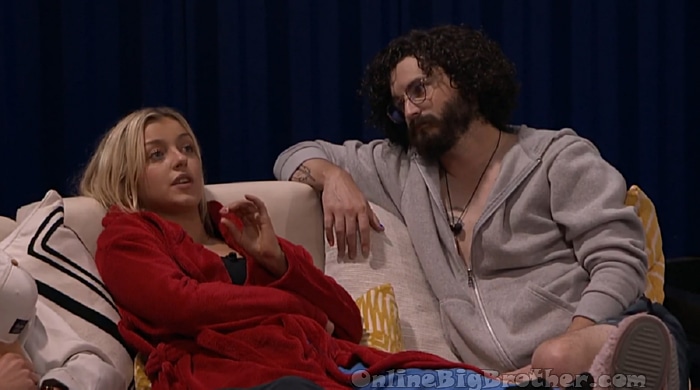 1:44 am Matt, Cameron and Reilly
Reilly – I'm kinda excited to not be in the HOH room. I can be with everyone. I've been in meetings all week.
Reilly – when Blue and America came to tell me I feel like I am weirded out I feel like I'm not spending anytime downstairs. Blue was like I talked to Hisam and he feels really good about you and at this point he's not gunning for you. I was nervous about last night when he was downstairs and he was suss about people being in my room. I mean I really like him I think we should keep him in our back pocket. I really really like him. He's here to play and really wants to be here and represent where he comes from and I really respect that. My worries are eased a lot.
Cameron asks what did he say when they talked.
Reilly – noms will be the same it'll be an easy week. He told that to Blue to I'm just going to keep everything the same.
Matt says he's hasn't been talking to as some people because he has trouble hearing them. Points out that Red is hard to hear because he has the facial hair. matt cannot read his lips.
Matt says Reilly is easier to understand because she looks directly at him when she talks.
Reilly – that side of the house looks at us and all I hear is Reilly and Matt.. Jag and Blue are more sociable. They are easy to talk to and I feel like I have not been going down there.
Cameron – you haven't had the opportunity to be doing the things we've been doing. Everyone knows that. nobody is saying oh my god Reilly came out of her room. You never come out of the room because everyone is standing right outside your door. It's early on in the game there is so many people that want to talk to someone in private about anything and that is the only place (HOH)
Reilly – Blue told me the people down in that room are really skeptical of Cory.
matt – the comic room
Reilly – Hisam especially
Cameron – that's because he's done nothing but hang out with us. It's one of the curses of being on the block first. The person you will talk to the most is the HOH because you need to figure out what's going on or whoever won POV. You are at the mercy of your circumstance.
Reilly – Cory did do a good job today and talked to Izzy.
Matt is planning on bonding with Hisam when they work out tomorrow.
Reilly about Hisam – He is such a nice guy in the whole world.
Cameron – so caring and loving
Reilly – I got goosebumps.. he is so sweet Just like the best heart and so caring and empathetic he's such a good human. (Sounds like he would make a good geriatric doctor)
Cameron – my question would be how would you put the fire out a little bit with all of his skepticism?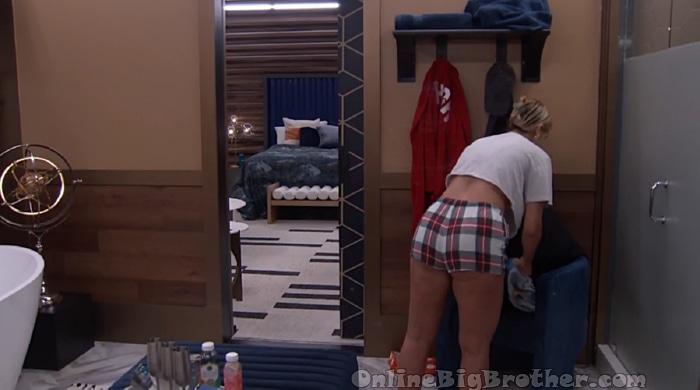 2:49 am Reilly getting ready for bed.
3:57 am Bowie up alone eating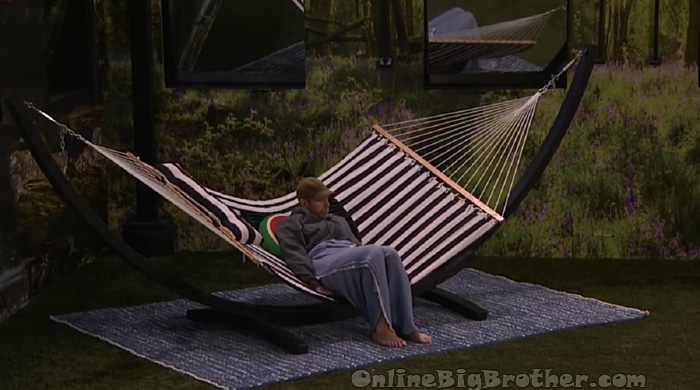 4:30 am Hisam is up alone on the hammock.
5:00 am Most of the house is sleeping. It was a uneventful night.