POV Holder:
Vanessa
POV Competition
Aug 22nd
POV Used
No
POV Ceremony
Aug 24th
HOH
Austin
Next HOH
Aug 27th
Original Nominations:
Steve and Jmac
After POV Nominations:
Steve and Jmac
Have Nots
No have nots this week
Watch the last month of the feeds for ONLY $5.99! Try it 1 week for FREE!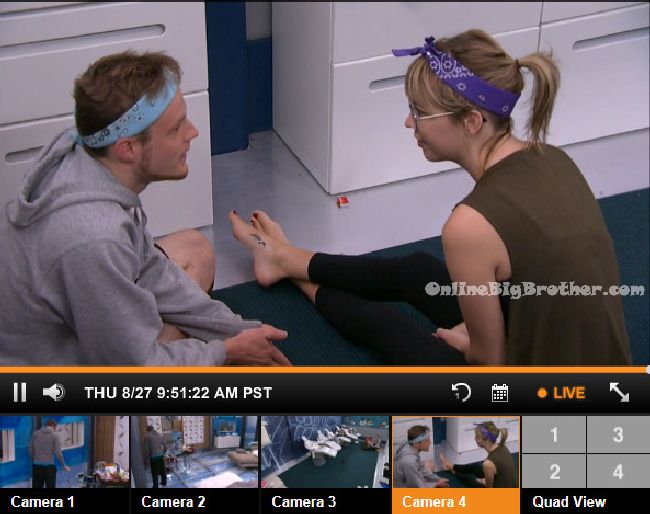 9:30am Big Brother wakes up the house guests. When the live feeds return – Johnny Mac is sitting alone in the havenot room. After Steve heads upstairs Meg goes into the havenot room and talks with Johnny. Johnny says that at some point today they're going to tell me I'm going home. So at this point I pretty much have nothing else to lose.. I am going to tell you everything. Meg says okay. Sh!t! Johnny says around week 4 or 5 Steve came to me with a final 2 deal.. so that is a thing. Meg says duh! Johnny says we haven't been on the same page of everything .. but we haven't been going after each other. The one big thing was during the double eviction I wanted to send Vanessa home and he wanted to send Jackie home for some reason .. I couldn't figure it out. We went into the storage room and we didn't come to the same conclusion on it … then it happened. The next week I wanted to send Vanessa home .. and its me and Becky on the block. I went to Steve and said its me and you in this game we need to decide which one of these groups we should choose. Austin and the twins because there are three of them. So Steve brings me up there and we make the alliance. I have something to tell you, I've had a final 4 deal since Gronk Pong with Vanessa, Austin, Liz and then we became 5 (with Julia). So that is why I told Vanessa about the final 5 deal because it ticked her off. Meg says because they already had one. Johnny says yeah. Steve is their lap dog and has been for a long time. Johnny says I'm sure you've been hearing take me out or Steve with whoever comes back. Just like I've been hearing take you guys out preferably James or Vanessa. We're in a situation where they were dumb enough to put their lap dog up on the block. I am pretty sure I can get Vanessa to flip. If we flip the votes 3 – 2 then I will own it when Steve walks out the door saying that I orchestrated it. It would be 4 of us going against Liz and Julia. If you keep Steve he will probably put you guys up. He won't turn on them, he'll turn on them the week after. If you guys win HOH you can do whatever you want. They if they win HOH I will tell them to put me on the block. I will sit down during the POV competition and I will ask everyone to vote me out. Meg says the only thing is how to handle it before because they will be like holy sh*t. Johnny says I'll own it. I don't if Vanessa is on board but I will find out. Around 5pm we will be sitting in the purple room, You guys will be in your beds, I'll be in the day bed and Vanessa will be in the chair. I'll turn to James and Johnny says If we don't do it its James or Vanessa next week. We can say something to know we're all on board. Meg says Steve won't tell us who he is after. Johnny says its time for a blind side. Meg tells Johnny to tell Vanessa we're flip floppers. I will want to talk to Vanessa after.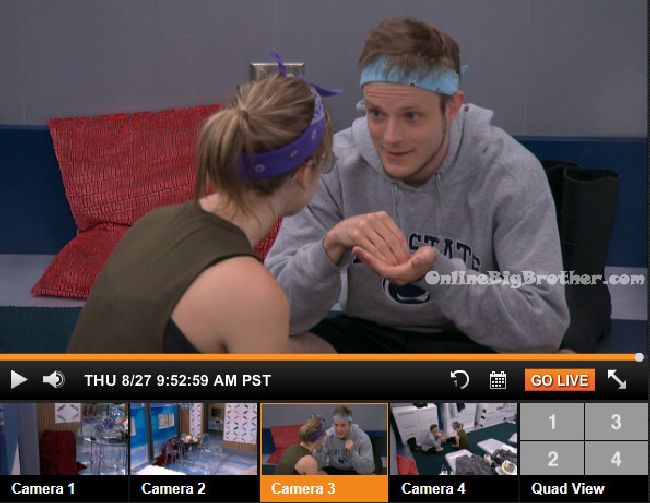 Steve asks Austin does James and Meg know I'm safe? Austin says no but they know that we're voting to keep you safe so that's whats going to happen. He just gave up last night. He was supposed to talk to the girls and he didn't.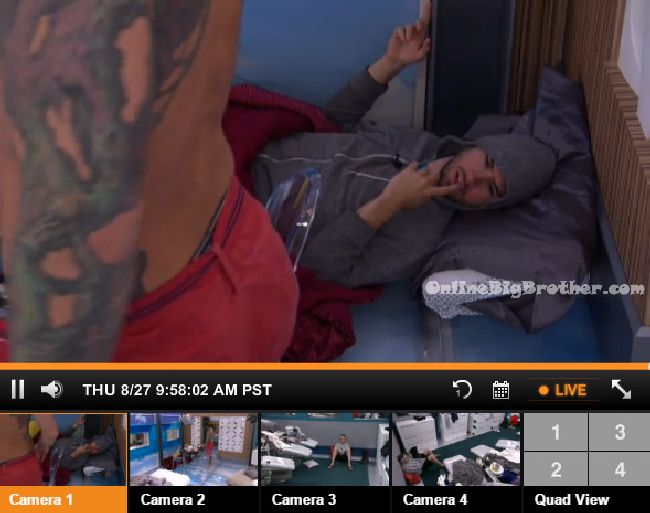 10am Meg comes to talk to James. Meg says the only thing that I have a problem with is they haven't put us up. He thinks he can get Vanessa to flip to take out Steve. James then goes to talk to Johnny Mac. Johnny Mac then gives James the same information he just told Meg. I have every reason to go after them (Aus-twins) next week. If you keep Steve he will probably come after you for at least 1 more week. They told me I have to put you up if I stayed. Meg too but you're obviously more the threat. I will own this whole thing saying I orchestrated it. James says damn. Johnny says if we don't do something they are going to pick us off one by one. If you keep me I'm the only one that will go after them.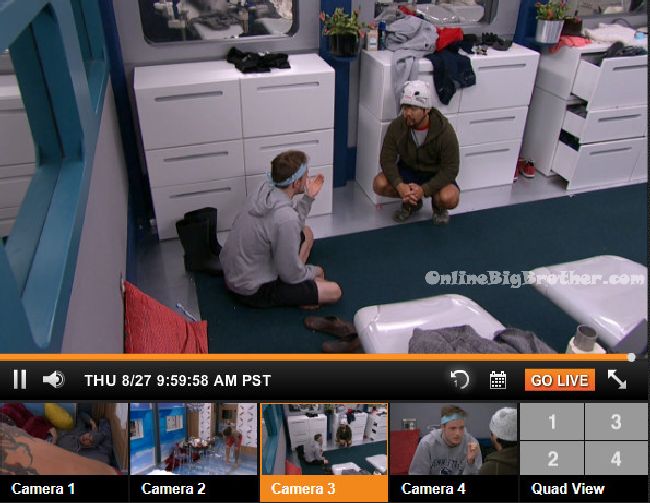 10:05pm James talks to Meg again in the bedroom. James says if Vanessa says the phrase at 5pm then its a go. Meg says I just want to talk to her, none of this other stuff. James says the problem is if Vanessa has information we were going to flip the vote they could use it against us. James says Johnny Mac said I am Steve's target for at least 1 more week. Austin told him if he wins HOH to put me up. Meg asks really!? F**k! I hate this game. James says I knew it. You can only ride with a group for so long before they try and take you out. Austin joins them and asks if Johnny Mac has said anything? Meg says honestly Steve is acting weird like really sketchy. He hasn't even come talk to us. Austin says Steve is probably just scared that everyone is going to flip things on him. Meg says Steve has been giving me a weird feeling ever since last night. Austin leaves. James says you saw how Austin was defending him (Steve). Steve is all out there with them laughing, talking with the twins. How many do we need 3 votes, you, me and Vanessa. Meg says walking on dirty water. James says it has to happen some time, we can't stay clean the whole time. Meg says he (Steve) is up there 24/7.. we vote too. James says to talk to Vanessa about how she feels and if there was a final 5. See if she lies about it. Meg says we NEED Jackie or Becky to come back. Vanessa joins them. Meg says we're about to blow everything up. I just have a bad feeling about Steve and don't know if its the right move. James says there have been a lot of final 5 deals. Do we vote the person they want out?! I don't know if we're next. Vanessa says if they made a deal with you that doesn't include me then I will do whatever you want. Meg tells Vanessa about the final 5 Johnny mac told them about. Vanessa says if you guys tell me they cut me out of Brass Tacks.. Meg says this was last week. I don't know. Steve doesn't care at all, he is like I got it. Meg says Steve asked for my vote one and that's it. If we keep him he is going to do what ever they want. Liz joins them and asks what going on. Meg says Johnny is campaigning and Steve hasn't said a word to me. Why does that make me mad! I am pissed about Steve.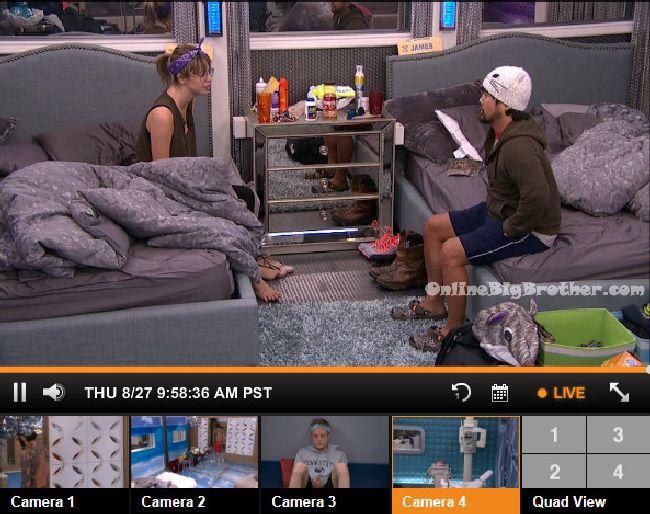 Watch the NEXT WEEK of the Live Feeds for FREE! Click here for your: 1 Week Trial
10:25am
Austin tells Steve that Meg is a little angry that you don't talk to her any more. Steve says okay. Austin says if you want to make her compute any way that we're not working together. I'm sure its something that Johnny Mac said to them. Steve heads downstairs. Austin says I asks if Johnny Mac was campaigning and they just changed the subject. Julia talks about how she saw James and Johnny Mac talking. What did they say about Steve? Austin says that they're worried about Steve and he isn't talking to them.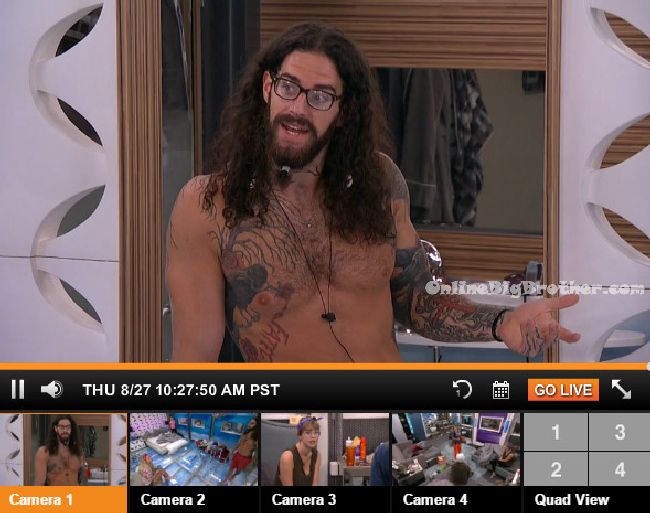 10:35pm – 10:50am HOH room – Julia says that if Meg wants to start sh*t like this. .. Okay bit*h your a$$ is going up! She told me that Johnny Mac is campaigning and that Steve hasn't said a word to me. Austin says tell them I don't know what Johnny Mac's campaign is but he told us that he is coming after you guys because you can't be trusted. ..because you took out his boy Clay. Steve joins them. Julia asks I don't know why they're scared of you. They are mad at you because you haven't campaigned to them. Steve says I just didn't want to be too aggressive with them. Steve asks do I do it now .. or after? Liz says no not now.. after. Austin join them and tells Steve to do it after. Get into your corner. Whatever Johnny told them must have been compelling which is why he waited till now to tell them.


Vanessa joins them and tells Steve they are worried you are going to go after them (Meg and James). So you need to tell them you're not. Austin says hint that you're coming after me. Vanessa says I will tell you guys everything they say.
FLASHBACK and watch ALL the DRAMA: Big Brother 17 Live Feed 7 day FREE Trial!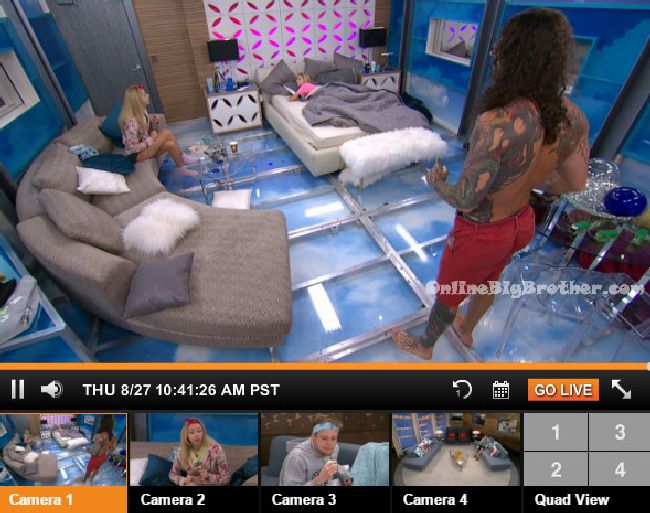 10:50am Comic bedroom – James tells Johnny you dropped a bomb on us. Johnny says if Vanessa isn't on board then don't do it. I've tried to make it as risk free as possible for all of you. I will own it all and if we don't win HOH then I will tell them to nominate me. Sit down in the POV and campaign for to be voted out. If Steve stays and one of you don't win HOH then one of you will be going.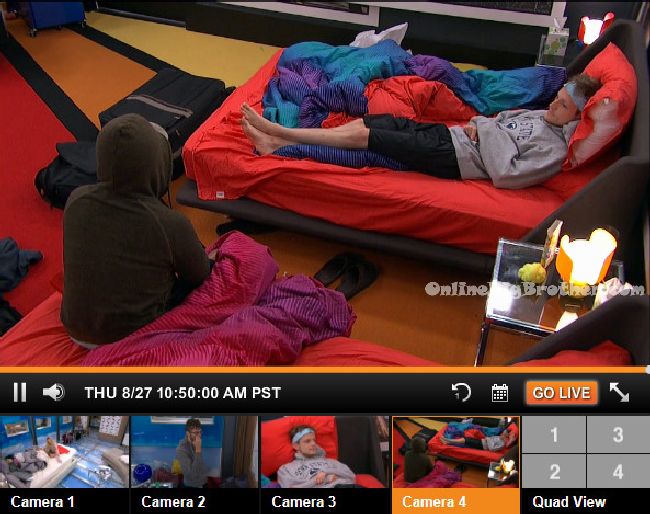 10:55am Big Brother blocks the feeds for the HOH lock down..
12pm Still blocked..
1:06pm The feeds are still blocked..
Help support all the live feed updates we provide.
Show your support by making a donation. Any amount is greatly appreciated!