Head of Household Winner: Nicole
Nominations are: Jackson & Holly
Power of Veto holder: Jackson
Power of Veto Ceremony:
Grab your live feeds —-> BB21 Live Feeds Subscription Link
Rank your houseguests —-> Big Brother 21 Ranking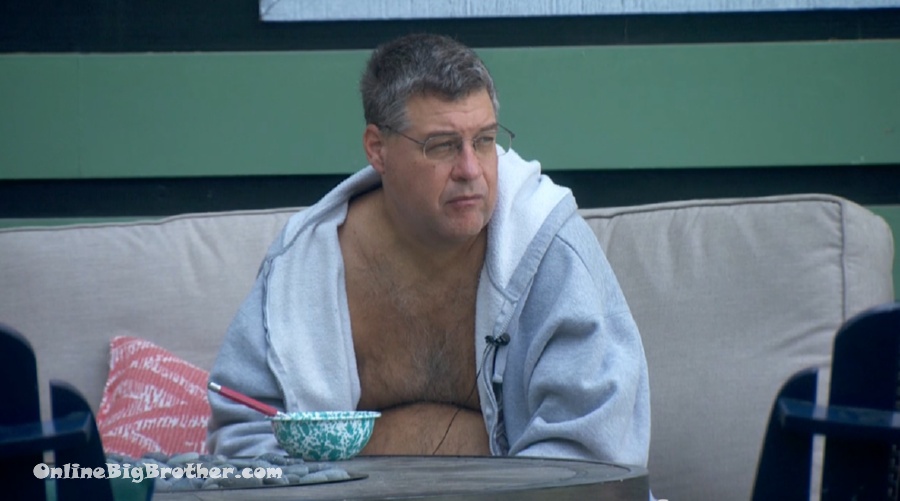 11:37 am Cliff talks to camera forever.
C – it's day 90 and I'm still here.. that's not bad.
Cliff says he's put a lot into this game. It was a long term commitment and a once in a live time opportunity.
C – casting, Being away from family, losing my job
Cliff says the best prize ever is his family waiting back home for him.
Cliff says he's the old guy this season and he's proud of how well he did. Nobody expects the old guy to do well.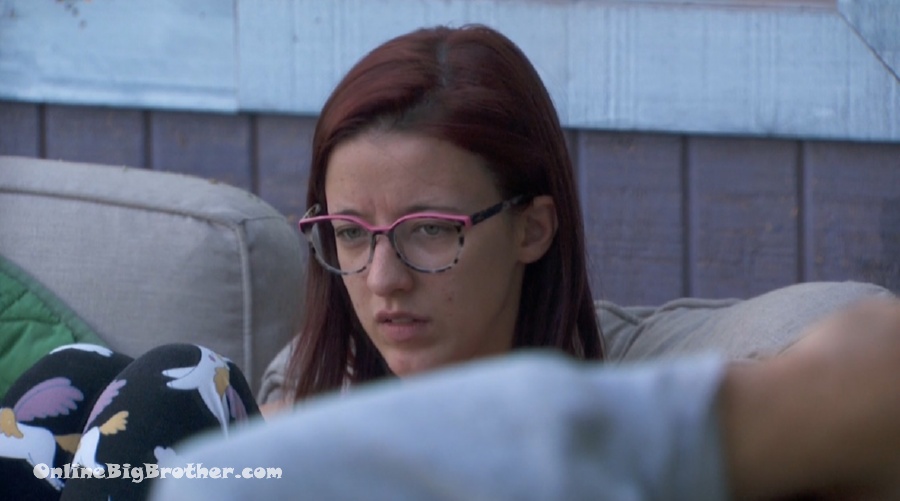 1:55 pm Nicole and Cliff
Nicole says if Cliff goes to Jury next it would mean Holly has a guaranteed spot to final 2
Cliff – yeah I could see that
N – So if I walk out you know one of them won it if Michie walks out you'll know I won it
Cliff – you got my vote no matter what
Cliff backtracks and says not 'no matter what' she deserves the vote. She deserves his vote.
N – I'm holding out hope that Ichie will get Guilty and change his tune
Cliff doesn't think so "I really doubt it"
C – The only thing that will make a difference is asking him about jury votes
Cliff mentions how Jackson was calling him out for making deals and setting himself up to go final 2 not matter what. Cliff says that's the game he makes deals.
Nicole – he makes everything someone else does seem so negative. He did it to Tommy saying Tommy set himself up for success. We're all setting ourselves up for success we all want to win.
C – He told me he got a little irritated from two things I guess I said, one, in the kitchen he said something like he and Holly were going to stay a bit to themselves because he said this could be tour last six days together in the house and I said 'well it will be right'
C – I mean… that was our deal
C – I said well yeah I assumed that's the case, The other one was giving her (holly) permission to play. He said she's a grown-ass woman
C – I said yeah but she had an agreement that she was going to throw it. We were just saying go for it. (You were drunker on power than I was on Kraken)
Nicole says Michie talks to her the same way. brings up when he was in the HOH and said "NOT NOW NICOLE"
N – wasn't that talking down to somebody
C – there's a little bias in there. A little hypocrisy it's ok when it comes from one end but not the other (ZOMG)
Nicole says she's known all her life whether you are mean to her nice to be a villain. she always returns with empathy
N – I never said to Bella when she was on the block you were mean to me you don't deserve my compassion you don't deserve my empathy. IF I did I wouldn't be an empathetic person. I should her empathy because that is my character there are no conditions to it
N – If he wants to show his characters is his WORD is WORD his WORD than put your money where your mouth is DO it. Show that despite what people have done to you. you are still a man of your word. Ther are no conditions to that and if there are conditions to that than that is not your character.
C – yup. I agree
N – if I go out third and it's them two sitting on those chairs I'm not going to mope it's a game. Yeah them two did maneuver their way through this game Kudos. I'll vote.
Cliff – I went down swinging up to the very end I was making deals trying to help me a little bit more. The very last competition I played in I gave it everything I had.
Cliff says he considered throwing that last veto and he's glad he didn't even though his time wasn't very good he gave it his all.
Nicole – I played to win
Nicole says maybe if Cliff talks to him one more time then on a personal level it'll get to him "if you want to attempt one final deal. I know it's far fetched and obnoxious"
N – Shake hands say listen you have guaranteed final 2
Nicole – do we honor it or don't go for it (LOL)
C – yeah I know.. we'll think about it
Cliff is going to bring up Michie always saying he wants to be against people that "fought the whole way through"
Nicole – break out the tears. it'll get to him. Appeal to him as a person and what it means to you and your family.
C – I'm not going after a partner of his I'm going up against girlfriend and that's pretty rough
Cliff says Michie might be worried he can't win against CLiff in the final 2.
Nicole again says for Cliff to bring up "him honoring his word the jury will go YEAH Cool"
Nicole says she will offer anything to get Cliff to stay.
C – I'll see what he's thinking is.
N – say, I want to be in finale I want my family there it would mean so much. Moneywise, Holly said she'll take fourth. Maybe say to him I have nothing at this moment and if you did this I would take you to final 2.
Nicole – I have nothing to lose you say whatever you want I I can say whatever I want.
Nicole says if Cliff makes a final 2 deal with Jackson and honours it she won't be made She would rather see Cliff in final 2 than Holly and Jackson.
Cliff says he'll start with Final 3 deal and work his way up "We'll see"
N – say you know Michie you always say I have no bird I have no Bush. That's where I am right now. If you were to keep me I would owe you.
Nicole says Michie should never have made the deal with Cliff to take him to final 3. "Holly would have won that HOH he won the veto it would be me and you next to each other it is what it is"
Nicole says if Cliff gets evcited she has 6 days in the house until Finale.
Cliff – I can promise final 2 but he probably thinks he has it anyways. Holly wins he's in the final 2. You're probably the only one that matters.
N – he never factors me in. He never factored me in with the BBcomics Veto he never factored me in with this veto. he's not factoring me in if I win this HOH That's what is so frustrating
Nicole says she could tell him she'll bring him to final 2 if he keeps Cliff but won't if he keeps Holly.
N – I fear it'll let the inner beast come out of him. I would rather him feel more comfortable with me going into final 3
Nicole wants Jackson to think that Nicole will take him anyways "So maybe he won't fight as hard" (IN the final HOH, ZOMG)
C – don't do anything to affect your game please, it's not worth it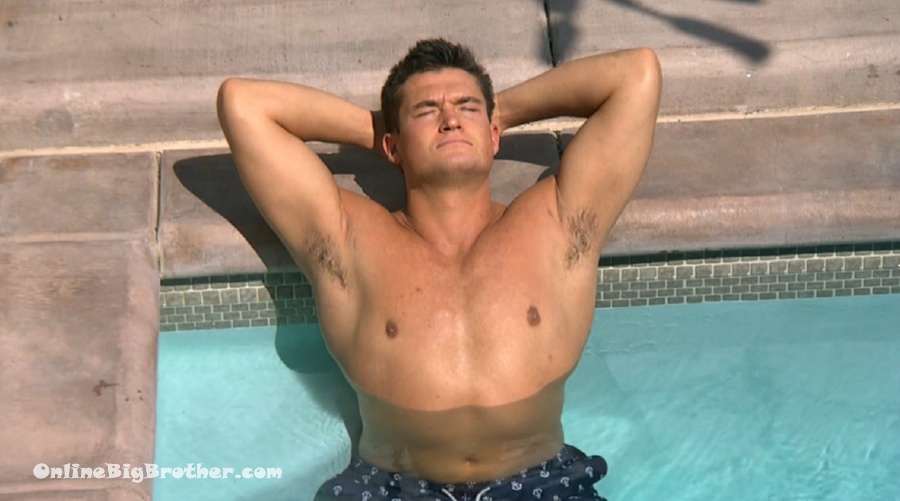 2:30 pm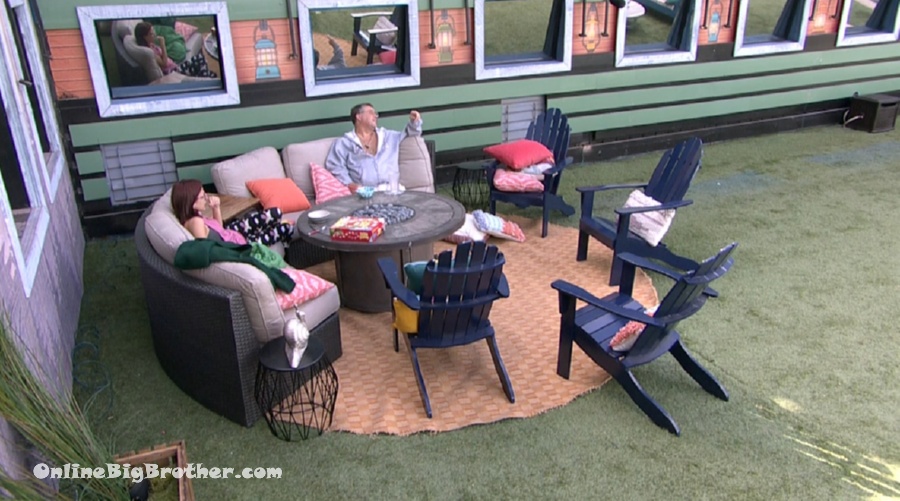 2:43 pm Nicole and Cliff
They agree they can't watch reality shows any more the same way. They'll both continue being Big Brother fans and watch.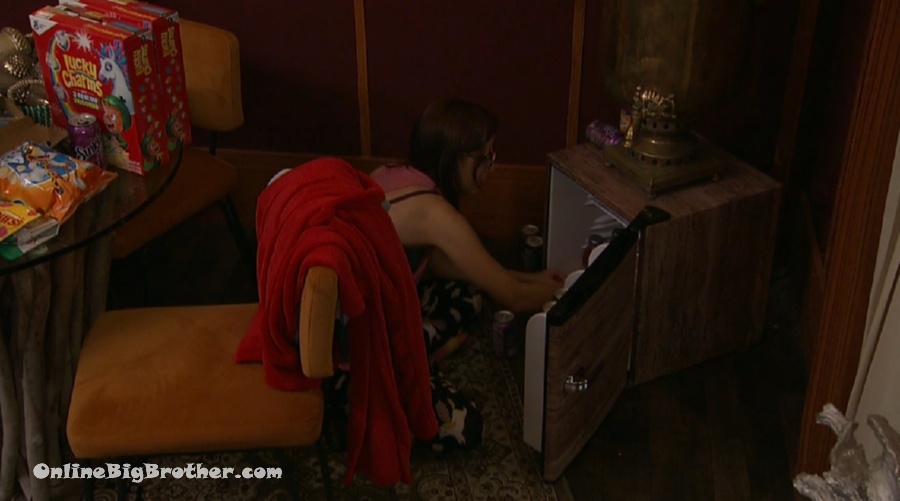 3:00 pm Nicole's Soda exploded
Nicole – Big brother I didn't know this thing froze
Nicole – Big brother I am sorry I am such a hazard to this house. I will clean it later I promise. WOW. I didn't know frozen soda would explode but it makes sense..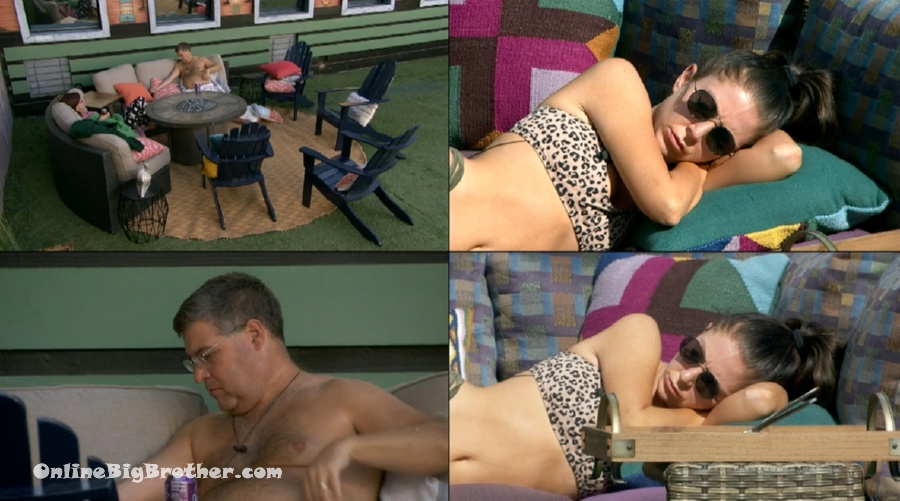 3:51 pm
Nicole tells Cliff one of her biggest fears is finding out a person she was close to in the house will be like "Nah" when they get out.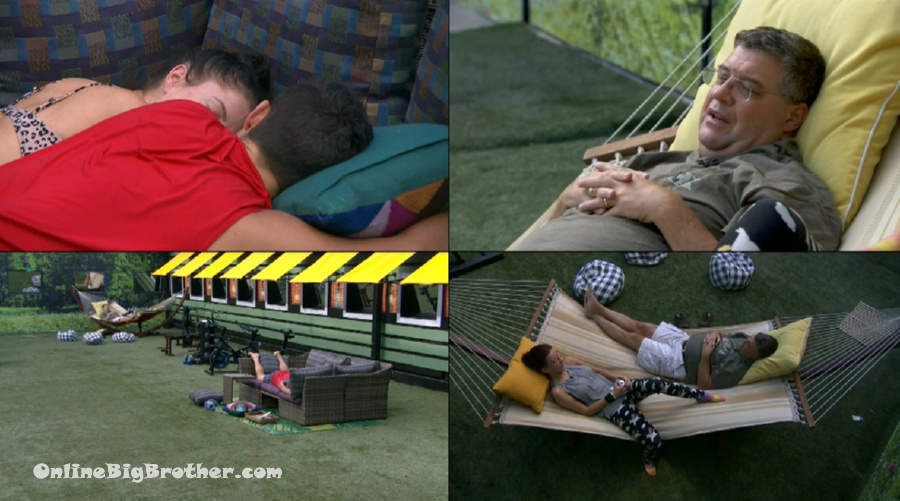 4:48 pm
Cliff – I didn't come to play for third.
Honesty integrity. word. yadda yadda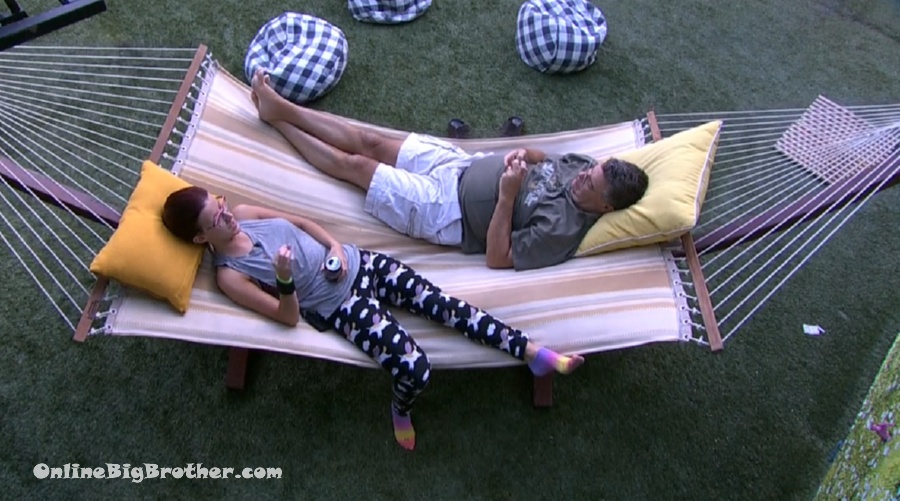 5:42 pm Nicole and Cliff
Cliff says if there was no blow up pre-vote last week they would have still sent Tommy home.
He's going to fight for her in the jury house.
Nicole mentions how a lot of people in the house have come to her and said she's taught them to be nicer and to think before they speak.
Cliff brings up how CHrsitie mentioned during the Nick fight that he was honorable. He likes that in the game what was his reputation Honourable.
Nicole parrots him "Honorable" goes on about how he can't dishonorable if he's being honorable to the person he shook hands with first.
Nicole brings up one reason she was worried about Tommy
Nicole says when Jessica spilled their entire game she never said her name "that's a testament to my social game she never felt comfortable saying my name. Jess said she heard it from someone"
Nicole – I know deep down Tommy knows that It was me (that told Jess)
Nicole then brings up when she found out from Nick that Tommy was going to put Kat and Cliff up. She told Kat and framed it that it's was only speculation but Kat took and ran with it.
Nicole Jess always says Jacksons is going to plow through and win the game.
C – if he wins. I'm upset about a little bit of it here but I'm okay with it. By the time I'm out of here Who knows who I will consider. I don't want to be a biter juror
C – is it, biter, to vote for a person that honoured their word over one that didn't
C – do I reward a person that was a competition beast even if .. this one time they did something
N – I try to look at the whole season. In my head since day one he was camp director, Day 1 you fought bad that's why I want you
C – It's not the end of the world.
N – you never know there's a lot of days until Thursday as well. You never know. There's plenty of times in this game where thought Christie was gone and all of a sudden Sis was. I thought I was gone then no offense you were. Plenty of times.
Cliff is going to talk to Jackson Wednesday morning or tomorrow night.
Nicole suggests Wednesday afternoon or Wednesday night.
Cliff agrees.
Nicole says if he's outside tonight or tomorrow with her she'll "Calmly" start dropping hints.
C – Nicole I trust you just tell me what you do so we can coordinate. Don't screw your game up any.
C – lay some groundwork with Holly right now
N – that's the thing. If they weren't so close I could lay groundwork wit both and say to Michie like you're a duo Holly's the more well liked. You have a better chance with me. Tell Holly he's a competition beast
C – the more you lay the groundwork with Holly and if Michie notices it and feels like he's losing Holly does that make him just a little bit more likely to pull the cord if it actually was a decision.
C – Sau Holly neither one of us can beat him when it comes down to Jury vote. Wheres your head at? WE could take each other
H – if she reports to him. He might actually think I'll take him to final 2 if he doesn't think that he might go even more beast mode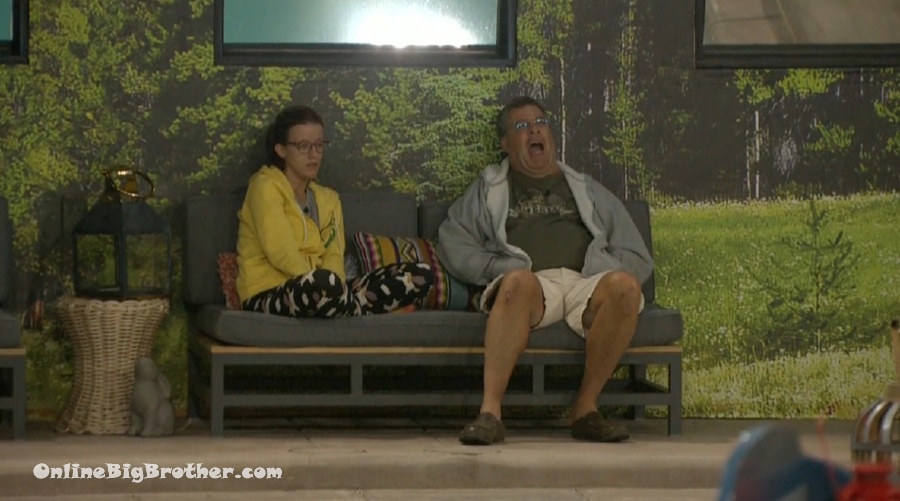 8:24 pm more of the same….
*** FYI Veto ceremony is Thursday on the eviction episode. The backyard will be closed until Finale after tonight (I hate this all the best BB memories are backyard memories)