Without your support this website wouldn't be possible.
Please consider making a donation. Any amount is greatly appreciated. All donations go directly to paying the considerable costs associated with running this site.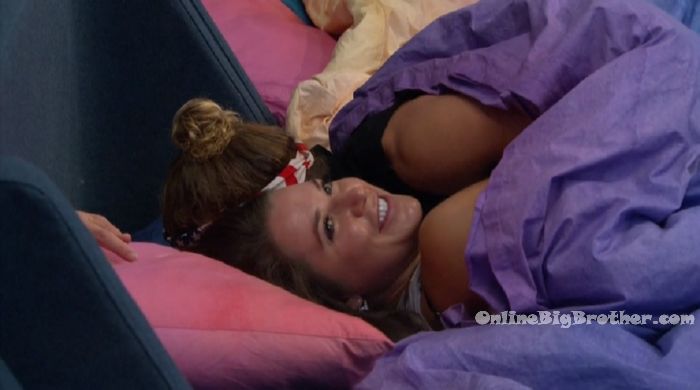 9:01pm Bedroom. Tyler and Angela. Angela – Girls hate girls. So lets count. I have Bayleigh, Rockstar, Sam, Haleigh and Fes. You have Brett and Scottie. Tyler – so you get Rockstar hating you and I'll get Bayleigh hating me. Angela – no I backdoored her. You had nothing to do with her backdooring. Tyler – yes I did, I put on sunglasses. She hated it. Angela – I made a speech about her being the hacker. You just told her. I win, I am more hated. You have to continue on. I will go home. This is the way it has to go. I should just tell Kaycee. Tyler – no. Angela – no look at the numbers, there is no way. And the difference between 4th and 2nd is not a big deal. Tyler – what do you mean. Angela – well it is a big deal .. but its not. Tyler – don't sell yourself short. You sent them all to the jury. Angela – they're bitter. Each and everyone of them is a child. Children are bitter, they don't see the whole picture. Each and everyone of them are going to be bitter as f**k. Tyler – you're so annoying. Angela – I'm right. Tyler – they will pick who played the best. Angela – no, I don't think so. Tyler – which ever one of us stays is going to win. Angela – I don't think so, I will not win if I stay. Like 1000%! You put Kaycee next to JC and the jury house picks JC. Everyone thinks that I drive a range rover and and sh*t… so they're going to be like she doesn't deserve this. Tyler – that doesn't mean anything. Angela – it does. Tyler – well you better not have that attitude. I mean if I stay I am not going to not try but I know whats on the other side of the road. Tyler – don't put that out there anymore. No matter who Kaycee chooses there are no hard feelings. I feel like the four of use are bonded for life. Tyler – forever. We will just compete and I will be cheering you on. Tyler – shut up. I will make them not hate you. Angela – at least we have that on our side.. whoever goes to the jury house.. I am going to lie and make you sound like an angel. Tyler – you don't have to lie. Angela – I will take the blame for everything. I will say that I manipulated you to fall in love with me. Tyler – don't say that. Angela – I won. I am the real winner here. All of you guys lost. I have Tyler and you're all going to vote for him. I am going to damage control. Tyler – you're not going to have to.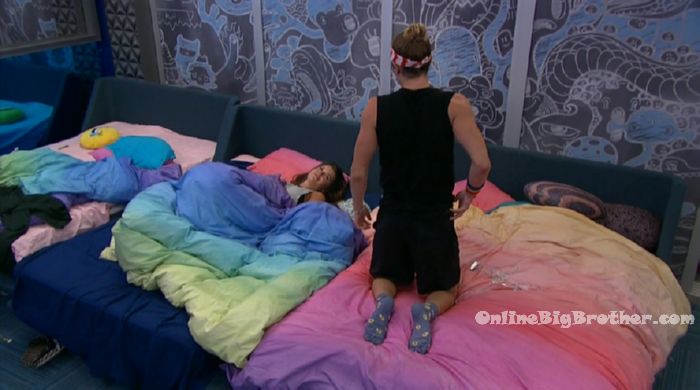 Tyler – you want to know something funny? I am a superfan of this show. Angela – wait?! Really?! No way? How? You acted like you weren't. What does superfan mean? You know everything? Tyler – I've seen every season. Angela – you liar! You lied to me. I am so offended! You liar. Tyler – I didn't lie. I just withheld. Angela – why didn't you tell me? Tyler – I forgot. Angela – man, I like this show but I am not a superfan. Angela – so are we going to tell everyone? or no? (about being in a showmance) Tyler – I don't know. Angela – it doesn't even matter any more because if one of us is gone it doesn't benefit either one of us. Tyler – but I don't Kaycee to think that you would have picked me. Angela – true. Yeah you're right. So we don't tell them? Tyler – maybe you go first in your speech and then I'll tell them. Angela – okay. Tyler – do you want me to? Angela – we are most hated in the jury house. If JC or Kaycee win next.. they will pick you or me because we're the most hated. Its beyond personal. So we're going to say it? Tyler – MMMmHHhhmm. Angela – how did JC win HOH? Tyler – there was no way JC would have won the veto.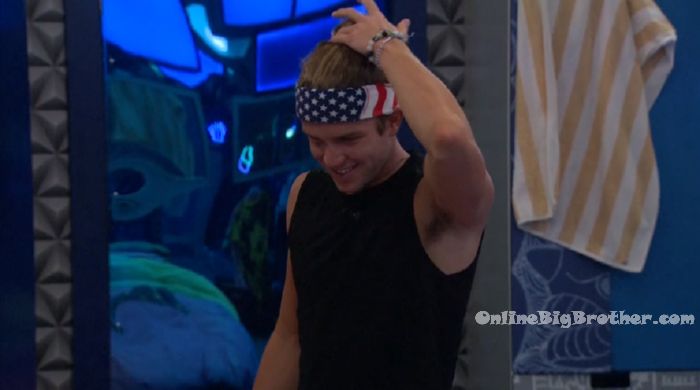 9:03pm – 9:40pm HOH room. JC and Kaycee. JC – you really don't know where her (Angela) head is at. I would rather have someone that I know where his (Tyler) head is at. Kaycee – yeah. JC – if I had won it (veto) I would have kept the nominations the same. It was going to be an easy decision. Kaycee – yeah, we will talk about it. And I will let you know more about where my head is at. You know what I'm saying. I just need it to sit a bit and let it sink in. And then I have to figure out a speech from there. JC – what do you mean a speech? Kaycee – like live tomorrow. My speech. I think how it will go is they will show the competition and then me live whether or not I use the veto. And then right there I will say who I will vote out. JC – yeah, yeah, yeah. JC – at the end of the day its who is better for your game. Kaycee – we are top three! Big Brother calls JC to the diary room. JC – we're not going to see the jury house. Kaycee – yeah, you're right. Kaycee – this is so sh*tty because I like both of them. JC – at the end its comes down to who is better for our game. Kaycee – straight up its a game. We're f**king almost out of here! JC heads to the diary room. Kaycee listens to JC's music.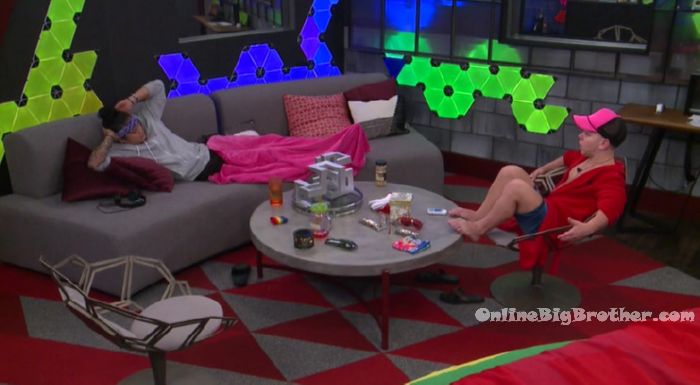 9:47pm HOH room. Tyler, Kaycee and Angela. (JC's in the diary room) Kaycee – it just sucks. I love you both so much. Angela – I know and we both know that. We're all solid for life no matter what happens. They all agree. Kayee – we had a really good run. Tyler – yes we did. We ran sh*t! Kaycee – and no one will ever forget that. Us three have collectively won 19 competitions. Angela – and two of you guys will be continuing on. And the good thing, whoever ends up in the jury house.. we know that we have each others votes. Tyler – 19 competitions .. with only one more in between. We slipped up. Angela – so when do we tell JC about level 6? Tyler – he will punch me no matter what. Technically you could still use the veto on one of us. Kaycee – and then I would automatically go on the block. Angela – yes.
9:59pm Kitchen. JC and Kaycee. JC – girl let me tell you that after this interview (diary room session) I am completely 50/50. No preference. I wish I could tell you more about why. I am 50/50.. I don't give a f**k! Kaycee – okay. JC – this sucks! I am very stressed about it. Kaycee – I am trying to figure out what you're saying.

10:07pm HOH room. Tyler and Angela. Angela – I think you will get America's player. Tyler – not a chance. If JC doesn't get top two he will get it. Or Kaycee, or Sam. Angela – you think Sam would get it? Tyler – maybe. Just because Sam was so unique. Or you. Angela – I doubt it. I just don't know how America feels about us. Tyler – we just have to say that everyone hates us and if someone likes us .. its a bonus. Angela – deal.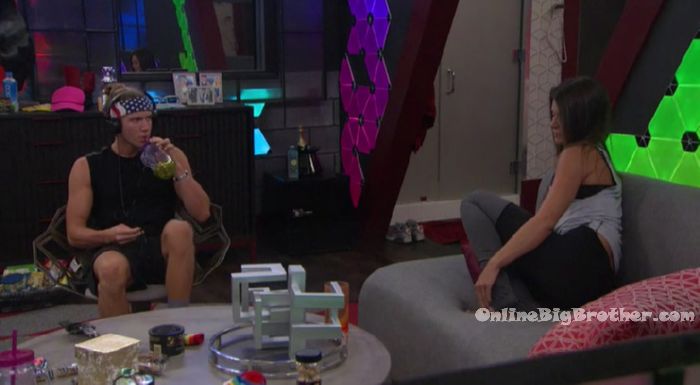 10:20pm – 10:30pm The final four are in the kitchen chatting.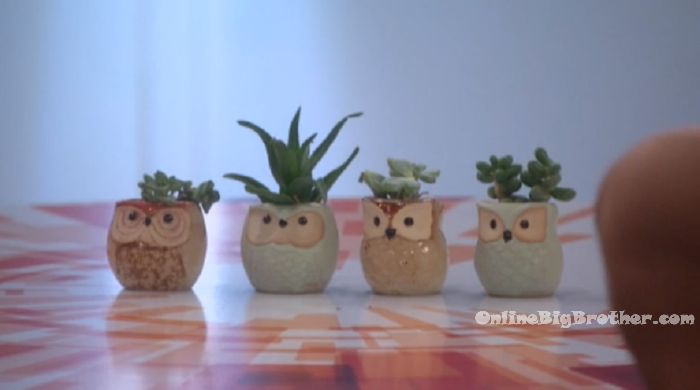 10:42pm – 11:03pm HOH room. JC and Tyler. JC about Kaycee – she is in the middle. I was trying to tell her the pros and cons. I can't just tell her good things about you and bad things about Angela because that is going to be too suspicious. Tyler – yeah you can't pitch her. JC – I told her my mind is exactly where you are.. 50/50. And then right before the meeting I go like you need to keep him. Top 2 and without him we're not going to know where her head is at. Like that and I get her. Pretty sure I get her. Tyler – I think you're right. I'll do the same thing. JC – if Kaycee goes top 2 she wins. She will be the winner of the season. JC – maybe I pitch for her to keep Angela so that she keeps you. Tyler – no don't do that.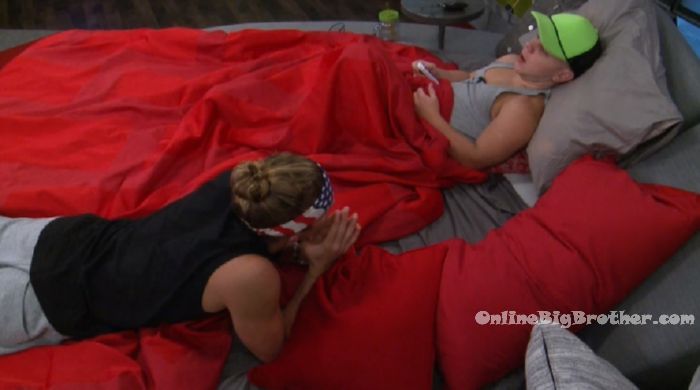 11:55pm – 12:25am Bedroom. Kaycee tells Tyler that she is just entertaining everything that JC has to say. He thinks he can beat you in a mental comp. Tyler – if JC feels comfortable enough that you and I would take him he might not try as hard to win. Kaycee – we got this dude! Tyler – nobody knows. He is going to f**king murder me but I can't wait to tell him. He's smart but we've been one step ahead. Kaycee – they will all understand at the end. Brett will understand. She (Angela) will understand. Kaycee heads up to sleep in the HOH bed with JC.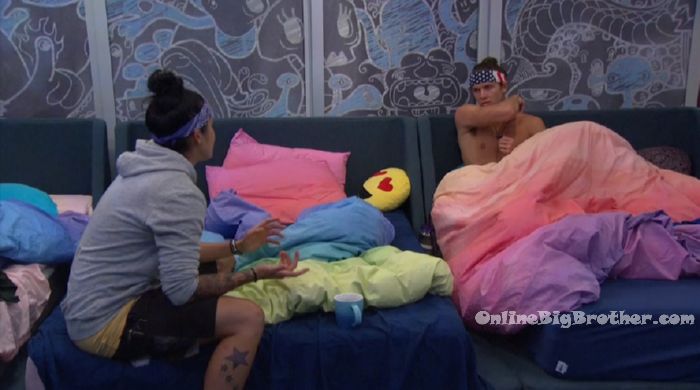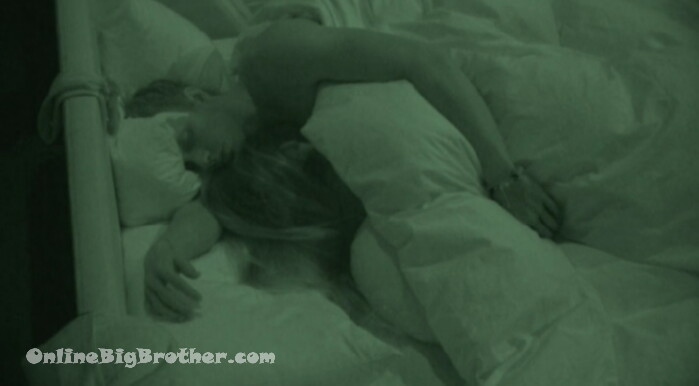 7:50am zzzzzzzz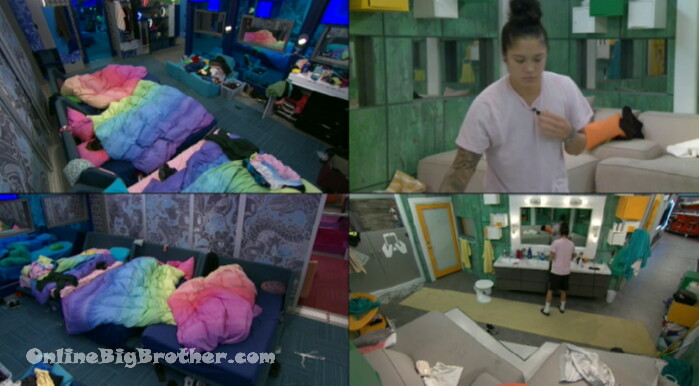 10:20am WE've got movement..
11:00am Kaycee and Angela
Kaycee has lost her voice.
Angela says she only slept an hour, "I just rolled around all night long.. "
A – WE knew this day would come and it's here
K – I know dude.. it's here, It's so shitty
A – so shitty
K – we've always talked about it too
A – there's nothing that can happen that will f* anything up between us not a single thing
K – I hope not
A – don't even like put it through your head I know it does but it really can't
A – Me and Tyler talked about it last night I was like I'm not going to have that conversation. He's not going to have that conversation
Angela – we'll be supportive of any decision you make \
K – I appreciate it I really do
K – I love you guys so much..
A – we'll look back at this day and laugh.. in the grand scheme of things it's so insignificant
K – ph yeah.. it's an accomplishment we all made it here..
Kaycee – we're going to leave outta here with more than we came in
Kaycee – get to start a new life outta here.. got alot of sh1t going on . everything is going to work out
Kaycee – I have no idea what the F* I am going to say so..
A – just keep it short and sweet that's what Mine is going to be
11:47am Just hanging out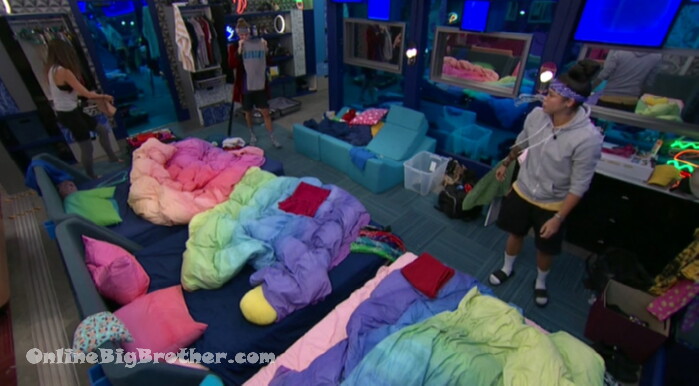 Noon Packing..

An easy way to support the site if you are an amazon shopper is to make your purchases through our link. You pay the exact same thing but we get a small % commission. It doesn't cost you anything and helps us out.
Amazon Canada
Amazon USA
Rank the houseguests!
Easiest way to Rank the house guests use link below