The Situation:
Jared and Cameron are living in the house as "Zombies"
No HOH, No Power of Veto, No Eviction. Jared or Cameron will get a chance to reenter the game.
Jared and Cameron compete in a 3 part comp to decide who gets to play in the puzzle comp to reenter the game
Jared lost the Zombie competition so Cameron gets to decide to do The puzzle competition to reenter the game
Lock your ranks in before midnight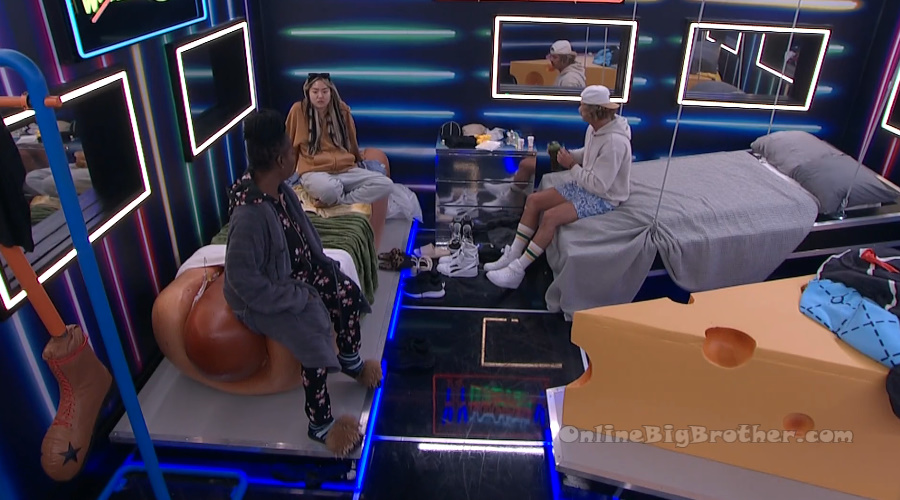 7:26pm Havenot Room – Matt, Blue and Cirie.
Cirie – America has been chatting it up with me but not… just regular stuff. And today I haven't really talked about anything about Felicia. That was really it. Blue – yeah.. America told me that ..she said I had a long conversation with Cirie and folded immediately. Cirie – what does that mean? Matt – wait what? Blue – She was like I had a long talk with Cirie and I folded immediately.. she is so nice. I am not targeting her. Cirie – awwwww.. Blue – I think you're in good standing now compared to a few days ago. America told me that Felicia came to her or her and Cory and proposed a final 4. Of Felicia, Meme, Cory and America. Cirie – OHHHH!? She didn't include Jag? I thought she liked Jag. Wow! Good for them. Blue – I don't think America .. I think she entertained it but I don't think she took it. America is still aiming for Felicia and Meme. Matt – I hope. Blue – because everyone is on the Felicia train right now.. even Cameron. Matt – oh big time. Cirie – Cameron hasn't even really talked to me .. he is being sort of normal with me but not any game talk. He asked me yesterday, so what's your plans if I stay or Jared stays.. you got to have a plan. And I was like AHHHHHHhhhh.. I don't have a plan. I was like Cameron I am on this island by myself I don't really have a plan. I don't know which way is up.. I just kind of danced around that. And then he started talking about how he wants to go on survivor and is this hard to me. And I was like yeah this is mad hard.. he was like oh that makes me feel better because I guess he is hinting that its hard for him. And about feeling pressured about the thing on Thursday. Like the pressure about being watched live. That was the only conversation I had. Everything else was just regular. And I am not initiating any conversations with anyone. Blue – and I think because you just came off that Cirie train.. I think it is probably a good idea to just lay low. Oh Man I hope I win HOH! Cirie – you and me girl. Matt – I think I need to win. I think Meme and Felicia would put me up. Blue – I think so. Cirie – F**KERS! Matt – Felicia promised she would never put me on the block. But I don't know if she is just saying that. But then who would she go for then? Blue – me and Jag… you backdoor. Matt – I won't let that happen. I won't let her take the HOH from me. Cirie – I don't think Meme is going to try to win yet.. because she would then have to stand out and pick somebody and she don't want that smoke yet. Matt – really? I think she would target me. Cirie – She won't because then she would think that we would all go after her. And she don't want to target Cory and America because she is trying to play with them. Blue – I think Meme and Cory are a lot closer than we think they are. Cirie – yeah that's what it looks like. Blue – I am just hoping to won't be a chance (HOH comp).
7:40pm – 8:15PM Havenot room – Matt and Blue.
Blue – I think yesterday's talk with me, you and Jag was so good. It made me .. I think I might have said a little too much but I just need to get it out.. Matt – I am hoping America and Cory are solid with us over Felicia and Meme. Blue – Absolutely! Absolutely! Cory and America know they cannot win competitions. Matt – they're going to need us. Blue – Cory and America are thinking they're in best position. They're thinking we're comfortable. They are thinking they are exactly how we felt last week. Obviously they're going to lean towards me, you and Jag because we're the better competitors. They're using us and are going to use us to get as far as possible. They're obviously bringing along Felicia and Meme because of numbers.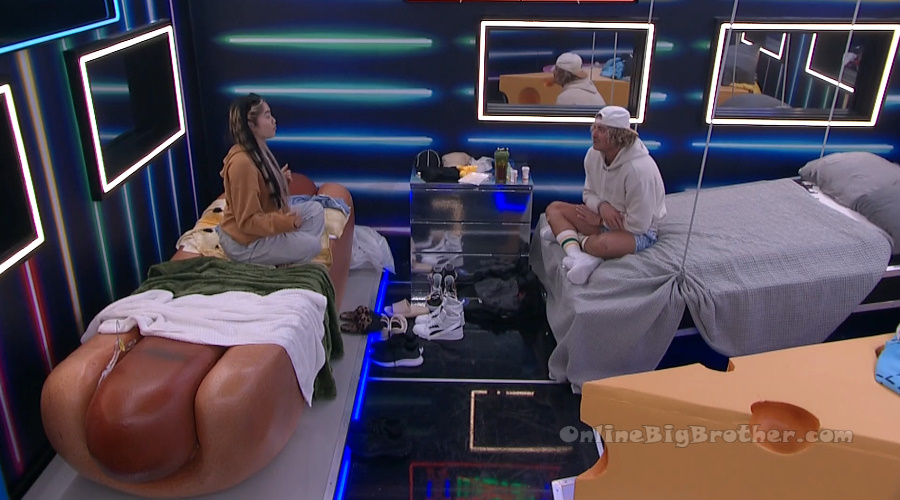 8:40pm – 8:50pm Living Room – Felicia and Blue.
Felicia – I think Matt and Jag .. part of them doesn't want to win because they don't want to have to target someone now so that really leaves us females battling which works to our advantage. Blue – I am nervous. I am nervous if Cameron wins HOH. Felicia – I know that's the only wild card because literally what is he going to do? Who is he going to put up? A part of me believes he won't do Bowie Jane.. it could be.. Blue – anyone. Felicia – it could be literally anyone. He could put up Matt and Jag, I don't know. He might decide he wants to keep them. He might just take a shot at them to get one of them out. I don't believe he will put America up because he wants her in the jury house. But I could see him putting Cory up because he wants to be out there with her without him. The question is who is going to sit next to Cory? That's the wildcard. Blue – I know .. I don't know. It hurts my brain trying to think like Cameron. Felicia – in 56 days I have never talked game with Cameron. Not one time. Blue – and I am not about to start now.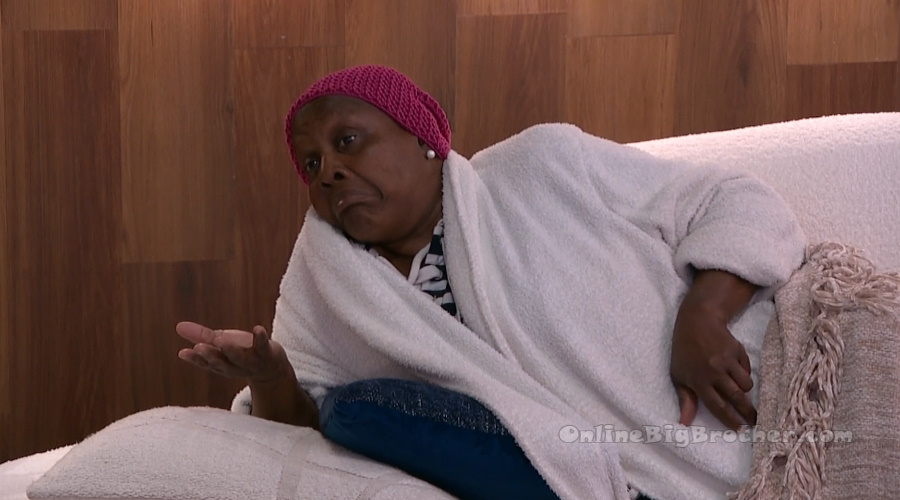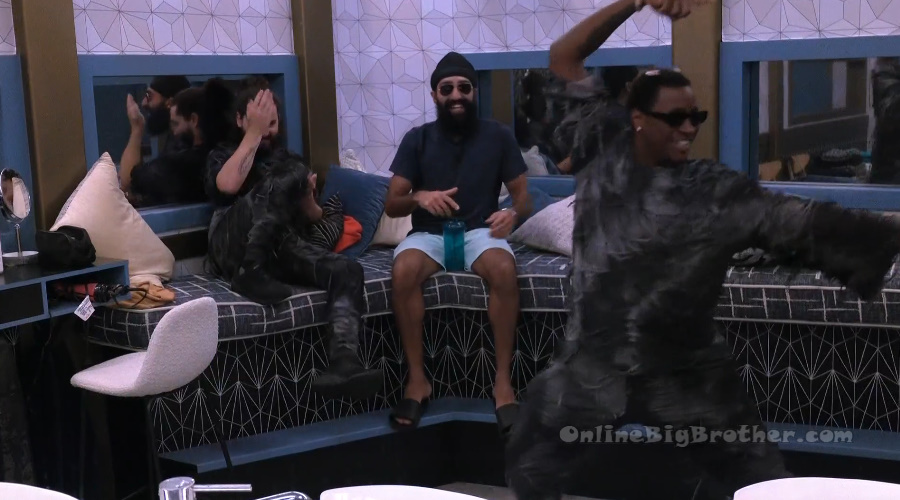 9:55pm The house guests are hanging out and chatting about random things. Cirie heads to bed and says goodnight to the "night crew".

10:05pm – 10:25pm Living Room – Meme, America and Jag.
Meme – perhaps you're considering other alternative options (Cam). Jag – perhaps its not launchable's (Cory) that you want. Perhaps its something else that you want… Felicia – CAM! Meme – now you being messy! Jag – STOP! I call it digiorno. America – I hope its not what its coming across as though! Jag – it doesn't matter what its coming across as, it matters how you feel. America – its not like that at all. Jag – what's up with lunchables? America – Lunchables and Cam talked and lunchables said he doesn't care about.. he said he doesn't give a sh*t about .. about like me and Cam.. like Cam teasing me. America – he is like I don't care, you can do whatever you want essentially. I want him to care and be like Cam back off. Like come on Cory ..its been 30 days of cuddling. I thought you would care… I mean lunchables. I don't want curly hair. I mean it fine, I'm okay but I don't want Cam. I don't want curly hair. Like that is not how I am feeling at all. Jag – you want lunchables. America – just a little salsa. Jag – did he talk to you about it. America – they both did .. Cam laughed about how he (Cory) doesn't give a sh*t. He (Cory) told him (Cam) that I don't give a sh*t what you two do. Jag – do you think he means that or that its more of a defense. Do you think that's his defense mechanism. America – we've talked about it before and he's been like I don't care. He is very focused on the game. I am going to talk to him, like I am not in to playing games … I just haven't gotten a chance to talk to him. I didn't think I was going to be salty about it. Jag – I could tell something was up. America – I was being subtle. Jag – we hangout with you enough to know you. Is this just a fun type thing for both of you? America – we decided we would just be friends outside of here. Meme – I feel like there has to be enough of something there for this to even be a question. Jag – if it was nothing .. you wouldn't even care. Maybe he address the way he does for game purposes.. because like how does it look for him to be like "You better back off buster!" Because he might be like at that point my a$$ is grass. And maybe he doesn't want to say anything because he doesn't want to come off as controlling. Meme – I agree. America – we will talk tonight.. its very superficial. Jag – how emotionally connected are.. America – we don't talk that much. Meme – what do you do? America – its just a lot of (kiss, kiss sounds). Its 50 humor, 50 intelligence and 5% lunchables. I mean I need to push for it more too to talk. But if he is just going to go around saying he doesn't give a sh*t then that's another thing.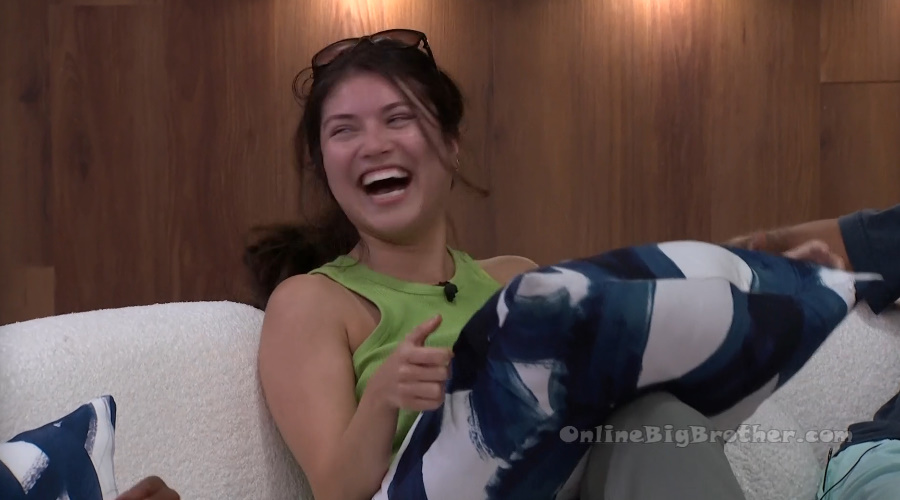 11pm Bathroom – Jared and Cameron are rehashing the past couple weeks again for the 100th time. Jared – according to Cory .. he was like Bro it didn't matter who you were sitting next to BRO we were voting you out. Like regardless if it was Cirie, if it was Blue, if it was anybody other than that, we was voting you out. And I was like ahhhh.. Cam – I saw it. Jared – I was like so the only way I was safe is if I won that f**king veto. The only way. Cameron – the only way you would have been safe would have been by not putting me on the block as a backdoor. Jared – yeah. Cam – all you and to do was put up anybody. Jared – I think about that every day. Like I would have put up anybody at that point .. like f**k it. Like f**k votes.. I wouldn't have even needed votes. Cam – nope. If you would have made that move it would have been America out the door. Jared – Something needs to get busted up in here. Cam – in due time. Jared – in due time for sure. Cam – because if I don't make it past that hurdle and she (Felicia) gets in the jury I don't get a vote anyway.. at least one of them might respect the move. I am thinking long game on this. Jared – if she.. What I am thinking is you're going real soon after that. And I don't need to f**king tell you that, you know that. Cam – right, my point is its not even me its everybody else. Whoever does get her out will NOT get her vote at all. If she is vengeful enough to get me out she will not respectfully vote on the finale night.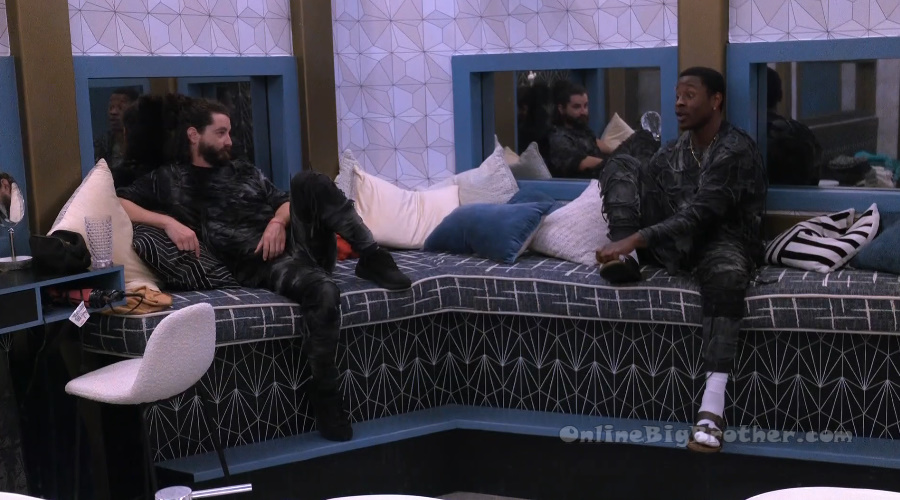 11:40pm Bathroom – Cory, Jag, Bowie and America talk about the possibility of Felicia winning HOH and who she would nominate. America – what we are thinking is it would be him (Jag) and Matt. Bowie – that's bad. Cory – I think she would target Cam, 100%! Bowie – oh that's true. Cory – after that she would look towards me. Jag – yeah. Cory – that's worst case but if you can matt were up .. it would be the same as me and her (America) being up basically as long as Cam doesn't win the veto… one of you probably come off you go up and he goes out unanimously.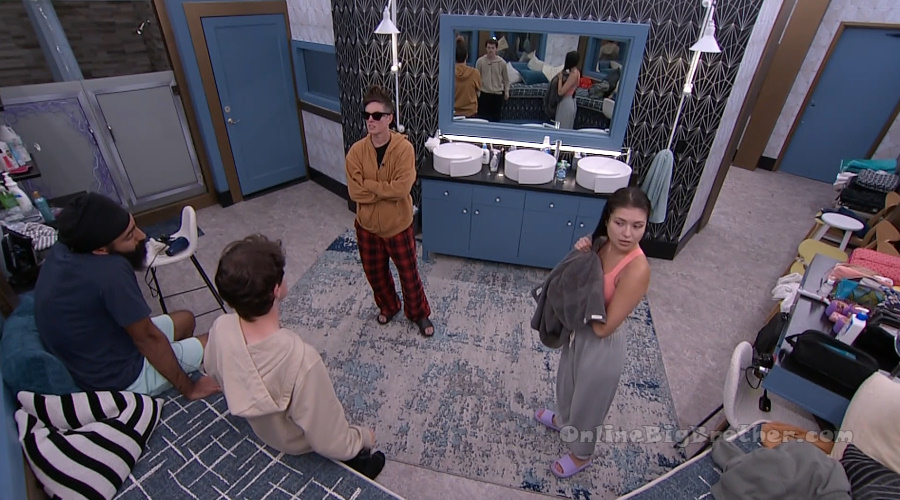 12:10am Bedroom – America and Cam
America – he is like flirting harder with me now which is fine. I am flirting back since it doesn't matter right!? And you don't care so? So I can flirt with him and he can flirt back. I am not doing it to spite you. Cory – I feel like I've been trapped here. America – what do you mean trapped. You're not being trapped, I am just saying it didn't make me feel good. Right!? And I didn't think I would feel any certain way about it but I sort of do.. so.. Cory – none of it makes me feel good. But how am I supposed to play it, you know what I mean? America – I dont know you just have to be honest with yourself and me and like I dont care if you lie to him but like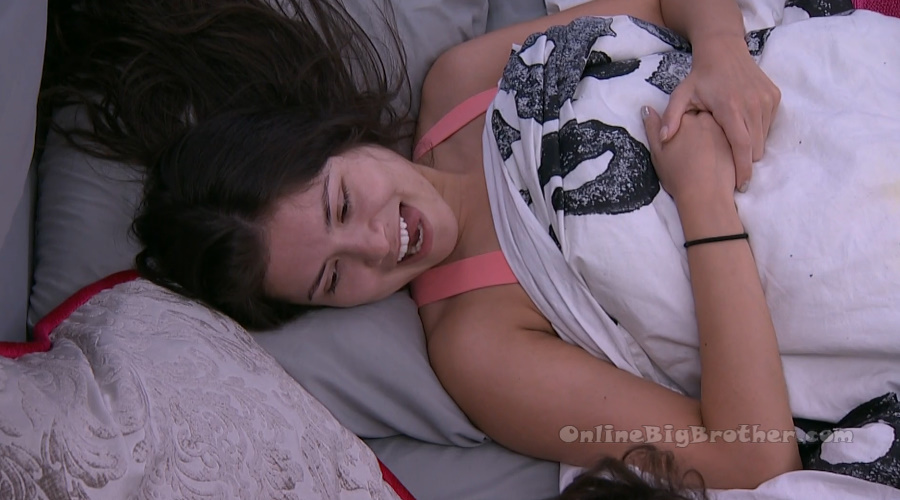 If you've enjoyed our updates this season and want to leave a tip you can do so through PayPal.
You don't even need a Paypal account to contribute. Any amount is greatly appreciated!