Quick Big Brother Spoilers
Head of Household: Cameron
Nominees: Jag & Blue
POV Players: Jag, Cameron, Blue, MEME, Jared, Red
POV Winner: RED
Veto Ceremony: Veto wasn't used. Nominations are locked
Havenots:  Izzy, Corey & Bowie
Lock your ranks in before midnight
The Situation Feeds cut constantly pretty much everyone that played in the power competitions has said something to make you think they won the power competition.
Invincibility power players: Cirie, Matt, Jag and Corey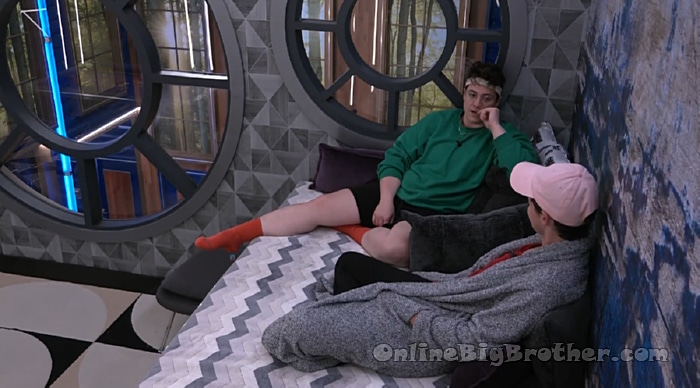 10:23 am Corey and Izzy
Izzy – there's more arguments for Blue staying than Jag..
Corey – Do you think I should try to do anything with this super power
Feeds flip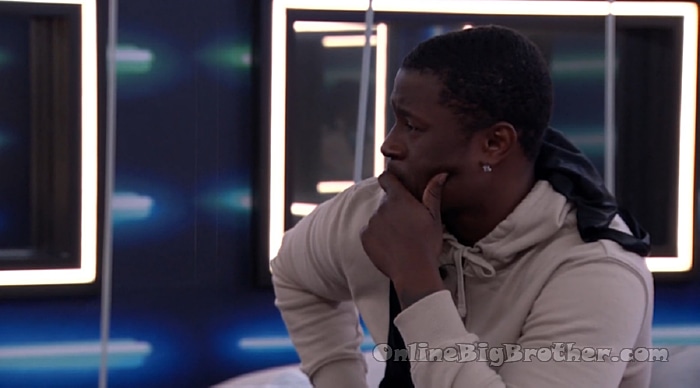 4:03 pm Cirie and Jared
Cirie – I'm not sure what to tell Matt to do.
Jared – you have to figure out exactly what it is again.
Cirie – I know what it is. If he uses it to save Jag
Jared – Before the votes
Cirie – no.. I don't know when.. he has to let them know tomorrow morning what he's going to do. If he saves Jag and we all voted for Jag then Blue don't get no votes then Blue and Jag stay. If he saves Jag and we voted for Blue then it's unused and he can use it next week.
Jared – that's confusing
Cirie – once he uses it everything resets. Cameron can play HOH he can play HOH again.
Feeds flip.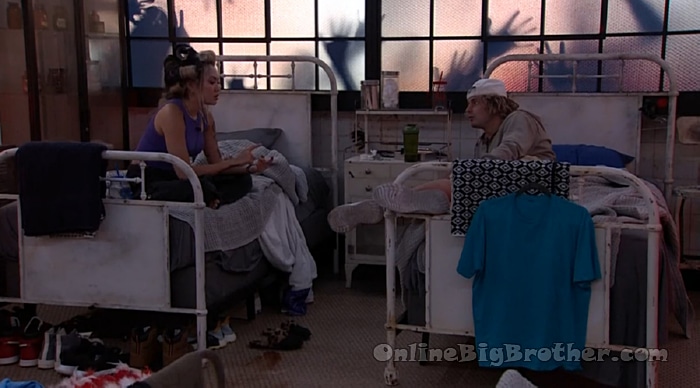 4:30 pm Blue and Matt
Blue – once Jag leaves I don't have anyone that i'm 100% with. Am I shooting myself in the foot with a showmance?
Blue – I don't want to play his game. I want my relationship with people to be the reason why I am staying this week I don't it to be because of him I don't want it to be because Jag is a better competitor. I want people to keep me because they see me as a valuable asset.
Matt – what if Jag has it?
Blue – I don't think he does
Matt – I think me and him were really close.
Feeds cut. When we're back
Blue – it's smarter for REd and Cameron to take shots at them
Matt – not at us.. They want to make it to Jury.
Blue – as soon as Red and Cameron start to attacking Cirie and Izzy that's a war

5:40 pm Jag and Felicia
Jag says his talks with houseguest is going well "I don't corey about… "
Felicia – the win
Jag – Yeah. I haven't told america yet. Obviously I'm not going to tell Red and Bowie..
Felicia – hell no
Jag – Hell no
Jag – one thing I've been thinking about voting 8-2 vs a unanimous vote
Jag sas if it's 8-2 against him "If it's unanimous everything stays as is but if it's 8-2 corey and America will feel closer to y'all"
Felicia – I'm still wondering who won the damn thing
Jag doesn't know. "the whole pulling Corey and america in is good"
Jag says he knows he's more loyal than Blue.
Jag says keeping him in the house is safer for everyone. HE adds that "they" will take shots at "you guys" but if he's around he's the biggest threat to them.
Jag explains that Cameron and Red will take a shot at them next time they get power because they only have 3 people that are close on that side.
Jag – Keeping will protect Izzy more than keeping Blue will. If Blue is here Izzy is going to be on the block next to you or Cirie but if I'm here that won't be the case
Felicia says Bowie is up in the HOH room "Those guys are like leeches"
Feeds cut.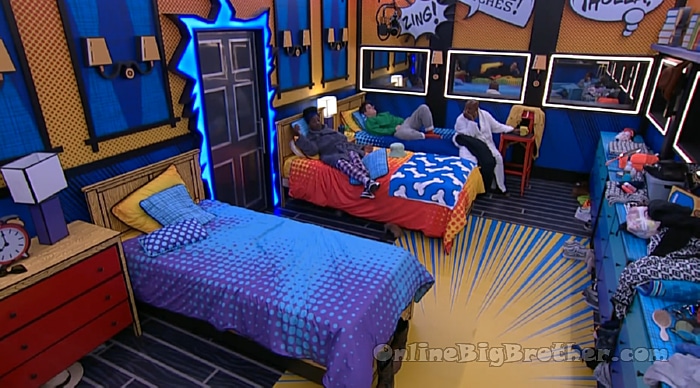 6:20 pm Izzy, Bowie, Felicia, NEME and Cirie
Cirie says she talked to Blue. "She's not even going to go for HOH this week"
She also told Cirie after Jag goes She is a free agent.
Felicia – she said the same thing to me.
feeds flip then cut…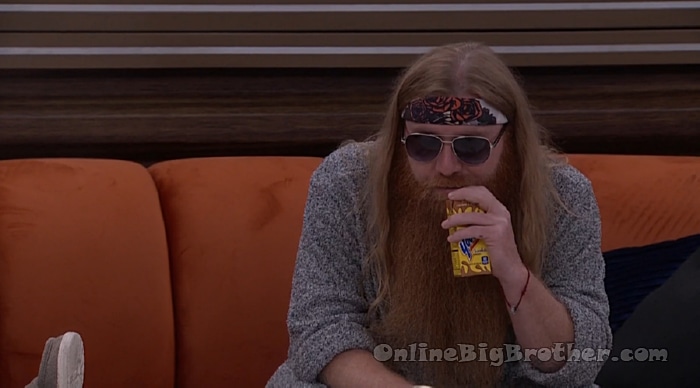 6:30 pm Red and Cam
Feeds are cutting all the time hard to even get into a conversation.
Red – do they have the power to remove both noms and start over right before eviction
Cam – that would be way way too powerful (How about having a veto appear in your pants like in BBCAN)
Red – you would think
Cam – I do think as a Big brother fan
Red – I don't put nothing past Big Brother (Ohh I see REd's watched BBCAN before)
Cam – I would be completely flabbergasted if they brought that much power back in this house
Red – what if it's TWO people removed from the block. One one week and another the next week.
Cam – I know can't trust Jared now.
Feeds cut.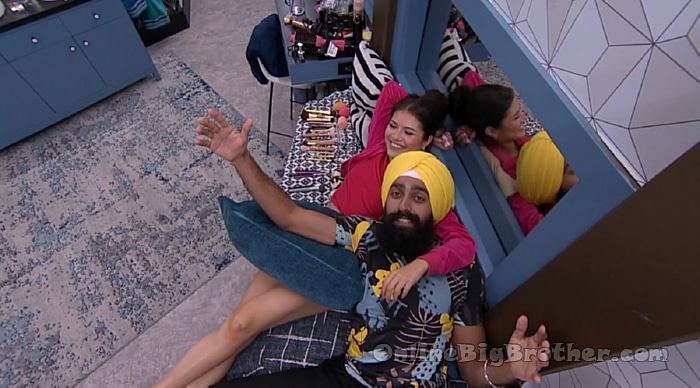 6:50 pm Jag and America
Jag – we made this alliance called Family style. We trust each other clearly cause we're a family baby and we trust each other like that. What happens right after that?
Jag – well you guessed it. Cam one of the members of family style who we trusted with our game and our life in Big Brother
America – Day 4
Jag – goes to the other side and tells them what? Everything about Family style. So this is absolutely great. Here's the key part of it. That week we can either take out Felicia whos on the other side or kirsten who's in no mans land
America – free agent.
Jag – she's willing to work with us.. what do we do?
America – kicked out Kirsten
Jag – week two we have another shot at this. We go out there and we play for HOH. Final 2 is Jared that's our boy VS HISAM he's on the other side. jared immediately runs to the door he is celebrating what happens? He goes straight to the nether region. But there is still hope he comes back from the nether region he can safe one person we know Reilly is in BIG trouble this week and we know Hisam is not going to put me up so naturally who does Jared save for the week.. It's your boy cockadoodloo zooo
Jag – it's Cam vs Reilly on the block. This should be a easy one right. Cam rated on us Reilly is loyal to our team. Of Course we are going to keep Reilly.
America – we have the votes.
Jag – I take it upon on myself to make sure everyone knows I'm pro Reilly and I'm ANTI CAm baby so I go to everyone and you know what I tell them Look we have the numbers and the votes. DID we have the votes?
America – hell no.
Jag – Reilly has a target on her back the only way to help her is put a bigger target on my back. This is exactly what happens we blindside ourselves and send Reilly home.
Jag – After this Family style has another shot at it our numbers are dwindling but it's not too bad. We go out there we have a chance to win HOH what do we do? we become have nots. We weren't even close one bit. Remember Felicia? we could have evicted her first week.. She's cool with us of course she wants to work with us..
America – we saved her first week.
Jag – My a$$ was grass she puts me up against who? the rat king himself Cam. Luckily there's a bigger plan in action they backdoored Hisam.
Jag – there's no point to go hard in this Veto. Hisam isn't playing so what do I do? I turn on the jets. I go as hard as I can and why? you got it baby I want to make sure I got the biggest target on my back in this house.
Jag – now everyone sees I am a threat.
Jag – everyone is minding their own business. Hisam is going home I'm off the block. Cam is on the block everything is fine. there's no need to mention anyone's name that is why Reilly was sent home so what do I do? I take a page from Reilly's book.. you want names I'll give you names, I go to every single person in the house. I want red out of this house. Why would I do it?
jag – Anyway..
Feeds cut..