HOH: Christian
SAFE: Xavier, Alyssa and Sarah Beth
HAVENOTS: Azah, Big D, Britini
WILDCARD Competition Winner: Claire (safe 2 weeks)
Nominations: Hannah & Whitney
Power of Veto Players: Christian, Hannah, Whitney, Claire, Azah, DerekX | Host Alyssa
Power of Veto: Christian
Power of Veto Ceremony:
Big Brother 23 Houseguest Rankings – – RANK THE HOUSEGUESTS –
View the previous day ranks on the – Ranking Grid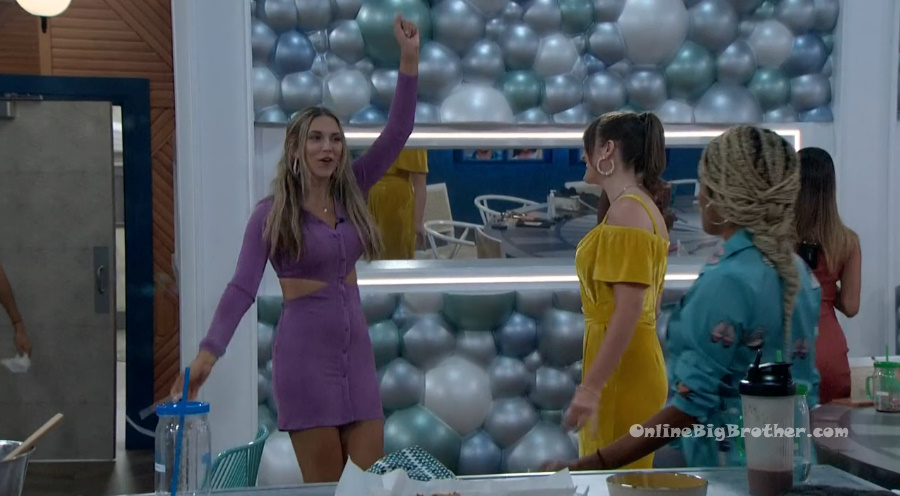 10pm
All the girls went to Whitney's "night club" make up class and then got all dressed up. They're planning on having a night club themed party tonight. They guys are also getting dressed up. This "night club" themed party was hinging on Big Brother giving them alcohol. Big D is going to be the bouncer at the club.
Alyssa stepping up her "boob game" #BB23 @bigbspoilers pic.twitter.com/Ie49wytKf7

— Dawg (@DawgsBigBrother) August 2, 2021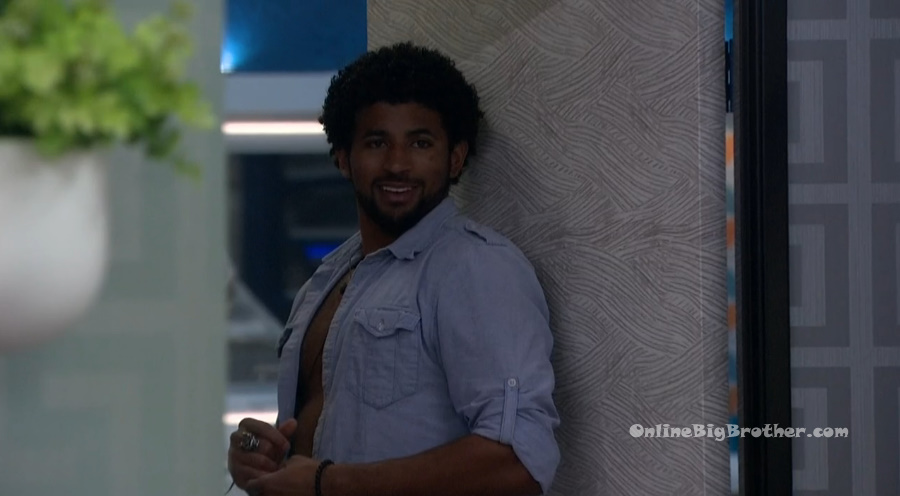 10:05pm HOH room – Xavier and Christian.
Christian – I actually have one very important question? Xavier – what's that? Christian – do I pull out the drip? Xavier – what's the sunglasses? Christian – No! Its gold bro! Xavier – oh the chains! Throw them on .. lets test it out! Take it for a test drive! Oh the veto!?! Christian – its the DRIP! Xavier – No! That's a miss! Christian – should I go two chains on them?! Should I two chains it BRA?! Xavier – No! That's a hardcore miss! Christian – Oh I definitely can't show up like this! Xavier – immediate target! Next week you're on the block no matter what. Even if our team wins, your a$$ is going on the block. Trying to walk around with the HOH key and the veto. Christian – So no drip!? Xavier – No drip!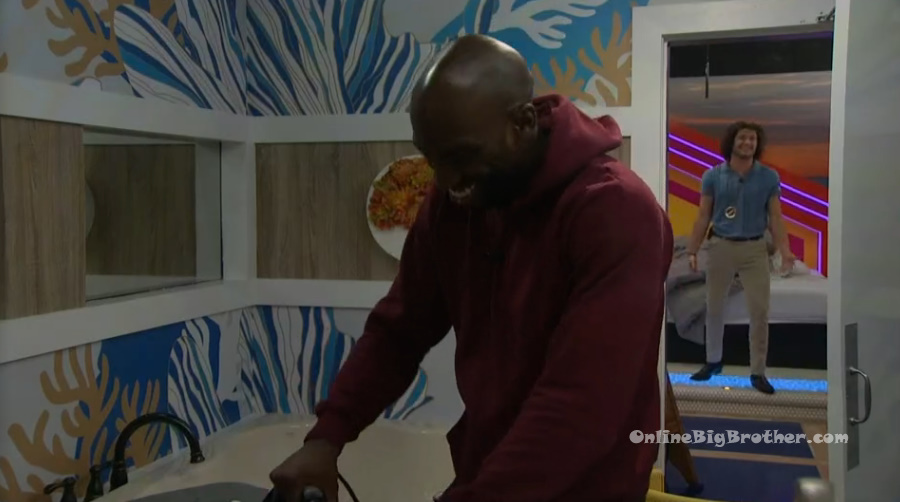 10:30pm HOH bathroom.
Christian – I think Whitney is going to make a move on you tonight! Xavier – OH F**K! Access denied! For as long as I can..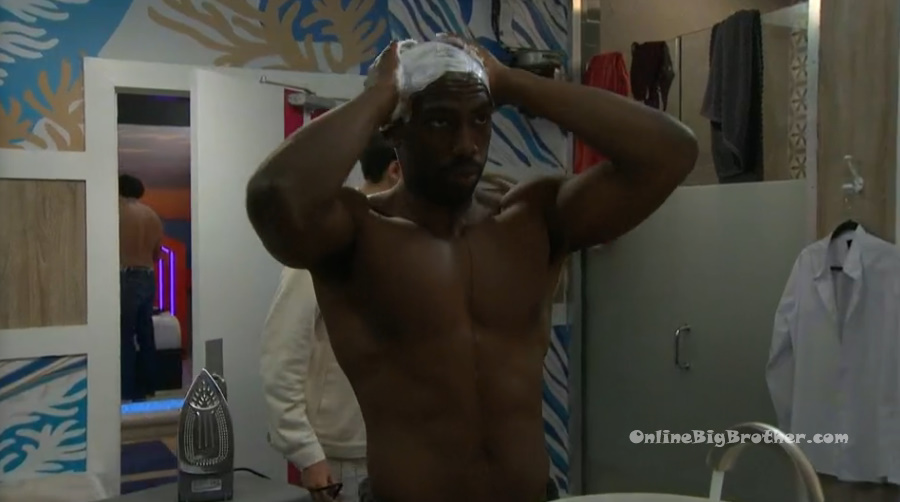 10:38pm Big Brother tells the house guests to check the storage room. Wine & beer is waiting for them. Brit – I swear if you got more than usually I am going to be pissed!!

Big D – I'm security so I'm going to pat all the men down.
Big D tells the girls that the guys will come out one by one and they have to score them 1 – 5.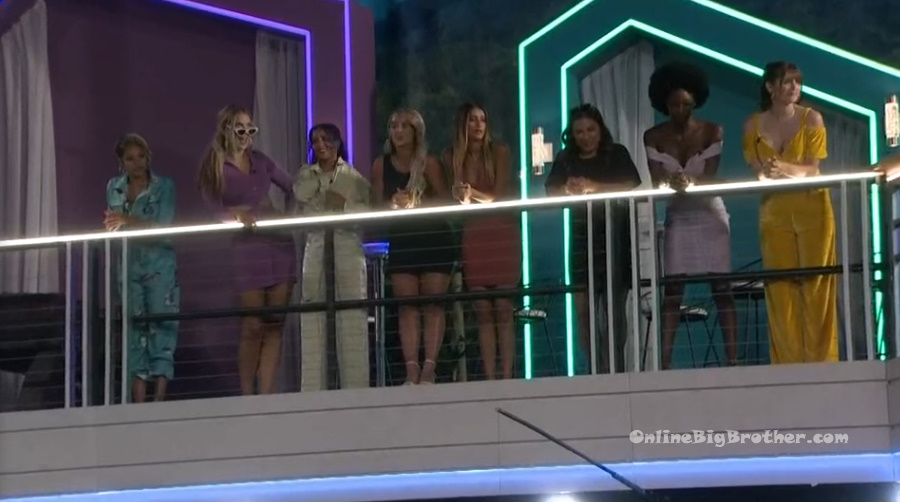 Kyland is first out. Ladies score him a 5.
Christian is second out. Ladies score him a 5.
Xavier is third out. Ladies score him a 5. Whitney – 10,0000!!
Derek X is forth out. Ladies score him a 10 out of 5.
BB Night Club #BB23 @bigbspoilers pic.twitter.com/AViJicrO2E

— Dawg (@DawgsBigBrother) August 2, 2021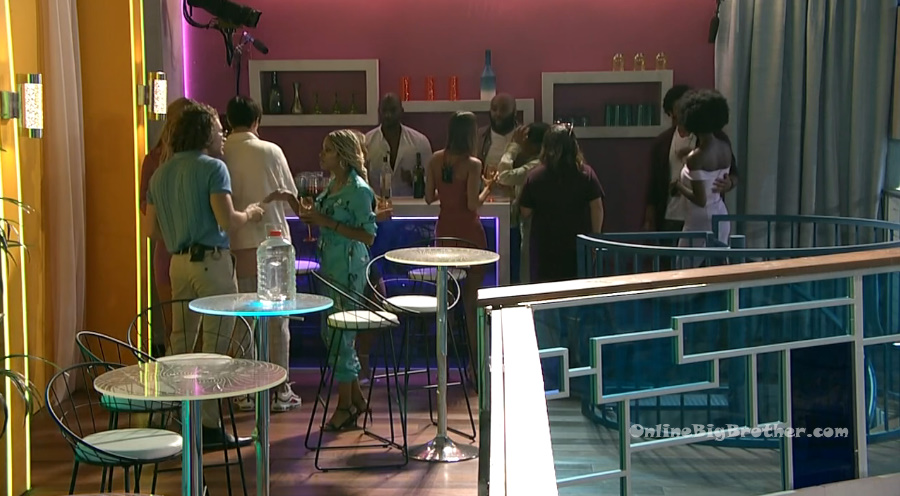 11:10pm Their now doing speed dating. Big D – at the end I will find out from the ladies which man had the best game.
11:30pm Big D gets all the girls top and bottom choices for the men.
Winning champion for the men – a tie between Derek X and Xavier
Winning table for the women – Claire and Sarah
LOL Claire trying to arrange a threesome @bigbspoilers #Bb23 pic.twitter.com/1uWoUgMfbb

— Dawg (@DawgsBigBrother) August 2, 2021
Derek X "I loved everyone I talked to tonight but…. I loved most of the people I talked to tonight.." @bigbspoilers #BB23 pic.twitter.com/cpAsblHPdi

— Dawg (@DawgsBigBrother) August 2, 2021
Hair whip like a BOSS #BB23 @bigbspoilers pic.twitter.com/ZbLYhHzb2H

— Dawg (@DawgsBigBrother) August 2, 2021
12:22am The feeds return from being blocked. The house guests are doing a BBC (Big Blue Couch) chant and dance.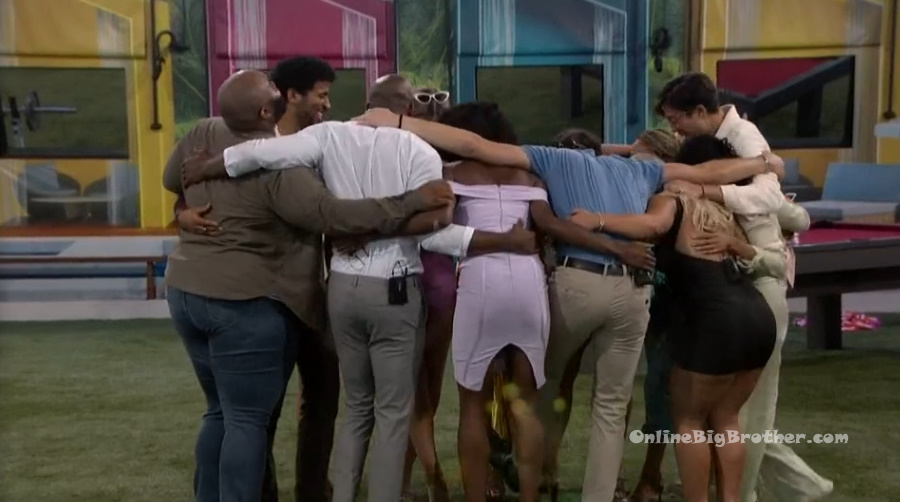 12:35am The house guests are sitting around the backyard chairs chatting about the night and makeup tips from Whitney.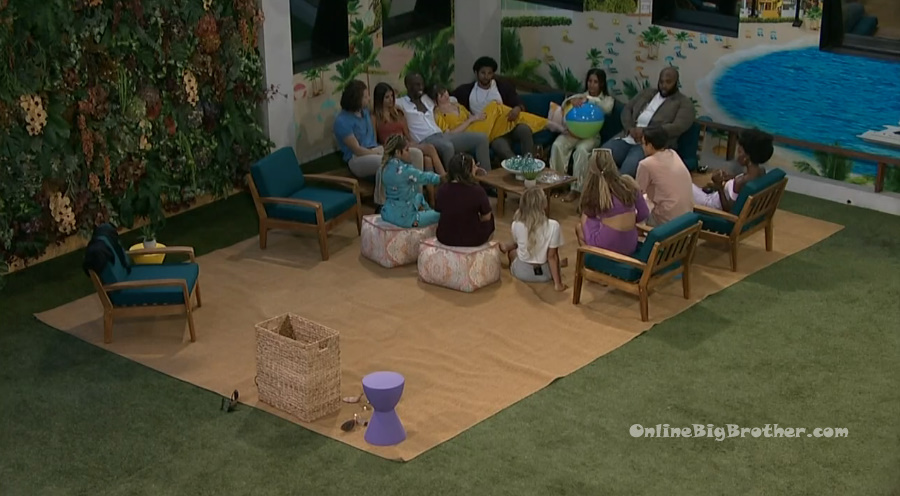 12:43am Xavier and Alyssa head inside..
Xavier – SB and KY gonna f**k! That's been building for awhile! Alyssa – you think? Xavier – I'm just saying they're real touchy. They have before but the alcohol is taking it to another level. Alyssa – that makes Christian and I look like prudes. They head to the bedroom. Xavier – they definitely want to knock boots! 100% if she wasn't taken .. they would be sleeping together almost every night! Tonight might be the night!! Lets talk about the elephant in the room. Your boy (Christian) got no rhythm. He's got three left feet!! He was so lost! Alyssa – oh my god man, that was funny!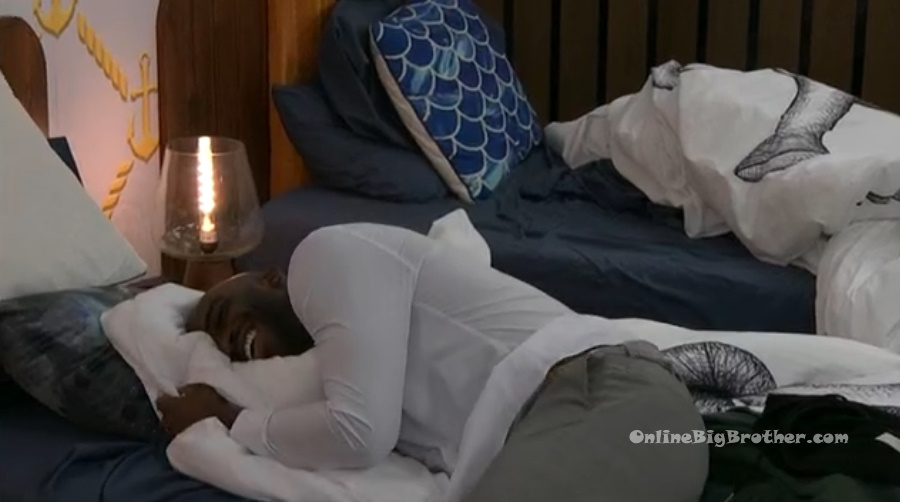 12:55am Bathroom. Whitney and Hannah
Whitney – it just sucks because its hard to campaign ..like we really should spend time talking to him about veto choice and all that other sh*t but its so hard when literally everyone in the house is great. Hannah – yeah. I'm not going to campaign against you. Whitney – same. Hannah – but you do what you have to do. Whitney – I agree, same but I am not going to campaign against you either. I wish there was someone in mind as a backdoor option but there isn't.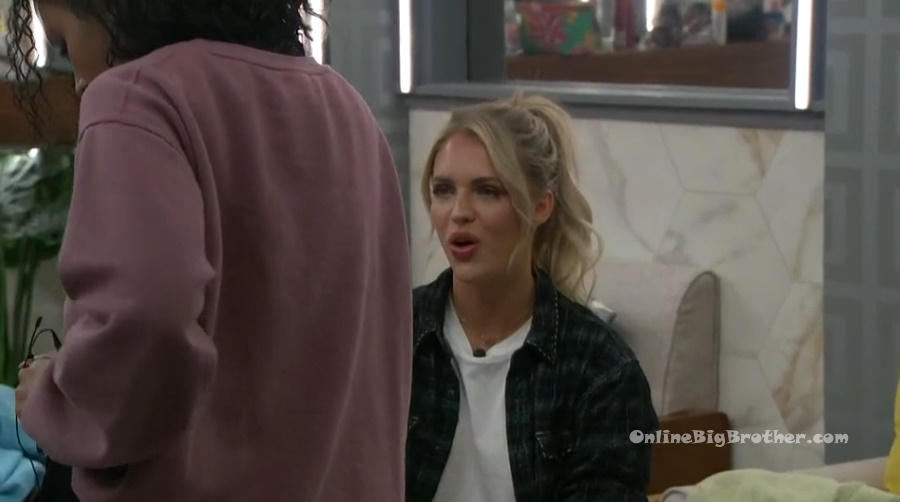 Show your support 🙂 Without your support this site and these spoilers wouldn't be possible.
Please consider a donation to keep the madness going.