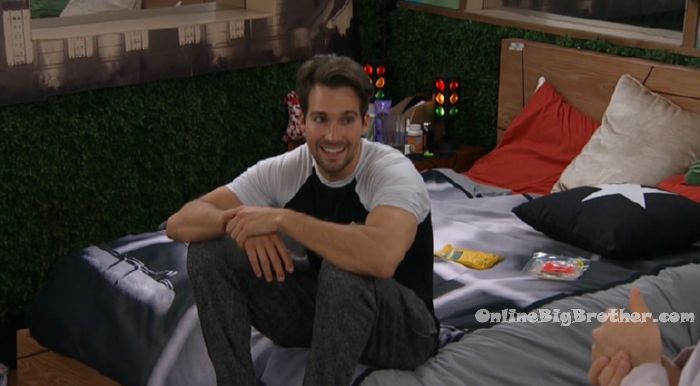 Power of Veto Winner: JAMES
11:01pm The live feeds return from being blocked. In the bedroom – James and Ross are talking. James – the second they put her before me I was pretty sure I got this one. Ross – unbelievable! Lets enjoy the night and cheer her up. James – I spent a couple minutes talking to her too and I straight up told her .. because you know I am trying to encourage her to stay in the game. Anything can happen… if Omarosa blows up at Brandi and she gets pissed off.. Ross – she can try, that's what I would do. I would poke Omarosa and see what happens. James – you know something is going to happen, whether it works out in your favor or not. Ross – celebrate, celebrate. James – I am. They head outside.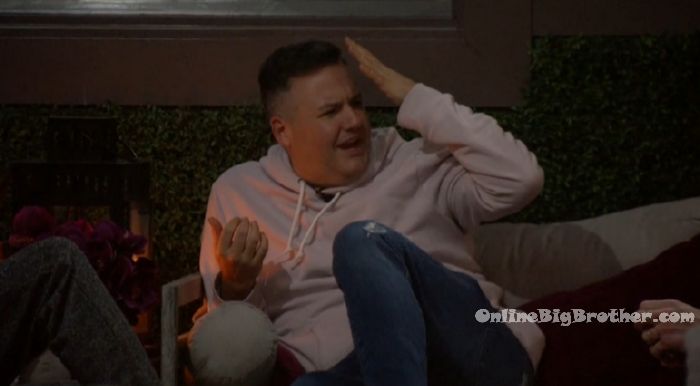 Try the Live Feeds FREE for 7 DAYS! Click here for your: FREE Trial

11am Backyard. Ross and James. Ross – one of those rare nights when you can go oh god everything is okay. James – Shannon is at 90% that she is going home. Now she knows it but you know what that was a fair and square head to head. Ross – no backdoor, she had a fair chance. James – and this is one that I can celebrate a bit and not be found on. Ross – everyone was rooting for you. James – because it makes everyone else weeks easier. Ross – MMMhhHHhh. Enjoy it. James – because we have this here, I would have to see what its like here. Ross – Ari can't play in the HOH. It's only going to be Omarosa and Metta. Mark joins them. Mark – that was a clutch performance. James – I'm all about the team here man. Winning when it counts. This is not about winning everything in this house. I am lucky I did not win the first HOH. If I had I would be out by now. Ross talks about the veto comp. (It was the black box veto competition) Ross – there was 6 inches of honey. It was darker than that bedroom gets at night. It was nuts! Ross heads inside. James tells Mark – I feel like you, me or Ross or Marissa need to win the next HOH. Mark – yeah I would love to dude! James – like Ross in the bowling one .. If its something that I can let you win, I would be down to do that. Then I can play the next one. James – I lost my ego after I didn't win the first HOH. I am grateful I didn't win the first one. Mark – There is a strategy to not winning. you're the most powerful guy in the house, you've been on the block twice. If you win this HOH, then you have a clear path to the finale. There is no hiding now. Everyone is a target after Friday. They head inside. Mark – what did Shannon say? James – I said if there is anything you can think of.. I know I can't work with Shannon. If there is anything I can do, get in a fight. If I could save her too I would. Mark – you can't, and the house would turn against you too.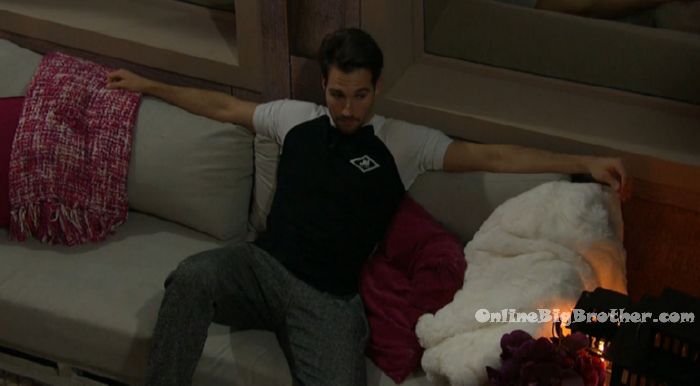 11:15pm – 11:40pm Big Brother gives them Chinese food. Marissa – the cake says happy half way point. They talk about how the competition was fun. Omarosa – does anyone what to have a cake fight? Mark – no but I want a piece of that thing.
11:45pm Backyard. Shannon, Brandi, Marissa, Omarosa and Ari. Marissa – its almost 12am, I get to take this thing off soon!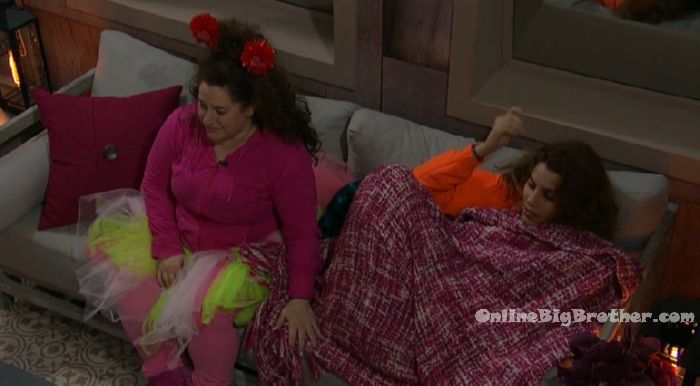 1:45am Backyard. Brandi tells Shannon that she has an idea. Shannon smiles. Brandi – we'll talk later. No crying. Brandi heads inside to go to bed. Shannon is alone and talking to herself – I'm sorry Simon. I know I let you down. Please let there be a twist! Omarosa comes out and asks if she is okay. Shannon – yes. Omarosa – Sorry I was sucky! I was trying so hard. Omarosa then heads inside to go to bed.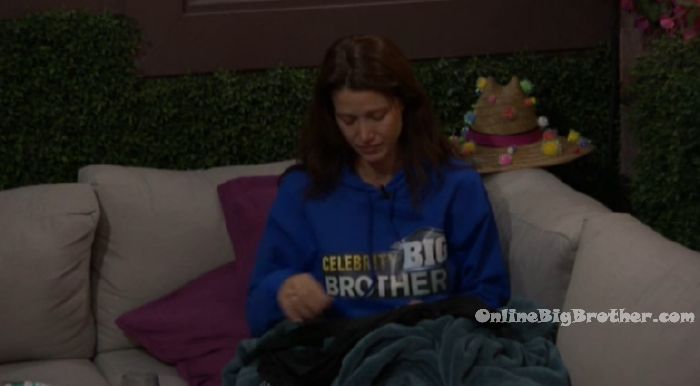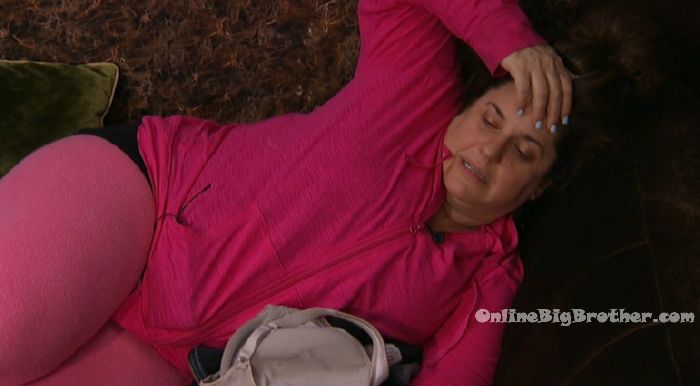 1:55am – 2:05am Marissa and Ross in the bar room. Marissa – If I got HOH what's the plan? Ross – I would do James and Omarosa. Or Omarosa and Mark. And if you get the change then you backdoor James .. or worst case you get out Omarosa. I wouldn't mind Omarosa going before James. Marissa – I would rather have Omarosa go before James. Ross – Omarosa is not a threat though, we can beat her in the end. Marissa – true, true, true. So if I win and its a quick one.. Ross – it wouldn't be a bad thing to get Omarosa out if it was quick one. The only thing though is if she is pulling in viewers. I guess it doesn't matter at this point there is only 1 week left. Marissa – we've been waiting for twists and the twists is there are no twists. Ross – the fourth eviction will be a double. If Omarosa puts up me and Brandi. I need you to rally for me. I just need your help. Marissa – you have my help. Ross – we have two more to get out. That gets us to the final 5 with Metta and then he bows out. Brandi needs to be careful. Marissa – its hard she gets drunk. Can we just say that when Omarosa got caught lying it was amazing! Watch Omarosa win this. Ross – that's not what America wants.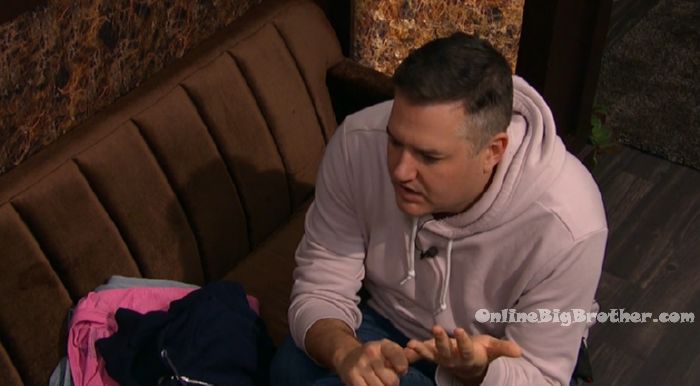 2:10am – 2:15am Ari and Brandi in the HOH room. Brandi – he doesn't remember anything he says. Ari – he is trying to upset you. Brandi – why? Ari – This is what he wants? He is definitely with James. I am glad Ross is sleeping there tonight because they are going to talk. Brandi – the fact that he said it in the kitchen. Mark had a whole new glow about him. Did you see that? Ari – he won the veto. Brandi – he won the Veto not the HOH. That's a different story. He is saving his own a$$. HOH is something else. When he was sitting here and Omarosa was giving him the questions. He didn't know one f**king thing. Not one! Guess what, yes you run real fast but you can't spell a sentence? You're not getting anywhere. Shannon is great at both things and that's why she has to go. I get that but the way he talked to Metta tonight … f**K him! I want James and Mark out. Ari – Now Metta knows. I don't know why he acts like that. It makes him look ugly. Brandi – it makes me really mad. They have my number, they know what makes me mad. Ari – everyone seems to forget what she did. Brandi – she talks in circles until everyone forgets what she said. Ari – Shannon is desperate and we have to remember what she did. If she stays in the house she is coming after us. Brandi – it would have been easier to lie to her face and backdoor her.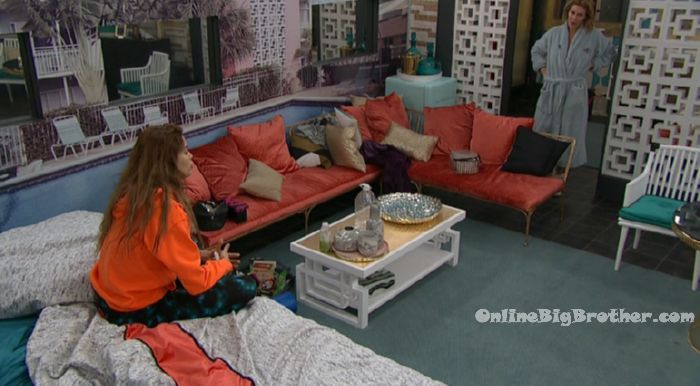 FLASHBACK and watch everything you missed: Live Feed 7 day FREE Trial!
Time to start ranking the houseguests on Celebrity Big brother. Nothing has changed with the ranking system since BB19. If you forget how it works here's the skinny.
You apply a ranking from 1-5 to each houseguest using one of these two pages: Voting (with images) and Quick vote (without images)
You have until the end of each day to "Lock in" your ranking. Each day the rankings are compiled and viewed on the grid.