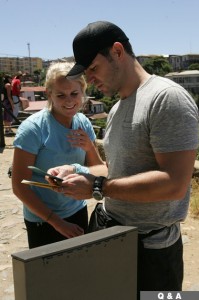 Big Brother 12 Spoilers

CBS doesn't typically allow cross-pollution between their reality shows — you'll never see "Survivor's" Russell on "Undercover Boss." But every now and then, the network sees something special in a duo (like Rob & Amber) brought together by fate (or the CBS casting department) and gives them another chance to go for the gold.

Such is the case with Jeff Schroeder and Jordan Lloyd. This Sunday the "Big Brother XI" sweethearts will trade their slop passes for passports when "The Amazing Race" waves its green flag on another exciting season. And since I was straight up obsessed with these two for the last half of 2009, I had a million questions.

Are you still together? Why come back to reality TV? Did Jeff ever take Jordan on that Hawaiian vacation he won on "Big Brother"? Turns out, I'm not the only one.

…..

PW: So when I asked my readers what they wanted to know about you two, the overwhelming question was, did they go on the Hawaii trip together. So, did you?
Jeff: Man, everyone loves that question! We didn't go to Hawaii — but we're planning a trip to Antigua, which I think trumps Hawaii anyway. We're gonna stay in a tiki hut.

…..

PW: Have you guys gone back and watched "BB?"
Jeff: I haven't. But Jordan has.
Jordan: I haven't watched everything, I've seen a lot. But it made me mad. I couldn't believe I was so naive about certain people. Especially when they showed what people were saying in the diary room. It was like, "oooh, that's what they were saying about me!"

…..

PW: Compare the two shows: which is harder?
Jordan: They're hard in such different ways.
Jeff: "Big Brother" is like running a long race, "Amazing Race" is like doing a lot of super stressful sprints.
Jordan: I'd say working together on the race was harder for me. Jeff gets so mad at me sometimes.

PW: So do you think this is your last reality show, or might you pop up on "Survivor"?
Jeff: I'd like to make a guest appearance on "Man vs. wild." I love that guy!
Jordan: I wouldn't do any other shows … unless it was a Jeff & Jordan show! It probably won't happen though.
Jeff: Anything is possible!

"The Amazing Race" premieres Sunday at 8pm on CBS

For the Full Article: New York Post
Share it YO!!
Tweet