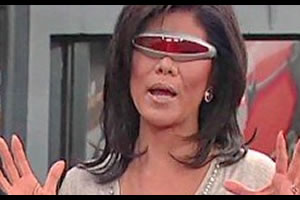 Looks like Julie Chen was mistaken on The Turd Ferguson Show last month. Big Brother 13 Will now premiere July 7th Not July 6th as previous thought. Also the show will continue the same format being on Wednesday, Thursday and Sunday.. All the important stuff will happen on Thursday and on the Big Brother Live Feeds.
Wednesdays, (8:00-9:00 PM, ET/PT, beginning July 13), the LIVE eviction show hosted by Julie Chen on Thursdays (9:00-10:00 PM, live ET/delayed PT, beginning July 14), and Sundays (8:00-9:00 PM, ET/PT, beginning July 10).
The Press release also tells us that Julie Chen will be coming back for Big Brother 2011! for all you Chen Bot fans out there its a good day ;) Onlinebigbrother will have you covered, we watch the feeds sift trough the junk and give you just the best Big Brother Spoilers straight from the feeds.
Press Release From CBS this Morning
CBS ANNOUNCES PREMIERE DATES FOR "BIG BROTHER" AND THE NEW REALITY SERIES, "SAME NAME"
"Big Brother" Returns Thursday, July 7, 9:00-10:00 PM
"Big Brother" to Be Broadcast Three Times a Week-Wednesdays, Thursdays (Live Eviction Show) and Sundays
New Reality Series, "Same Name," Premieres Sunday, July 24, 9:00-10:00 PM
"The 65th Annual Tony Awards," Hosted by Neil Patrick Harris, Airs Sunday,
June 12, 8:00-11:00 PM
"The 38th Annual Daytime Emmy Awards," Hosted by Wayne Brady, to Be Broadcast Sunday, June 19, 8:00-10:00 PM
"Boston Pops Fireworks Spectacular," Hosted by Michael Chiklis, Airs
Monday, July 4, 10:00-11:00 PM
Share it YO!
Tweet