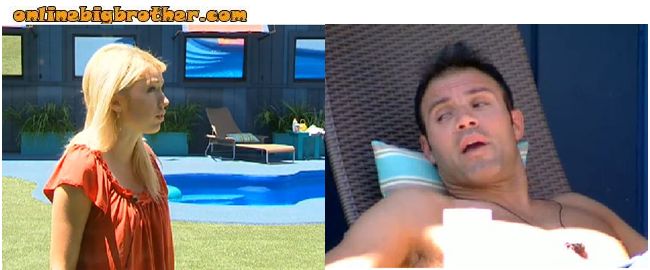 12:35pm Britney is talking to Enzo and Lane in the backyard. Enzo says that he wouldn't have even taken as long as Britney did in her POV ceremony speech. Enzo says that he is proud of Britney and that he would have done the same thing. Enzo says that he would have just said Meow Meow, your going home. Britney says yeah and then said grenade. Britney then tells Lane that Rachel was going to put him up so that it was a sure thing that Kristen would go home. Britney says that she wouldn't do that and that it was all last minute. Britney says that she caught Rachel in a lie about what she told Hayden. Britney says that she told Hayden that she didn't use the POV because Lane was on the line but that Rachel and told Hayden she was going to put up Kathy.

SEE what they CAN'T show you on TV! 3 Day FREE Trial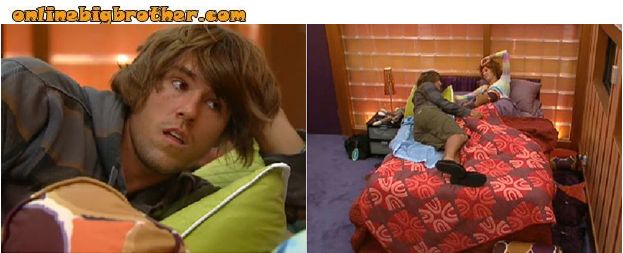 12:50pm Kristen and Hayden are talking in the bedroom. Kristen says that at least they can hang out and talk and do whatever they want now since one of them is going home. Hayden tells her that she should clarify a lot of things with Julie Chen and that they didn't do what Andrew was saying. Hayden say that they only kissed and cuddled a little bit and that they didn't really even kiss that much. Hayden says that he ruined her game plan. Kristen says yeah …I just didn't plan on making any friends or anything. Kristen says that he changed her game plan. Hayden tells her that she can and should campaign against him. Kristen says that she really doesn't have a chance against him and that it is pointless to even try. Hayden tells her that he doesn't want her to give up. Kristen starts crying and says that if she doesn't fight that she will regret it.
Up in the HOH room Rachel and Brendon are talking about how much they trust Britney now. They laugh about how they need to come up with an alliance name for them like Two Girls and A Guy Named Brendon. Rachel tells Brendon that she trusts Hayden way more than she trusts Matt.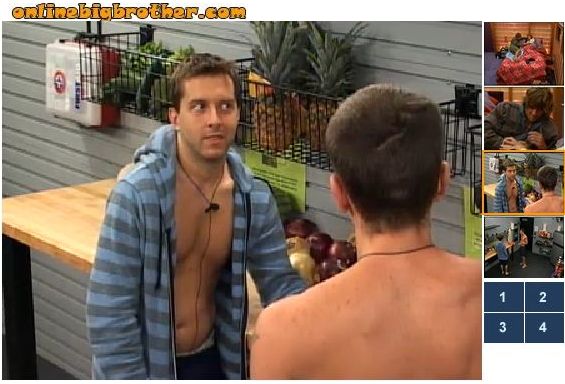 1pm In the storage room Matt is talking to Ragan about how they don't believe Britney's explanation of using the POV or not. Ragan thinks the original deal was to put up Kathy and that Britney changed her mind when she found out Rachel would have put up Lane.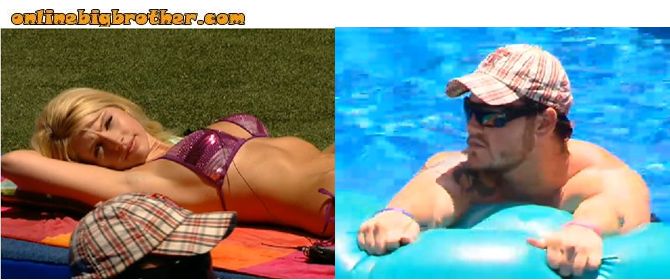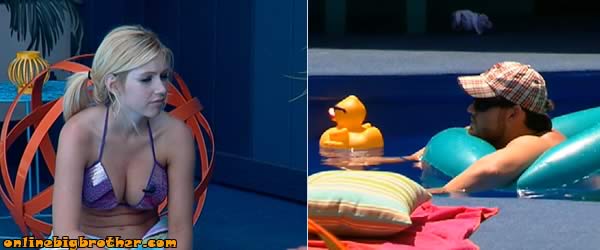 2:25pm Brendon Bashing Brit, Ragan, Matt, Lane Brit telling them a mad up story about Brendon having a partner that wears the same thong while stripping. They all start to share stories about times they were trapped having to talk to Brendon. Ragan mentions having to listen to why Brendon doesn't like kobe Bryant but loves the NBA. Lane tells a story about Brendon getting into UCLA because he was able to befriend a professor. The professor offered him into the school and a 6g scholarship but Brendon had to turn it down because of BB. They keep compalining how Brendon just goes on and one about things it hurts their heads. They make a joke about Brendon saying he could out swim phelps but didn't want to wanted to go on BB.