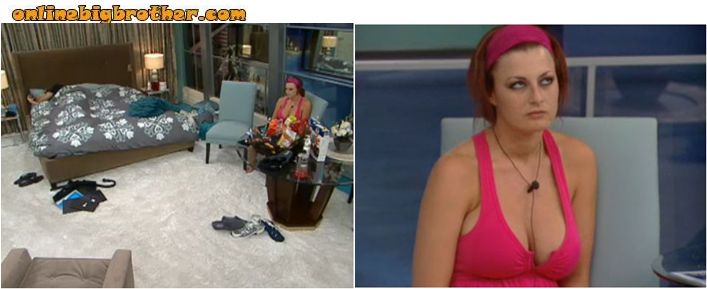 1am Up in the HOH room Brendon and Rachel are talking. Brendon is annoyed that Rachel got so drunk and flashed her boob by accident. Brendon tells her that they should just go to bed. Brendon gets in bed. Rachel turns off the light and then goes to sleep on the floor next to the bed. Brendon gets up out of bed to brush his teeth. Brendon then comes into the bedroom and picks Rachel up off the floor and puts her in the bed. Rachel says that she still needs to brushed her teeth and take out her contacts. Brendon takes off her mic and she goes to the bathroom to brush her teeth and take out her contacts. Rachel asks Brendon why he is so mad at her. Brendon says that he isn't. Rachel says he is and that they fight a lot and he's mad at her every night. Brendon gets in bed while she is in still in the bathroom.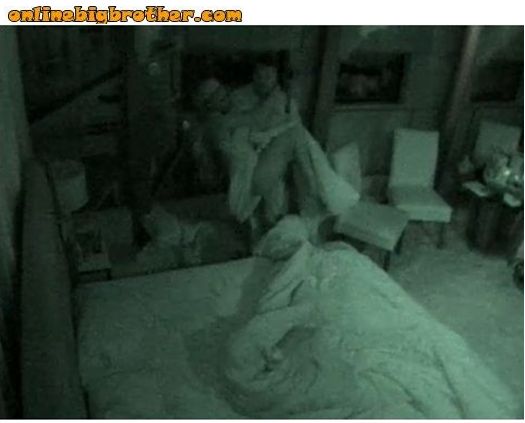 1:30am Lane, Matt and Enzo are talking about music that they would like to hear. Then they start talking about what types of people they thought would be in the house. Enzo says he thought there would be at least three meat heads. Enzo says that he has seen Rachel types on the show before, and that he expected someone like her. Matt says he thought there would be an old guy. They talk about Kathy being the oldest in the house.  Enzo says she is 40, that's old.   Enzo farts and then gets up and tries to push the air over to the other guys.  They are all laughing.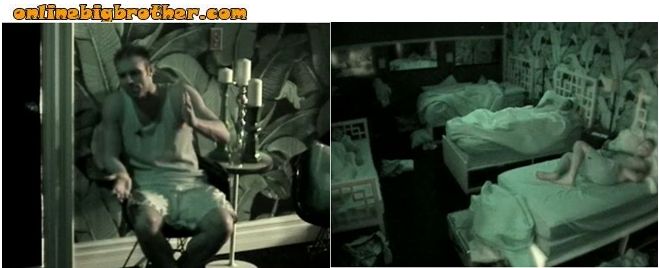 1:45am Rachel and Brendon are both in the HOH bed. Brendon is running his hands through her hair and kissing her. Brendon says Rachel, I love you, all of you. Brendon says that he was just scared and that he is sorry. Brendon tells Rachel that he is in love with her. Rachel has her arm around his head. They start kissing and making out really heavy. They have the covers up over them and are now really going at it. They looks and sounds like they are definitely having sex under the covers. They stop and lay together. After a few minutes, Rachel says that it's super scary, Brendon. Brendon says I know. Brendon tells Rachel that he loves her. Brendon says that the drinking fights scare him, but he's not going to run away. Brendon says that he loves her very much.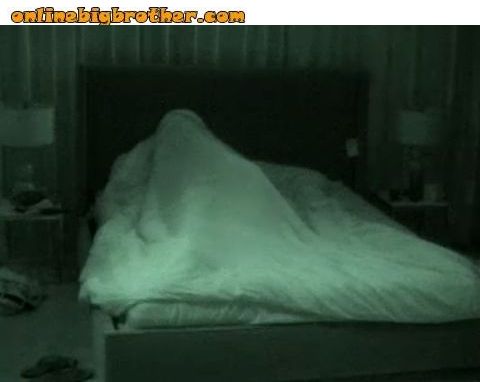 1:50am Enzo and Hayden are talking in the bedroom. Enzo says that they have made it to the jury house. Hayden says when they get down to 8 people left there is a 50% chance that a Brigade member will win. Hayden asks Enzo what he'd do with the money. Enzo says that he doesn't have big plans, whatever his wife wants to do with it, he says she works hard. Enzo says that he would like her to have at least $300,000. Enzo says that he also wants to help out his parents and brother. Hayden says that he would like to help his mom out and pay off his student loans. Enzo says that he is hoping the Brigade will take the top three spots, that one will take the grand prize, second prize and America's Vote. They conversation changes to all the stupid shit Enzo and Hayden did when they were younger. They're amazed they lived through some of the stuff. Hayden says that when he was younger him and his friends would hide in drainage ditches and pull a roll of toilet paper across the road and when a car would pass they would pull the strip of toilet paper up and scare the crap out of the drivers. Hayden says that he also blew up people's mailboxes with sticks of dynamite. Hayden tells a story of him and a fat friend who borrowed the kid's mom's car and wrecked it right in front of the school. Enzo says that he used to bomb people with shit, potatoes in socks, shaving cream, toilet paper houses. Enzo says that as kids he was always running from the cops.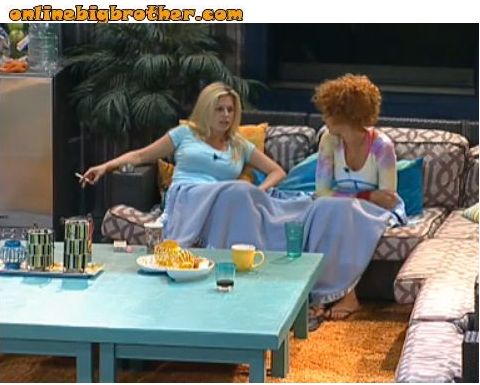 2:10am Kristen and Kathy are talking in the backyard. Kathy talks about Brendon and Rachel. Kathy tells Kristen that when she was up in their HoH room week two, it was all her brilliant scheme to find out more about her enemy so, she could report back to the rest of the house. Kathy says that she sacrificed herself for the better good. What proves that she was never really with them is that she voted against what they wanted that week and she paid for it by being put on the block by Matt the next week. Kathy tells Kristen that she knows how they think now and how they talk. Kristen says Rachel has no good reason to want her out. Kristen says that her and Hayden have the game play so why is Rachel going after her and not him. Kathy says it is because Rachel wants to be left alone in the house with all the guys. Kathy says she wants to win HOH so bad, and that she just wants to know how her son and the people she cares for are doing. Kathy explains that she's had good reasons for everything she's done in the game and that includes doing poorly. Kristen starts talking about and adding up the votes. Kristen thinks the vote will be to be 5-2 or 3-4. Kristen and Kathy head to bed.
2:30am Brendon and Rachel are talking. Brendon says that they (Brendon and Rachel) are gonna keep winning. Brendon says that they haven't seen anything yet. They talk about how tomorrow they are going to study more and go over everything they can remember about the HOH competitions.
In the Bedroom Enzo, Hadyen, Kathy and Kristen all talk about how ridiculous Rachel looked tonight with her boobs and ass all hanging out. They all agree that Brendon and Rachel's relationship won't last outside the house. Enzo says they had to chaperone them during the movie that they got to see as part of the luxury competition. They all decide to go to bed and Kathy makes them all say good night to her sock monkey.
3am Brendon wishes Rachel a good night sleep. All the other houseguests are asleep.