SEE what they CAN'T show you on TV! 3 Days FREE No Commitments
8:10pm Cabana room Rachel and BRendon Brendon crying away about how unfair the game is. He brings up the endurance comps being a farce. He wants them to fight hard this week but he wants to maintain their integrity. Brendon wants him and Rachel to "get into peoples heads and fuck them up" . He adds that MAtt is really stupid he didn't even ask for the 5000 dollars. Brendon thinks he's so smart but he's really stupid when it comes to this game. Brendon: "Matt only really started watching this game at season 10". He gets called into the DR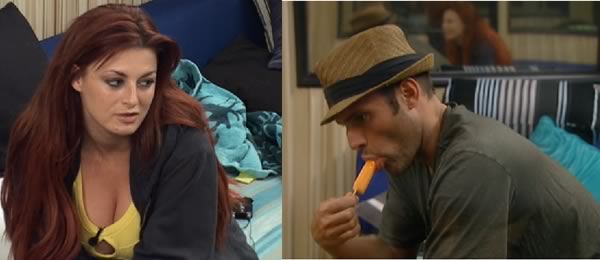 8:21pm Enzo walks in Rachel calling Matt a idiot for putting her and her man up. Enzo: "it really sucks to be up on the block yo". Rachel thinks shes better then Matt she beat him in a quiz and that was a mental comp. Enzo says your fighter yo you've been on the block before you'll survive. Rachel doesn't care taht she's up she's convinced she's going to win POV and then they only need 4 votes. She's also certain she has the votes. Rachel tells Enzo there are other alliance in the house, MAtt/Ragan and Lane/Brit. Enzo tells her he doesn't fuck with alliances he doesn't want anything to do with it at this stage. His reasoning is he doesn't have anything to offer an alliance yet because he hasn't won HOH or POV but once he does than he'll make his move. Rachel: "But Enzo you're going to need alliances" Enzo: "When I become HOH i'll make my deals". Rachel doesn't understand what Matt is doing and why did he put her up she's innocent she doesn't understand why the targets are so big on her and Brendon. Enzo: "if you guys survive this week then the house in trouble.. your 1//4 of the people in this house you can do some damage". Rachel: "Exactly thats why we need to stay to take them out" Rachel says she'll use the 5 grand to bribe Matt to be the tie breaker. Rachel tells enzo she wants a final 4 with Enzo, Hayden and Brendon. Enzo doesn't agree to the final 4 says, "Yo this house is getting crazy.. but yeah you need to make the deal with matt go talk to him..yo"(LOL enzo is a master at this) Rachel says Matt has been walking around like a little bitch.

8:50pm ragan and Enzo Enzo is rehashing parts of the conversation he just had with Rachel. Says that they are convinced they are winning POV and they are convinced they have the votes to stay. Ragan laughing as enzo continues with what rachel says. Ragan "That " Enzo says Rachel thinks if the vote goes to 3 then we'll use the 5 grand and convince matt to keep her. ragan laughs. Enzo there no respect with those 2, I'm just going in there to tell her not to seclude themselves from the house" Enzo: "if they don't win they are going to cause so much drama in this house" Ragan: "They're going to be pissed because they can't control the situation". Enzo says the person that win pov is going to have their hands full. Enzo says if he wins POV he'll tell rachel he'll use it, He'll take down Brendon Matt will put up whoever he wants and then we take out Rachel.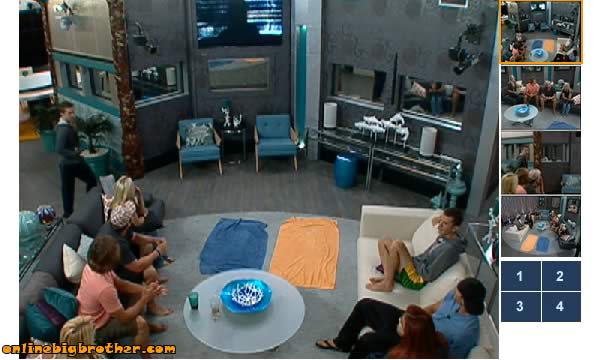 9:09pm The saboteur Message comes on The message is matt has let the saboteur out… there is a new saboteur there mission is to destroy you all as they cruise to the half million. They all start trying to figure out the saboteur's.