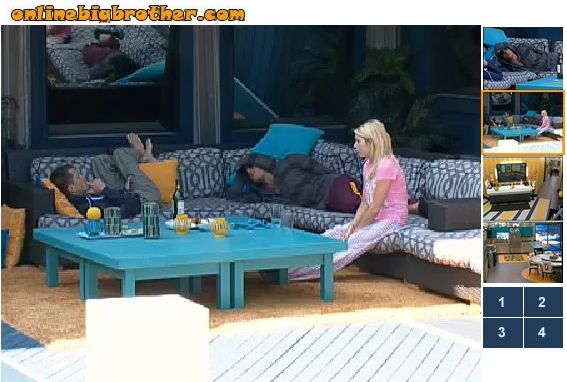 10:45am Hayden and Ragan are alone in the backyard talking. Hayden says that he wants to talk to him later about scenarios for next week. Hayden wonders if it would be better to put Brendon straight up or try and backdoor him. Ragan says problem is you put up to pawns he gets picked, he will take Kathy off put another strong player off, and then one of the people they wanted to keep will go. Ragan says obviously the only insurance policy we have is to do Kathy and Brendon and then the person who would go up as replacement if Brendon won would have to be the person that would most likely flip. Britney comes back out. Britney says that you want strong competitors playing against Brendon in the POV. Hayden says it is a tough call. Ragan says here is my recommendation, more or less says they shouldn't get ahead of themselves and that a pawn would have to be comfortable with it when the time comes. Britney says that she doesn't like to be cocky about it either and that she feels like that is like how he was, and he made himself look like such and idiot.

SEE what they CAN'T show you on TV! 3 Day FREE Trial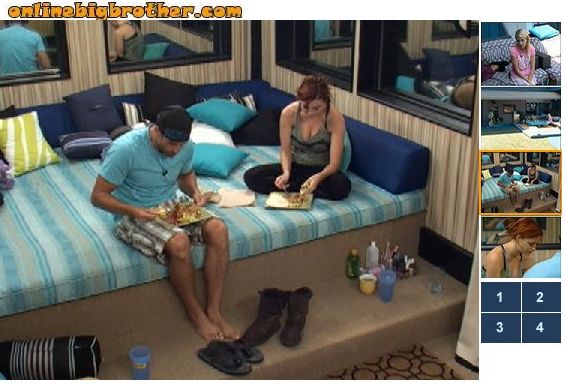 10:55am Brendon and Rachel talk in the lounge room. Brendon tells Rachel that he will call another house meeting tomorrow to make sure that he seals his fate on going home. Rachel tells him not to do that and that she doesn't want to be apart of it. Brendon says good, that will be better and when they ask where you are I will say that he didn't invite you. Rachel says when people ask me, I will say I didn't want to go. Brendon starts to talk…and Rachel laughs and says that she was just kidding, then asks him if he is being serious?" Brendon says yeah, I am because I can't have you jumping in for my defence and have people attacking you. Rachel says of course I will defend you. Brendon says I can't have you doing that when I am going after Matt because peope are then going to go after you. Brendon says that he already threw himself under the bus the other day so its not going to hurt. Brendon says that he needs to make sure they send him home because if not then he did it all for nothing. Brendon says that he did it for her (Rachel).

11:10am In the backyard Britney, Ragan, Kathy and Hayden are sitting on the couches. Ragan and Britney are going through who won what and when it happened, who was evicted when and what information the can remember about the other house guests.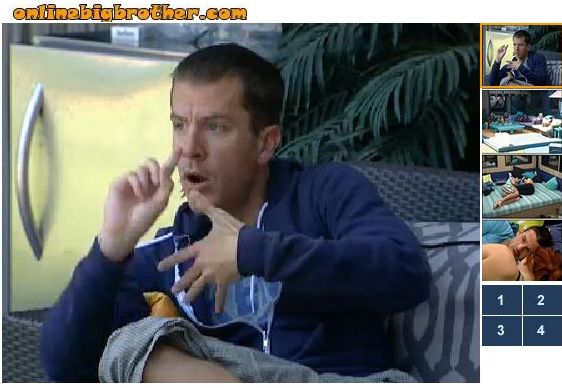 11:30am Rachel says I am on your team. Brendon asks if Rachel can massage him. He is stressed out and needs a massage she says okay. Rachel says that she thinks they are still considering getting rid of her after his speech. Brendon says no no, stop you are stressing me out. Rachel tells Brendon to chill out. Brendon says you are either with me or against me. Rachel says shut up, then laughs and says you stole that from me. Rachel says she invented Bo Jangles. Rachel says this is her house, she invented a lot of shit. Brendon tells Rachel he does not want her to try and stop him, cause it stresses him out and makes it harder.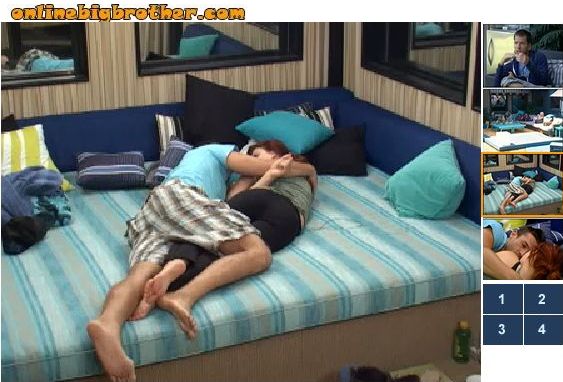 Ragan, Britney and Hayden are still out in the backyard talking. Britney says that Brendon and Rachel are grasping at straws right now. Britney says they will use everything you say and turn it against you right now. Ragan says it puts all of them in an impossible position. Ragan says he is not above any of this. It is not all their fault I am playing a hand in this too. Brit says this has been the most uncomfortable week. Enzo is there as well he says he is stuck in the middle of it too. Enzo says they are trying to get information out of him. Ragan says the only reason this has emerged this week, is because there hasn't been that kind of sportsmanship where people attack people. Ragan says he don't want to feel compelled to say stuff about them he doesn't want to be portrayed as an evil gay guy. Ragan says that he doesn't want to be that person. Hayden says they have no coping mechanism in there, there is nothing to do to relieve stress. Ragan says he doesn't want anyone to feel anymore uncomfortable than it already is. Britney says she thinks they are just playing a very bad game. Britney says that they chose to talk about people and be unsportsmanlike and how to treat people. Britney says they operate on such a low level it is incomprehensible. Britney says that up until yesterday Brendon had never been mean to her. Britney says they have an agenda and that all of Rachel's tears are fake. Ragan says he thinks he would feel better if he doesn't personally attack them, but he has, but doesn't want to. Ragan no longer wants to bash Brendon and Rachel and thinks that the others should stop too. Hayden says the thing is that saying negative things makes him feel better after how they treated him last week. Ragan says for him since he was bullied growing up he doesn't know how not to respond to it. Ragan says that it is hard for him to sit there and take it. Britney says what makes her mad is who he chooses to attack. Brendon won't attack a strong person. Britney says who he chooses to pick on tells her a lot about his character.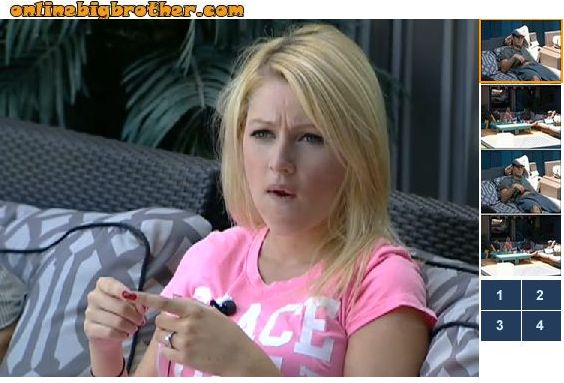 Britney says everything Brendon does traces back to his insecurities because he has to feel self important. Britney says that Brendon has poor sportsmanship and that she doesn't think Brendon has ever played sports so he doesn't get it. Enzo says Brendon has a weird body. Britney says Brendon thinks he is so hot because he walks around with his shirt off. Hayden brings up the fact that that Brendon had wanted to know what Rachel's ex boyfriend had looked like. Hayden says that Brendon just wanted to know if he could beat him up. Britney says Brendon is emotionally stunted. Ragan says he thinks Brendon looks older than thirty. They don't think that he is thirty. Britney says she doesn't think she has ever disliked anyone so much in her life to be honest. Enzo wants to see Brendons friends he wants to see who he hangs out with. Ragan says his theory is that Brendon goes from relationship from relationship that never lasts, and that he would be surprised and that he thinks Brendon is socially awkward and can't maintain his friends. Britney says she thinks Brendon has a social disorder, because he is always putting people down. Britney says that she has a problem with how he treats people. Enzo says well should we get rid of him this week, what should we do? They all agree no Rachel is a bigger risk because Rachel rises to the occasion in a pressure cooker situation.

FREE LIVE FEEDS!! Superpass 3 Day FREE Trial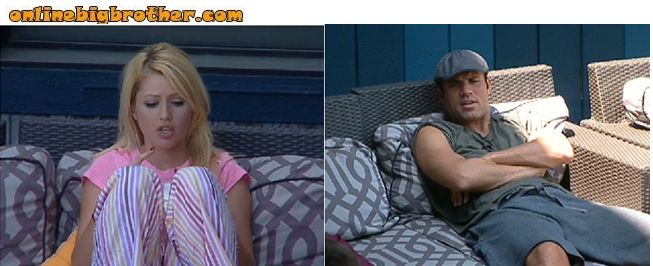 12:20pm – 12:30pmBritney wonders how much of Rachel being unstable is planned. Ragan says he remembers Rachel telling him about letters Evel Dick that told him in code who he could trust and who he couldn't. Ragan says that he was curious when Rachel got her letter if maybe there was something in it. Ragan says that he remembers that there was one line that said "I love you more than Hunting for Sharks in Oil free water." They start talking about what it meant. Ragan says with the way that her mind operates he wouldn't be surprised if it was a secret code. Ragan says he was kind of worried because that was when he was talking bad about her to Matt. Enzo says that he wishes he would have thought of a secret code. Hayden says him too. Enzo says that he never thought about shit like that. Ragan says he questioned Rachel about the sentence and her answer was awkward. Ragan says that it just doesn't make sense. Ragan says but it makes him think that they should stop letters from home. Brit says no don't say that. Enzo wonders why it didn't make an episode. Britney says because it is a form of cheating. Britney says that Brendon and Rachel's relationship is so bothersome to her because of how controlling he is of her and how he wants to control every move she makes. Enzo says their relationship is doomed. Hayden says you don't get in a relationship in this game, this isn't the environment to try to find a relationship. Britney says that Rachel has already planted seeds of doubt about their relationship.