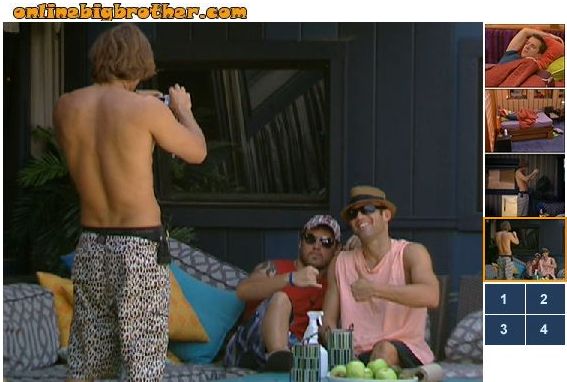 1:15pm – 1:30pm Lane comes out into the backyard with the HOH camera. Lane takes a photo of Enoz and Hayden and then he gets Enzo to take a photo of him and Hayden. Lane then goes over to Britney and tells her to make it good its going to Nick. Britney then heads over to the couch and Lane takes a photo of her, Enzo and Hayden together. Lane then shows them the photos he has taken and goes inside to take a photo of Ragan. Lane says that he wants to be quick so that he can go blog. Lane goes in the Taj and asks Ragan what are you doing?! Ragan asks what?! Lane asks again what are you doing?! Lane tells Ragan to pose for a few pictures. Lane takes a few pictures of Ragan then leaves to go blog. Lane says on the way out that he doesn't know how to write …and says that he will just make up a rap. Lane goes out into the backyard again and shows Hayden and Lane the photos again. They laugh at the pictures of Ragan. Enzo says so Ragan locked himself in the Taj? Enzo finds a picture of himself and says oh BLANK. Lane says yeah that one's for your wife …you just woke up missing her. Lane says that after he blogs he's going to take a nap. Hayden tells Lane to tell his family that he misses and loves them. Lane leaves to go inside. Enzo asks Hayden if the pictures get put up on CBS.com. Hayden says yeah. Enzo says good at least the wife can see photos of me. Enzo laughs and says that one of him sleeping was BLANK up.
$5 off the BB12 Live Feeds – LIMITED Time OFFER! ONLY $9.99! PLUS try it FREE for 3 Days!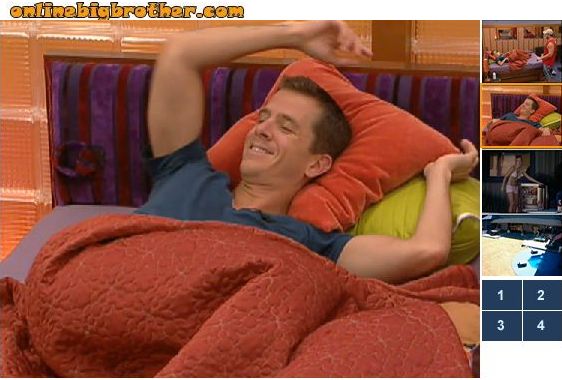 1:30pm – 1:50pm Enzo sits out on the couch by himself.  After awhile Ragan comes out and tell Enzo that he's making a pizza.  Enzo tells Ragan that he just woke up 5 minutes ago.  Ragan talks about the wake up music and says that the song that he hates the most is the only one they played the whole one of..  Enzo laughs and says yeah.  Ragan says that he said if they didnt play the right song he told them he would do the opposite of operation red and go to Africa and start stabbing babies with an aids infected needle.  Enzo says OHHHhh.. BLANK! Britney checks on laundry and then puts in more towels. Enzo comments to Ragan that Britney is now doing laundry ..doing dishes. What is wrong with her? Ragan says Kathy is gone now. (Meaning that no one else will do it.) Enzo and Ragan sit in silence on the couch. Britney takes a dip in the pool then goes back to suntanning.
TRY the Live Feeds for FREE!!
Superpass – 3 Day Trial!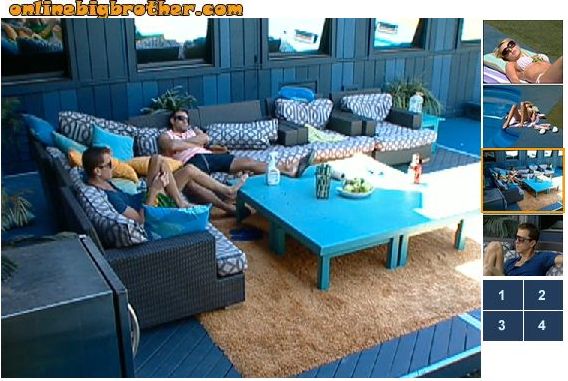 2pm – 2:15pm Hayden comes out and joins Enzo on the couch. Hayden asks whos pizza that is inside? Enzo says that its Ragan's. Enzo asks Hayden what he has …ham and swiss? Hayden says yeah. Enzo lays back and looks up and asks Hayden what the hairy things are. Hayden tells Enzo that they're mics. Big Brother then asks them to lower the awnings on the southwest side adjacent to the … Enzo sits up and says Okay …again with the big words… southwest and adjacent?! Enzo gets up and asks this one? Big Brother says yes. Hayden gets up and asks why not just lower all of them? Big Brother says yes, thank you! Lane comes out and talks about what he blogged about. Lane says that he mentioned his websites in his blog. Lane says that on the website is all adult stuff shrunk down for babies. Enzo says that he will hit those sites up and get some stuff for his baby. (Lanes HOH blog will be posted here soon: CBS HOH blogs) Enzo says that Big Brother took away the dice they made out of play doh… he says that they take everything they make …its like Alcatraz up in here. Enzo and Hayden play with the dominoes. Enzo says that he might just shave his head bald. Hayden tells him he would look like a hard ass if he did …like Bruce Willis. In the kitchen Lane and Ragan are eating pizza and talking about Saturday Night Live. Lane leaves for the backyard. Ragan talks to the cameras saying that Julie Chen owns a little person. That is why he loves her!! Ragan says that she owns it, to take her coat and stuff. He says that tomorrow she will not be interviewing me, I will be interviewing her. Ragan says that all your questions will be answered tomorrow America! I will be ask Julie Chen about owning a little person….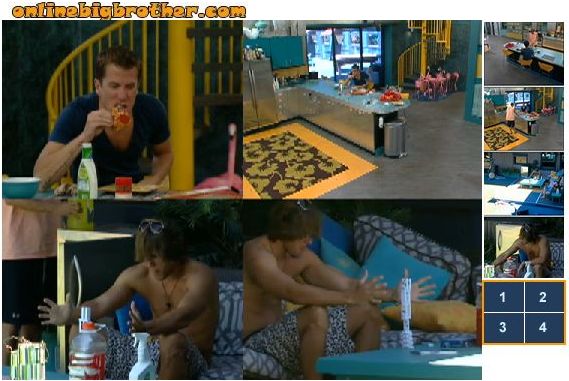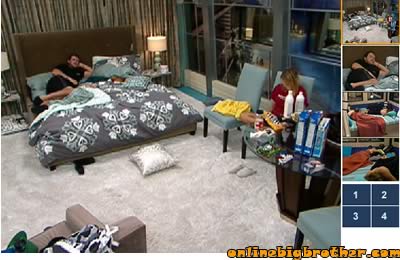 3:30pm HOH Lane and Brit Lane talking about his dad and how he was so awesome of a guy but then the oil wells started going done and his dad started doing "STUPID" stuff. It was hard on Lane because he got in a huge fight with his dad and brother. His mom had to live with him for a long time, she was always worrying about money but he told his mom not to worry they have a modest life style so they will survive. Lane thinks that things have gotten better between his dad and mom, they were together for 30 years… They briefly talk about there being only 2 weeks left in the game, Brit says she knows she needs to win one of the next 2 comps to survive she's ready for it. Lane brings up her him and Hayden hanging out after the show he thinks they will have a lot of fun together. Brit comments that Lane's ex girlfriend won't let her hang out with him. Lane: "We don't know what's going to happen with her"…. (really just random chit chat going on)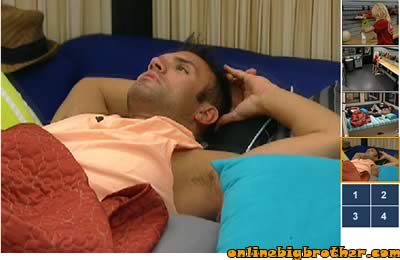 4:29pm Cabana Room Hayden and Enzo HAyden is saying he's going to feel like such a lazy person when he gets out of the house. Enzo mentions that on his plane ride home he's sleeping through the entire ride. Enzo: "Ohh my heads not into it you guys will have to carry me through it" (he's quoting Kahty) Hayden mentions they would of carried her to final 4. Enzo agrees.
Vote Dawg!