Early this morning on The Early Show, Julie Chen introduced the new cast of the 12th season of Big Brother!

Full Biographies of the cast of Big Brother 12!

The Media Day Videos were also released today: A day in the life of a houseguest

Julie Chen gives us a tour of the NEW Big Brother 12 House!

See what they can't show you on TV!!

When you sign-up for the Live Feeds, you will be able to watch the entire season of Big Brother 12 for ONLY $29.99!! That's $10 OFF the regular price! LIMITED TIME OFFER!

Click here for you Early Bird Discount Code: Big Brother 12 Live Feeds!





Ragan Fox's dating profile on Connexion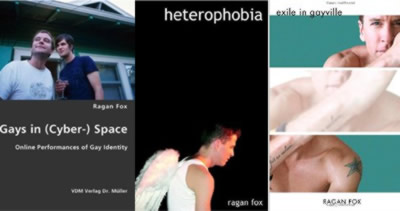 Ragan
Gay Male • 34

Single
Location: West Hollywood, CA
Chat Name: Raganomics

About Ragan
Religion: Showgirls
Smoking: No
Occupation: college professor and author
Favorite TV Shows: Strangers with Candy, 30 Rock, The Office, Top Chef, Real Housewives of , Damages, Survivor, Big Brother
Favorite Movies: I love films from the 1980s: Poltergeist, The Color Purple, The World According to Garp, Grease 2, Romancing the Stone, Trading Places

About Me
www.raganfox.com

Want To Meet
I'm primarily attracted to fit white and latin TOPS in their 30's.

"We all have ways of coping. I use sex and awesomeness." Jack Donaghy

Testimonials (2)
J-Travis


7/7/2008:
Ragan is constantly on the Rag. How else would he come up with all his banter? Of course you can't help but love his stories of how fantastic he is in bed and how boys only last 1 stroke.