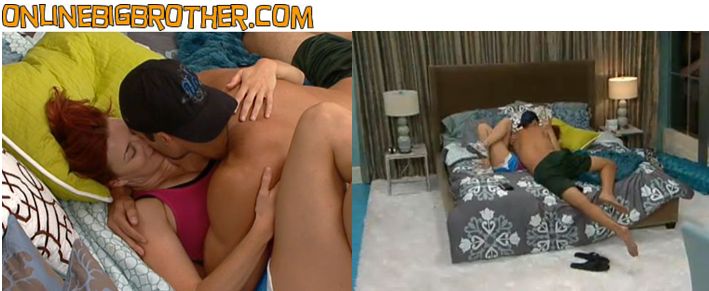 11:45am Up in the HOH room are Brendon and Rachel. Kathy comes up to tell them that Britney had said the Power of Veto ceremony isn't until tomorrow. Then Big Brother cuts the feeds to the we will be right back screen. When they come back Brendon asks Rachel if she will go on a date with him tonight. Brendon says they could watch a movie … he says what is it called the living room staring the big brother cast…or theres that other one …the three part series …called the Hall. Rachel says the up stairs hall. They kiss and get all mushy…. smack smack… barf…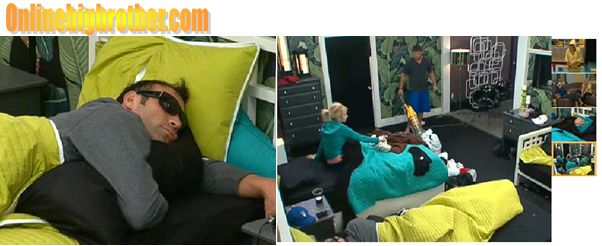 Watch it happens as it happens!! Superpass 3 Day FREE Trial
12:25pm Matt tells Hayden and Enzo he is toasting Brendon and Rachel next week if he gets HOH. Monet and Britney are tanning in the backyard. Britney and Monet are sun tanning talking about what does America want to know about Big Brother. They start to tell America all the things they wondered when they watched the show. They say that the backyard and the house, the couch, all seem bigger on TV. They say that the washer and dryer need an update. And comment that the bathroom situation, is surprisingly not so bad. Britney asks herself do we enjoy the other houseguests? …No, not really… I don't think I would talk to any of these people if I wasn't trapped in the house with them. Monet says she wouldn't either. Britney says the people in the house are stomach-able for about 3 hours a week. Laughs and says try 24 hours a day.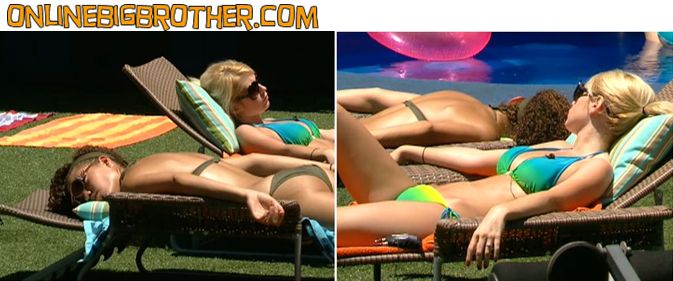 1pmEnzo and Britney are relaxing out on the backyard couches talking about random stuff. Enzo says that he likens their group to a dysfunctional family… we all need each other to survive but we also want to get rid of each other. Enzo and the girls love how upset Brenden is over his Have Not situation. Enzo says that the two other teams double teamed the group that lost the challenge. Brenden is laid out at the pool – getting called on for talking about production. Britney wonders why she keeps sneezing?! Enzo says because you're allergic to the bullshit in the house. Britney laughs. Monet joins them on the couch. Britney says that Kristen looks like a old lady from behind because of the way she wears her bathing suit. Monet says I think she's gaining weight too. Monet says that she is going to burn that bikini. Britney says I know what was she thinking. Monet it looks terrible. Britney says what was she thinking when she went into the store saw it said that looks cute and tried it on and did she actually think she looked good in it?! Monet says yeah it looks terrible… and she says she is a bikini model too.

SEE what they CAN'T show you on TV! 3 Day FREE Trial
1:15pm – 2:10pm Britney shaves her legs in the backyard and then takes a shower under the backyard shower. After her shower she goes over the the washer and dryer where Kathy is and Britney asks if Kathy is upset with her. Kathy says no. Britney asks Kathy if she wants to talk and Kathy says no. Britney tells Kathy that she has officially had a have naughty shower. Monet says that she is next. Kristen and Rachel are floating around in the pool and talking. Kristen says her head is all over the place. Kristen says that she wishes she would have told her boyfriend to go do his own thing before she came in here so she wouldn't feel guilty if she found someone that she liked in the house. Kristen says that her biggest fear is people dissing her for what they see on the show. Rachel says that she thinks that Kristen is very level headed and intelligent Kristen says thanks. Kristen says whatever happens happens. Rachel asks if she were her, she wouldn't make any hasty decisions. If something happens, it happens. It wasn't planned. Brendon comes and joins them by the pool. Enzo and Hayden are playing a game of pool together in the backyard. Enzo is getting up set that he keeps missing his shots .. he yells out Ahhah..FUCKING HOOKER!! Hayden and Enzo play another game. In the kitchen Andrew is talking to Ragan and Kathy. He tells them that he uses internet dating services that are special for Jews.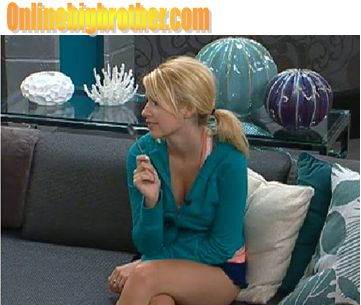 Share it YO!!
Tweet