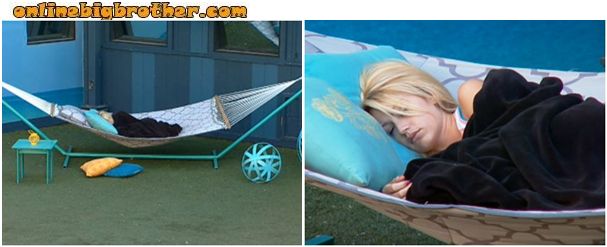 9am – 9:50am All of the house guests are still sleeping but Britney. She is awake in her bed staring at the wall. Britney gets up from bed and grabs her blanket and heads out into the backyard. She lays in the hammock and stares off into the distance. She looks really defeated. After awhile she gets up and goes inside to the bathroom to get ready for the day putting on her makeup. Britney then heads into the kitchen to make breakfast and feeds the fish. She sprays the kitchen counter with the ant killer and makes herself some coffee. She then heads into the storage room to change her batteries and grab a new jug of milk.

SUPERPASS – Big Brother 12 Live Feeds!
Try it FREE for 3 Days!


10:05am Britney is in the kitchen reading the back of a pancake mix box. Big Brother then switches the live feeds to the "we will be right back" screen to wake up the other house guests.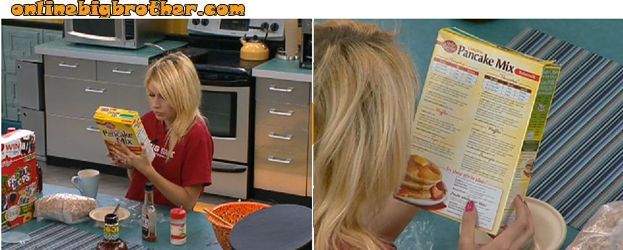 FREE Live Feed Trial!Try it FREE for 3 Days!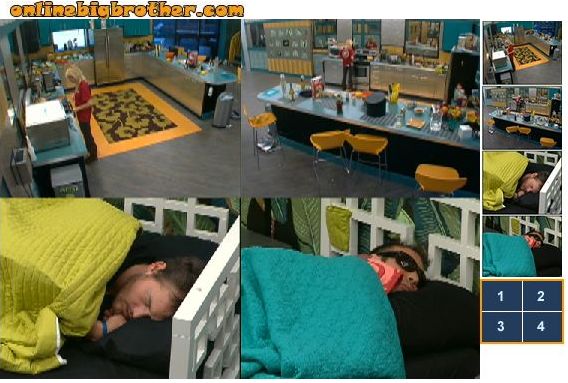 10:15am When the live feeds come back on … Britney is in the kitchen making pancakes. Lane, and Hayden are still sleeping. Enzo gets up to get a glass of water. Enzo comes back into the bedroom and says that he feels like he has lice… he starts scratching his head… he says he feels like he has ticks.. he feels like he has bugs crawling all over him. Lane says lie down. Enzo laughs and says lie down and go to sleep.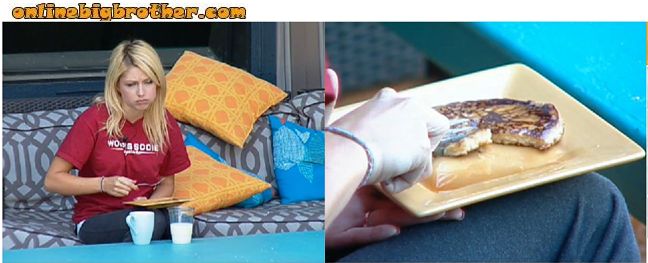 10:30am – 11am Britney takes her pancakes out into the backyard and starts eating them. She says look at this 6000 calorie intake. Yummy goowie goodness. Britney says that her mom is probably having a heart attack watching her eat this right now. Britney says that she will diet the rest of the day … that she is not going to be fat for her eviction. Britney asks what am I supposed to do to day … do I act like nothing is wrong… or do I act mad. Britney says that at least she won $10,000 ….and that she cant believe she won it playing hide and seek. Britney says that she had her chance though… she won HOH… Britney says sorry to her mom and family and says that she must look like such an idiot. Britney says it is just a game and that it was fun despite all her crying. Britney says that maybe she just didn't realize how delicate she has been treated all her like … maybe I am spoiled … she pauses and says maybe not spoiled but emotionally considered… spoiled emotionally. Britney says that a lot of people left in a lot worse ways than she did… and that when they left she was like YES! Goodbye! Britney says at least she got 10G's … Britney say at least she got 4th place.. then she says EWWWW…that's a white ribbon. That's disgusting. She compares it to winning pageants. Britney says that she cant wait to get out!! She wants to leave now. Britney says that it's the 5th … so in 10 days she can see her family. Britney says that she hopes her mom isn't embarrassed about her … that she tried and just came up short. Britney says in 10 days she gets her car, phone, dog and PVR back …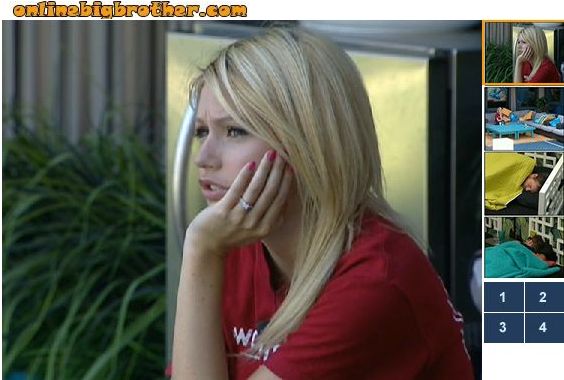 she talks about how she has missed so much ..and cant wait to go to a football game. Britney says that now that she didn't win … she says someone out there please let me go to the superbowl … its been my life long dream.. Someone please find it in your heart to take me …I will be your date. Britney starts making her mental DVD list for the jury house. Britney says the FREAKIN…BRIGADE ..they got me … I had an opportunity …and I didnt take it … choked… Britney says that at first she thought Rachel was the star of the show and now she is happy that its the guys. Britney says she cant believe she has to hear Rachel's laugh again… if I have to see her vagina I will hit the red button… I really hope I don't see her vag… She says that she doesnt want to see Rachel, Brendon or Kathy… Britney says that she really hopes she can avoid Rachel and Kathy in the jury house and then says that Kathy has really obnoxiously large jowls and that Rachel has gummy bear boobs. Britney says that she doesn't want Brendon to talk to her. She says that she will not accept any drinks from you because your toe has some sort of incurable fungi and you look like a giant penis or an neanderthal S$$ slave. Britney says I think I prefer the penis. She says Ewwww… I don't want to see him. Britney says that she wont mind seeing Matt and Ragan… and that she cant wait to see Monet. Britney says that she is indifferent in seeing Andrew. She thinks that Kristen might cut her … she makes fun of Kristen's pants. Britney heads inside … grabs more coffee then heads up to the HOH room to listen to the CD. Hayden, Enzo and Lane are all asleep in the jumanji room.