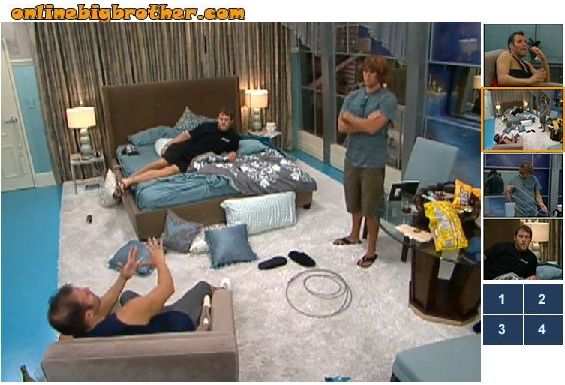 FREE Live Feed Trial! Try it FREE for 3 Days!
11:40pm Enzo, Hayden and Lane are up in the HOH room talking. Enzo says that if he doesn't win the $25,000 he will punch somebody. Enzo says that he honestly thinks one of them will win the America's choice. Enzo says that America wants to see us bang this out at the end and America wanted to see us tell Britney about the Brigade. Enzo says that the brigade is the best alliance there is and nobody will ever be better than them. They talk about how they only have a small window of opportunity to make money using their Big Brother fame after the show ends. They talk about hitting the bar scenes. They wonder if they should go check on Britney. They figure that they will let her chill out a bit. Enzo says that he wants to give her a hug. Lane says that he thinks she will hit him. They talk about how even though Britney is mad at them …she still has to vote for one of them. They head down stairs. They say that they don't want Britney to think that they are shunning her and that they respect her enough that they told her about the Brigade. They realize Britney is in the diary room. They talk about what if Britney quit the game. Lane says that would be the dumbest move ever. Britney comes out of the diary room. Enzo asks her what shes doing? Britney says she is going to brush her teeth. Britney brushes her teeth and then goes to the jumanji room and takes her stuff to the Taj bedroom to sleep alone. Enzo, Lane and Hayden talk about Britney being pissed. Enzo says don't be pissed we made an alliance on day one and you didn't. Lane goes into the Taj bedroom to check on Britney. He asks her if she is mad at him? Britney says that it's not a good idea to talk to me right now and that she just wants to go to be. Lane says that he never lied to her and that she will see in his diary room sessions. Britney is crying and says that she just wants to go to bed. Lane says that he never wanted this and I never played you. Lane says that he has a lot of feelings for her and tells her that she is a cool girl. Lane leaves. Britney turns out the lights and cries to herself.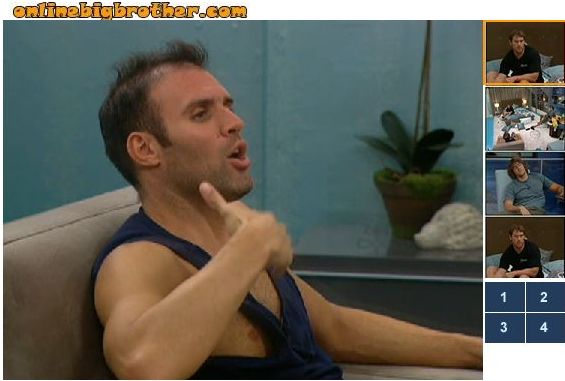 12:40am Lane joins Hayden and Enzo and tells them that he told Britney that he never lied to her that he was never mean to her. Lane says that Britney will realize tomorrow how good of a game the guys played. Enzo thinks so too. Lane and Hayden go to play a game of pool while Enzo gets into the hot tub. Lane says that he can't wait till they are done with this! Enzo says that he is just glad that she won the 10 grand. They talk about how Birtney has close to $20,000 with her stipend money and the 10 grand. They talk about being asked back for allstars. Enzo says that it's sucks that we told her, but it's like a weight has been lifted but that he feels bad that's she's crying. Hayden says that she would be crying either today or Monday. They notice Britney go up to the HOH and grab something. Enzo sees Britney inside walking towards the bedroom and called her a biotch. Hayden goes up to check to see if anything is missing. He tells the guys that he thinks she just took her shampoo back. Enzo heads inside to change. Hayden tells Lane that you know I'm not going to tell Enzo this …but if I win the final HOHs I am taking you. Lane says that since week one him and Hayden have wanted to be final 2. Hayden says that we got a good chance; we have just got to beat the dodo. Hayden laughs and tells Lane that he knew he threw the POV today. Hayden tells Lane he has a better chance of beating him than he does beating Enzo. Lane says that Enzo doesn't need the money. Hayden agrees. Hayden says that we have got to beat Enzo at an endurance, then a skill. Lane says he knows they can beat him at an endurance, he also thinks they could beat him at a skill challenge. Hayden says that $50,000 is a lot of money.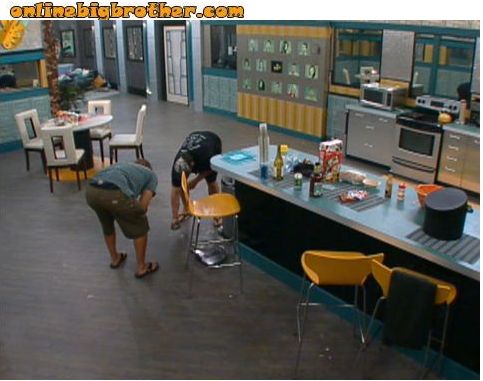 1:20am Hayden and Lane are in the kitchen killing ants with bug spray. Lane says that this is the most ants he has seen in his entire life. Lane starts coughing, and thinks that he may have sprayed too much. Hayden says that he is amazed they made it this far in the game. He says just the odds alone of making it on Big Brother and then to actually make it to the final 3. Lane says it's astronomical. Hayden says that Thursday will be the first HOH competition, the endurance competition. He says he would rather win the endurance and have Lane compete against Enzo in the 2nd HOH. Hayden tells Lane how the last HOHs work. Hayden says that he cant believe Enzo is in there already working on Britney's vote, you know that's what he is doing. (Both Enzo and Britney aren't on camera.) Enzo then comes out and joins them on the backyard couch. They talk about keeping in contact with each other after it is all over. Then the conversation changes to talking about the POV. Hayden tells Enzo that he was never going to throw the comp unless he knew Enzo was going to win it. Enzo says that is why they did the POV like they did, so you couldn't see what anyone else was doing. Enzo says that he thinks tomorrow and Monday are going to be tough for Britney but that after Monday he thinks she'll be alright. Enzo says that he likes Britney but he says she was coming after them. Enzo says that if it weren't for Lane they would have probably gone home. Hayden says that they formed an alliance 62 days ago and no one else knew about it until today. Enzo says its BLANK crazy man. Enzo says the jury will have to vote for a Brigade member now, and that he doesn't care if Britney tells them all about Brigade… he says that he hopes she does tell them. Enzo says that he thinks if she tells them now then maybe their emotions will have settled down, they wonder if Matt has already told the Jury. Enzo says that he thinks Brendon and Rachel will be the maddest at him because they'll realize he played them both! Enzo says that we beat every BLANK in the house to the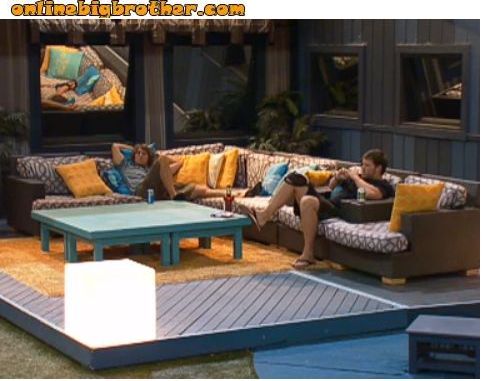 punch, which Rachel was coaching Enzo to do, not realizing he was already in the Brigade. Enzo says that they told Britney we were bringing her to the final four and we did. Enzo says that Ragan told him that Britney would win the whole game if she moved on past last week. Hayden says that Ragan's wrong, Rachel's wrong, Brendon's wrong! Enzo says if he wins the $25,000 he would be so happy with that! Lane says it is really $35,000 including the stipend. Enzo says that he is bummed he didn't get to experience of winning HOH but he says making it to final three is way bigger than winning a HOH.
Watch the last 2 weeks of BB12!
Superpass – 3 Day FREE Trial
2:30am Enzo says the way they played the game was a BLANK masterpiece. Enzo says that he thinks the Brigade will be celebrities to the other house guests in the Jury. Enzo says the one good think Matt did was to put up Andrew and Kathy instead of Brendon and Rachel because it kept two big targets in the house and the Brigade off the radar, he wonders if Matt actually planned that and knew what he was doing. Enzo says that he thinks Matt BLANK up with the Kathy thing. Enzo says that he is so glad Britney is going because if she had made final 3 they would have been so embarrassed. Hayden comes back and joins Enzo and Lane. They talk about Britney winning the 10 grand and how Big Brother told her where Lanes coin was hidden. Enzo, Hayden and Lane are talk about how they were worried Matty was going to expose the Brigade before he left. Enzo blames Ragan for stirring things up that week. Enzo says Ragan you don't know what's going on in the house. Lane says that Britney says it wasn't hard to figure it out that they were together; she said Matty told her they were close. Enzo says she didn't know about the alliance, that it had a name or else she would have put them up. Hayden says that nobody had any clue. Enzo says that he wonders if Julie will ask about them coming out as the Brigade during the live show in front of Britney. They think Britney could get a question about how she felt about finding out about the Brigade. They talk about what they will do after all of this is over. Enzo says that he just wants to spend time with his family and doesn't want to go back to work. Enzo says that two years from now they will get a call asking us if we'd like to come back for an allstar season. They head inside. Hayden says he is going to take a shower. Lane says he is going to bed, he heads to the bathroom. Enzo says he will come up to the HOH to listen to some music. Lane gets into the HOH shower. Enzo and Hayden talk about how crazy it is that they are in the finals and how they cant wait to meet each others families.
4am – 4:30am Hayden and Enzo are talking alone in the HOH room. Enzo says that he wonders what Britney said in the diary room when she went in crying after they told her about the Brigade. Hayden says that he thinks she is probably talking about all the time she thinks she wasted being her and leaving her fiancé. Enzo says that she's just being a baby now and that he thinks she'll get over it in a few days. Enzo says at least she knew what was going on, nice other people didn't know. Hayden laughs and says that her parents are going to hate us. Enzo says in his speech when he evicts Britney he is going to tell her none of this is personal. Enzo talks about what he called Britney in the diary room. Enzo says that he called her an albino, inbred, and that he may have even called her ugly once or twice. Enzo says that he may have cracked on Nick too just have fun with it; this is all part of the game. Enzo says this is his persona and he has to play that when he is in the diary room. Hayden says that he calls her spoiled in the diary room. They talk about how they want to have Brigade shirts to wear for the final challenges. Enzo says if he walks out of here he wants to be wearing his Brigade shirt. Hayden says yeah that would be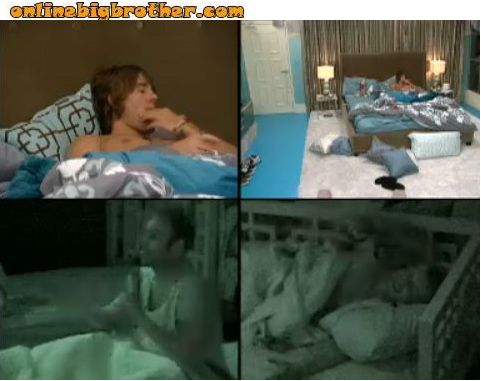 sick. Enzo leaves and goes down to the jumanji room where Lane is. Enzo jokes about telling Britney tomorrow that they were just kidding about the Brigade, there is no Brigade, they just made it up. Enzo says that Hayden is just worried about who will take him to the final two if he doesn't win. Enzo and Lane laugh. Enzo says that he thinks they can't beat Hayden in the final competitions. Lane says that he thinks they can. Enzo asks if he would take Hayden then? Lane says and give away $500,000?! They both are laugh. Enzo and Lane talk about their final 2 deal. Enzo says that he thinks Hayden will take Lane to the final 2. Lane isn't so sure. Enzo talks about how crazy the Brigade is, and how Lane was the one person who was never on slop and how three of them are getting paid. Enzo says that he wonders if Britney is going to talk to them tomorrow. Enzo pretends he is talking to Britney and asks do you at least like the name? They laugh. They talk about how they think next weeks HOH will be endurance. Enzo thinks that whoever gets kicked out at the final three is going to win the $25,000. Enzo and Lane go to sleep..
Watch all drama on FLASHBACK! FREE 3 Days TRIAL
7:10am All the house guests are still asleep..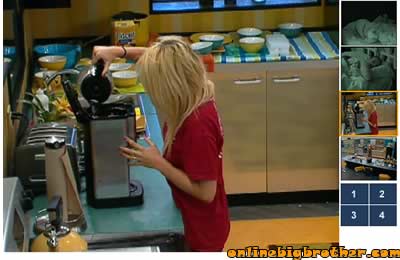 9:36pm Brits making coffee the rest of the house is still sleeping