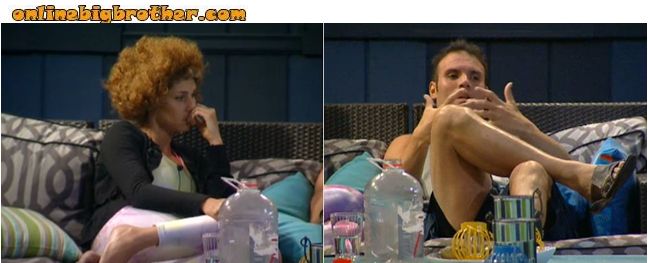 12:20am Kristen is trying to talk to Enzo about the votes in the backyard. Kristen says it sucks if she goes home this week, and says that she will feel like she has unfinished business. Enzo says that he knows, and then says that he wishes he could say that he is voting for her. Kristen says she knows and that she doesn't hold it against him. Kristen says that she needs to know how many votes she has so that she can work on the ones she doesn't have. Enzo tells Kristen that he wished he could keep her in the house but that he isn't going to bullshit her. Enzo says that he is up against the fence, and that he likes Hayden. Kristen asks him to talk to the others. Kristen says that talking to the others might change his vote. Kristen says that she has Lane's vote and she was surprised that he would keep her. Enzo asks Kristen about Lane giving her his vote. Kristen says that Lane told her he can get farther in the game keeping her in. Kristen tells Enzo that he can't look too far ahead in this game. Kristen says that she feels bad she has to campaign against Hayden but that she gave up her entire life for this. Kristen says that she can't just go home, she can't. Enzo mentions how Kathy has made it farther than Kristen in the game and then says what the fuck! Enzo tells her he isn't going to bullshit her. Enzo says that he is on the fence right now with who he is voting for. Kristen says that she is willing to make big deals with people just to make it another week and make the jury house. They both say that they can't believe Kathy is going to make the jury house. Enzo jokes and says that caramel beat up Kathy. Kristen says that she really wants to know where she stands before the Thursday. Kristen says that this week everyone really needs to vote in their best interest and not vote along alliance lines. Enzo tells Kristen he doesn't trust Matt because of how he handled his HOH week last week. Kristen tells Enzo that the people he doesn't talk game with are the ones that are probably coming after him.

SEE what they CAN'T show you on TV! 3 Day FREE Trial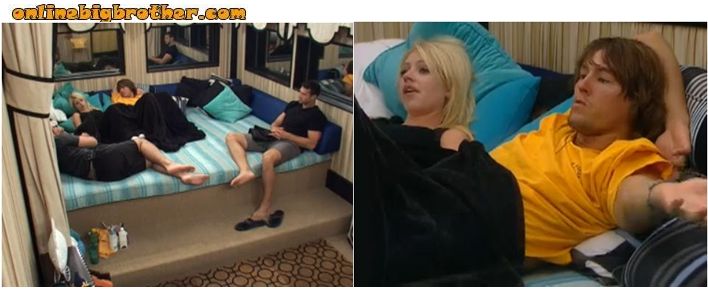 12:45am Hayden, Lane, Brendon and Britney are talking in the lounge room about past competitions. They talk about the one where Britney was strapped to the wall. Brendon says that he is sorry for shooting her in the face with the water gun. Britney says that Lane was shooting her in the face too and that she called him out on it during the competition. Britney says that she had standing water in her goggles! Lane tells Britney that she was just being a baby. Brendon says that he is going to go to bed. Enzo joins them in the lounge room and says fuck, and she (Kristen) wants to talk tomorrow. Britney jokes and says yeah, I have an appointment tomorrow. Hayden laughs and asks if he should I start taking appointments, how are these appointments going? Enzo says that Kristen is playing mad game, yo! FUCK, YO! Britney asks him if he told her he was voting to keep her. Enzo says no he told her he was on the fence. Enzo mentions that she had said that she had Lanes vote already. Lane says that he didn't tell her his decision yet. Britney says then who are the 3 votes she says she has? They all laugh about Kristen trying to get votes. They think its funny how they are all avoiding her talks and not wanting to committing to her. They say that Kristen is relentlessly pursuing everyone! Enzo tells Britney that Kristen wants to talk to her now. Britney calls Enzo a liar, she did not say that, I already talked to her and told her I'd talk tomorrow. Lane and Enzo laugh and try to convince Britney to go out and talk to Kristen. Britney says that you all are making that up; I'm going to go tell her you want to talk to her! The conversation changes to Rachel and Brendon. Britney says that they think they have an alliance with everyone in the house. Britney asks Lane if they approached him? Enzo laughs and says wait I think I'm in alliance with them. They all laughing about Rachel and Brendon trying to secure their safety for next week. Lane and Britney come up with a nickname for Brendon …they call him Encyclopaedia Brendatannica.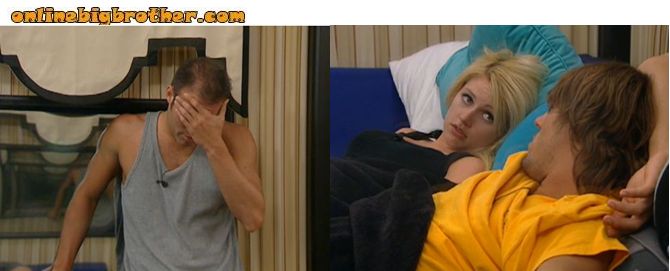 Ragan and Matt are talking in the bedroom. They say that they hope they will be the last two standing in the next endurance competition. Ragan says that he can't believe people are still not going to bed. Matt agrees and says that he thought it would be an early night. Ragan says what if it is endurance? They both hope it is endurance. Matt says he wants to play it out and wait till they actually drop, unless he really needs it? Ragan says no, that he want to see their limits. Matt says that he is totally good with that. Matt says that if it was an endurance competition it would be so bad ass. Ragan agrees. Ragan and Matt talk about POV's and says he would have loved to play in the last one luxury vetoes are awesome. Matt says that this week is critical for HOH and for the POV. Matt says that Ragan's taking the veto ticket over the five grand a good move.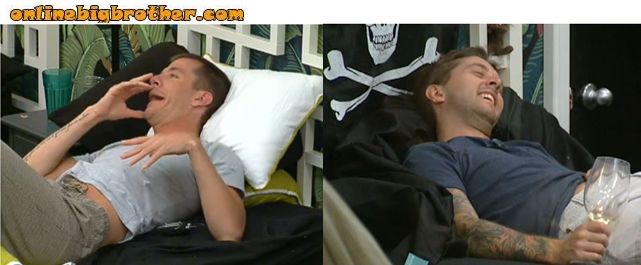 SEE what they CAN'T show you on TV! 3 Day FREE Trial With NO Commitments!!

1:20am Lane and Enzo head to the kitchen to make something to eat. Hayden and Britney talk. Hayden tells Britney that Rachel and Brendon are really desperate. Hayden says that they have approached him and told him that he wasn't their target this week and even if Kristen had won the POV they were going to put up Kathy. Hayden says that they told him he was safe this week. Britney tells Hayden some of the stuff Kristen has been saying. Britney says that Kristen is really pushing for votes and explaining to people why she is better to keep than Hayden. Britney says that Kristen has not badmouthed Hayden.  Britney says that Kristen would never vote out Kathy. Hayden and Britney say that they can't beat Ragan in the finals, and that they know he has to go. Britney tells Hayden that Kristen is really playing the girl card with her. Britney says that Kristen was saying that she will end up the last girl and the guys will turn on her and she could use Kristen to her advantage. Lane comes back into the lounge room. Britney says that she think if Brendon win HOH again he will put up two guys. Britney says that she thinks Brendon might put up Enzo, Lane or Hayden. Britney says that she thinks the vote will be a 7-1 split.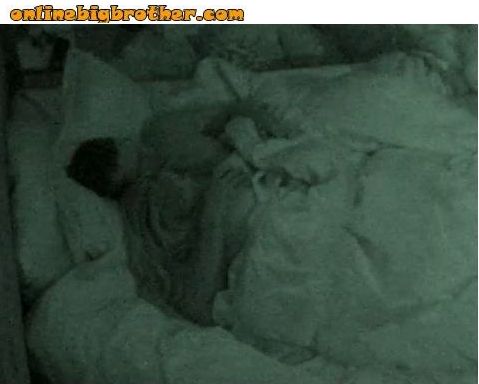 1:30am Rachel and Brendon are really making out again under the covers. When they are done they lie back and relax. Then Brendon says that he almost felt sorry for Hayden today. Rachel asks why, because Kristen is a super bitch?!  Meanwhile, Ragan, Lane, Hayden, Britney and Matt are all in the backyard. They guys are playing pool while Britney starts making fun of Rachel and Brendon. Britney imitates Brendon during a competition saying you got this baby, yeah good shot baby!! They are all laughing. Britney imitating and making fun of how Kristen is campaigning. Matt says she totally nails Kristen's voice. Britney tells Matt that her and Monet used to practice! Matt says good job Britney you made me laugh tonight. Everyone moves into the kitchen. Britney asks Kathy if cops can speed as much as they want. Enzo and Lane both say that they see cops speed past them all the time. Kathy says they are probably going to a call, she says that cops in her county aren't supposed to go over 80mph even when they are responding to a call. Britney asks Kathy if you are driving behind a cop who is speeding will they pull you over? Kathy says probably not because they are heading somewhere, but that she would probably take down your license plate. Lane asks Kathy if she likes a man in uniform? Kathy misunderstood him and thinks that he asked her if she looks like a man in uniform. Lane says no, likes a man in a uniform. Kathy says that she likes a rebel, not a man in uniform. They conversation changes to random stuff and eventually they all get ready for bed.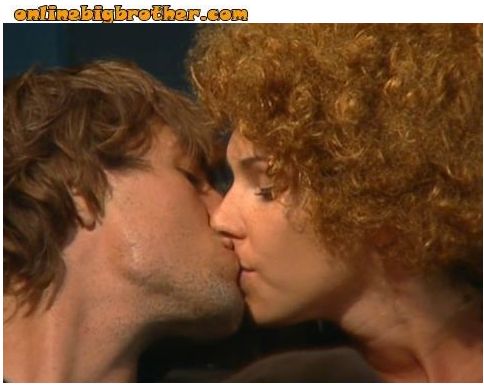 3am In the bedroom Enzo goes over to Lane and Britney who are laying in bed. Britney asks Enzo who he is voting for, and asks if hes gonna vote for crazy eyes? Enzo says that hes planning to vote Kristen out. Enzo says that Hayden is harmless. Enzo says that this double eviction thing scares him. Enzo says he wants to be a have not next week because he is getting too fat.

3:20am – 5am Hayden and Kristen are on the backyard couch talking. Kristen says to Hayden that if he stays in the house, he had better win. Hayden says she better if she's the one that stays. They start talking about Rachel. Hayden says that she is not attractive. Kristen says I know! Hayden talks about how Rachels boob fell out the other night and that it was out for 30 seconds. Hayden says that Brendon said hey Rachel put it away!! Hayden says that Rachel tries to pretend she doesn't realize she is hanging out. Hayden says gag me with a spoon. Hayden says that America can't like them together. Kristen says no way, they aren't cute together. For America to like a couple they have to be cute together and they're not, look what they did to us! Hayden says that Brendon has no self confidence outside the house, no game and that's why he is eating up all the attention Rachel gives him. Hayden tells Kristen that girls that look like Kristen usually have a certain type of personality and that Kristen doesn't fit that typical mold. Kristen says that she knows. Hayden says that's hard to find. Kristen asks Hayden if he knew he was attracted to her right away? Hayden says yeah! Hayden asks her if she was attracted to him right away too. Kristen says yeah right away. Kristen says that's why she wouldn't look at him when they were lined up in front of the Big Brother house waiting to enter. Hayden says she said just a few words to him the first few days they were here. Kristen says that she was waiting for him to talk to her, and he did. Hayden then says and 10 days later you were in my bed.

Get the 24/7 Uncensored Live Feed streaming video! 3 Day FREE Trial
Hayden and Kristen wonder what the evicted houseguests are doing. Kristen says if Andrew hadn't become so neurotic he would have had potential. Hayden says that it is going to be hard not to bash his face in when he sees Andrew. Hayden says that if he leaves on Thursday he is going to make it clear that him and Kristen cuddled and kissed but that was all. Hayden says Rachel and Brendon have got to go. Kristen agrees and says it sucks that Brendon and Rachel get to be in the jury house together and that they don't. Kristen kisses Hayden on the cheek a few times and Hayden says thanks. Kristen tells him that he doesn't need to thank her … Hayden tells her that the real make out session starts after the wrap party …deal? Kristen says deal! Hayden says that he wonders if they are going to get recognized by people after Big Brother. Kristen says that it depends on where you are, probably more in LA. Kristen tells Hayden that Ragan flat out told Rachel that her and Brendon have no chance at winning this game, and that they would have to alternate winning HOH every week between the two of them. Hayden asks Kristen if she thought he would be mad at her for campaigning. Kristen says no and then says that she would never say anything negative about him. Hayden says that he knows.

5am All the houseguests are finally asleep…

7:55am All the houseguests are still asleep…

9:29am All the houseguests are still asleep…