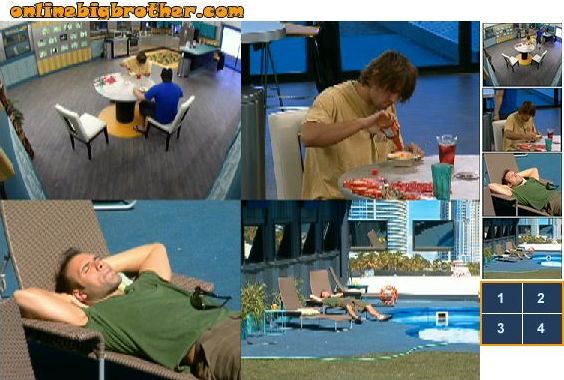 11:10am – 11:35am Lane is in the Taj bedroom folding and packing his clothes. Hayden is in the kitchen cooking eggs and Enzo is out sitting on the lounge chair by the pool. More or less a uneventful time in the BB House. Hayden comes in to the Taj and tells Lane his eggs are ready. Hayden and Lane sit down to eat. Lane asks where Enzo is… Hayden says hes out in the backyard. Lane goes over and doesn't see him at first and then does and asks him what he's doing? Enzo asks them what they are doing ….eating eggs? …and then what? Lane says yup and that after he's gonna finish laying out his clothes. Enzo asks if he can borrow a shirt or something. Lane says yeah. Lane heads back inside. Hayden comes out into the backyard and tells Enzo ….THIS IS IT MAN …LAST DAY!!! Enzo says yeah this is it …last day! Hayden grabs a blanket and curls up on the backyard couch.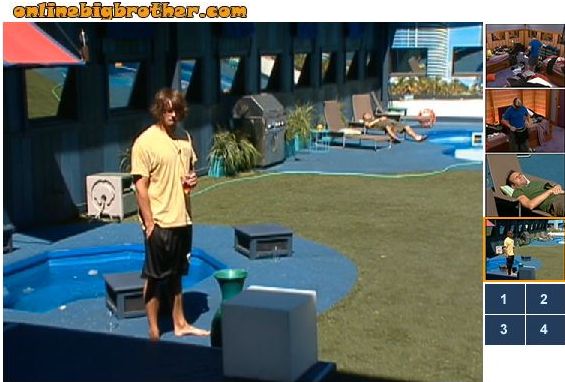 11:45am – 12pm Lane is ironing his shirt. Enzo is working out doing sit-ups and lifting weights. Hayden is laying on the couch in silence…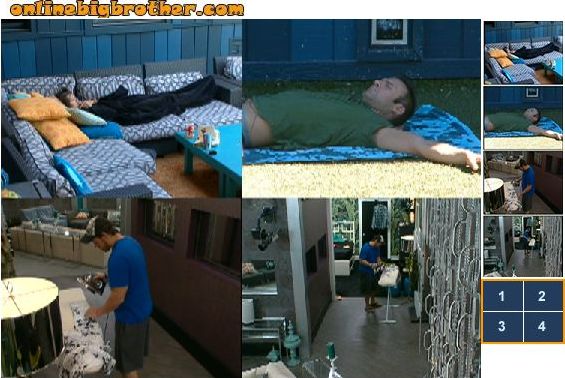 Enzo then heads inside to the Taj bedroom and starts looking through Lanes dress shirts to borrow. Enzo picks out a shirt and goes to the bathroom and opens up the washroom door where Lane is going to the bathroom and says YO! this looks like the shirt I wore when I applied to BB10 I'm gonna see if I can rock this shirt. Lane says yeah yeah yeah! Enzo heads back to the Taj bedroom and start trying on clothes. Lane gets out of the washroom and goes to the jumanji room to lay down. Hayden comes inside and lays down in the jumanji room.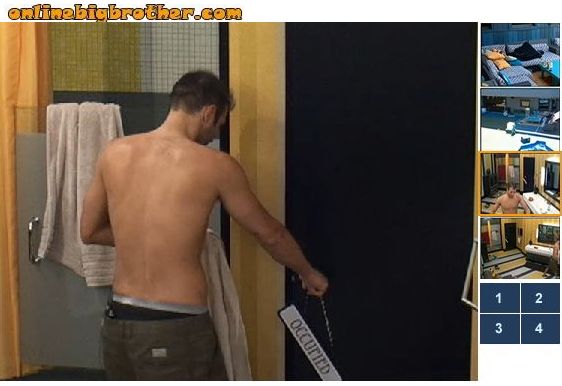 12:20pm Lane show Hayden one of his dress shirts and Hayden says thats hard man!! Thats a hard shirt! Lane lays it out on the bed and rolls up the sleave and says see its purple inside… Enzo comes back into the bedroom and asks Lane if he is going back to sleep. Lane says yeah because I don't like being awake. Enzo starts picking at his toe …saying that he needs to cut his toe nail off …cuz somethings growing on it. Hayden looks at it and says EWWww…what is that!! Lane says that its gang greens brother. Lane says that he should name it .. Hayden says to name it something hard… like George.. Enzo says that he doesn't know what it is but that he just needs to chisel it off! Enzo says that it's never been like that …its always just gone blue and then the nail falls off. Lane asks him if he wants a knife or a nine millimeter. Lane says that tonight is their last night in here. Hayden says that they have to pack tonight. Enzo is having problems figuring out how to iron…. Lane says so what around 2 – 2:15pm we'll go into the backyard till like 3 something… Lane asks why do we have to get locked out for two hours …what are they doing in here.. Enzo says that they need to set up and clean up for tomorrow…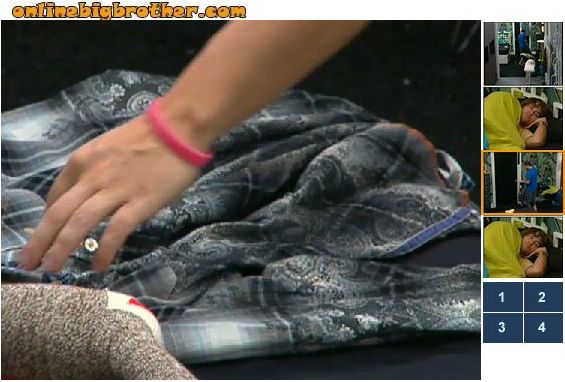 12:25pm They are all back in bed ready to take a nap after a long day….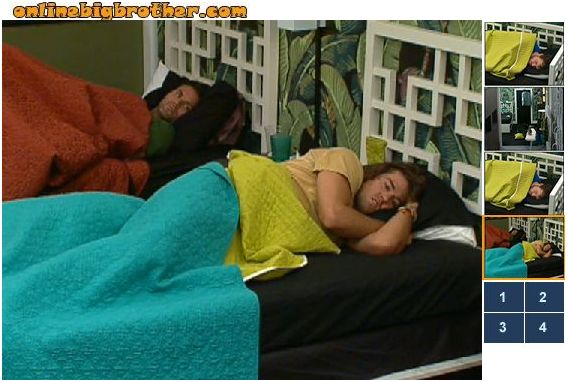 12:50pm – 1:15pmHayden, Enzo and Lane are all trying to nap still…Big Brother cuts the feeds and when they come back they are all up out of bed. They are all now busy cleaning up the house. Hayden goes to take a shower. Enzo is out in the backyard grilling up a bunch of hotdogs.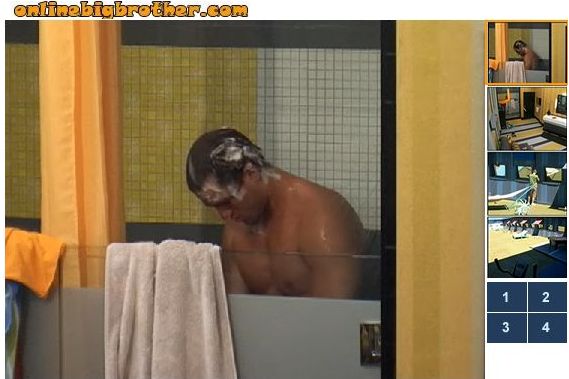 1:35pm Enzo, Hayden and Lane are out in the backyard … They are wondering what their families are up to right now. Hayden says that their families might be in the house right now getting a tour while they are on an outdoor lock down. Enzo doesn't think so… Lane thinks big brother is cleaning up the jumanji room right now for tomorrow. Hayden asks if they want to play a game of pool while its in the shadows. Lane says that he is good …and Enzo doesn't want to either because he is relaxing …he says that nap was just a tease…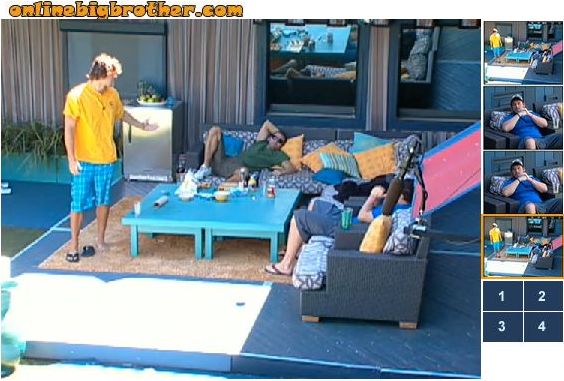 7

2pm The guys are sitting on the backyard couch in silence…

Re-Watch all your favorite moments of BB12!!
FREE 3 Day Trial!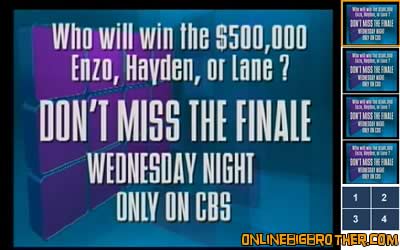 2:41pm Feeds cut This might be the end folks.. :(

3:00pm Feeds back!!

6:00pm They're playing cards…

7:05pm Hayden, Lane and Enzo are sitting on the backyard couch in silence…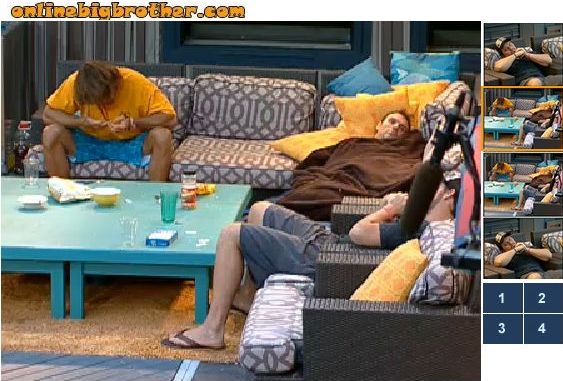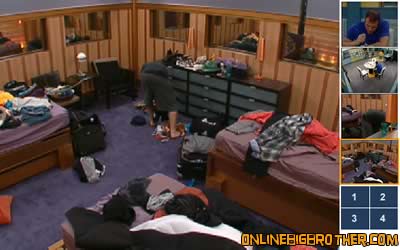 8:20pm Lane packing his stuff Enzo eating with his mouth open