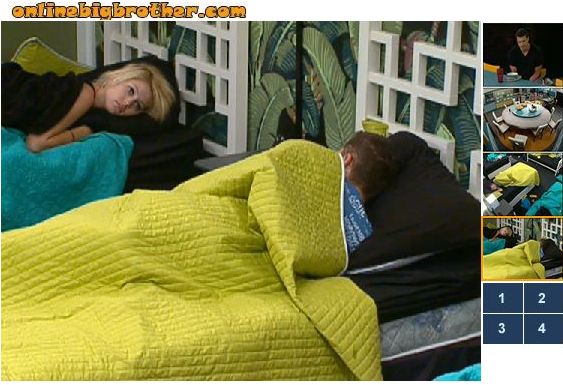 9am Big Brother wakes up the house guests. Lane, Britney, Ragan and Matt are in the bedroom talking about the dreams they had last night. All the other house guests are getting up making breakfast and getting ready for the day.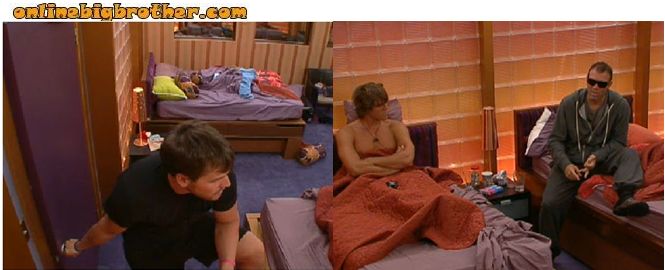 9:35am Hayden, Enzo and Lane are in the bedroom talking. Enzo says that he gave Kristen a good diary room message goodbye. Enzo says that he thinks they might have to wear warm clothes if there is an endurance challenge tonight. He says that he doesn't think it will be swimming or water. It will be something else. Lane says that he wishes they would have real challenges like wrestling and stuff. Hayden says yeah, real challenges. Enzo says even something like golf, there is some skill to that shit. Lane says At least it wouldn't be pinball. Let me close my eyes …ping! They laugh about the competition having Big Brother releasing a wild animal into the backyard and they having to capture and kill it. Brendon comes in and they ask him what he is going to wear tonight for the competition and live show. Lane says that it is always something where you have to wear something you can get changed out of quickly. They talk about the music that was played this morning to wake them up. Big Brother played Coolio. Brendon leaves the room. And Enzo starts calling him the chameleon, saying that he knows everyone … how do we beat this man! Lane says you take the lamp and beat him. Lane says that Brendon said that he cant take a hit … Enzo says how does he even know what kind of competition it would be. Enzo says its going to be something totally different… its going to be something you have to finish. Enzo says that an endurance one would be too easy, he wants something physical.

SEE what they CAN'T show you on TV! 3 Day FREE Trial

Britney and Hayden are in the storage room changing their batteries. Britney and Hayden are laughing about Brendon. Britney is laughing about how Brendon said he changed his diet today to oatmeal because it has slow burning carbs which will ensure his HOH victory. Britney says what a douche. Britney says to Hayden …don't worry, you were cast as the world's nicest guy. They leave the storage room and hear to the kitchen.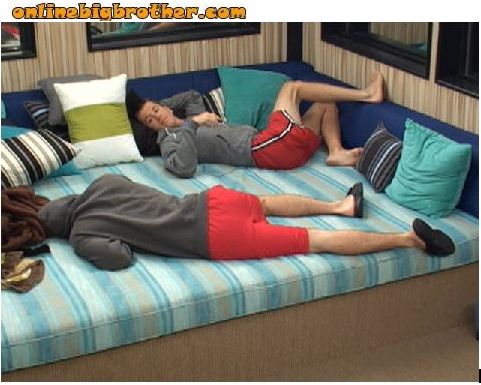 945am Ragan and Matt are in the lounge room talking. Matt and Ragan joke about how today will be the last breakfast that Rachel cooks for everyone because she will be too annoyed when the house comes after her. Ragan says if he wins HOH, his entire speech against Brendon and Rachel will be about sportsmanship. Ragan laughs about how Brendon said he is going to have pasta at lunch to better his chances at HOH. They talk about whether tonight will be double eviction. Matt says that he hopes it's a double eviction and that he gets evicted twice. Matt and Ragan make fun of Brendon for being a knob. They laugh about how Brendon thinks he has the HOH in the bag because of his carbs diet today.


10am – 10:15am Big Brother has the house guests on an HOH room lock down.  They are talking about when Big Brother has had double evictions.  Matt says that something fucked up is going to happen during the live show, he says there's a reason why they are gonna keep us up here for so long.  Rachel says what if they bring Annie back?  Lane says let's not talk about that any more.  Britney says yeah what if they let Annie play again. Rachel says that would never happen because they would evict her immediately. They continue to talking about random stuff.  Brendon is making really annoying voices, the robot, the priest….
12:04pm HOH LockDown