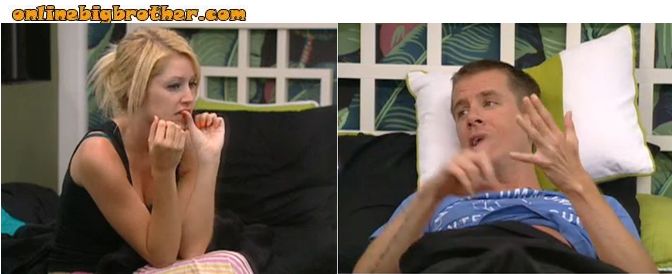 SEE what they CAN'T show you on TV! 3 Day FREE Trial
12am Britney, Ragan, Enzo, Matt and Lane talking about being ready for competition. Enzo says that the HOH competition will be a cool challenge. Britney tells them that she wont be sending Brendon an invitation to her wedding reception. She says not that he would come after watching this season. They start talking about Big Brother 11. Ragan says that you cant equate those house guests to this season, it's totally different. They start talking about bring gloves into the big brother house to use in competitions. Britney says that they took her silicone fingered gloves away. Ragan tells her that there is a fairness clause in the Big Brother rules and that's why they took her gloves away. They talk about getting ready for Tomorrow's HOH competition by stretching and taking Advil. Enzo says he has sinus medicine that he'll take. They start bashing Kathy and say that she is always in the bathroom. Enzo says that he thinks Kathy has come up with a plan to save both of them (Hayden and Kristen).  They all laugh.  Britney starts telling them everything about what Rachel and Brendon have told her. Britney says that they just use her to get information. Britney says that she wants Brendon and Rachel out, and that she is tired of being asked what everyone is doing. Britney says that she is tired of being a spy. Britney says why else would they ask her for a bath when Brendon is up there. Britney tells Matt that Rachel and Brendon they that he goes up just to see what's going on. They make fun of Brendon. Britney is mad at Ragan because he said he was going to HOH to bathe and then he ditched her. Ragan says that he was in the diary room. Britney says they think they have a chance to stay. Matt says they do if they win HOH. Britney says even if they don't and Matt says then they have a zero percent chance they will both stay.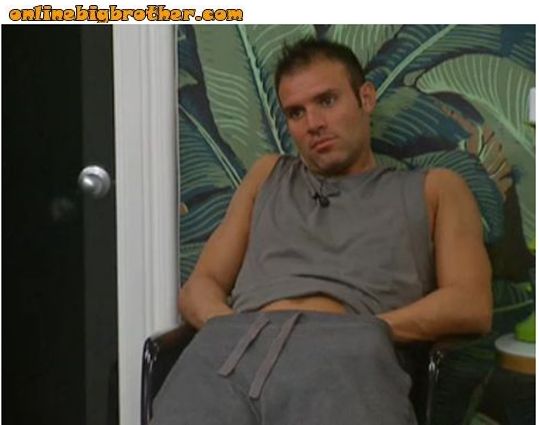 In the bathroom Hayden is taking a shower while Kathy and Kristen are on the couch talking. Kristen says that she asked production if she could wear something else other than the hippy outfit tomorrow night and that Big Brother told her probably not. Kristen says that with the lights people can see through it, you can see my butt! Kathy says that you can see she wears a thong through it. Kathy says that she is too old to be wearing stuff like that and if she had to she would be covering up.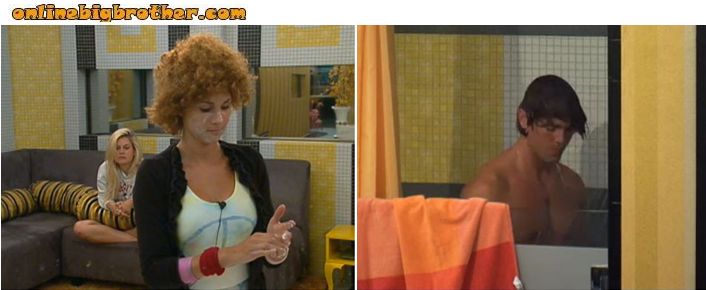 In the bedroom they are getting fired up about tomorrow. Matt says lets do this. Lane says that Brendon said that he had a girlfriend and that after he went to an open call he knew he made it. Ragan says that Brendon had told him he didn't go to an open call. The feeds cut out. Britney is talks about how Brendon knows someone who knows The Jonas Brothers. Enzo starts making fun of the Jobros and says that they don't have hair on their balls. They start talking about Kathy being afraid of heights so she won't be able to do the competition tomorrow if its too high. Ragan says that he really misses his family. Matt says that you'll see them tomorrow. Ragan says what a weird day. Ragan talks about this coming week will be a drama buffet and then talks about whats to come….. Ragan says if they win it will be like this week. Matt says so guys it might be cooler if they don't win this week as he looks for divine intervention from Big Brother.

FREE Live FEEDs! Superpass
3 Day FREE Trial with NO COMMITMENTS!
12:30am Lane, Matt and Enzo are in the kitchen eating and talking. They talk about what they can hear outside in the backyard. Enzo says that he is worried about Britney and Ragan. Enzo says that he thinks Brendon is going to put up Kathy. Matt says that he thinks two of them will go up. Enzo says that he'll tell him you better put up Kathy! Enzo saying that its getting crazy, and that its getting tight. Enzo says that four people are gone. Lane says that they need to get rid of Brendan before double elimination. Lane says that six people are gone if its a double elimination. Enzo asks if it is smart to get them out now. Lane says yes because next week they can get Ragan and Kathy. Enzo says is it a good idea and worries what Ragan will do. Enzo asks Matt if they want to get them out. Matt says yes. Enzo says we have to think about us. Matt says we are the target. Enzo says that he doesn't think so. Enzo says that it will be you and Kathy. Matt says him, Lane or Hayden. Enzo says that he doesn't have the balls, he wants to make friends, if we split the up who gives a fuck about Rachel. Enzo says after that we have to win HOH every week. Enzo says that Rachel will put two of us up, but that he doesn't know what Brendon will do. Enzo says someone from the brigade will win, its all a mental game. They talk about how obnoxious Rachel's cheerleading is to everyone. Enzo says that he wants to get to the final 4 and then says that they have to win every HOH and thinks that once they are final 6-7 it will be a cakewalk. Matt wonders why Enzo wants to wait for next week to split Rachel and Brendon up next week. Britney comes in to the room. They continue to talk about tomorrow's HOH and try and guess what it will be.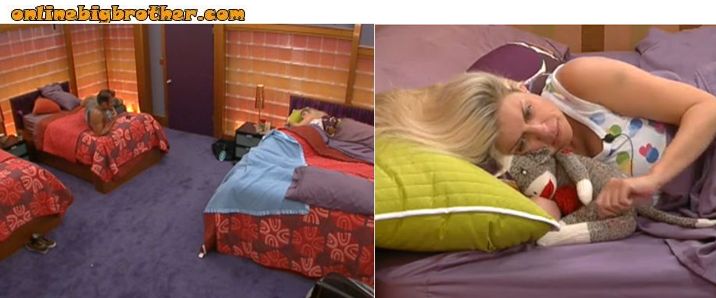 12:40am Enzo and Kathy are talking in the bedroom. Enzo says that it sucks that either Kristen or Hayden are leaving. Enzo says that house doesn't want to talk about it to Kristen because they don't want either of them to leave. Kathy says that you have to do what's best for yourself and not what the house wants. Enzo agrees. Kathy says that she is gonna win. Enzo says that he is gonna do what I want if he wins. Kathy says that he can't make a deal with the devil. Enzo says that Kristen is really worried. Kathy says that she just wants to know whats going to happen and that she doesn't want to cause drama when you don't know, it's easier when you know. Enzo takes a deep breathe, and says that he loves both of them, half the house doesn't know what they want to do. Enzo ask if Brendon wins will he put her up. Kathy says yes. Enzo asks her who she thinks he'll put up with her, someone who is well liked in the house? Kathy says that she hasn't done anything to them. Kathy says that they don't talk to her. Enzo says that it makes no sense now that her and Britney are her new friends. Kathy says that she just wanted time to see what I was dealing with and when you play with fire you're gonna get burnt! They start talking about whether or not tomorrow will be an endurance competition. Kathy says that Brendon will last forever. Britney asks Enzo if he is going to show up for the game and says he's on a roll. Enzo he's winning now because his life is on the line, he has that extra drive. Britney tells Enzo about her conversation with Rachel and says that they want to align with her and Enzo . Enzo says that Brendon tried to say lets use each other to get to the final 4. Enzo says that Brendon told him if they hear anyone say bad things about them they should tell each other. Lane jokes lets test that tomorrow. Britney says that we have to win this tomorrow. Britney says they have been trying to make an alliance with everyone. Enzo asks if she thinks they have an alliance with anyone.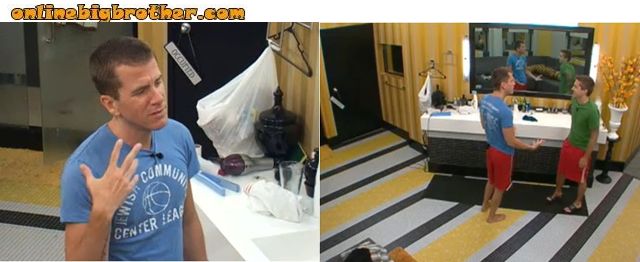 1am Ragan and Matt talking like they will be final two in tomorrows endurance..as Ragan talks about the big part of Big Brother is anticipating the challenges. Ragan says if they win POV Rachel will go and Brendon isn't good at quizzes. Matt says that next week they should get Rachel out then. Ragan says that if Brendon goes home then Rachel isn't a target anymore. Matt says she's the next biggest target. Matt and Ragan discuss whether they should throw the HOH competition to each other for the other to win. Ragan tells Matt that he will throw this HOH to him. Matt also says that he could throw it to Ragan. They talk about how it might depend on what the game is about. Ragan says that they should think about Britney and how she could go head to head against Rachel. They think it might be both of them at the end if it is endurance. Matt says that he's heard people say to just send Brendon and Rachel to the house and let them have their summer loving and let the rest of us play. Ragan tells Matt that it might be better to get Rachel out first. Ragan says how much better Rachel is and how she studies and knows the game. He thinks they may be over estimating Brendon's abilities. Ragan yells to Britney and says Hey Britney, right before I win tomorrow, can you remind me of how weak I am. Britney says back sure. Britney says to remind her about how fake her relationship is with Brendon and Rachel. Britney says mark my words, before Rachel gets evicted, I am trapping Ragan in the bath with her.

FREE trial Uncensored/Unedited Live Feeds for Free! 3 Day FREE Trial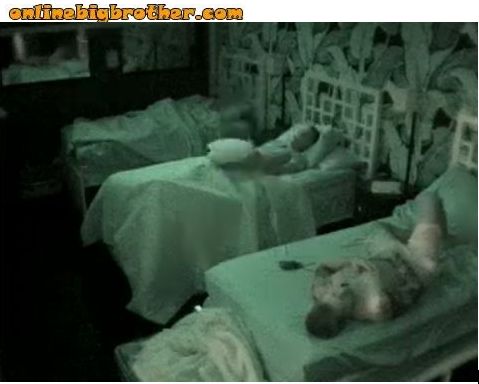 1:30am Lane, Britney, Matt and Ragan are in the bedroom. Enzo says he wants to fight. Matt says that's a good attitude, that's what he needs for tomorrow. Enzo says no I literally I want to fight Brendon right now and win. They all laugh. Enzo says that he wants to go up to HoH and when Brendon opens the door just punch him in the face. Enzo leaves. Enzo joins Kristen and Hayden in the lounge room. Hayden asks where everyone is. Enzo says that Lane is in the bathroom, Hayden asks smashing? Enzo says yeah. Lane then joins them and says he was pissing not smashing. Lane says that he pisses sitting down, Enzo says he does too, he says it is better for the prostate. Lane and Enzo are telling Kristen and Hayden about the pep talk they gave Kathy. They are all laughing about it.  Lane says that they asked Kathy what she would do if it was endurance and she couldnt hang on any more.  Enzo says that Lane says that Kathy says that she would hang on longer.  Lane says that if she is the first one off we're taking all your cigarettes, if you're the second one off we are taking half your cigarettes,  if you're the third one off Enzo is gonna eat your cigarettes..  Enzo says yeah I know you got them stashed … Enzo says that she said yeah she does.  Lane says that he asked Kathy why she would want to go somewhere nice if she loses … Lane says if I lose …take me to a dumpster.  They all laugh.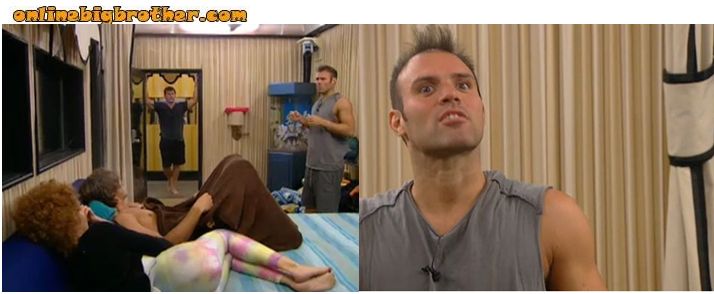 1:45am Britney, Lane, Ragan and Matt are talking about the live feeds. Britney says that watching the live feeds made her more conscious of how she acts in the house. Britney tells Matt, Ragan and Lane that the live feeders will totally rag on you for going to the bathroom and not washing your hands. Britney says that they can also hear everything you are doing in the bathroom when you have your mic on. Matt comments that the live feed people probably think the hand down the pants thing he does is gross! Britney talks about how much more you get from watching the live feeds opposed to watching just the episodes. She says it makes it more intense watching the feeds. Britney talks about how into Big Brother she is. Matt asks her lots of questions about the feeds and what they do and don't show. They then talk about past season of Big Brother. They start making fun of Brendon and his deformed toe. Matt says there is a reason for it and Brendon told him the first few days of Big Brother. Britney says yeah it's the last bit of evidence that he has troll in his family. Ragan says that they need a welder just to clip his nails. Matt laughs and says they're horrible. Ragan and Britney are laughing and call him the saber toe tiger. Britney says that they need to give it the respect of a living breathing creature.  Ragan says that this is why people hate us. Matt says this is why they love you.

Watch it happens as it happens!! Superpass 3 Day FREE Trial


2:30am All the house guests are now asleep….

8am All the house guests are still sleeping…