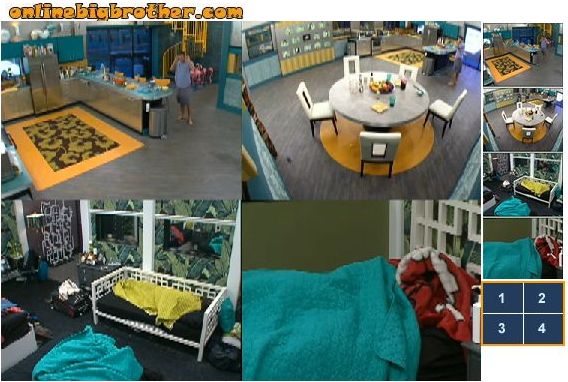 Watch the last 2 weeks of BB12!
Superpass – 3 Day FREE Trial
9am – 10:40am Big Brother switches the live feeds to the "We will be right back" screen. When they come back Enzo is coming down from the HOH room and heads into the bathroom. Britney, Lane and Hayden are still trying to sleep. Enzo exchanges the battery for his mic and then puts his sunglasses on and gets into bed in the jumanji room. Big Brother tells Hayden to change his batteries. Hayden changes his battery.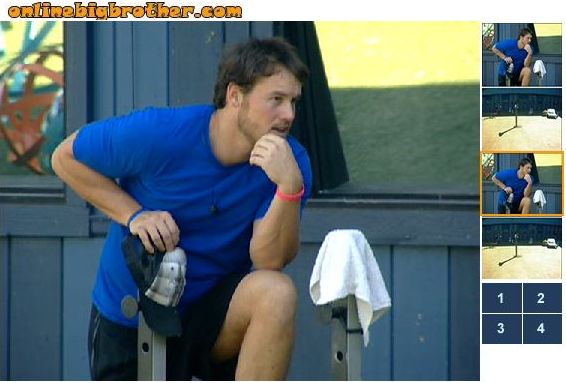 All four cameras are on Lane working out in the backyard. Enzo is in the backyard as well. Lane says that there might be Pandora's Box up there and Kevin gives him the key. Enzo says that he is embarrassed that he never won one HOH. Enzo says sorry to his wifey. Hayden comes out with a protein shake. Enzo is now running around the backyard with his shirt off. He says I gotta shave my chest now BLANK! Enoz yells if Britney wins POV IM DONE MAN! I'm going home. Enzo says he thinks the competition will be an individual one where each one of them has to come out into the backyard and do something. Enzo talks to himself and says I gained weight again …mother BLANKer!! Lane says that they played that paparazzi song (Lady GaGa) (One of the songs that Ragan wanted to hear.) Enzo says that he (Ragan) is probably at CBS now. Britney is up, she gets a bowl of cereal and heads out into the backyard. Brintey says good morning. Hayden asks her how she slept. Britney says good. Britney asks how the shared HOH bed was. Hayden says it was good …it was good. They are all on an out door lock down. Hayden asks what do you think they are doing with the lock down. Britney says that they're probably putting in a smaller table. Enzo continues to run around the backyard. Britney and Hayden talk on the couch… Britney says that Enzo is really starting to tan. Hayden says that Enzo runs funny. Lane is still working out.
SEE what they CAN'T show you on TV! TRY IT FREE FOR 3 DAYS!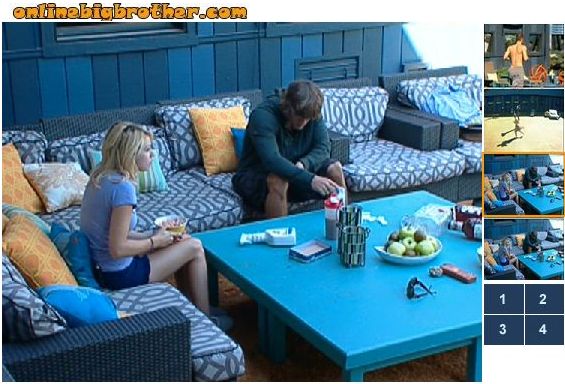 Enzo continues to run around the backyard and then lays down to do sit ups. Britney and Hayden talk on the couch… Britney says that Enzo is really starting to tan. Hayden says that Enzo runs funny. Lane is still working out with the weights.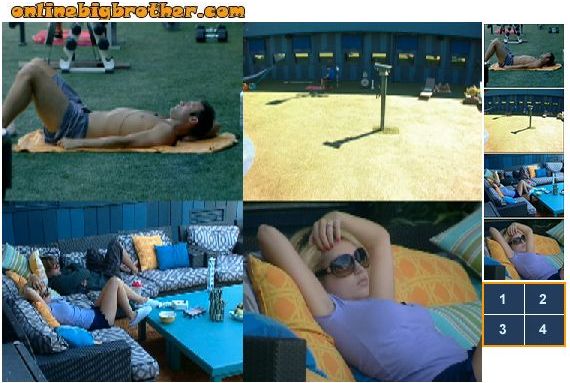 10:45am Lane comes over and joins Enzo on the ground. He lays a towel out beside Enzo. Enoz says what is this POV trying to be?! Lane says I don't know. Enzo says it could be the faces. Enzo asks Lane if one of them goes to the jury house …do you think they are winning the $25,000. Enzo says again that if Britney wins the POV he is going home … and if that happens hopefully he wins the $25,000. Lane says that he thinks this POV will be a matching one. They try and remember last season. Enzo says that either one of them in last season would have won the $500,000…. ..that this season is hard, yo! Enoz thinks tomorrow will be a luxurious. Enzo asks Lane if he looked good in that coat yesterday. Lane says yeah. Enzo says okay lets see the small ass table …I don't give a BLANK. Lane says yeah … I don't even care read the card and throw it in the trash. Lane asks how many days have we been in this bitch?! Enzo says I think 64. Lane and Enzo start talking about bugs and killing them. Enzo says that when he is at home and sees a rat he throws a battery or something at them. Lane asks what do you carry around a lot of batteries or what?! Enzo says or a rock or something. Lane talks about a possum that his dog Tucker was trying to kill and thought that he had killed it but didnt so Lane grabbed a gun and shot it in the head behind the ears and then it was gargling blood so he had to drowned it. Lane says that he has a picture of it on his facebook. Enzo tells a story about how he had to have his dog put down and that he was crying like crazy. Enzo says that he's had to put down two dogs. Lane talks about his horse that he had to have put down and buried in his field.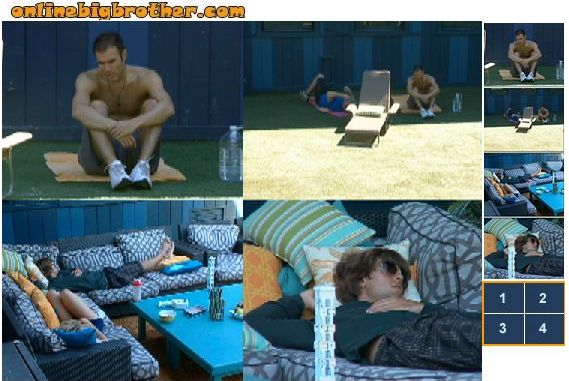 11:10am – 11:25am Big Brother announces that the lock down is now over. Enzo says EEWWW.. LETS GO SEE A TABLE WITH 4 SMALL CHAIRS!! All the house guests head inside and sit down at the table. Enzo says final four .. this is it! Enzo says do you remember that huge table that we started with …with 13 people sitting around it. Hayden asks do we still do keys, …we don't do keys anymore do we?! The key box will fill up the top of table and that they wont need to pass it to each other. They talk about the Hawaiian party. Enzo says that those dancers only danced for like 10minutes … let them dance all day. Enzo says that even past house guests were hotter than they were. They start making fun of Brendon. Enzo says that Ragan wanted to BLANK him the first day … calling him superman. Enzo and Britney talk about how they BLANKed up not winning the HOH. Britney says that she has nothing ..at least he (Enzo) got a flat screen tv. Enzo say that if its worth 5 or 6 G's …he just tell them he wants the money to increase his stipend. Britney says yeah after taxes …you'd have enough for an 89 ford explorer with no windows. Enzo talks about his wife and hopes that this time that he has been way hasn't been too hard on her. Enzo says that he hopes his dad is better. Britney says that at least they acted okay and didn't act like a BLANK bag on tv… she was the first one into the jury house too ..imagine how embarrassed her family is of her. They talk about how they are getting alone in the jury house.