SEE what they CAN'T show you on TV! 3 Day FREE Trial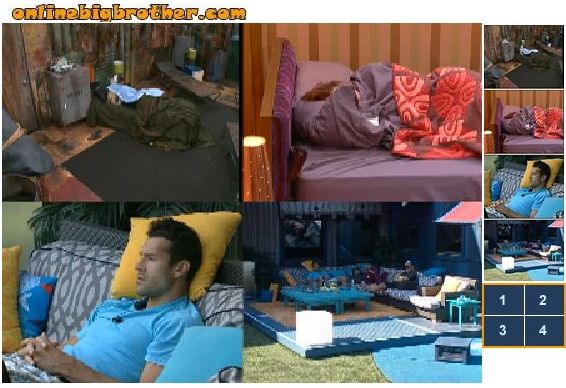 9am Big Brother wakes up the house guests. Kathy, Enzo and Lane are in the backyard talking about why Rachel, Brendon were looking through the Big Brother manual yesterday. Kathy says that Rachel and Brendon kept her up last night with their constant talking and laughing. Enzo says that after Thursday, it is over. Kathy will win HOH and puts Brendon up. They all laugh. Brendon comes outside, says good morning to Kathy and asks her how she slept. Kathy says that was fine until you and Rachel woke me up. Brendon says, why.. what were we doing? Kathy says that she doesn't know but they were being loud. Brendon asks if it was when they were rapping. Kathy says that she heard a lot of laughing. Brendon says that he is sorry for waking her. Kathy leaves to go back to sleep in the have not room. Rachel is still sleeping in bed.
9:30am In the backyard Lane and Brendon are talking. Hayden is on the couch trying to sleep. Brendon says that he keep waiting for the saboteur to do something. Brendon says that its just more bad casting. Lane says that this saboteur is worst than the last one. Brendon talks about the tape on the photos and other things the previous saboteur did and how some of those pranks were clever. Lane laughs and says that this Saboteur hasn't done anything noticeable. Brendon jokes that he needs the magnifying glass to go search the house for clues that the saboteur has been in the house.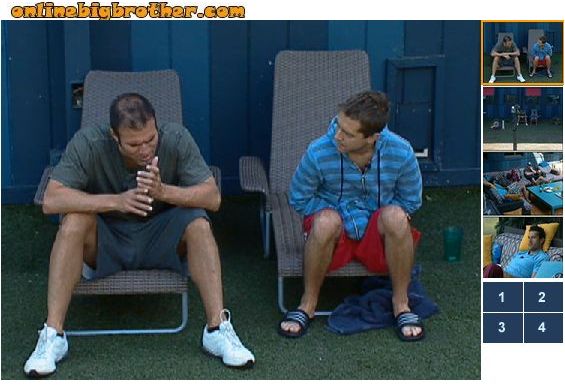 Enzo and Matt are talking in the backyard. Enzo tell Matt that Brendon and Rachel were going through the Big Brother manual last night and going into the diary room. Matt asks why? Enzo says that they were fighting because Rachel didn't want to tell Brendon what she knew and he wanted to know. Enzo says that they were trying to find out if you (Matt) were lying about the dollar in Pandora's box. Enzo says that it was ridiculous … they were fighting about it and BLANK. BLANK dummy. Matt laughs and says whatever, I don't even care. Enzo says Rachel and Brendon were being loud and Kathy called them on it. Enzo says he's annoyed with Kathy because she has suddenly jumped on the we are against Brendon and Rachel bandwagon. Enzo tells Matt that Brendon said he wants to put up Britney/Ragan and maybe even Matt if he wins HOH. Matt says he thinks Ragan would be more loyal but Britney is more devious. Enzo says whoever annoys me the most is who I want out of here. Matt and Enzo laugh about how Rachel thinks she is staying and that they love the fact that Brendon thinks he is the one being evicted on Thursday.
FREE live feeds on Superpass! 3 Day FREE Trial
9:45am Brendon and Lane are talking on the couches about older women. Brendon and Lane think that Kathy is a good looking woman and they respect that she's kept up with herself. Brendon says that he went to Vegas a couple of years ago and hooked up with a 39 year old. Brendon says that she was a freak… an untapped resource. Lane says that it's like digging and finding oil. Lane says that he prefers older, more mature women. Lane asks Brendon if Rachel is going to quit her job. Brendon says she makes a lot of money and thinks that no matter what she says she is getting to the age where she's about to be over it. Brendon says that Rachel has connections with people who own hotels in other cities and could get a job in LA and get into UCLA. Brendon says that he may even have some pull in his department.
9:50am Enzo and Matt talk about Britney and Ragan. They talk about how Ragan is more loyal and less devious than Britney. Enzo says that Brendon knows they are breaking his balls all the time. He thinks he is leaving and that's what we want. Rachel is talking like she is staying. Matt laughs and says that he love that. Neither of them think Brendon will win HOH. Enzo says that it is only Tuesday, man. Enzo says that all four of the Brigade have to go into the diary room. Enzo explains that he has done diary room sessions with the other Brigade members. Enzo says he and Lane went in last night and joked about Brendon being a Brigade member and not even knowing it. Enzo and Matt talk about the saboteur. Enzo says that he still thinks its Kathy. Matt says he doesn't think so, he thinks that America is the one who voted for who the saboteur should be and that they would never pick Kathy. Enzo says that he really wants Julie to tell them if America voted or not. Matt says yeah. Enzo say that he is upset that America didn't choose him to be the sab, what's wrong with him …why didn't they like him … The Enzo says that he wouldn't have done it anyway but that it would have been nice for them to offer it him. Matt says he is going to sleep all day. Matt says that he hate getting dressed up for the live show. Enzo says that the Monday to the Thursday part of the week sucks the most. They wish we could have movie day out in the backyard. Enzo and Lane are laughing about Rachel and Brendon getting the rule book out. Enzo says that it sucks because all you guys were upstairs and I was stuck down here with those dodo's. Matt starts talking about Britney and them always being up there in his HOH. Matt says that she is always around, she is always hanging around Lane. Enzo says that she is a BLANK BLANK. Enzo says, that's one person I don't want to win, she's too young to need the money. Enzo says the there are other people that deserve the money like Matt because he needs it for his wife.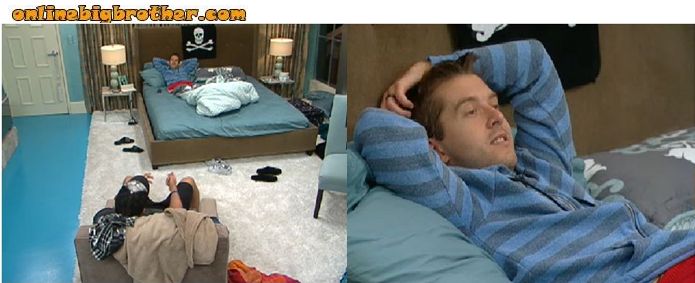 Up in the HOH room Lane and Matt are talking. Lane says that he doesn't think there is a saboteur that it might be America. Matt says that he thought about that too. Matt says that with the rule book last night was hysterical he wishes he had been in there last night to watch it. Matt says he doesn't know how it started a fight some kind of argument. Lane says dude that bowl thing was fun last night, and tells Matt Rachel wants her name on it. Matt says unless we give that out for a gang bang trophy she is not going to get it anyway. Matt says Enzo wants to keep Brendon around one more week. Lane says we only can keep him one more week because he only has one set of nominations that we trust. They talk about how Britney and Ragan are Brendon's main target. Lane says he has Britney to go up with on the block. Matt says that's fine he doesn't want to keep him, but if he wins HOH that's fine whatever. Lane says we have to win POV's too. Matt says we have to win every competition. Matt says after this week we are have the house, there is no reason we can't do it. Lane says he needs Enzo to put up either him and Ragan or Lane and Britney. Matt says that it would work in their favour if Brendon won the HOH and then would be the bad guy and nominate Britney and Ragan. Matt says that then they could get him out following week. Lane says that he doesn't know there is something scary about him getting HOH.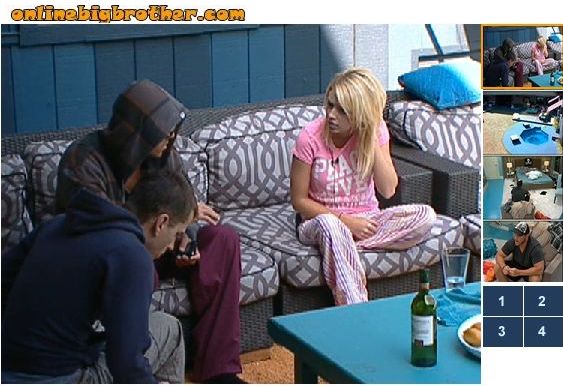 Try out the live feeds for FREE!
Superpass 3 Day FREE Trial
10:25am – 10:40am In the backyard Britney, Ragan, Hayden are talking about Rachel and Brendon looking in the big brother manual last night. Hayden tells Britney what he heard from the conversation between Brendon and Rachel. Britney talks how with powers there is only so much a person can say. Britney brings up how Jeff couldn't tell Jordan about the coup d'etat. Britney is to figure out what Rachel could be trying to tell about her diary room session. Britney asks what is so important they go to the rule book. Britney says why would she want him to know cause she was drinking and being stupid. Hayden says she hopes it is because she is the saboteur. Hayden says only way she is staying is if she has some freaky power. Ragan says I don't think she has a power if she had a power she wouldn't be jumping through hoops and the whole POV ceremony explosion wouldn't have happened. Brit says well if she has it she thinks she just recently got it. Hayden says that he doesn't think she has any powers because she wouldn't be trying to be nice right now. Ragan agrees and says that yeah, every time she gets power she acts like a monster. Britney says she doesn't know how Kristen did it. That she got attacked a lot worse and managed to pull it together. Britney says she feels like she is walking on egg shells cause she has to always be on the look out where Brendon is and that you have to worry every second something is going to happen, because any second one of them could come out there screaming. Britney wonders if next week will be hell for her since Brendon will still be there. Hayden says what do we do if Brendon is on the block next week and wins POV, what do we do? Britney says we'll kill ourselves and says that she is afraid it will be like a gamble POV.