Watch whats happening right now 3 Day FREE Trial
10:45am As Annie leaves the HoH room, Rachel comes into talk to Hayden and state her side.  Rachel tells Hayden that she really respects him and thinks hes someone she can trust and that she really appreciates his honesty.  Rachel says that she knows it's a hard decision for Hayden and that she doesn't hold it against him that he put her on the block. Hayden tells Rachel to please talk to Brendon to convince him not to go after me (Hayden). Hayden says that he might not be willing to fully go into alliance but that they could come into an arrangement where Hayden won't put up Brendon or Rachel next time he wins HoH.  Hayden says that he thinks anybody can win HoH, but its not too likely that Britney or Kathy will win but anything's possible. Hayden tells Rachel that to be honest there is someone in the house that really wants to split up you and Brendon and if I put up this person there is a really good possibility that they will go home.  Hayden says that he doesn't want to say who it is but that she really wants to break up you and Brendon.  Hayden says that he wants a deal that if he does put up this person he wants to know that he will be safe.  Rachel and Hayden shake on Hayden being safe later in the game if he doesn't push to vote her out.  Rachel asks if she should go get Brendon they go to the door and open it and Brendon walks in.  They say speak of the devil.  Brendon says I hope thats not the case….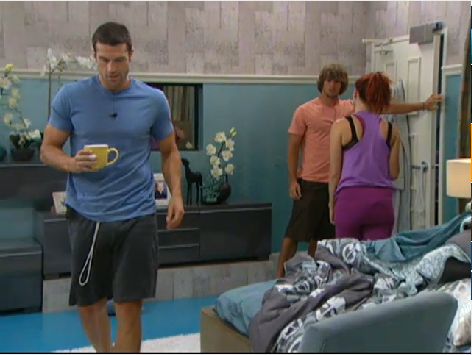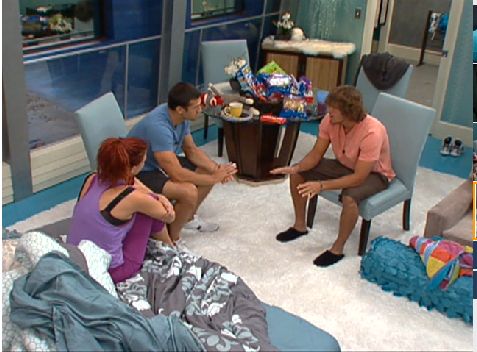 Try the Live Feeds 3 Day FREE Trial
11:10am Rachel tells Brendon that there is a person in the house that is gunning for breaking up her and him.  Brendon ask should I guess who it is.  Rachel says I dont know, he hasnt told me who it is.  Hayden says yeah I havent said who it is.  They guess its Annie and Hayden tells Rachel and Brendon that Annie is the person that's probably going up. Hayden tells them that Rachel will definitely stay but that he needs Brendon to commit to not go after Hayden.  Brendon says that his targets are Britney, Monet and that they need to keep an eye on Enzo.  Brendon says that he really likes Enzo but that they need to watch him.  Brendon agrees that he will not to go after Hayden and that he wants an alliance. Hayden says that he is not ready for an alliance yet but can come to an agreement not to go after each other.  They shake on it.  Brendon says that he wants Andrew to win HoH that he'll keep all of them safe and will go after others and get blood on his hands.  Brendon asks Hayden if he is absolutely sure that Annie is going home and Hayden tells him yes she will be going home this week.  They all shake on a deal that Rachel wont be going up and that if any of them win the HOH in the future non of them will put each other up on the block. Rachel and Brendon leave the HOH …
Share it YO!!
Tweet