She's back, bitches! Big Brother 12 firecracker Rachel Reilly, a Las Vegas cocktail waitress before she became a reality-TV villainess, has landed a recurring role on The Bold and the Beautiful. She'll play a waitress at the show's tropical hangout Bikini Beach, and be joined by her Big Brother beau Brendon Villegas, who will play a bartender. They first air October 25-26, then return November 18-19. TV Guide Magazine grilled the duo about their move from Big to Bold — and of course we had to ask about their showmance! Did it turn out to be the real thing?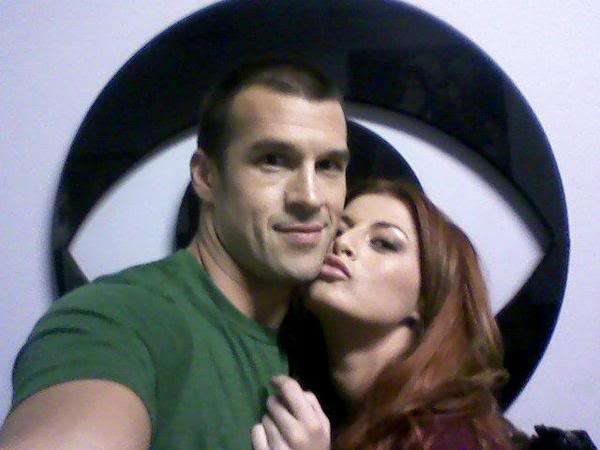 TV Guide Magazine: Gotta love that CBS synergy! You guys wasted no time landing B&B right after the Big Brother finale. What's next, The Amazing Race?
Rachel: I'd love it if we could be like [Big Brother 11's] Jeff and Jordan and do The Amazing Race — that would be a dream come true — but nothing could top being on this soap opera! I've been watching B&B since I was eight so this is totally surreal. Growing up with Ridge and Taylor and Brooke and seeing their lives unfold and then getting to actually meet them is so crazy. They had me so starstruck I was shaking inside.
Brendon: My grandma is a huge soap fan and when I was younger I spent a lot of time at her house, so I've known about B&B for years. She's so excited I'm going to be on it. I think all those soap-opera twists and turns are hilarious. Our whole lives were a soap opera on Big Brother, so to take part in a real one is really fun and cool. But I don't think it's easy and it doesn't come naturally for me.
Rachel: And we're not extras. We actually have scenes — real scenes! They even let me give relationship advice to Hope Logan [Kimberly Matula]. And Brendon has a scene where he recognizes Amber [Adrienne Frantz] from the past. They also put a famous Rachel Reilly Big Brother quote in the script. One of my lines is: "Don't get between me and my man!" [Laughs] I could never in my lifetime have imagined this happening to me! When the producer for B&B gave us a call the day after the Big Brother finale and asked if we'd be interested in doing the soap, I didn't even wait to ask Brendon! I just said yes for both of us.

TV Guide Magazine: Ever consider a career in acting?
Rachel: Never as a profession or even as a hobby, but being on the set I fell in love with it. I had so much fun on the soap that I think I want to pursue it. I've fallen in love with all the actors. They're such nice people and the crew is so amazing. How could you not want to do that? And Brendon is a natural — he definitely has that hot B&B look!

TV Guide Magazine: Any regrets about your behavior on Big Brother?
Rachel: You can't do the woulda-shoulda thing, but I do regret some of the arguments I got in, especially the ones with Ragan. But it is what it is. I can't change it. I can't go back. It was on national TV. I don't think it was my true personality or Ragan's. It was the result of all those stressers that come with the game.

TV Guide Magazine: It got crazy-ugly between you two. Did you and Regan hug it out afterward?
Rachel: Regan and I have unfortunately not had the opportunity to talk about our relationship and our friendship — or lack of one. I sent him a letter and tried to apologize to him numerous times. I think it's something we can both move on from, but it's going to take some time.

TV Guide Magazine: Rachel, when you and I did a TV Guide interview before you went into the Big Brother house, you told me you worked at the very high-end Vegas club Aria and that your biggest tip ever was $4000. Why didn't you tell that to the other houseguests when they were slamming you for being a waitress?
Rachel: I never told them for two reasons. First, I don't think they ever would have believed that I make that kind of money. And they already hated me anyway — I didn't want to give them reason to hate me more. They shouldn't have knocked waitressing like they did. But it gave them another reason to talk about me. [Laughs] And as long as people are talking about me, I'm happy!

TV Guide Magazine: What did your friends and family think of your behavior on the show?
Rachel: They were like, "Who was that girl?" I didn't know her, either. Being in that pressure cooker of a house really does influence the way you act. I know I went a little crazy the last few weeks, but lemme tell ya, that Big Brother house would make Mother Teresa go a little bit batty.

TV Guide Magazine: Brendon, you went directly from Big Brother to UCLA where you are pursuing a PhD in biomedical physics. Was that a shock to your system?
Brendon: When I got out of the house I was so screwed up I couldn't remember my pin number on my debit card. I'd actually become dumber, because there's no mental stimulation, nothing to read, nothing to get your synapses going. The Big Brother house is a beast that eats you alive. Give me a soap any day!

TV Guide Magazine: What was it like being treated like a pariah due to your allegiance to Rachel?
Brendon: Horrible. That show was like being kicked in the balls for eight weeks straight but Rachel is the best thing that could have happened to me.

TV Guide Magazine: Once Big Brother was over, did you go back and watch the whole thing on DVD?
Brendon: Rachel and I only watched our first kiss. Past that, I didn't have a strong desire to watch it because I know pretty much everything that happened in the game and why watch people bash us and talk smack about us? We already went through it, why do the replay?

TV Guide Magazine: So how's the romance going?
Rachel: Great. [Laughs] But I'm still waiting for a ring! I have not moved all my belongings, my dog, my life from Las Vegas yet, but I'm in L.A. with Brendon four to five days a week. My lease isn't up until October 31. So on November 1, I will officially be with him 100 percent.
Brendon: The press keeps asking if I'm in love with her and at first I was, like, "Whoa! Whoa! Whoa! Slow down! I don't throw the L word around!" I was sorta denying it for a bit, but why? She's an amazing girl. I know on the show she came off very domineering and she can be that sometimes, but overall she's a good and sweet person. She has a huge heart. Now I can say I am in love with Rachel. It's the real deal.

Source: TVGuide.com
Brendon & Rachel on the set of Bold & the Beautiful backyard cam video: