July 10th, 2010
See what they cant show you on TV! Live Feed 3 Day FREE Trial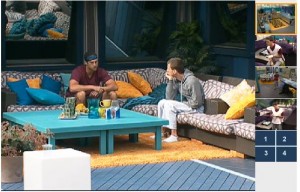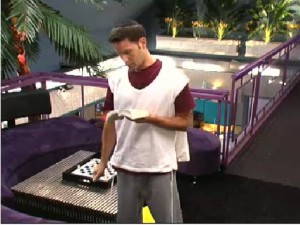 8:30am – 850am Ragan and Brendan are on the couches in the backyard. Brendan was telling a story about a friend who burned him. Brendon says he can't be fake and tolerate it. Then they both go inside to get coffee. Andrew is still up on the balcony reading his Jewish book.  He does a lot of rocking and swaying back and forth when he reads.  Brendon and Ragan are in the kitchen and Brendon is talking about past girlfriends and relationships and how some just have to ended. Ragan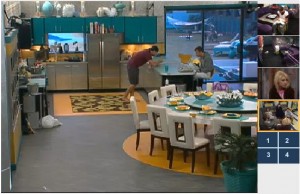 says that he really needs to stop waring his gray hoodie because people will start calling him "gray hoodie guy" and that he never changes. Ragan is making slop for breakfast. Brendon was helping Ragan find the brown sugar and when they both went to the draw to get spoons, Brendon leaned in and Ragan said stop trying to kiss me. They laugh, and Brendon says that's not the case. Ragan turns to the camera and says Brendon's trying to kiss me.

Try the live feeds 3 Day FREE Trial
9am In the Kitchen are Brendon and Ragan talking about past competitions. Ragan says that he would have liked to help others during the competition, especially when it is clear that they are not going to win it. Ragan comments that they wait more time then they play during comps. Brendan hates the suspense leading up to events. Ragan says it's very revealing of people's characters, like how they act the hours leading up to a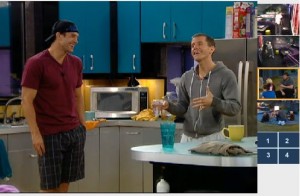 competition. Ragan thinks that the popcorn competition should have had other prizes in it. They say then they could have seen who was greedy. Ragan thinks everyone acted classy during the HOH comp. Re capping how Kathy helped Britney when she fell. They wonder if the next HOH is endurance. Brendon and Ragan talk about Casey from last year and how he took the Margarita Party, and that that wasn't smart. Ragan said he loved when Casey told Natalie to go make Jessie a sandwich when Casey was evicted. They are now making fun of Natalie, Lydia and Jessie from last season. Kathy comes in and she starts impersonating Lydia from last season when Lydia creeped in to Jessie's room in the dark and stood over him saying all the things she could do to him.

SEE what they can't show you on TV 3 Day FREE Trial

9:20am – 9:30am Kathy is sitting at the bar in the kitchen with Brendon. Brendon tells Kathy that he respect's her the most in the house. Kathy tells Brendon that shes done nothing in this game and would never trade her morals or values for $500,000. Kathy says she has no deals/alliances and doesn't want to talk bad about anyone. Andrew has his Jewish prayer book down in the kitchen and Brendon and Kathy are asking him questions about his religion. Brendon tells Andrew that he really respects him for being so religions. B says he wants to try his hardest to win HOH. He wants the HOH to be somebody who is willing to do something that is not what the house wants. Brendon says he has a huge target on his back now and has from the beginning and that he has nothing to lose. He doesn't want to play games and appeal to everyone. He wants to be who he really is.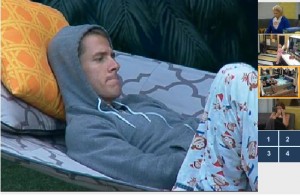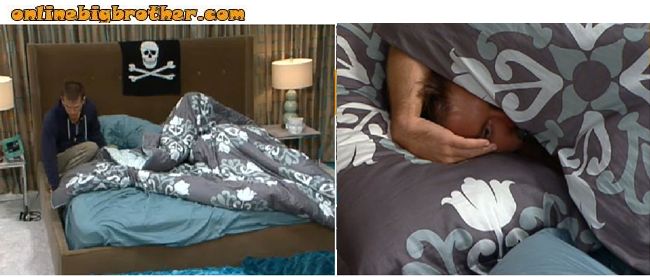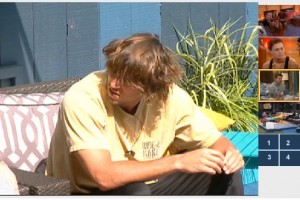 9:40am – 10:15amBig Brother has woken up the houseguests up for the day! In the backyard, Matt stops to talk to Hayden and Andrew and jokes about spooning in the hammock with Ragan. Matt says they're this seasons showmance. In the bedroom Brendon and Rachel are talking with Andrew. Brendon tells Rachel that Hayden wants to make a deal with him. Brendon says that if he doesn't do what I need him to do, I'm going to tell him he's going home next week. Whoever is not with me is against me. I'm a wild card. Rachel asks really? Brendon says I'm the unpaid saboteur! I'm doing it pro-bono. Rachel says and you're doing a better job. Brendon wants to tell Hayden to put up Monet up, Rachel says that Kathy is a better choice to put up since everybody likes her and nobody would beat her in the end. Rachel says that she hopes the next challenge is endurance. Rachel says that she has a lot of endurance. Brendon gets up and Rachel says you know what else I have a lot of endurance for? … Both Andrew and Brendon laugh. Rachel is really flirting with Brendon. Andrew leaves and then comes back in and tells Brendon to let Rachel get dressed. Rachel replies I'm trying to take my clothes of to make him stay …

Watch whats happening right now 3 Day FREE Trial