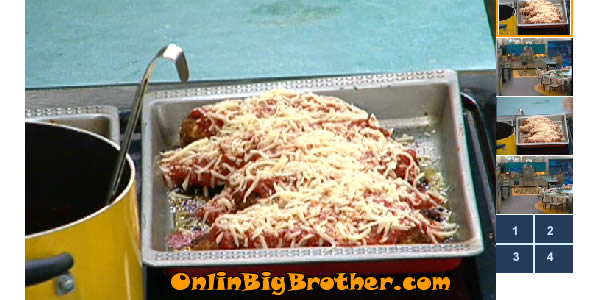 6:30pm July 13th Kitchen Enzo's Chicken Parm is finished and everyone gets ready to eat. It looks pretty good every is loving it.
Rachel: "this is yum yum"
Hayden: "good work enzo thanks"
Britteny: "This is incredible thanks enzo"
Ragan: "The best i've ever had enzo"
Kathy: "This is good" (lol, Kathy think you could of done better than that?)
Enzo: "Just sucks we didn't have bread crumbs.. it took longer cause I had to make the bread crumbs"
Enzo "little red wine would of been nice to"
Enzo "Hard to make food for this many people i'm not use to it"
They start talking about what they are going to do tonight. They decide to some volley ball.
They all start joking that the twist this year is that the camera's have been turned off because the ratings are poor. Enzo cracks a joke about the house being layered, "feels like they are still auditioning".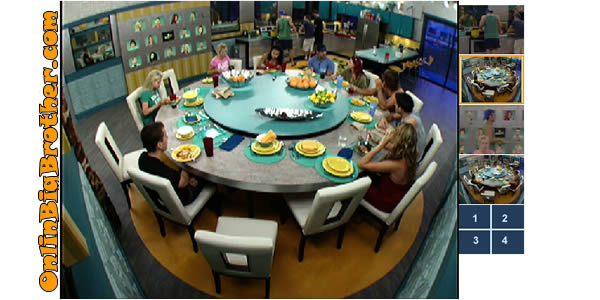 7:00pm Backyard PLaying Volley Ball Lane, Hayden, Brendan, Matt and Enzo. Rachel is standing there but not doing anything. Brit and Monet are on the lawn chair. Kathy and Andrew cleaning up for everyone kitchen and bitching about how dirty all the other houseguests are. They point out that everyone is using 2-3 towels a day and it's getting out of hand. Andrew says he only uses one towel and after he's done with it he keeps it off the ground until he needs it again. He asks KAthy how many towels does she go through? she says a lot right now because if I leave a towel around one of the other houseguests will probably throw it on the ground…. She thanks him for helping, Andrew: "No it was my pleasure thank you" and Andrew heads outside. Monet and Brit – Brit mentions that America "LOVES HAYDEN.. Ohh he's so sweet such a nice guy", She adds that he's this years Jeff (Brendon is this year Jeff, Hayden is this years Nick). Monet agrees she points out that Lane is like Russel (Lane is like this years Memphis).. They ask Rachel what her natural hair colour is, she says its like Kristens but with more red and a little lighter. They start talking about Annie being gone for so long in the diary room, Brit thinks it'll be like Chima "Annie walked out and their not going to tell us forever"… Matt is fucking around with something in the backyard Brit keeps saying "Your totally going to get a MATT STOP THAT totally going to… your totally going to get that Matt Totally" Someone says "She been gone for over a hour!" now other house guests are starting to think Annie Left. Brit now is telling them she knows whats going on. Their getting her all riled up in the Diary Room so when she comes out she's going to be like a wild caged animal and go ballistic tonight…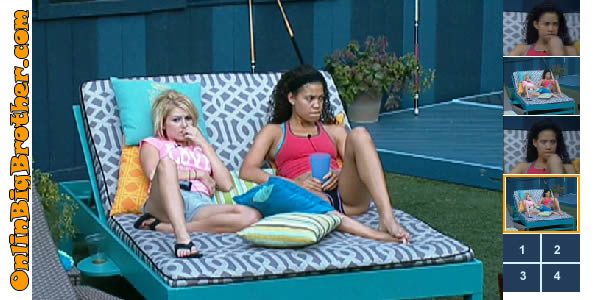 Share it YO!!
Tweet