POV Holder:
Liz
POV Competition
Aug 15th
POV Used
No
POV Ceremony
Aug 10th
HOH
Liz
Next HOH
Aug 20th
Original Nominations:
Johnny Mac and Becky
After POV Nominations:
Johnny Mac and Becky
Have Nots
Vanessa, Johnny Mac, Steve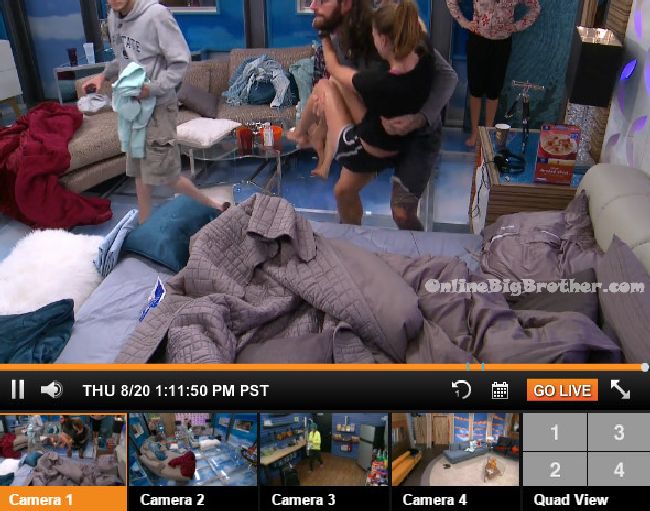 Watch the NEXT WEEK of the Live Feeds for FREE! Click here for your: 1 Week Trial

1:10pm The live feeds return from being blocked for the HOH lockdown. The house guests head out of the HOH room. Austin offers to carry Becky downstairs because her toe bothers her too much to walk. Austin picks her up and heads out of the HOH room. Big Brother blocks the feeds. The feeds return to Austin and Liz moving their things out of the HOH room. They comment on how Big Brother took the Ottomans from the living room. Meg says we're small now. James comments on how the table will be small soon too. Meg says I'm excited to see what the commp is. Austin says I hope its not a long one. Meg says the slip and slide was a long one. James walks through the kitchen and asks should I wear underwear with these? Austin says yes. James says yeah, it'll keep my erections at bay. The house guests are getting ready for the live eviction / HOH tonight.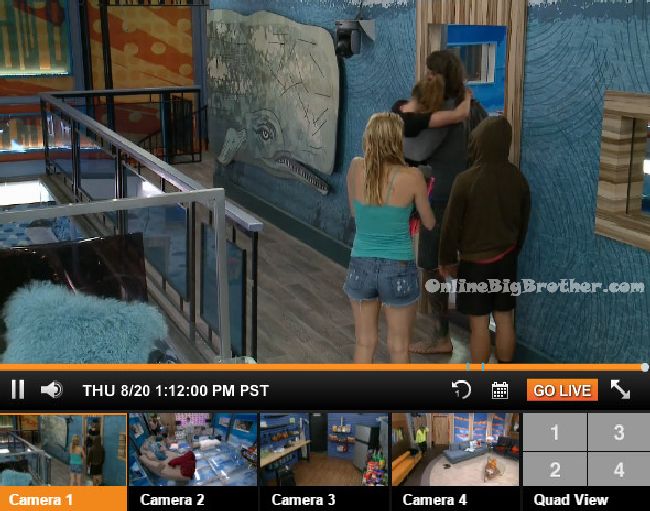 1:30pm – 1:40pm Bedroom – Austin tells Liz we need to talk to Meg and James. I'm worried they're going to be like I thinking it might be better to keep her now. Liz says no. Austin says They don't have the votes. You just have to convince them Johnny Mac is on the up and up. Its our votes anyway's, we control it. You have to be careful though. James has a high probability to win this. Liz asks why would he be upset, he said he doesn't care. Austin says we just have to make sure he's okay with it. Liz asks what do you think, like what the f**k!? Don't you agree with me? Austin says its 50/50 .. I can see positives and negatives to both. Liz says she's coming after me. Austin says I'll go with you, whatever you want. We tell them, Johnny Mac we know who he's after. If we took him out Steve would go bonkers. Liz asks can we tell them who his target is. Austin says they know, I told them. Austin says if anything her injury makes her easier to vote her out. Liz says thank you because I did this for a reason, you know. We can tell them that Becky completely jumped ship from them (Meg & James) this morning .. she said her only people were Jackie and Johnny Mac. Liz hugs Austin. Steve joins them. Liz is worried James and Meg will want to keep Becky because she won't be able to compete in competitions. Austin says its an easy reason to vote out Becky she needs medical attention. Steve says so we're all on board. He counts 1, 2, 3, we've got the votes. Austin says I think they'll vote Becky out too if they think we are. Austin says I'll smooth it out in case one of them wins HOH. Steve comments on how Vanessa is a big target to keep in the house. They agree they can't trust Vanessa. Steve asks Austin to tell him if Vanessa talks bad about him.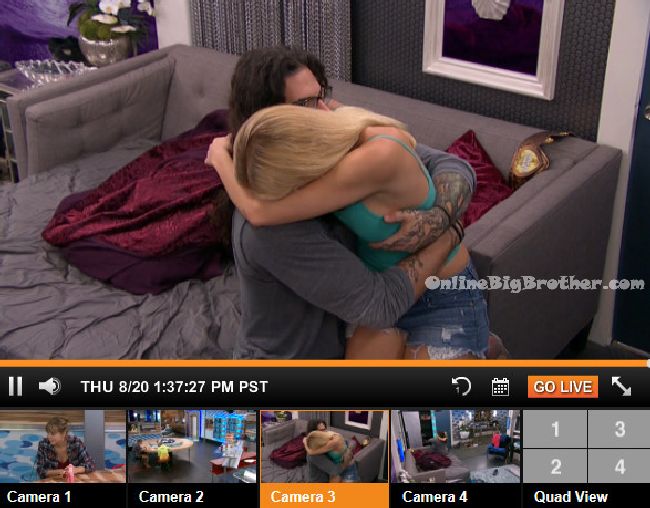 1:50pm Kitchen – Austin says they might have to take her to the hospital. Liz says someone might have to pack for her because I don't think she can. Becky comes out of the diary room with a cane. (Meg has competition as the grandma of the house)
1:55pm – 2:20pm Bathroom –
James is cutting Steve's hair. Steve comments oh you really took off the sides! Johnny Mac says where you're going you don't need sides. Steve asks where am I going?! James says where you're going you don't need sides. Johnny Mac says its a back to the future movie reference. James comments that they (Production) said we can wear whatever we want .. so its pretty much going to be questions. (HOH comp) Vanessa tells Steve she loves his hair cut. Liz joins them in the bathroom and tells Steve he looks hot!! Austin you have competition!! Austin tells Steve he has a sister he can hook him up with. Vanessa tags in to trim the top "Just the tip!" Vanessa finishes up and everyone tells Steve they love it. Steve looks in the mirror and says he's seen the hair cut before just never thought he would see it on his head.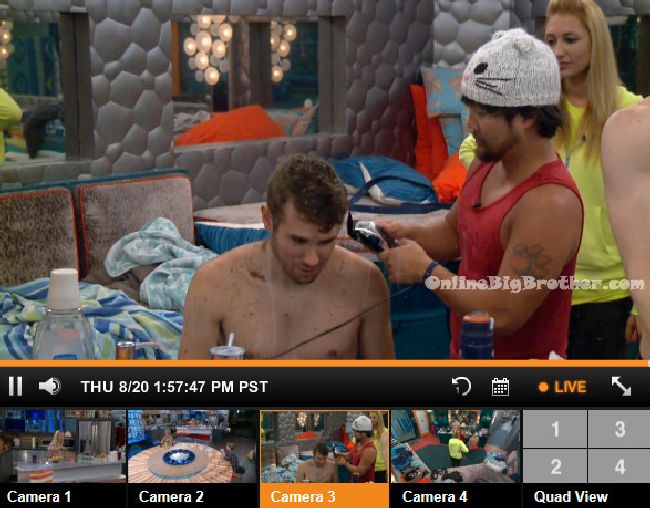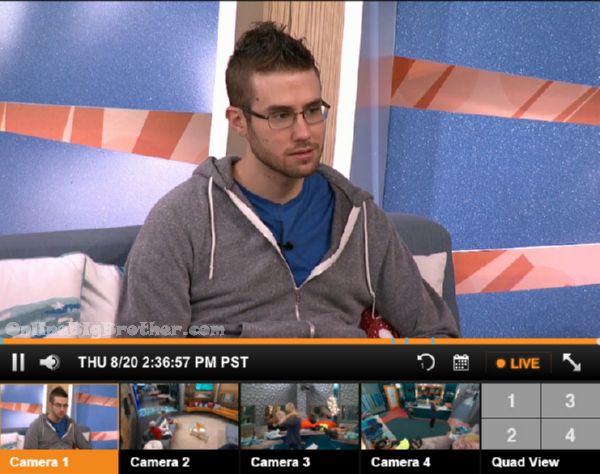 2:36pm Steve's new hair style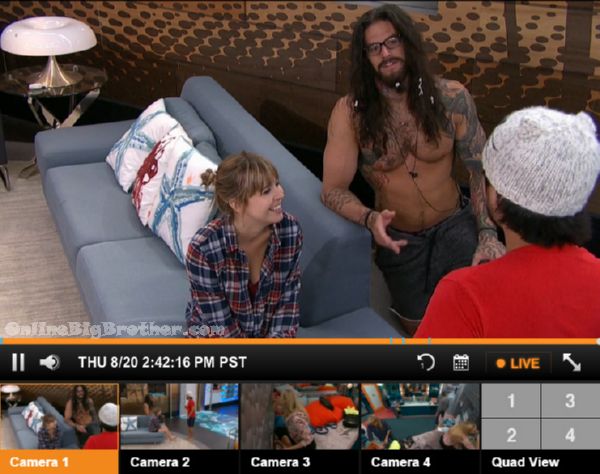 2:40pm Goblins, Austin and Steve
Talking about Vanessa being "Laid out"
Wondering if they should pack her stuff for her. Austin says Meg should do the guys don't want to be going through her underwear drawer.
Austin – She's really out of it she's had two vicodin
Austin – she's loopy, feeling good though
James asks steve who he's voting out
Steve – Becky
James- alright than it's settled
Steve tells JAmes there's 7 people playing in the HOH today
3:56pm Feeds are down until after the live show. But guess what? It's endurance tonight so grab your feeds and watch how the competition plays out.
Help support all the live feed updates we provide. Show your support by making a donation. Any amount is greatly appreciated!