9am Matt is up and in the bathroom getting ready for the day. Matt then heads outside goes to the camera and says good morning America, nice day to be put up on the block … good day indeed.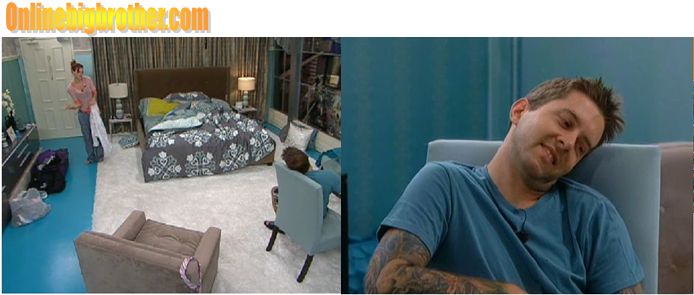 Sign-up NOW and get the first 3 Days FREE
9:25am Up in the HOH room Matt and Rachel are talking. Rachel tells Matt that as a courtesy to Ragan she isn't sure if she will put him up as a pawn. Matt asks …as a courtesy to Ragan?! Rachel says well because you to are BFF's. Matt is like oh. Matt says that after talking to people last night he is pretty sure that Andrew would go home if he was up against Monet. Matt says that he feels pretty confident that he would be fine if he went up on the block. Rachel tells him that she really appreciates him offering to go up on the block. Matt says yeah no problem …respect the HOH. Matt says she doesn't owe him anything …just protect him if he is in danger of being put up another time, and then after that she doesn't owe him anything. Rachel says that she still needs to consider what she is going to do but thanks him for helping her out. Matt says no worries and tells her that he will act surprised if he does go up. Rachel tells him that he will for sure get 5 votes she doesn't think it will be a landslide but.. ..Matt says that's all I want 5 votes …that's all I need. They talk about how they think the POV ceremony will be today some time. Rachel tells Matt that he can hang out in the HOH room and watch TV or whatever if he wants.  Matt says he'll do that…he complains about his stomach hurting and Rachel says that hers kind of does too. Rachel goes down stairs and then heads outside to workout on the elliptical.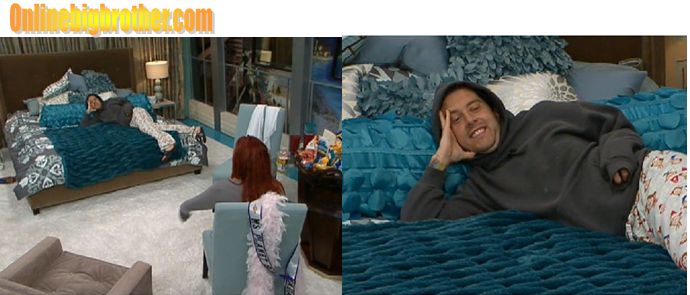 Get the Live Feeds for FREE
9:50am All the other houseguests are up and getting ready for the day….Ezno and Hayden are in the lounge room trying to wake up. Enzo says that would fucking suck being a fish in a tank and being trapped! (Kind of like being trapped in the Big Brother house…lol) Enzo asks Hayden how do fish have sex? Hayden says I don't know.





10am -10:10am Brendon, Lane, Britney, Ragan and Kathy are in the kitchen making breakfast. Lane joins Enzo and Hayden in the lounge roomMatt is up in the HOH watching the spy screen with his hands down his pants…
Share it YO!!
Tweet