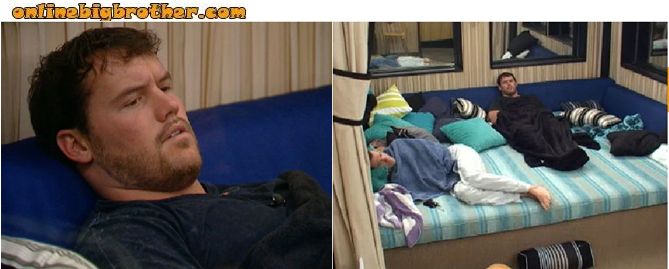 8:25am Big Brother wakes up the house guests for the day. Lane is in the cabana room and Ragan joins him.  Lane runs down where everyone else is and what they are doing …then tells Ragan that Lane is in the cabana room.  Ragan asks Lane when he went to bed and he says it was 3:30 and that there were still people outside.  Lane yells and asks Kathy if the fish have been fed.  Kathy says no.  Lane says he'll do it.  Kathy tell him that he has to talk to them while he does it.  Lane says that he isn't going to talk to the fish when he feeds them.  Kathy tells him that she will feed them then.

Try the Live Feeds For FREE! Superpass 3 Day FREE Trial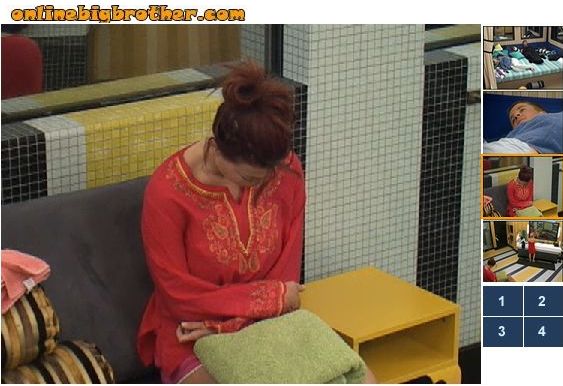 Hayden comes into the cabana room and asks Lane to share the blanket he has.  Lane says no its too small.  Then Lanes tells Ragan don't even say it.  Ragan then whispers in his high pitched voice "That's what she said!"  Lane leaves the room.  Hayden says that he wants to play for the POV today so bad.  Ragan tells Hayden that he would love for him to win!  That it would be karma to the highest order.  Hayden says yeah!  In the bathroom, Britney takes a shower and gets ready in front of the mirror.  Kathy puts on her make up and Rachel sits there on the couch looking depressed.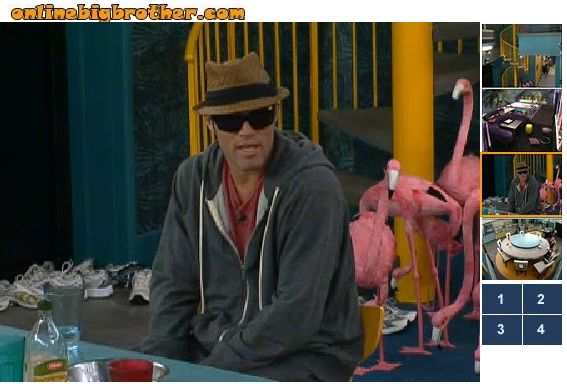 9am Enzo is in the kitchen saying I'm about to smash it out YO!  Get the Veto YO! Two hours of sleep YO! Annie the saboteur is back YO!  Britney tells Enzo he's cracking.  Enzo says that Kathy is definitely the saboteur ….she didn't do her dishes that how he knows!  Enzo says so who do you think is gonna get called for this veto?  Britney says Enzo!  Enzo says that he wants his chip to say meow meow on it for the veto picking.  Britney and Kathy make fun of Brendon after he walks through the kitchen.  Britney says that they were all fine when other people were on the block and now they all mad and crying… grow up your thirty years old.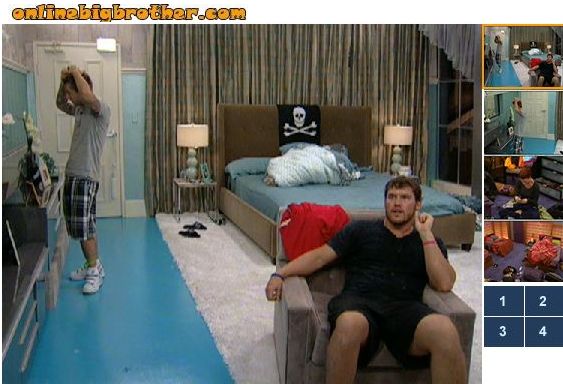 Matt and Lane are in the HOH and Matt says so Rachel is being bitchy already.  Lane says its just because she doesn't have the power.  Matt asks so shes not the saboteur.  Lane says no.  Matt says that he thinks that you couldn't be the HOH and be the saboteur ….he stops and says wait this doesn't make sense that it did last night but now it doesn't.  Matt asks do you think they would give her the power in a couple days.  Lane says I don't know I don't think they planned for her to be on the block.  Lane thinks that America is voting on the train wreck …that they picked you because you were a jack ass.  Matt says that Rachel is going to be such a bitch during the competition.  Lane says that he hates cry babies like that.  Matt says that it will be cool to send her home.  Lane says that Brendon is the biggest baby too… where do you find these cry babies.  Lane says that its obvious that Brendon doesn't even play sports because he doesn't know how to handle it, no one who cries has ever played sports.  Lane then makes fun of how Brendon was showing Rachel how to bowl last night ….how he had to do everything down to the tee… Matt and Lane laugh.  Lane says that they (Rachel and Brendon) were out there hard coring it for 6 hours.  Lane says that you don't need to practice like that…. Just a general representation of what it will look like.  Matt laughs and says that the brigade is running everything in the house and that Kathy is the silent member.  They laugh.
9:30am Britney joins them up in the HOH and asks what they're doing.  Matt says scheming about being the saboteur.   Britney tells them Rachel was in the little room before the diary room just balling for 20 minutes!  They laugh and say really.  Britney says that after Kathy was in the bathroom talking to Rachel and she was crying again.  Britney says that Kathy told her that other people have been on the block and that its just a game.  Britney says that now again this morning she was pouting and not talking to anyone in the bathroom.  Britney says that Brendon is 30 and Rachel is 26 and that they are the most immature people in the house.  Matt gets called to the diary room.  Britney asks who he is going to pick for the house guest choice in the veto.  Matt says Lane or Hayden …it doesn't matter to him.  Britney tells him that Hayden is really good.  Lane says that Enzo is good too.  Britney then explains that Hayden had said that they had the same game on survivor.  She then explains what the game is going to be like …the feeds cut out.  Britney talks about Nick and how good he bowls.  Lane says well this isn't the Nick show.   Britney calls Rachel a skank and that shes disgusting.  Britney says again that Rachel is disgusting.  Matt comes out of the diary room and yells for everyone to come to the living room that its time …. All the house guests rush to the living room and the feeds cut to TRIVIA…..

SEE what they CAN'T show you on TV! 3 Day FREE Trial